When you've done business in a particular way for five decades, the idea of change – any change – can be intimidating. That fear has some grounding; after all, there are right ways and wrong ways to respond to new situations and challenges, and in the heat of the moment it's not always clear which is which. 
Any pause for thought is exacerbated when you're a part of a supply chain, the vital link between your suppliers and your customers. The decisions you make will affect not just you and your team, but also those on either side of you. That's when experience pays.
NEW BLOOD
In 2019, Gypsum Management & Supply Inc (GMS), a leading North American distributor of specialty building materials, found itself on the cusp of the kind of growth and maturity that comes from having been in business for 50 years. There was a realization that a certain level of experience was required to help steward the company into the next phase of its life. 
"The company was in a unique position at a unique time," says GMS President and CEO John C Turner Jr, who arrived at the company in May that year. "GMS had reached some significant scale and had many advantages in the marketplace, and that scale was important for us to go ahead and grow the business in a way that was beneficial to both the business and our shareholders. So that's basically what we did."
John had been with flooring manufacturer Mohawk Industries for almost three decades by the time he got the call from GMS. His journey began with Dal-Tile in 1990, where he ventured through a variety of leadership roles of increasing responsibility. By 2012, he had worked his way up to become President of Dal-Tile, by then a Mohawk subsidiary.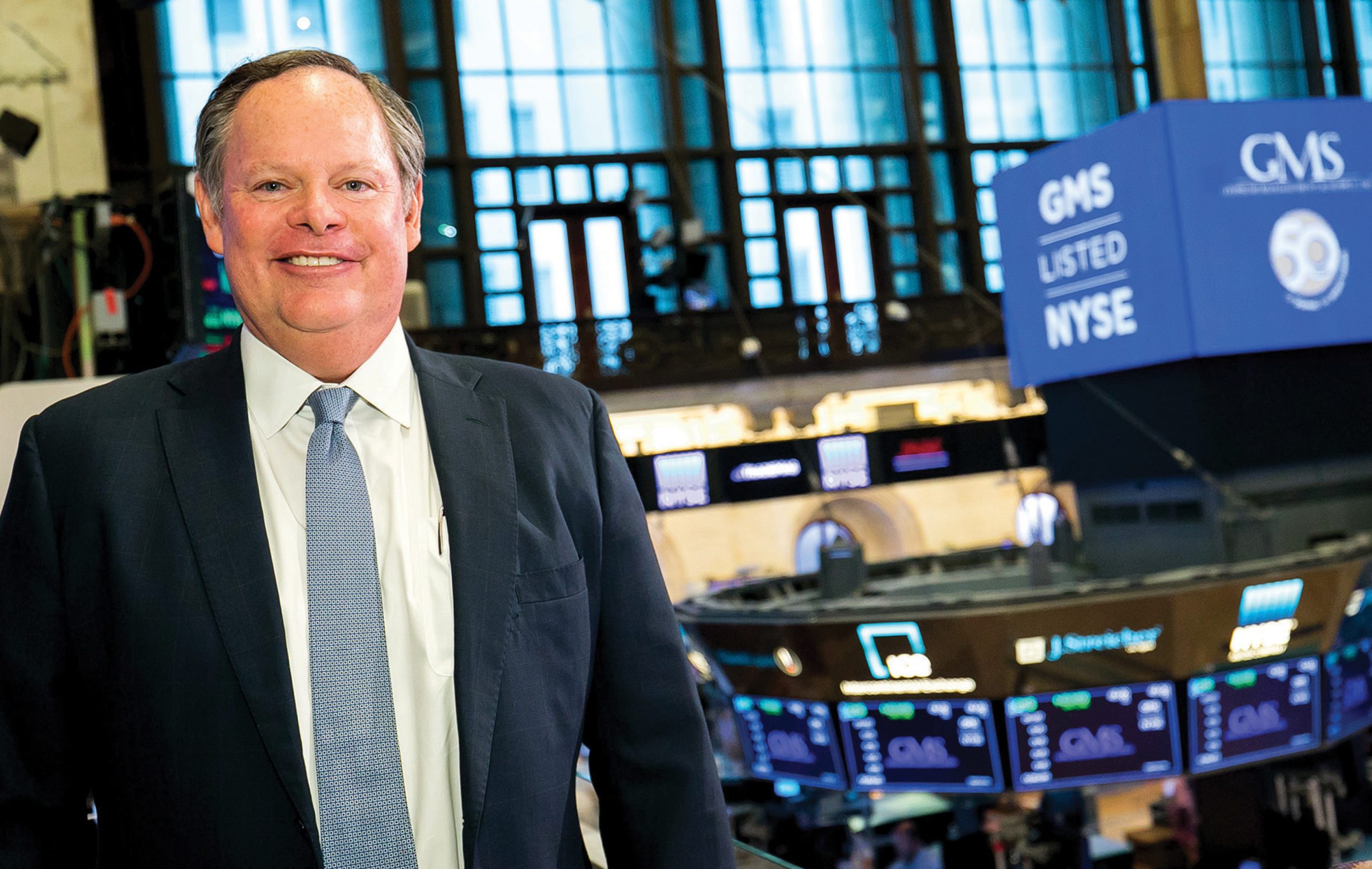 "You can never go wrong doing the right thing. We believe in that."
"During my time at Mohawk I experienced the maturation of the business as it went from being held by private equity to becoming a publicly held company," he recalls. "That's almost exactly where GMS was. When I made the move it felt like a wonderful opportunity for both myself and the company as it went from what was a very young, privately held company to a more professional firm."
GROWING GAINS
John believes this experience sealed the deal for GMS during the hiring process. "Like most CEO hires, there has to be some grounding and experience, and there has to be some understanding of the business itself," he says. "I'm a supply chain executive and a person who believes in strong relationships to move the business forward. The GMS culture aligned with my way of thinking as well as my experience, and I think they saw that."
Still, taking on new leadership was a daunting decision for the GMS board, a position with which John could empathize. "Hiring a new CEO is something a board has to have some comfort with," he concedes. "But I had a track record of making things happen as well as a long track record of success in my previous general management experiences."
Also appealing was John's dexterity in working with a company as large as Mohawk, given GMS had its own growth aspirations. "Mohawk is a very large, multinational organization, and GMS had just made an acquisition in Canada and was in the process of trying to integrate that acquisition," he says. 
"Most of the company's resources were purely US-based, so it had no real experience with any kind of international business. I'd most recently been running Mohawk's ceramic business for the Americas and I had many, many other experiences. I think I had just what the board needed, and what they thought we could use for the next several years as GMS moved into its next phase."
With John in place, GMS began the process of transformation. "We spent a few months in the business with the previous CEO, and then a few months after that with the team, and from there we were able to form our four-pillar strategy."
THE FOUR-PILLAR STRATEGY
GMS's strategy consists of growing the core business, aggressively growing complementary products, platform expansion and investment in technology. "We're in the middle of executing that strategy now," John says. "We continue to acquire, although we've widened our focus to include organic growth. But the number-one pillar is to grow."
The seed of that growth was planted in 1971, when GMS began providing gypsum wallboard and acoustical products to the building industry from a distribution yard in Atlanta, Georgia. "Our core products are wallboard, steel studs and acoustical ceilings," he explains. "But our second priority is our complementary products, basically everything else our customers need to install those three core products, and so we become a one-stop shop."
"You have to get the training happening on a local level and you have to get out in front of those team members and help them change."
Through organic growth and an increasingly aggressive acquisition strategy, particularly over the past decade, GMS has grown to become an industry leader. All 280 GMS locations sell that mix of core and complementary products, and are staffed by people trained and capable of selling those products effectively.
"Our third pillar, platform expansion, is a combination of greenfield and acquisitions," John says. Most recently, GMS announced that it had completed the acquisition of AMES Taping Tools Holding LLC, the nation's leading provider of automatic taping and finishing tools with a network of more than 85 stores. "So that's something we're continuing to pursue."
The fourth pillar, investment in technology, is perhaps the most ambitious. "We're spreading the breadth of our best practices across the company evenly, and we're moving to a single-platform enterprise resource planning system across all our locations," he shares. "That way, all of our operations are executing at the highest level possible. If we can service our customers better and earn more market share, we're more profitable and more productive."
MANAGING CHANGE
This mass migration is known internally as 'Yard of the Future', at once a callback to GMS's origins and a bold declaration of its vision of the future. "Over the next 12–18 months, all of our technologies and all of our yards will be standardized to operate in the same way," John reveals. "Under the new system, our wholesale customers will be able to manage all of the business they do with us online. That's the kind of key, short-term tactical exercise that's happening inside the company to improve operations on a daily basis."
The challenge in executing such a change is, in John's opinion, management. "You have to get the training happening on a local level and you have to get out in front of those team members and help them change," he suggests. "It's a big change management effort."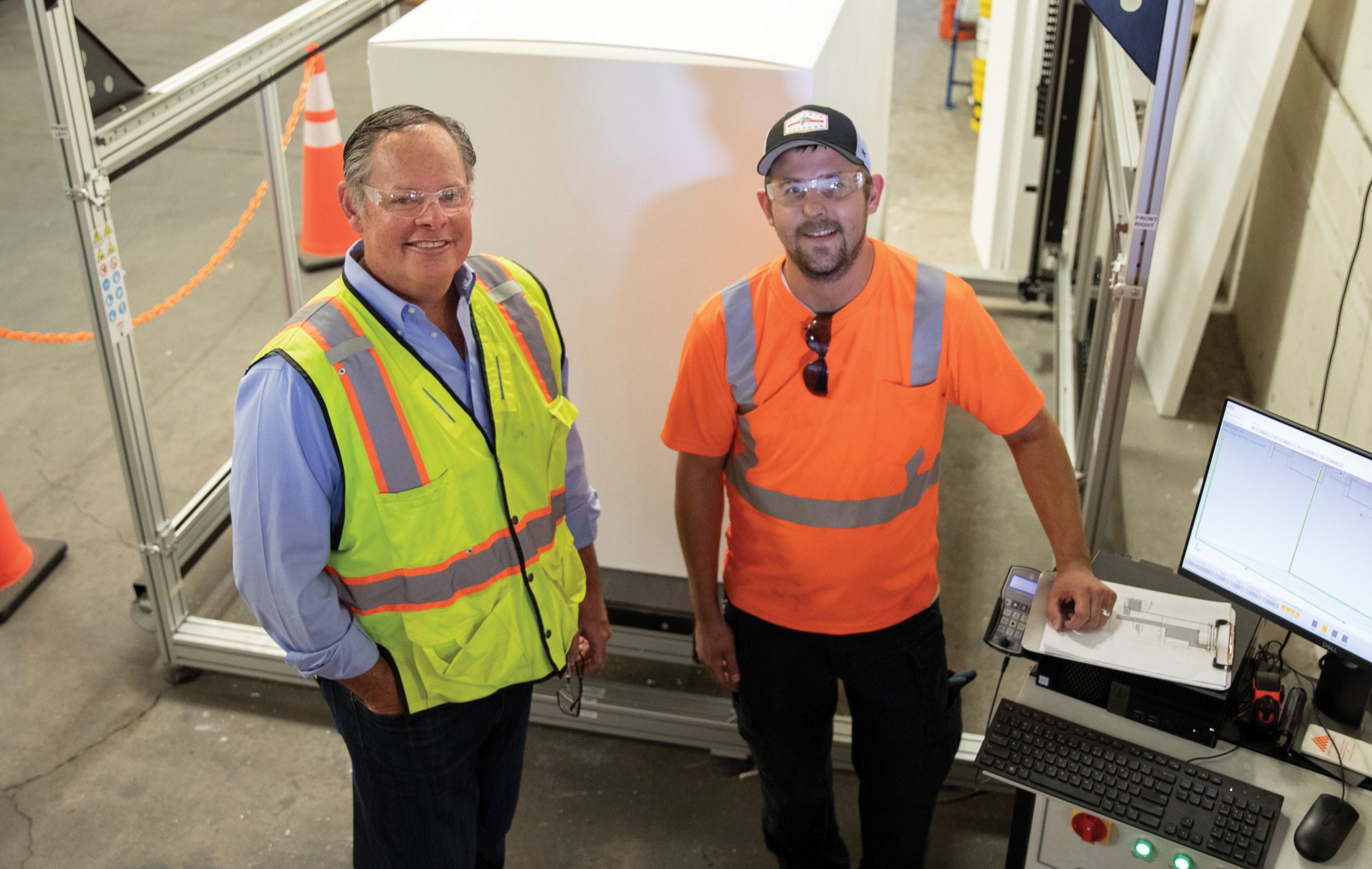 "The most difficult part of change management is the human nature of resisting change, but that's not the case here."
The four-pillar strategy may already be a few years along, but John says it's constantly being reviewed and matured. "That's the nature of the market, but we're having a great run as we speak and the market has certainly been helpful with that," he says. "Residential has been extremely strong, whereas our core competency commercial has been very weak, so we've focused on expanding our residential capabilities."
A team has been assigned specifically to implement the four-pillar strategy in a controlled, intelligent way. "We're not rushing," he adds. "We have a sense of urgency around accomplishing our objectives, of course, but we want to make sure we do them right. As our mission statement says, 'You can never go wrong doing the right thing.'"
A VISION OF IMPROVEMENT
Standing at the helm of a company undergoing such a change might be an intimidating task for many, but John believes it's a chance to return to GMS's entrepreneurial roots. "Part of being an entrepreneur is having a constant vision of improvement," he suggests. "We have that, it's in our culture. From the early days, our founders believed in the empowerment of the team. Having that mindset at our core means the team is ready to change constantly because they're always willing to improve."
Being in charge of such a positive culture makes his job easier, he confirms. "You don't have a lot of people fighting change. The most difficult part of change management is the human nature of resisting change, but that's not the case here."
---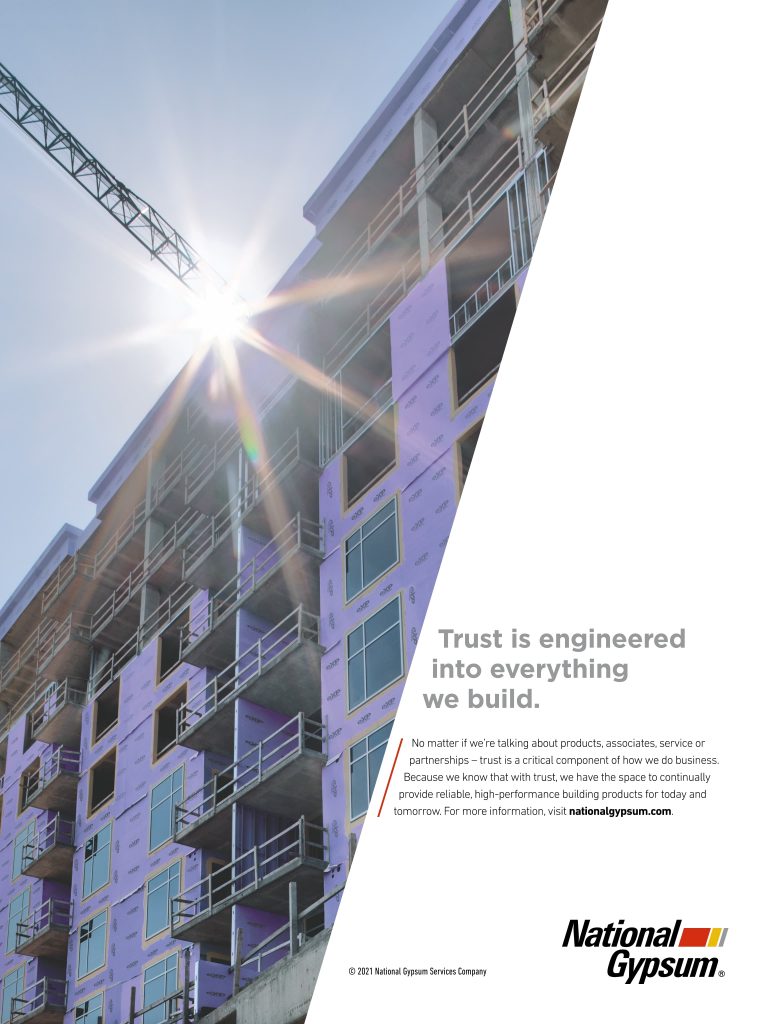 ---
Advertisement
John describes his leadership philosophy as being predicated on the understanding that change is a force for good. "You change for your customers first, and then you can understand the benefits to the organization from these changes, whether it's productivity or profitability," he says. "But the real focus remains on being better for our customers, on differentiating ourselves from the competition and positioning ourselves better for the long-term."
Growing the business may be his primary charge, but as CEO John says GMS's culture was already in place. "I'm very fortunate that I was able to come into an organization where my job was to nurture and grow that culture, not to change it," he smiles. "That's a unique opportunity many CEOs don't have. We have team members that live by our core values, and they really become the foundation on which the business was built. You leave your ego at the door when you work for GMS."
LOCAL KNOWLEDGE
So what sets GMS apart from the competition? John believes the key is local knowledge. "We've acquired many companies over the years, and we've maintained those local brands," he says. "We don't go to market in Dallas as Gypsum Management & Supply; there, we're Cowtown Materials. In Minnesota, we're Tamarack Materials. We have in excess of 40 local brands that have legacies in their markets with their customer base.
"If you walk into one of our locations, you'll see the main brand will be that local legacy brand, the one that's been there for decades and that the customer understands and has grown up with. That's part of what you acquire."
GMS also has a strong legacy with its network of suppliers and partners, particularly as it is, in essence, a supply chain company. "We have an entire organization that's dedicated to maintaining our relationships and growing them with our manufacturing partners," John reveals.
"We are the bridge from manufacturing to the contractor customer to the installation customer. We run a fleet of more than 1,500 trucks, we have dedicated software to manage delivery; it's a very complex supply chain."
During the COVID-19 pandemic, this carefully formed network was under threat. "It really disrupted things," John admits. "But having those strong relationships with our partners and suppliers allowed us to ensure fantastic service for our customers throughout this period. For the most part, we've been in stock and available to our customers, and that's because we stuck to our commitments to purchase from the people we promised to purchase from and ensured they could count on us as their most important customer."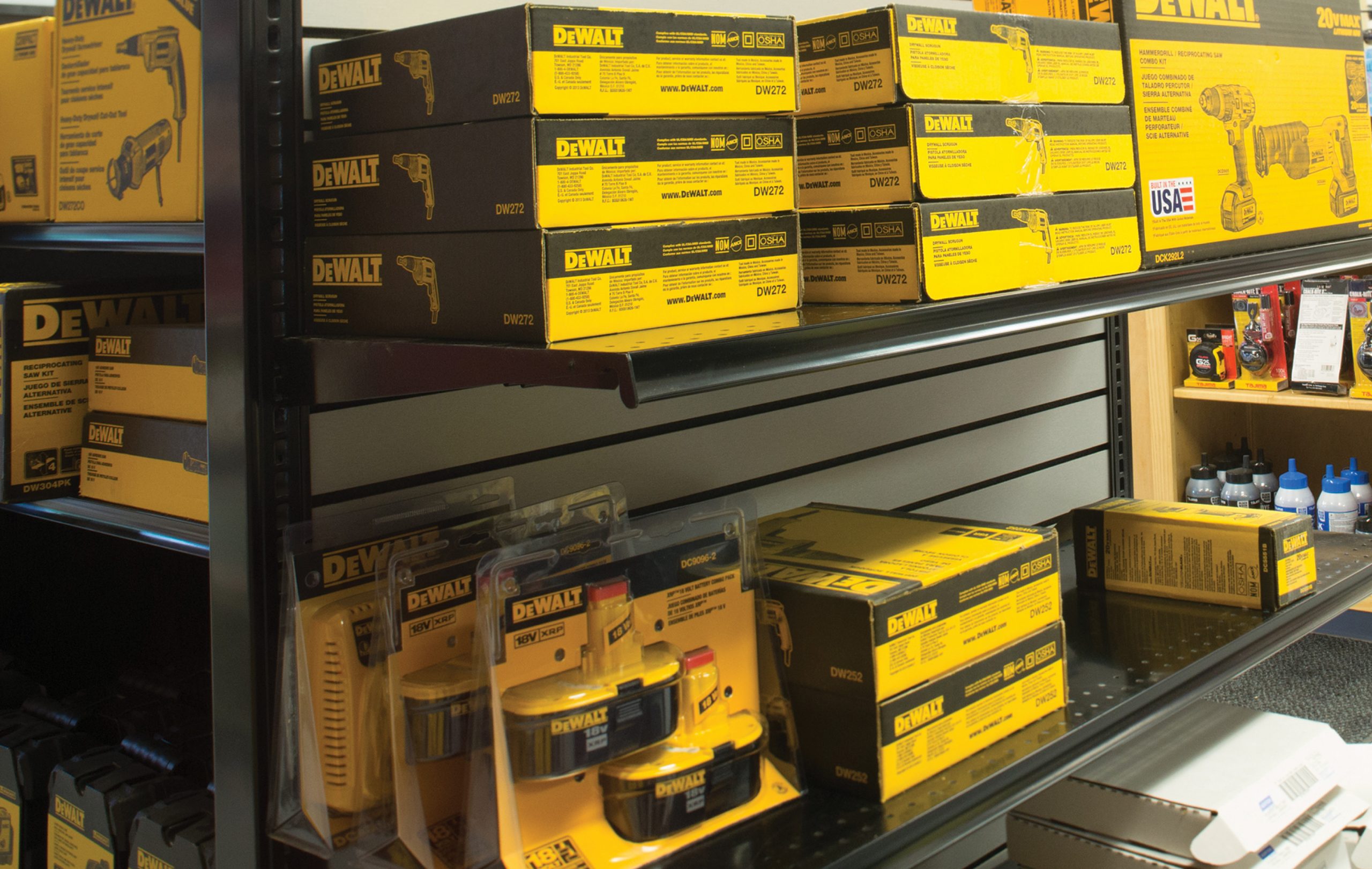 "We are the bridge from manufacturing to the contractor customer to the installation customer."
While GMS's supplier network involves well over 1,000 suppliers by John's estimation, a key foundation of 15 partners is "absolutely strategic to us". "We have deep relationships, deep commitments, agreed-upon strategies there," he says. "The way we purchase is critical to the way they produce. A manufacturer has different constraints, so if they can have customers like us that are willing to understand that and work with them to ensure we optimize their business while we're purchasing, we remain a preferred customer for them."
As the future rolls on, John believes GMS is well positioned to meet and exceed the goals of its four-pillar strategy. He also says the process has already put the company in a stronger place. "Our team is able to make decisions that are appropriate for our customers and ourselves," he says. "If they're decisions that are grounded in trying to do the right thing, then those decisions are respected across the entire organization.
"We believe the greater good creates a greater profitable environment and a greater opportunity for us to grow with our customers. Again, it all comes back to our mission statement: you can never go wrong doing the right thing. We believe in that."
"Congratulations to John Turner and his leadership team for an outstanding 50 years of customer excellence. The entrepreneurial spirit that drove their success is still present today. We are proud to work as a trusted partner with the Gypsum Management & Supply team." – John Mixson, Senior Vice President, President of Building Products/Services, National Gypsum Company