Entrepreneurship runs in Joey Concepcion's blood: his paternal grandfather, José N Concepcion Sr, established Concepcion Industries, while his maternal grandparents, Salvador Araneta and Victoria Lopez Araneta, founded the Araneta Institute of Agriculture (now De La Salle Araneta University), FEATI University and businesses including AIA Feed Mill and AIA Biologicals.
Beyond their business activities, his grandparents were also considered early nation builders of the Philippines. A lawyer by training, Salvador in particular is remembered for his contributions to the fledgling economy as it emerged independent from American rule in the 1940s. He served in the governments of two presidents. In 1958, spotting an opportunity to generate employment and establish a domestic milling operation using imported wheat, he founded Republic Flour Mills, known today as RFM Corporation. At the time, his idea was given little chance of success.
Yet, nearly 65 years later, with a portfolio of popular food and beverage brands such as Selecta Ice Cream, Selecta Milk, Sunkist, White King mixes and pasta brands Fiesta and Royal pasta, as well as an industrial bread line and a lighterage to complement the flour mill, RFM has become one of the largest food and beverage companies in the country. Joey serves as President and CEO.
With such role models to look up to, treading the same path as his family before him has come naturally to Joey. "I do two things," he explains. "In the private sector, RFM is a branded food business. We've gone through ups and downs as we've grown the company to where it is today."
On a national level, he's inherited his forefather's determination to use their influence to drive social change. "I've advised two presidents in helping our micro, small and medium-size enterprises (MSMEs), which make up 99 per cent of the business community," Joey says.
Alongside his role at RFM, Joey is the Presidential Advisor for Entrepreneurship in the Rodrigo Duterte administration. He held a similar role during the administration of the previous president, Gloria Macapagal Arroyo. "My role is about enabling the MSMEs to scale up, to fight against poverty," he says, adding that it's not a cabinet position and he doesn't receive any funding from the government. He looks towards his father as a particular role model, current RFM Chair José S Concepcion Jr (commonly known as Joecon) who, during the era of Martial Law between 1972 and 1986 under President Ferdinand Marcos, was a pro-democracy activist and Founder of the National Citizens Movement for Free Elections.
Joey succeeded his father as RFM President and CEO when Joecon was appointed Secretary of the Department of Trade and Industry. "My father performed two roles, running his own company and doing work for the country, and it's something he enjoyed," he says. "Subliminally, I have followed his lead, but with a different goal and different objective." Like his father, he is also ASEAN Business Advisory Council Chair.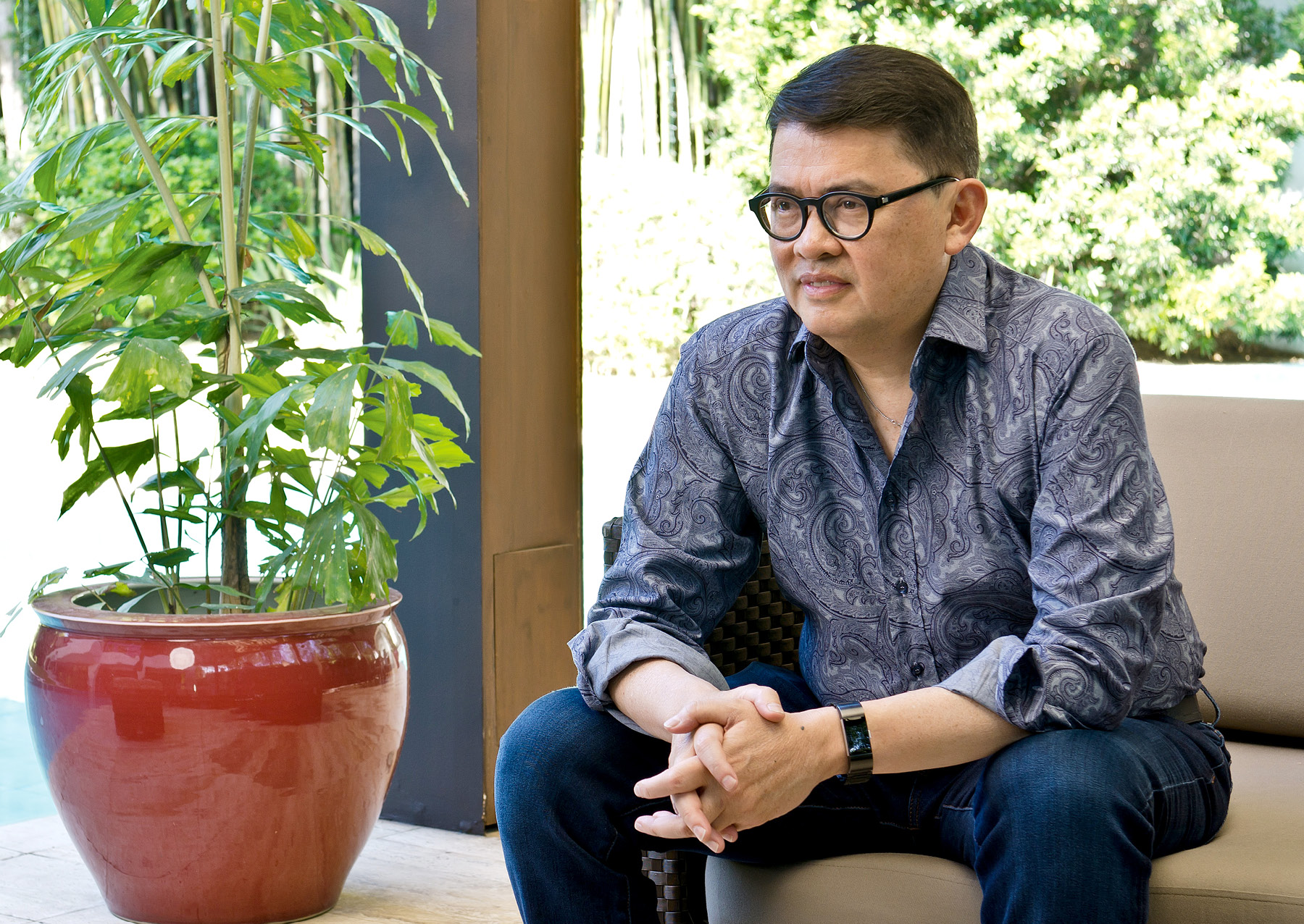 My role is about enabling the MSMEs to scale up, to fight against poverty.
He explains that years of starting and running different businesses and growing and selling them has shown him that "the country has to grow equally now as well". "It cannot just favour a few large corporations alone," he says. If the status quo remains, he argues, then so will consumer spending. "We need to encourage our entrepreneurs to scale up and grow so that the level of poverty will slowly ease off. When that happens, then consumer spending goes up."
It's a mission he also carries out through the not-for-profit organisation Go Negosyo, which has grown from humble beginnings to achieve many milestones in entrepreneurship and MSME development in the country through its 3Ms of Entrepreneurship model: access to mentorship for business guidance and business model innovation; access to the market through product showcasing and digitalisation; and access to money through capital resource provision and/or linkage to financial institutions.
"For 16 years, Go Negosyo has been at the forefront of promoting inclusive growth and prosperity through entrepreneurship by putting MSMEs at the heart of its advocacy," he says.
---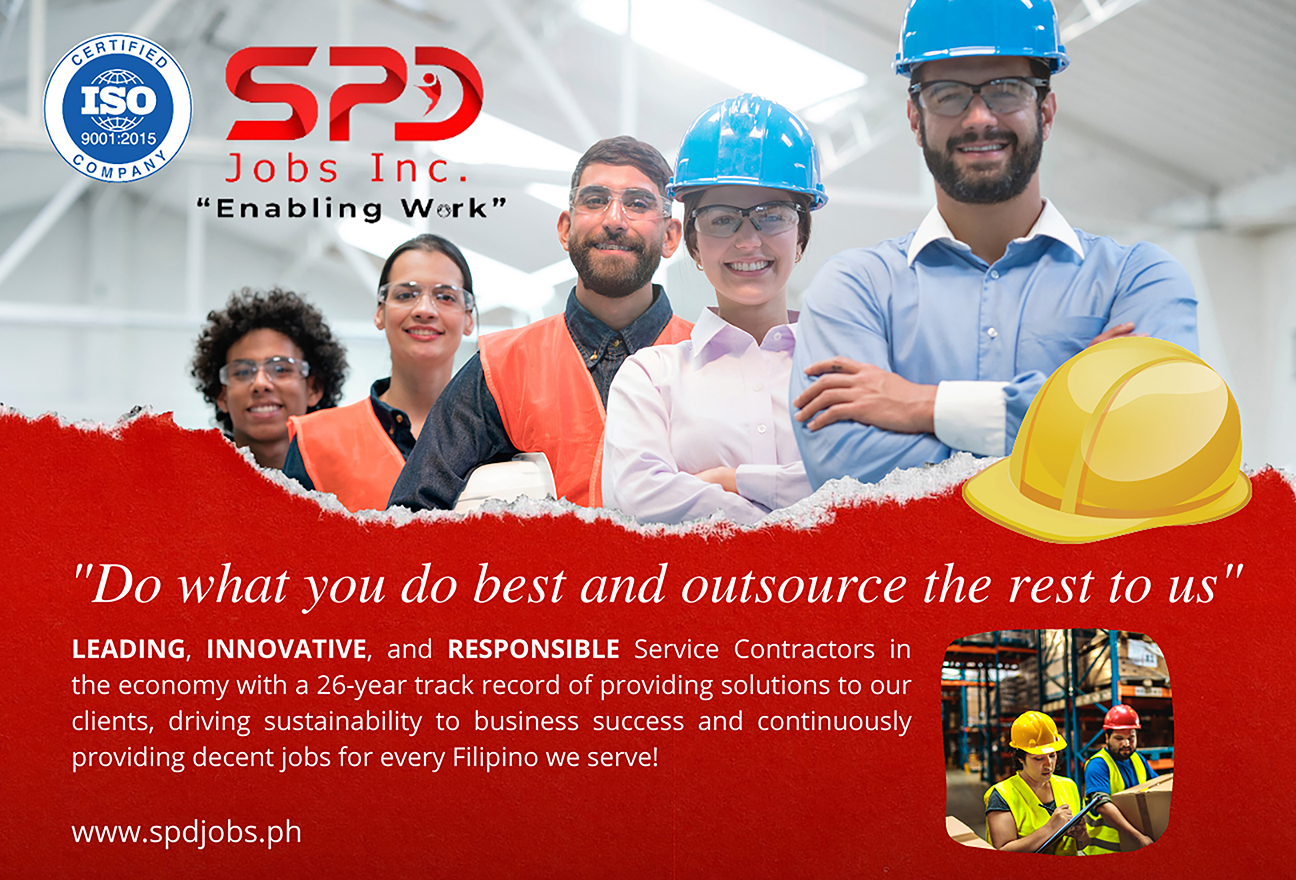 "We have an emotional involvement with our clients, which spawns a robust customer-client relationship. Together, we innovate better services. We are proud to be part of RFM Corporation for seven years now. Thank you RFM for trusting SPD Jobs." – Sarah P Deloraya-Mateo, President and CEO, SPD Jobs
---
Advertisement
The COVID-19 crisis has thrown the importance of his position into the spotlight and, through Go Negosyo, Joey has fought on behalf of the country's MSMEs to negate its effects. "I took the lead in trying to galvanise the entire private sector and to work with the government to ensure everyone made it through the crisis," he says. One of his largest initiatives, Project ARK-PCR, was to supply rapid antigen testing kits to the community during a time when testing was expensive and inaccessible. "Under this initiative, we also spearheaded and funded a study on Pooled RT PCR testing," he explains.
The foundation also played a proactive role in securing vaccines for the country through its A Dose of Hope (ADOH) program, something which is an ongoing responsibility as Joey enters into new talks with vaccine producers for booster shots. "The A Dose of Hope program is centred on pushing for economic recovery through public health campaigns," Joey says. "It has spearheaded the world's first tripartite agreement between the private sector, pharmaceutical company and the national government for the Philippines."
During the pandemic, he also pushed for the country to lockdown at the height of the surge in 2021 ("which allowed the reopening of the economy in the fourth quarter," he says), for economic activity and mobility for the fully vaccinated through the "Bakuna Bubble" proposal, for lowering and eventually lifting of quarantine for international travellers and for shorter booster and primary dose intervals. He also lobbied for other business sectors to be allowed to open during the high alert levels.
The goal, he says, has always been to save "both lives and livelihoods". "That's what we have achieved now, thanks to a good alliance with the government," Joey explains. It's his ability to balance both his business and social responsibilities that is earning him accolades: in 2018, on India's Republic Day, the Indian Government bestowed upon him the Padma Shri Award, the country's fourth highest civilian honour, in recognition of his significant contribution to MSME-development in the Philippines and across the ASEAN region.
In the last two years, other honourable awards that have come his way include the Arangkada Lifetime Achievement Award from the Joint Foreign Chambers of the Philippines for his contribution to the MSME sector and for showing leadership during the COVID-19 pandemic. He was also a recipient of the Manila Bulletin's UPLIFT Award in 2022 for public service.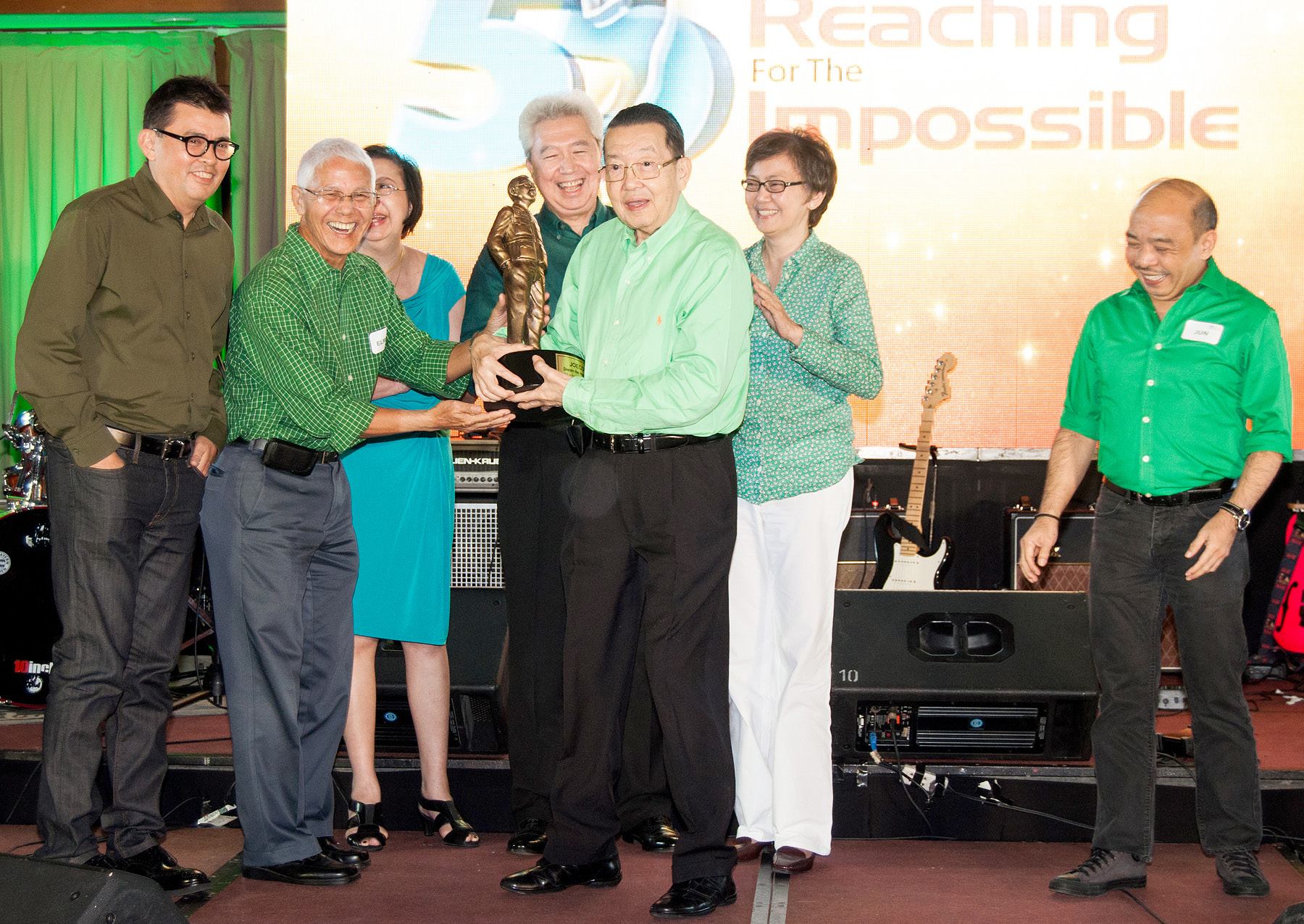 I took the lead in trying to galvanise the entire private sector and to work with the government to ensure everyone made it through the crisis.
On the business front, Joey says his focus at RFM remains on its core businesses, from flour milling – "where it all started" – and the products derived from flour such as pasta products, as well as milk, juices and ice cream (in partnership with Unilever). "RFM has succeeded over these past 60-plus years because we believe that we should offer quality food and beverage at the most affordable price," he explains. "From the external side, our advocacy, it's about promoting prosperity for all."
An economy with more players is more vibrant, and that's exactly what his goal is. "Imagine if we were able to scale a micro small enterprise up to a small enterprise and from there a medium-sized one?" he asks. "You actually increase the wealth of many people."
Such a shift will bring new players into RFM's market – something Joey knows from experience. "I've seen some of these small businesses grow into tough competitors to us," he says. But he is able to look beyond his business, towards what's best for the greater good. "What's most important is the consumer spending power and creating prosperity for more people and not just a few."
In the Family
In a recent Instagram post to mark his father's 90th birthday, Joey paid tribute to his grandfathers, his father and his uncle, Ronnie. "Joecon, Ronnie, José Sr and Salvador Araneta were astute businessmen – capitalists, even – they never thought of business as a zero-sum game. It was never about decimating the enemy. It was about building, adapting, advocating, changing, and in Joecon's very memorable words, about lighting a candle rather than cursing the darkness. Yes, they were businessmen, but they were businessmen who refused to mind only their own business. The welfare of the nation was their business, as it should be for every Filipino."