There is a philosophy embedded in the heart of Hong Leong Yamaha Motor that, much like an effective and well-oiled engine, has powered the company to the top of the Malaysian motorcycle industry. "We call it the One-C and Five-S concept," says Managing Director Dato Dr Jim Khor Mun Wei.
"We reached a point where we shifted focus from our products and pricing to adding value for our customers. We transformed our after-sales service to make it much easier and convenient for our clients. Even the marketing changed to be all about the customer rather than the supply channel."
It was hoped that by competing on value rather than price, the company would stand further apart – and above – its competition. The core of this strategy was the One-C and Five-S concept, which Jim says simplified the company's goals.
"The One-C is the customer, our first priority. Whatever you do, you must focus on the customer," he insists. The Five-S is an extension of a concept others within the industry have employed. "Some people apply Three-S, but we've gone for five. That's sales, service, spare parts, safety and society."
---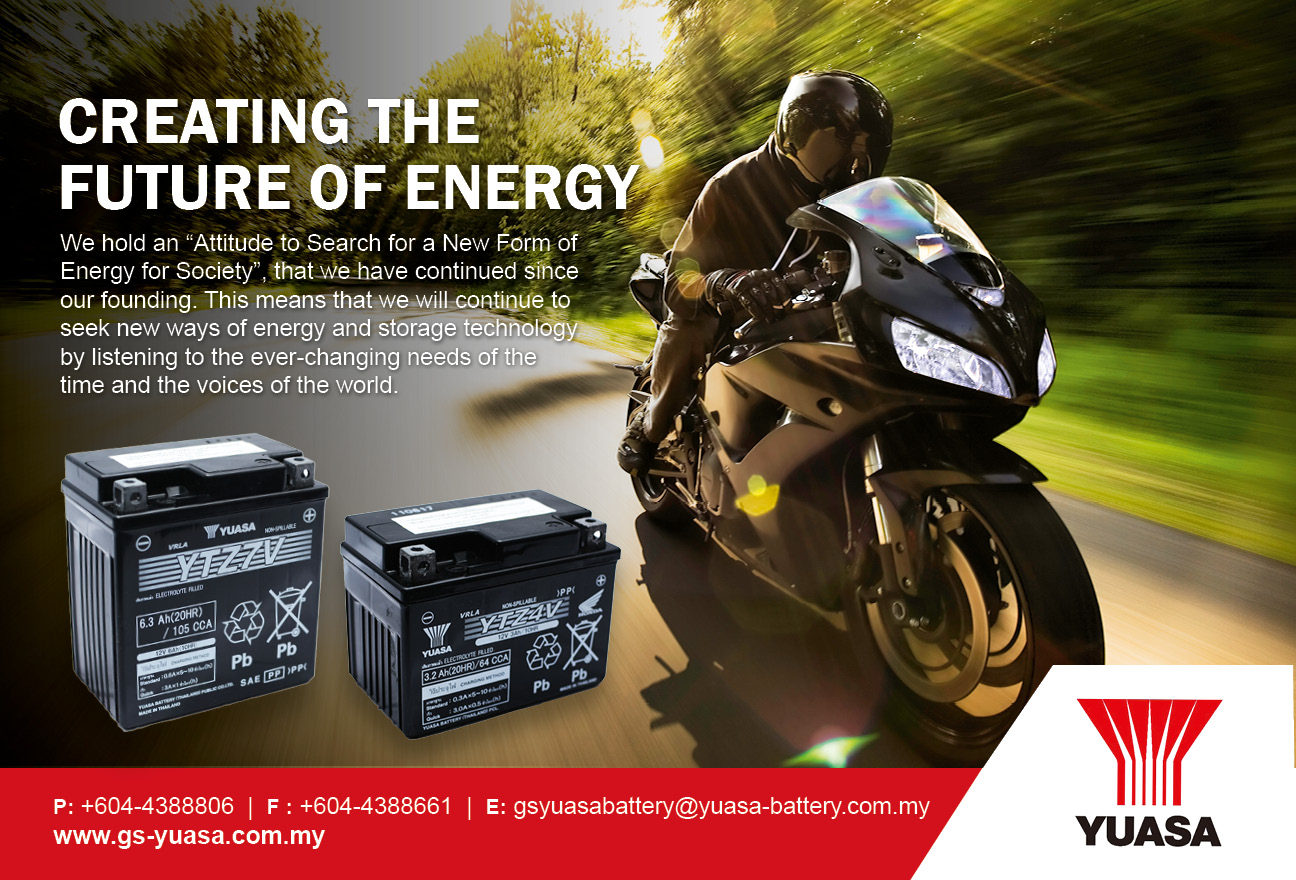 "We started our business with Hong Leong Yamaha way back in early 1980, when they started their production locally and their strong support towards our product continues until today. Working with Dato' Jim Khor, with his wide knowledge on motorcycle production, had improved our image significantly in aftermarket sales." – Masaki Tanaka, Managing Director, GS Yuasa Battery Malaysia
---
Advertisement
Safety has become a particular focus within this new approach because, as Jim puts it, Hong Leong Yamaha Motor isn't just selling motorcycles. "We're selling a lifestyle," he says. "We emphasise the safety of the rider and promote safe riding practices, and that's what we're doing throughout our network."
A big part of this push is the company's Lifestyle Station, which opened in late 2019. It contains a motorcycle showroom, a service workshop, an original equipment manufacturer parts outlet, a cafe, a clothing and merchandise store, Yamaha Music Corner and the Motorcycle Education Training Academy (META).
"META is very important to us, and we want to continue to develop and grow the concept," Jim says. "I believe the academy is a sustainable strategy to support not just our business but the entire industry, too. Through META we train motorcycle users, mechanics, dealers, safety trainers and customer service staff, and I think that's crucial for the business and the industry in the long term."
Yamaha's motorcycle lifestyle also includes motorsport events, which Hong Leong Yamaha Motor has worked to promote. The company has for years held its own Yamaha Motor Show and GenBlu Carnival in Kuala Lumpur and, with COVID-19 restrictions beginning to ease, more events will follow.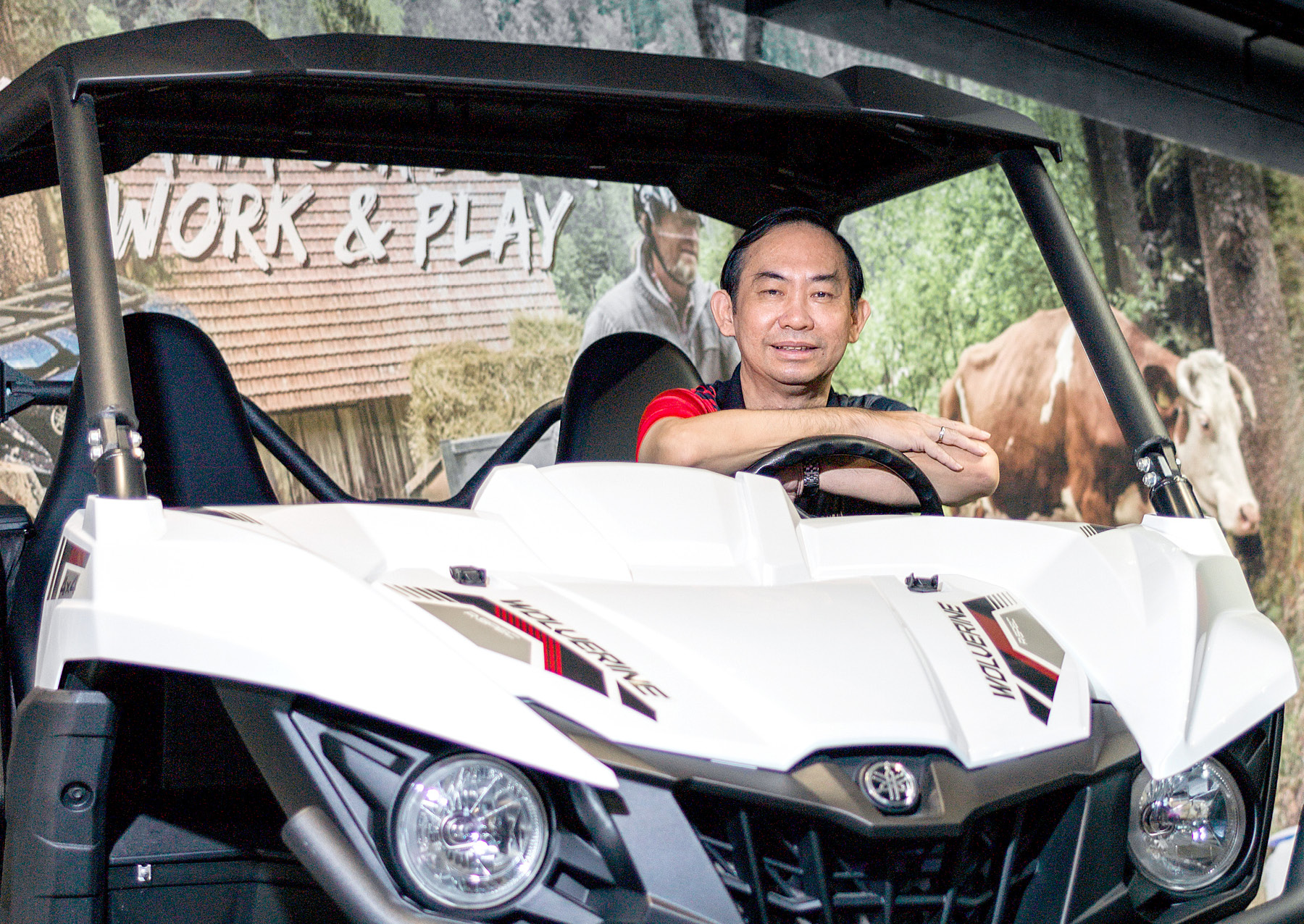 "Whatever you do, you must focus on the customer."
The Yamaha name also has a far reach, allowing Jim and his team to stretch beyond motorcycles. "Throughout our dealership network we have Yamaha musical instruments on display, and that then becomes part of the lifestyle," he explains. "If the customers are enjoying the lifestyle we're showcasing, they'll then come to buy our motorcycles. It's the lifestyle, not necessarily the product, that drives added value for our customers. When they're happy, we're happy."
Driven (so to speak) as it is by technology, the motorcycle industry never sits idle for long. As the hardware changes, so does the business direction of those selling the goods. For Hong Leong Yamaha Motor, this means a regular refresh and refocus process. "We're currently transforming our processes to suit the digital format. It's something we look at every three-to-five years," Jim shares.
"Right now, we're emphasising our digital marketing, moving to digital warranties, online booking and so on. Publicity and engagement rely on social media these days, and that's also part of our transformation."
But perhaps the most exciting part of the 'new' Hong Leong Yamaha Motor is its upcoming "smart factory". Robots and automated guided vehicles have been made an integral part of the site in a move Jim believes is a response to changing market demand. "These days, a factory needs to consider automation, digitalisation and supply chain efficiency," he points out. "Operation costs are continually escalating, so automation helps us to mitigate those costs."
---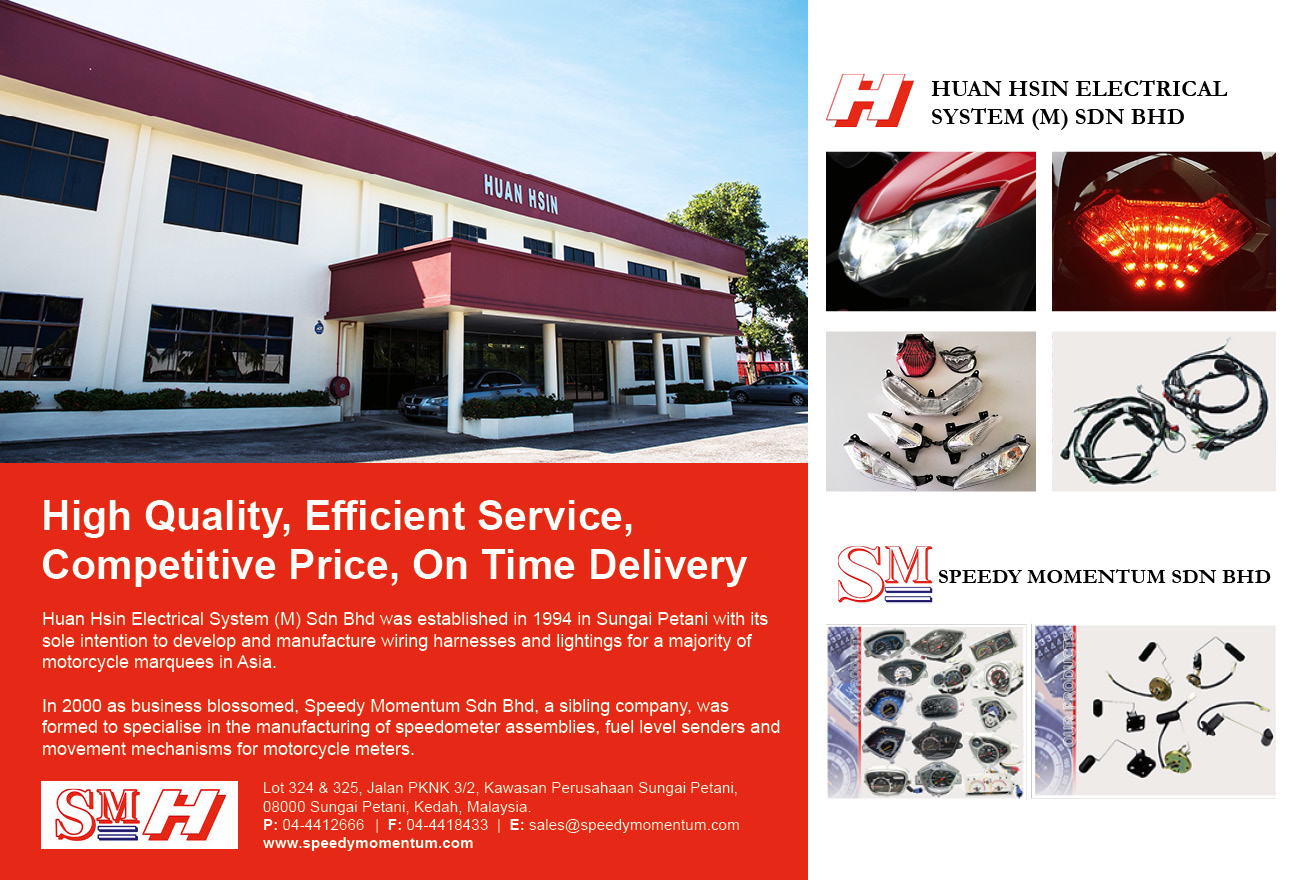 "Hong Leong Yamaha has been very supportive to Huan Hsin & Speedy Momentum during our long business partnership. We are grateful for the Hong Leong Yamaha team's continuous support and we will establish strong business collaboration together." – Hsu Hung-Chun, Chairman, Huan Hsin & Speedy Momentum
---
Advertisement
Technology also presents the company with a share of uncertainties and variables. The biggest of these is the concept of electric motorcycles, which is hot on the heels of the sizeable push electric cars have made into the market.
"It's still a very new concept within the industry, but the Malaysian government is promoting electric motorcycles," Jim confirms. "We have the products but they're completely new to us, so we're making sure we're as prepared as we can be because electric bikes might change the entire landscape of the motorcycle industry."
The Taiwanese capital Taipei has already seen large-scale implementation of battery swapping stations, a faster alternative to charging that has made the vehicles even more attractive to the market. "We don't know what is going to happen in Malaysia, but it will definitely be a challenge for us," he adds.
Whatever challenges the future brings, Jim says the Hong Leong Yamaha Motor team will face them as a united front. "A united team is a strong team," he says. "We have a very experienced team that's entrenched in a very strong enterprise culture – the Hong Leong Yamaha culture: we're helpful, objective and fair."
Principles such as these are important when it's time to promote the business, he adds. "Whether we're dealing with customers, dealers, partners or anyone on the supply chain, we have to be promoting our strong Hong Leong Yamaha culture," he stresses. "So when we make any decision, when we're implementing any strategy, we look for a win–win result."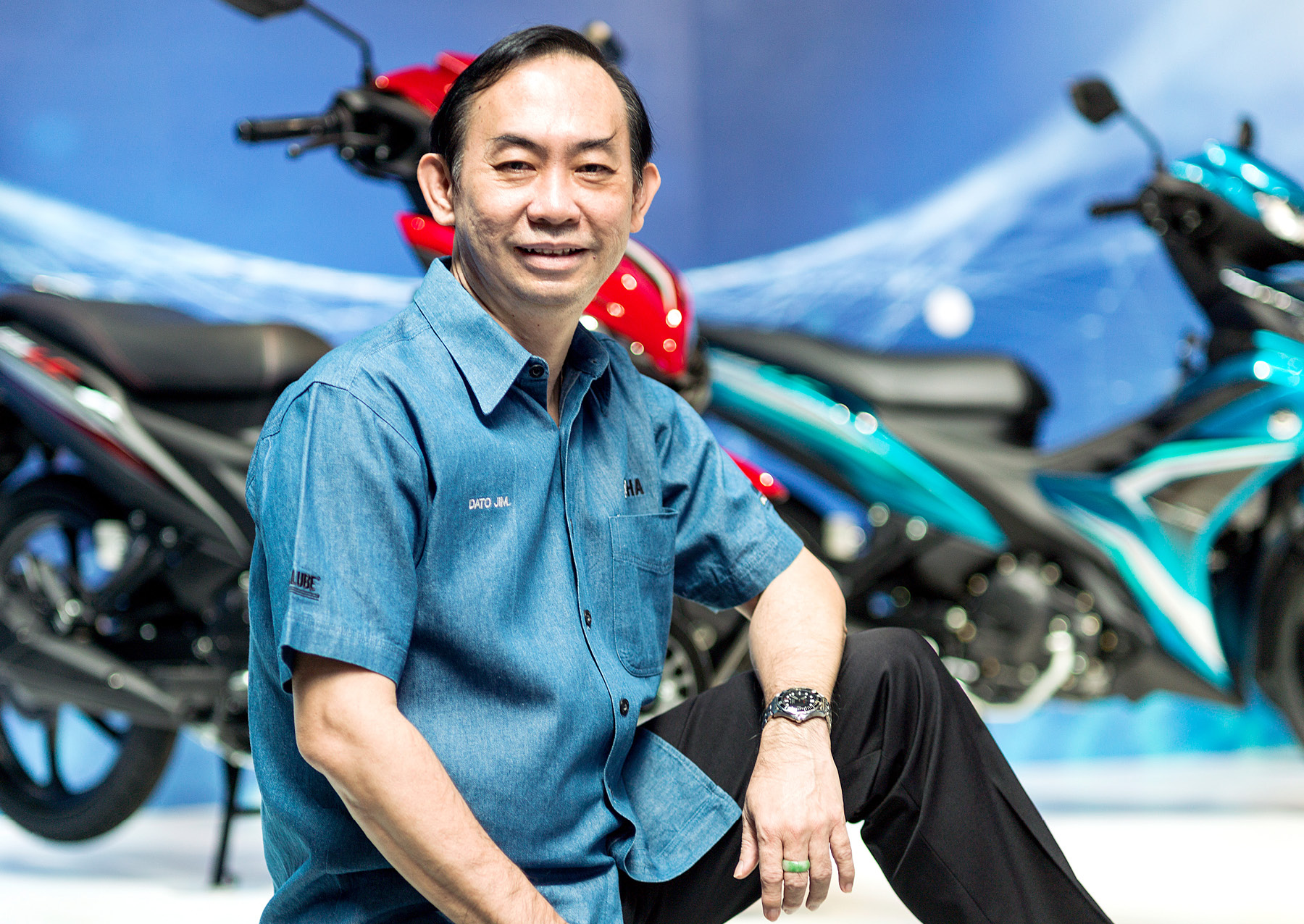 "Whether we're dealing with customers, dealers, partners or anyone on the supply chain, we have to be promoting our strong Hong Leong Yamaha culture."
The supply chain has become even more important in the wake of the COVID-19 pandemic, an event that highlighted the fragility of global logistics networks. For Hong Leong Yamaha Motor, Jim says it meant strengthening its relationships with partners and suppliers.
"It's so important to emphasise those partnerships," he insists. "We make sure to impart our knowledge, good practices and manufacturing concepts to our suppliers. When you share, you help them improve their processes, quality and overall costs. It's a win–win."
Additionally, the company's network of around 60 suppliers, including around 10 key suppliers, are rewarded for their loyalty and hard work with recognition, upskilling and even social activities. "We have an annual conference and reward night, which ends with a round of golf," Jim smiles.
One of the biggest benefits for partners and suppliers is the proximity to the powerful Yamaha brand. In fact, the strength of the brand has carried the business through to the top of the Malaysian market. "We are the number one brand in the motorcycle industry," Jim reveals. "It makes us proud because when we have high brand equality, we enjoy a high brand premium."
---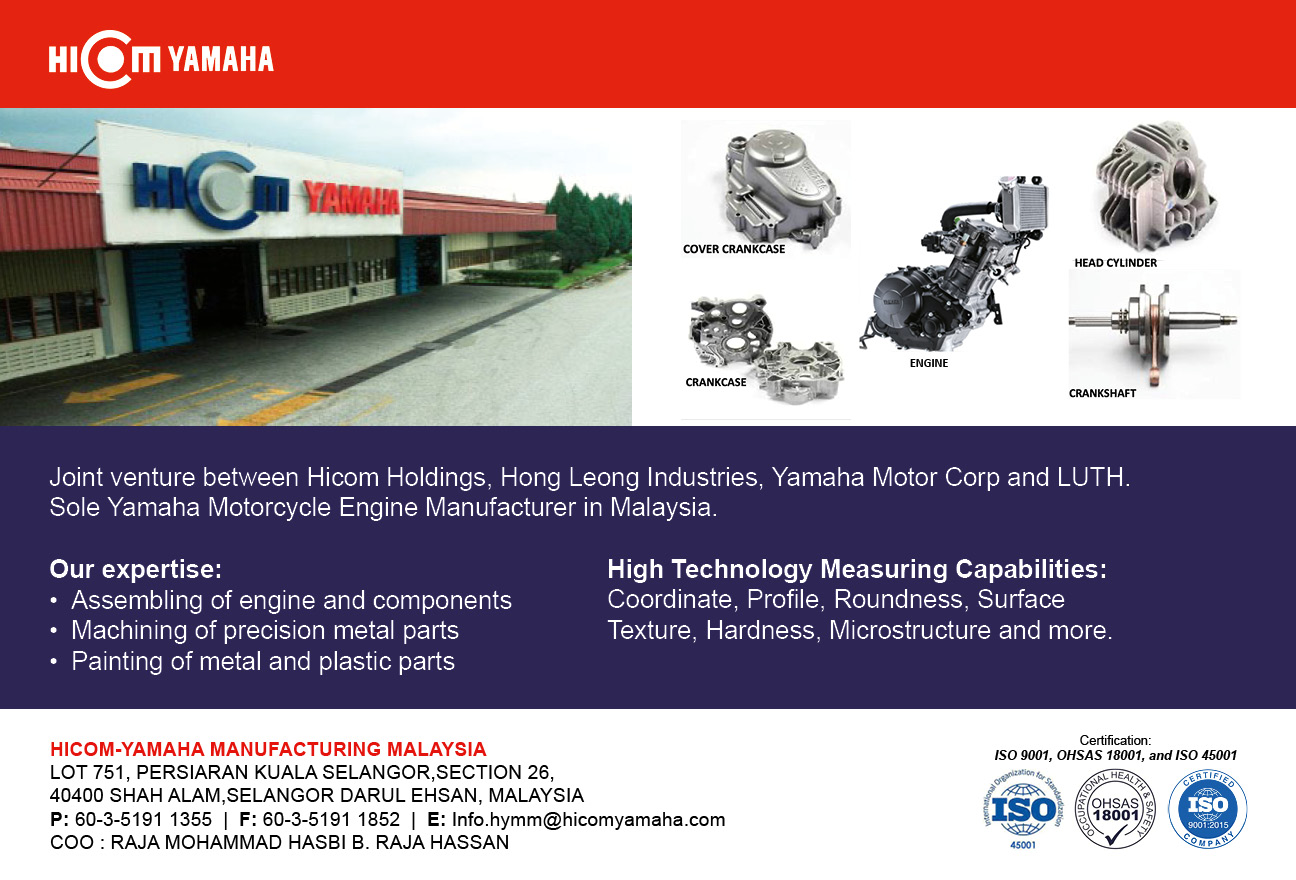 "The 38-plus excellent years of relationship between both companies. The win–win collaboration. We work and support each other to build Yamaha as a phenomenon and dream bike in Malaysia. Under Dato' Jim's stewardship, Yamaha has been recognised as the No. 1 brand since 2014." – Raja Mohammad Hasbi Raja Hassan, COO, Hicom Yamaha Manufacturing
---
Advertisement
That's also a selling point for customers. While it's true that Yamaha motorcycles fetch a higher price than its competitors, it's also true that the bikes retain their value in the second-hand market when it's time to trade up. "Customers are very happy about buying Yamaha motorcycles because they can be resold at a very high price, even a few years later," he says.
Through the hard work of Jim and his team, Malaysia has become Yamaha's strongest market globally. "Our market share is one of the highest among the entire Yamaha company," he beams. "It's a big achievement for my team."
Just as the team supports the brand, the brand in turn supports the team. Jim explains the company's management tier works hard to encourage those on their way up, and provides opportunities wherever possible – but there's a catch. "They must have a dream and they must think outside the box," he says.
"They cannot work to the status quo; they have to consider innovation. They need to have the passion for the business and they need to interact with our network of partners. If you can do those things, you're creating a strong company culture."