For much of her career, diving has been a way for Jane Teh to recharge her batteries. "When you go diving on a remote island, you don't get any reception. There's no line, no-one can reach you. For a couple of days it's just you and the ocean," she says. The Managing Director of Lalamove says she is always emphasising to her team the importance of leading away from the office. "If you never take a break to really enjoy things outside of your work, you are at risk of burnout." 
When the pandemic hit, she was forced to find another outlet for her energy – one that she could practise from the comfort of her own home. "I became a plant mum," she smiles. And it turns out that this serious hobby has also taught her a lesson or two to take back to the office. "Gardening takes a lot of time and patience, and that's something you can bring to your work as well," she explains. "Instead of panicking when you encounter a challenge you are more composed. You have a clearer vision and a clearer focus about how to resolve it."
And in Jane's world – on-demand delivery – such composure has proved to be a valuable attribute as she quickly progressed from Operations Manager to Managing Director within 12 months of joining the company in Malaysia in July 2020. "When I arrived at Lalamove I found a team that was burned out. They couldn't cope with the demand," she recalls. Wasting no time, she identified problems, reviewed processes and promoted people into more senior roles. Having proven herself in operations, she was appointed Managing Director in April 2021.
Lalamove is still in its infancy in Malaysia, having only arrived in the country in 2018 (it was established in Hong Kong in 2013, initially as EasyVan). Currently the last-mile delivery service operates in more than 20 markets, the majority in Asia. Mobile and web apps connect its driver-partners – and vehicles that range from zippy two-wheelers for light cross-city deliveries to trucks for heavier loads – to a customer base greater than seven million globally.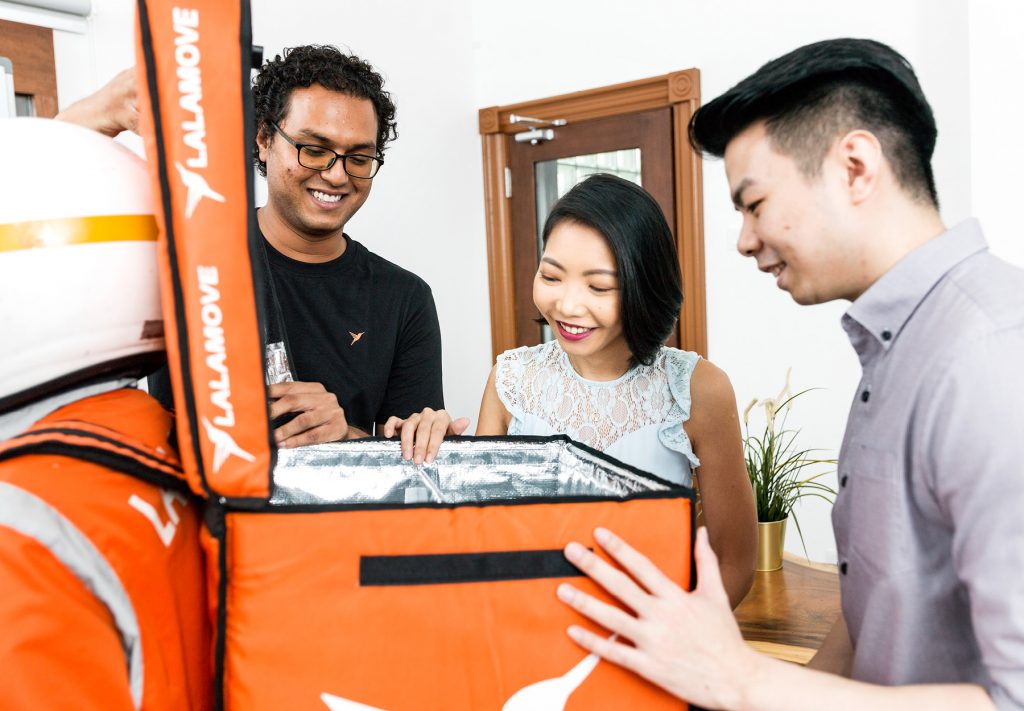 "For anyone in the logistics space, our service in Malaysia lowers the entry barrier as they don't have to recruit or finance a fleet."
Jane believes that her operational experience provided the ideal platform to allow her to step up to her current role. "In operations we have a growth mindset," she says. "Always upscale, always look for opportunity, never settle for less, that's what I try to instil to the team as well. Everyone needs to be ready when an opportunity is presented. If you're not it will fly by without you realising it."
With that in mind she says that her focus for the coming quarters will continue to be the two-wheel business, Lalamove's "bread and butter". "Aside from empowering the drivers we are also empowering small and medium-size enterprises to build a sustainable business in this new normal," she reveals.
The pandemic has seen a lot of smaller companies forced to scale down and, as they rebuild, many are looking to a more sustainable business model with reduced operational costs. "For anyone in the logistics space, our service in Malaysia lowers the entry barrier as they don't have to recruit or finance a fleet," Jane says. As an example she points to the rise in home bakers, a result of pandemic-induced job layoffs. "This is how people are making their living, and they can use us for deliveries."
For its corporate customers, Jane and her team also act in a consultancy capacity. "We look at their logistics, operation model and supply chain to see where our service can best fit into it," she explains.
She also understands that, in Malaysia, regional distinctions are at play and that impacts its approach to the market. "We are expanding into different states and we know that each one is a little different, especially in terms of how we want to market our products to ensure they are relevant," she points out. This flexibility to adapt, she adds, is something that gives Lalamove an edge on its competitors.
Jane may still have a lot of goals to achieve but if one thing's clear, it's that Lalamove has come a long way in the time it has been in Malaysia. "Initially we had to pursue people to use us," she says. "But once they actually start using our service they include us in their expansion plans as well."
"Lalamove Malaysia has been most reliable and responsive to our needs. We are grateful for the Malaysian team's support from day one of our operation, and continue to provide timely and thoughtful updates for our working collaboration." – Wafiq Rodzuan, CEO, Maynuu