NOT HOME FOR THE HOLIDAYS:
Top vacation destinations for executives and their families
Boating vacation expert Le Boat has put together its top three getaway locations for CEOs and business leaders looking to spend some family time after a hard year's work. Come aboard, we're expecting you…
1 /Italy – Venetian lagoon and Friuli: There comes a time in every jet-setter's life when it's time to see Venice, but the lesser-known Friuli provides a more serene and no less beautiful experience, just without the tourists. Head to the Adriatic Sea via houseboat and visit more than 120 islands around the Venetian lagoon before you hit the Friuli region, where you'll find restaurants, beaches and quiet seaside towns.
2 / France – Burgundy, the Camargue and the Canal du Midi: A world away from the touristy bustle of Paris, regions such as Burgundy are an ideal way to indulge in world-famous wine, medieval architecture and rich local cuisine. Head further south and you can hit the beach in the Camargue or visit Luna Park in Le Cap d'Adge; the remoteness and serenity provide the perfect way to unplug.
3 / Canada – The Rideau Canal: Ontario is home to the oldest continuously operated canal system in North America, and it's a gateway to a variety of fishing spots, small towns and villages, national parks and family friendly restaurants. You can even sail to the Canadian capital Ottawa when you're ready to rejoin the big city.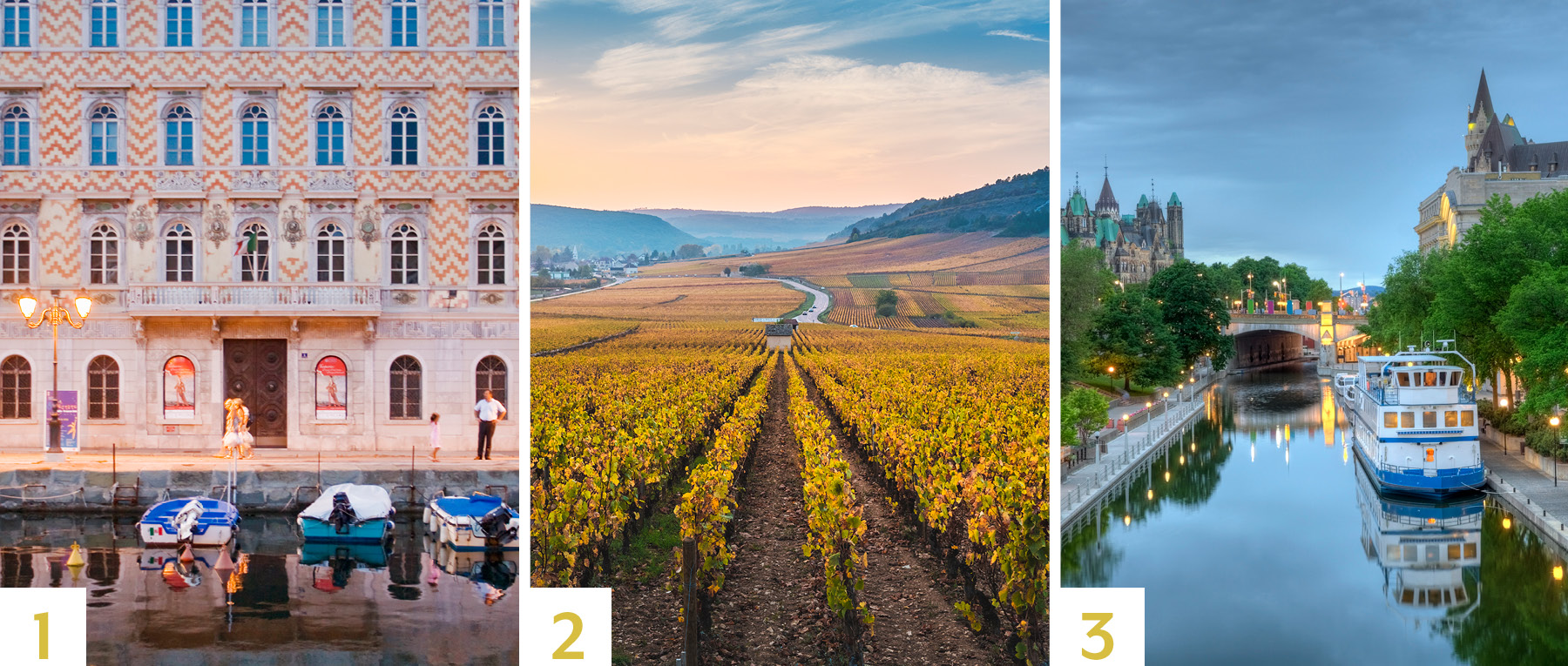 ---

---

Mexico has its fair share of private beachfront retreats, but Auberge Resorts Collection has decided to add a fairer one. Flanked by the jungles of the private peninsula of Punta de Mita, Susurros del Corazon opened to the public in November and has already redefined how luxurious an exclusive oceanfront resort can be.
With just 59 rooms and suites and 30 villas and homes, guests can expect a nice slice of time-out from the world. Susurros del Corazon's style is a relaxed mix of Mexican culture and coastal surf town framed by the spectacular Riviera Nayarit.
Nightly weekday rates start at US$999; as part of Auberge's exclusive opening offer, stays booked by March include every fourth night complimentary.
---

Santa may be about to go back into hibernation for another year, but his neck of the woods is worth exploring even in the warmer months. Hurtigruten Norwegian Coastal Express is offering a southbound 15-day Follow the Midnight Sun small-group tour in 2023.
The adventure begins in Stockholm and ventures to Santa's home town of Rovaniemi; Saariselka, where the Indigenous Sami of Finnish Lapland call home; and Kirkenes in northern Norway before winding up in Norway's second largest city, Bergen.
Along the way you'll hike with huskies, take an overnight ferry from Stockholm to Helsinki and visit Kirkenes' Snowhotel 365. Places are limited and prices start at US$5,283 per person twin share.
---

---

The boffins at Swiss watchmaker Raymond Weil have upped the ante for those in the globe-trotting timekeeper market. The new freelancer GMT Worldtimer is able to display 24 time zones simultaneously, making it the perfect choice for those on the go.
This remarkable feature hasn't impacted the freelancer's figure, however: thanks to a new self-winding movement, the Calibre RE3230, the freelancer remains a svelte 9.7 millimeters thick and 40.5 millimeters across.
Available with black or green dials, the freelancer GMT Worldtimer will set you back US$3,000.
---

The maiden voyage of Scenic's hotly anticipated new ultra-luxury discovery yacht is inching ever closer. Now in the final stages of construction, the Scenic Eclipse II will set a new standard for luxury cruise ships.
The vessel boasts spacious suites with butler service, a new indoor-outdoor bar, a massive oval pool and relaxation space, 10 dining experiences and enhanced versions of the wellness areas (think saunas, steam rooms, yoga and Pilates studios and KLAFS therapy lounges) that set the first Scenic Eclipse apart. Add to this two permanent helicopters and a submarine, and passengers will be able to enjoy their cruise on every level, from high above to 200 meters below.
The Scenic Eclipse II's inaugural voyage, the 11-day Incredible Iberian Discovery, travels along the Atlantic coast and into the Mediterranean from Lisbon to Barcelona, and will set sail in April 2023. Voyages to the Antarctic, Denmark Strait and West Australian coast will continue into 2024.