Lartirigoyen, the Argentine agribusiness spanning 43 commercial branches and 17 collection plants, has had a fruitful 36 years. For starters, there's the growth. "When the company began, we were a team of four employees," President and Co-Founder Ignacio Lartirigoyen recalls. "Today, we're approximately 1,100 employees strong. Our culture has always been one of growth."
And rightly so, considering all the growing that goes on both on and off the field. Lartirigoyen originates and markets more than two million tons of grain annually, making the company one of the leading competitive operators in the Argentine market. Additionally, it has a hand in the sectors of livestock, fuel distribution, pet food, crop production and seed processing, just to name a few.
It's all an extension of the company's initial vision. Established in 1986, Lartirigoyen was born of Ignacio's desire to focus on what he considered to be the most exciting part of the industry. "I was an agronomist and a consultant," he explains. "At the beginning of my career, I was an adviser to the Consorcio Regional de Experimentacion Agricola (CREA), a very large organization made up of producers in Argentina."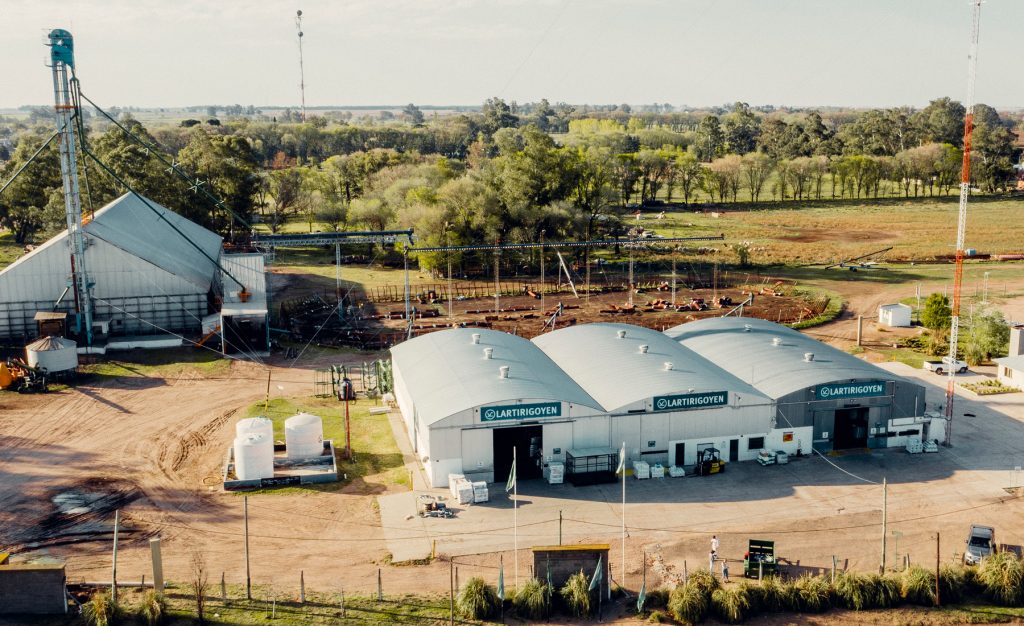 "We try hard to do business with those who believe business is life, the way we do."
Having worked across both the advisory and commercial arms of CREA, the latter had a particular allure for him. "I dedicated myself entirely to the commercial part," he says. "And Lartirigoyen was created there."
Initially a partnership, the company was sold in part to the Glencore group in 1997. "You can see that they liked what I was doing, because I've been President of the company ever since," he smiles.
Ignacio says that growth was all throughout. "The company has several business units, but basically we're dedicated to marketing," he points out. "So, the purchase and sale of cereals and oil seeds. We've commercialized approximately 2.7 million tons – that's 2.3 per cent of the Argentine harvest – over the past year." 
The company's turf stretches across the province of Buenos Aires and the grasslands of La Pampa. It sows some 370,000 acres of agriculture; 124,000 of which belong solely to Lartirigoyen. "The rest belongs to our associates," he shares. "We have almost no fields of our own, everything is leased by our partners."
Ignacio explains that those partners include its key suppliers, with whom the company has built firm bonds of trust over the decades. "They know they can trust us," he says. "And we try hard to do business with those who believe business is life, the way we do."
Recent innovations in technology have prompted Lartirigoyen to delve into that sector further. "We have minority stakes in tech companies because we saw what was on the horizon," he says. "We always seek to grow by looking for opportunities as soon as they appear."
In a rapidly changing country like Argentina, that's a very common occurrence. "We're always looking ahead five years to see not only where we want to be but where the country will be," he adds.
Of late, those forecasts always return to climate change. And, as a result, Lartirigoyen is fiercely dedicated to doing its part for the environment, which is the foundation of its business, according to Ignacio. "We're measuring our carbon footprint, so we can see how best to mitigate it," he says. "We believe between now and 2035, we'll have to substantially lower our carbon footprint through best practices in agriculture."
That means solar energy and innovative recycling techniques. "We're currently working on the management of empty agrochemical containers and how to transform them. We're also incorporating solar energy with other alternative energy sources. The speed of change in technology is blinding, so we're constantly looking at the opportunities provided by new startups to help us manage better and become more efficient."
"Countries need companies, and those companies must be durable and reliable."
It's this kind of adaptability that Ignacio believes sets Lartirigoyen apart from its competitors. "Being a very flexible company, we can make concessions and tailor deals for different clients because we're close to them and we know them," he says. "We meet customers wherever they are; we get to know their tastes and understand how they want us to treat them. Without clients, we do not exist as a company."
The other essential element is Lartirigoyen's own team, which Ignacio says is carefully selected based on quality. "We try to choose people with values similar to our own," he explains. "And what they find is that Lartirigoyen is a very good place to develop one's career because we allow for so much freedom. We see our people respond to that freedom."
The company's tireless pursuit of growth has left its Co-Founder with a company he's very proud of. "When I look around the business, I see conviction and solidarity among the new generation," Ignacio beams. "Countries need companies, and those companies must be durable and reliable. If you work very hard, the results speak for themselves."