Hisakazu Kitanobo used to manage a team of 60 people in Indonesia for Japanese tractor manufacturer Kubota. Now, after taking on a new role as Managing Director of Kubota Agricultural Machinery India, his team is 10 times that size. "I'm under a much higher magnitude of pressure now, but I really enjoy it," he laughs.
As well as having 600 employees, KAI, as the company is also known, runs two manufacturing facilities across the country – in Chennai and Pune – where it produces its machines. India is the world's largest four-wheel tractor market in the world, so to get closer to this lucrative market, Kubota established its Indian subsidiary in 2008, bringing with it well over a century of experience in innovation in the sector.
Kubota has been at the forefront of research and development (R&D) in Japan's agricultural space since its founding in 1890. It is now active in more than 120 countries around the world, and while it is renowned for its role in the agricultural machinery market, it also has interests in construction machinery, housing supplies, water pipes, vending machines and environmentally friendly processing facilities.
The company's forward-looking management policies and unique R&D activities have also allowed it to remain on the leading edge of development and innovation. It's therefore little surprise that in the 14 years since its founding, KAI has quickly become a major player in India's agricultural machinery industry. The firm has more than 250 dealers across India and offices in Chennai, Pune and Delhi, as well as four depots in Pune, Bhopal, Cuttack and Rajpura.
Growing India's economy
As well as tractors, KAI supplies rice transplanters, combine harvesters and power tillers along with implements and attachments, all of which are designed with productivity-boosting innovations. In fact, boosting the productivity of farmers is a key part of its mission and vision.
The company believes it has a major role to play in contributing to the Indian economy through the mechanisation of agricultural processes. A large portion of the country's population is employed in agricultural jobs, with many parts of the planting, harvesting and sorting process still done by hand. With the growing presence of mechanisation, KAI brings greater yields and better profitability that it believes will lead to an overall increase in food self-sufficiency for the nation.
And while its machines aren't the cheapest on the market, Hisakazu says their durability and reliability, coupled with a strong focus on after-sales service and a culture of striving for sky-high customer satisfaction, means they represent an excellent investment.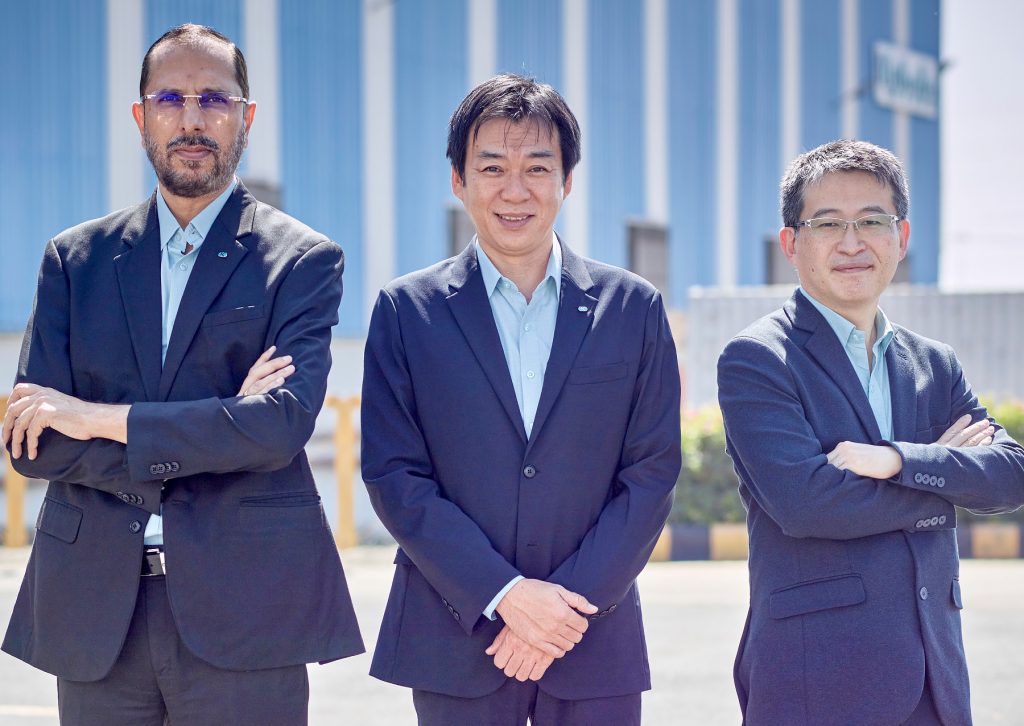 "Our tractors are very good when it comes to fuel economy."
"Our main focus is on ensuring that the customer benefits," he explains. "Kubota sells tractors in India under the slogan 'Japanese innovation for Indian agriculture'. In the initial stages, the customer may find that these tractors are high in cost, but on the other hand they bring great benefits. Our tractors are very good when it comes to fuel economy, for example. So in the long run, from a customer point of view, Kubota is a really good fuel saver."
Because of its four strategically located depots, KAI can offer rapid service when spare parts are needed, while its factory-trained service technicians are specifically tasked with ensuring speed of delivery, and minimising the effects of a fault, breakdown or damage on the customer's business.
The company even has a hotline that customers can use to call a "service ambulance" that will come to them to fix any problem with the machine. "Kubota is the only company that has introduced the service ambulance for the Indian market," Hisakazu says. "You just need to call the service ambulance, and it will come over there and resolve your issue."
And other forms of after-sales services are geared specifically toward the needs of certain subsets. "Our construction equipment machinery does very heavy work where the machine has to perform without failure," he points out. "So we have things like periodical maintenance programs. Whatever the customer expects, the programs are there."
Emphasis on Kaizen
KAI's approach to its partners is based on the Japanese concept of kaizen, or continuous improvement. While this practice is now widely adopted in businesses throughout the world, the company maintains a specific focus on encouraging suppliers and other partners to follow its rules as well.
"We always emphasise to our business partners that they should pursue kaizen on their end – we are inviting them to make continuous improvements," Hisakazu shares. "Sometimes we learn a lot from doing this improvement activity at the supplier end, so it helps in two directions."
The same applies internally: KAI applies the concept of kaizen to all employees at all levels, starting first with an emphasis on safety and then focusing on improving the organisational structure of the workforce with an eye to improving morale, quality and productivity while lowering costs.
"Once everything is in place with kaizen, morale also improves," Hisakazu says. "All these major factors – productivity improvement, quality improvement, cost improvement, delivery, safety and morale – will also benefit our business partners working with the same platform and same overall processes as Kubota. This is a win–win situation."
---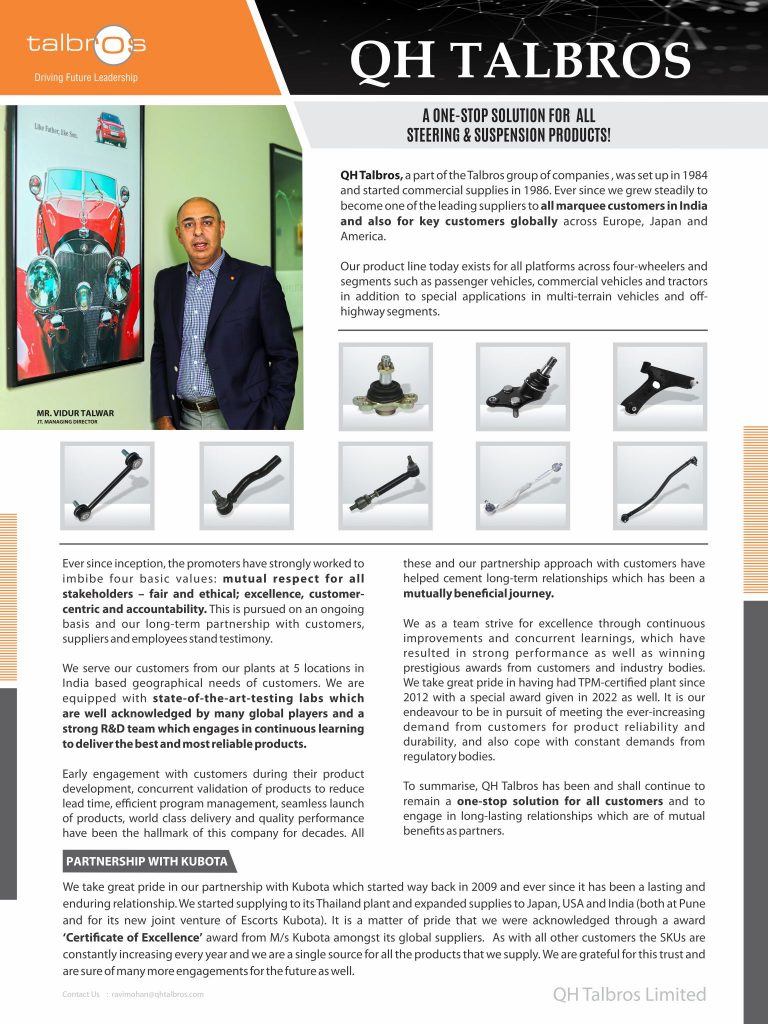 ---
Advertisement
Place of happiness
Last year, Kubota increased its stake in a local tractor manufacturer called Escorts in order to control a majority share. The acquisition gives the company access to an entity that specialises in the manufacture of what it calls basic tractors – those that have low functionality but are highly durable and sold at reasonable prices.
KAI will now bring its R&D capabilities to improve upon Escorts' designs in terms of productivity and quality, while also using its product development knowledge and expertise in procurement and manufacturing to enhance Escorts' processes. KAI will also be able to make use of the target company's distribution networks to offer a wider range of products to more customers.
"Thanks to this unity we have with this local partner Escorts, Kubota can really emphasise the synergies between the Japanese and Indian sides of the company, so that ultimately we can meet the expectations of our customers," Hsakazu says. "We are constantly saying that we want to create an unmatched customer experience, and by doing this acquisition we think we're making it easier for us to give that particular experience to the customer."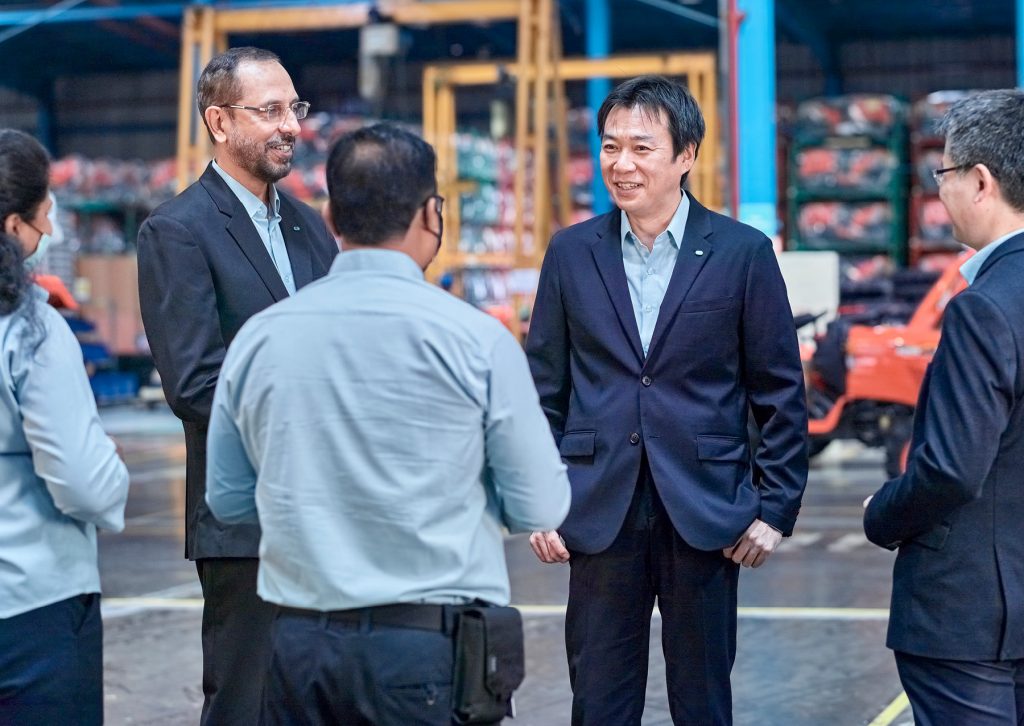 "We are constantly saying that we want to create an unmatched customer experience."
The acquisition also presents a challenge for Hisakazu. Kubota now has three separate entities in the country – the third being a joint venture formed with Escorts before the acquisition, called Escorts Kubota India – that he must merge together. That will mean mixing cultures, geographies and ways of working.
"Our mission is to merge all these three entities into the one Kubota," he reveals. "All three entities are located at a different location; everybody is at a different working site and has a different culture.
"So one of my main challenges now is to bring things to a point where all these different cultures and types of working styles can come together and maintain a balance. While doing this, we'll definitely have some kind of conflict but we should be able to overcome it and arrive at a place of happiness by embracing and respecting each other."