Good food and inspiring design are no longer enough for discerning travelers when it comes to choosing a hotel. In the wake of the COVID-19 pandemic, consumers are focused not only on living better lives, but also contributing to building a better, healthier world for everyone.
As the call for travel operators to practice eco-consciousness grows louder, it's not surprising that more hotels are jumping on the green bandwagon. While some have resorted to greenwashing and merely ticking off the bare essentials for sustainability, others are making a real difference.
In fact, many travel and tourism operators were walking the sustainability talk even before it became fashionable.
Some outstanding hotels and resorts have demonstrated their genuine commitment to sustainability by recruiting dedicated staff to plan and implement eco-friendly initiatives, and they even measure the impact of these efforts via regular audits. Others seek to make a lasting impact through hiring, educating and empowering local communities to ensure that they are invested in the preservation of their environment for generations to come.
From the remote Himalayan kingdom of Bhutan to the sparkling azure waters of the Maldives, here are five of some of the world's most sustainable hotels and resorts.
---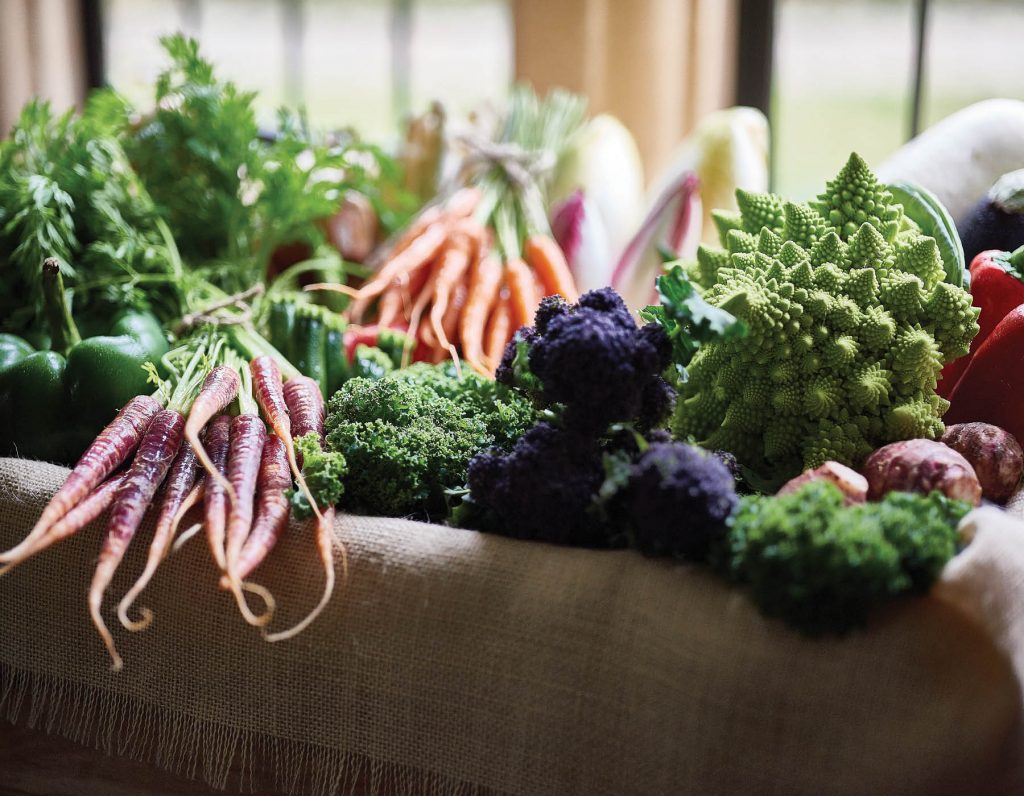 Le Manoir aux Quat'Saisons, A Belmond Hotel
United Kingdom
The Le Manoir has sustainability at its heart. A total of 11 gardens are found here, of which almost a hectare is dedicated to the planting of vegetables, fruits and herbs. The produce is used by the Raymond Blanc Cookery and Gardening schools, as well as the hotel restaurant, which has held its two Michelin stars since it was opened by Chef Patron Raymond Blanc in 1984.
In fact, creating the vegetable gardens was the first thing that Blanc did when he purchased Le Manoir. First-time guests are usually fascinated by the sight of the food waste composting machine and food waste dryer at the end of a guided tour of manor-house's gardens, but the machines were the next logical step in the hotel's commitment to sustainability, as it plays a key role in closing the food waste loop.
The composter and dryer were acquired by the hotel in 2019 and can process around 100 metric tons of organic waste a year to yield 40–50 metric tons of compost – all of which makes the soil more fertile for growing produce.
The hotel's environmental ethos also extends to its 32 individually styled rooms and suites. Only eco-friendly cleaning products are used and all amenities are 100 percent recyclable.
To further reduce waste, discarded soaps and candles are reused by a local charity in craft-making sessions for the young and elderly. Newspapers are recycled or sent to the Tiggywinkles Wildlife Hospital, where it is used for animal bedding.
For its green efforts, the Michelin Guide awarded Le Manoir the Green Star in 2021 and 2022. A US$43 million plan to add a wellness spa, new accommodation and a bistro is also under way, but from the hotel's track record, there's no doubt it will remain committed to sustainability.
---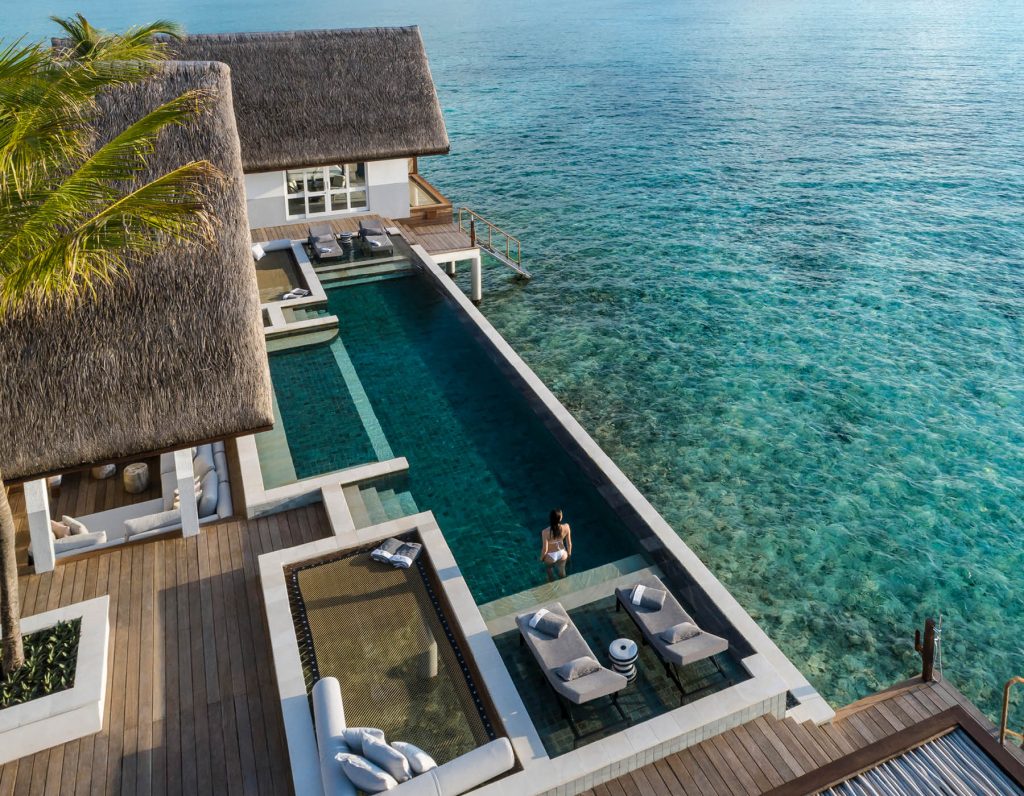 Four Seasons Resorts Maldives at Kuda Huraa and Landaa Giravaaru
Maldives
Two of Four Seasons resorts in the Maldives, Kuda Huraa and Landaa Giraavaru, are the archipelago's pioneers in environmental and marine conservation.
Kuda Huraa was the first Maldivian resort to have marine biologists and its own Marine Discovery Centre. More than two decades later, such centers have become highly desirable inclusions at many other Maldivian resorts.
In 2001, Armando Kraenzlin, then-General Manager of Kuda Huraa (now Regional Vice President of Four Seasons Maldives and General Manager of Landaa Giraavu) worked with Thomas Le Berre to pioneer the Maldives' first coral frame structures.
The objective was to regenerate local reefs, which had been devastated by the bleaching effects of the El Niño weather pattern in 1997–1998. The project developed into Reefscapers, one of the most successful reef propagation projects in the world. Since then, the project has deployed more than 7,000 coral frames, supporting the growth of more than 40 species of corals.
In 2005, spearheaded by marine biologist Guy Stevens, Landaa Giraavaru launched the Maldivian Manta Ray Project (MMRP). MMRP became the founding project of Manta Trust which is now the world's leading manta ray charity.
And in the 12 years since Landaa Giraavaru opened its Turtle Rehabilitation Centre in 2011, turtle biologists have rehabilitated and returned more than 155 sea turtles to the wild.
The resorts have also partnered with the Maldives chapter of Parley For The Oceans since 2018 to collect plastic waste from the resorts and neighboring islands.
In the first year of operation, more than 1.3 metric tons of plastic were recycled into sportswear – plastic that would otherwise have ended on Thilafushi (the artificial island in the Maldives where the country stores its waste) or in the ocean.
---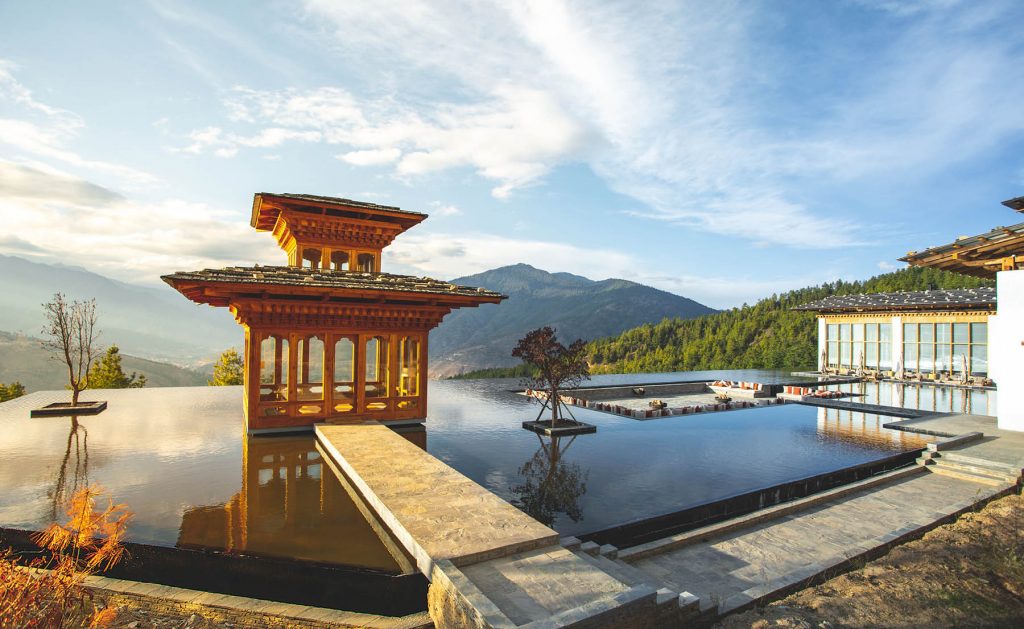 Six Senses
Bhutan

Located on lush hillsides dotted with prayer flags, amid picturesque farmland and ancient monasteries, Six Senses' five lodges in Bhutan take the brand's eco-credentials up a notch. The hotels take a holistic approach to sustainability, rather than focusing on one issue.
As the country opens up further and consumption increases, littering is becoming a problem. It is not unusual for tourists to see confectionery wrappers and plastic bottles on the track while hiking.
In an effort to combat the problem, staff at each lodge have created loop hike trails that lead up to temples and monasteries and back to the lodge, and guests are encouraged to pick up garbage during a hike with a guide. According to General Manager Andrew Whiffen, a staggering 20 kilograms of garbage is collected during each group outing.
Meanwhile, in Punakha, guests may join the novice monks at Chorten Nyingpo Monastery for breakfast for a donation. To date, US$6,370 has been collected for the purpose of funding the monks' learning programs.
At the Thimphu lodge in the capital, guests can make crafts at the Six Senses' Earth Lab using leftover materials, giving them a new lease of life. Just recently, fabric scraps from staff uniforms were transformed into tea cozies.
Staff at the Paro and Gangtey lodges grow crops in the vegetable gardens, which have been nourished with the compost produced on-site. Harvested crops are then distributed across the lodges. At Paro, grass cuttings are donated to the Maya Foundation, an animal sanctuary, as fodder for horses and donkeys.
A farming project has been initiated in Damchena, near the Paro Lodge, which will grow superfoods like quinoa and kale. This both boosts the variety of the Bhutanese diet and cuts down on food miles.
In line with Six Senses' Zero Waste philosophy, an eco-village has been constructed from wood left over from constructing the Paro lodge. The village also serves as an education center for the locals, teaching them about sustainability.
---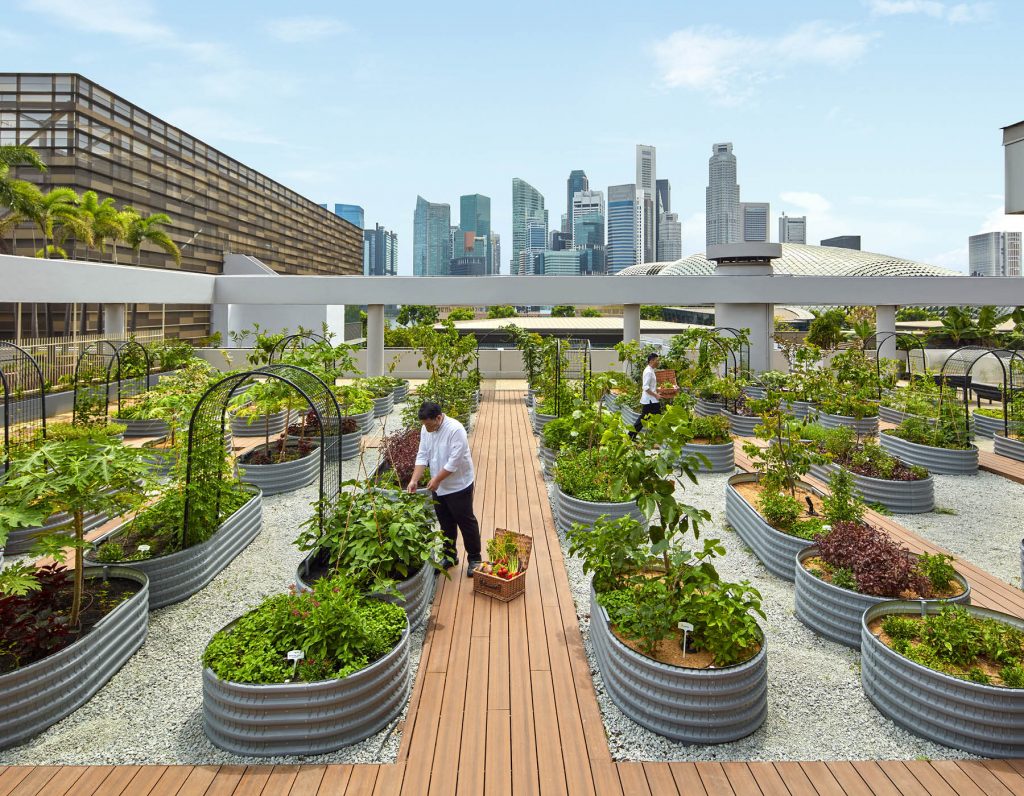 Parkroyal Collection Marina Bay
Singapore
The only city hotel in this list, the Parkroyal Collection Marina Bay sets the gold standard for urban hotels pursuing sustainability – a fact that's reflected in the numerous green accolades it has won.
The Parkroyal Collection, which opened in 2020, is also known as Singapore's first 'Garden-in-a-Hotel' for the extensive planting of more than 2,400 plants and trees across 1,400 square meters of space.
Instead of tearing down the original hotel building that had opened in 1987, the owners of the hotel opted to preserve its structure and transform the building at a cost of USD$33.7 million. This prevented more than 51,300 metric tons of carbon dioxide emissions.
Throughout the hotel, guests will discover other low-carbon initiatives such as solar panels, electric vehicles and a gigantic air purifier in the form of the 'forest'.
In the rooms, all of the eco-criteria are ticked, including filtered freshwater taps, biodegradable amenities and motion sensors to power down lights and air conditioning.
Eco-travelers will also be happy to learn that their coffee capsules are recycled as compost for the hotel's rooftop urban farm, which grows more than 60 varieties of vegetables, herbs and edible flowers.
---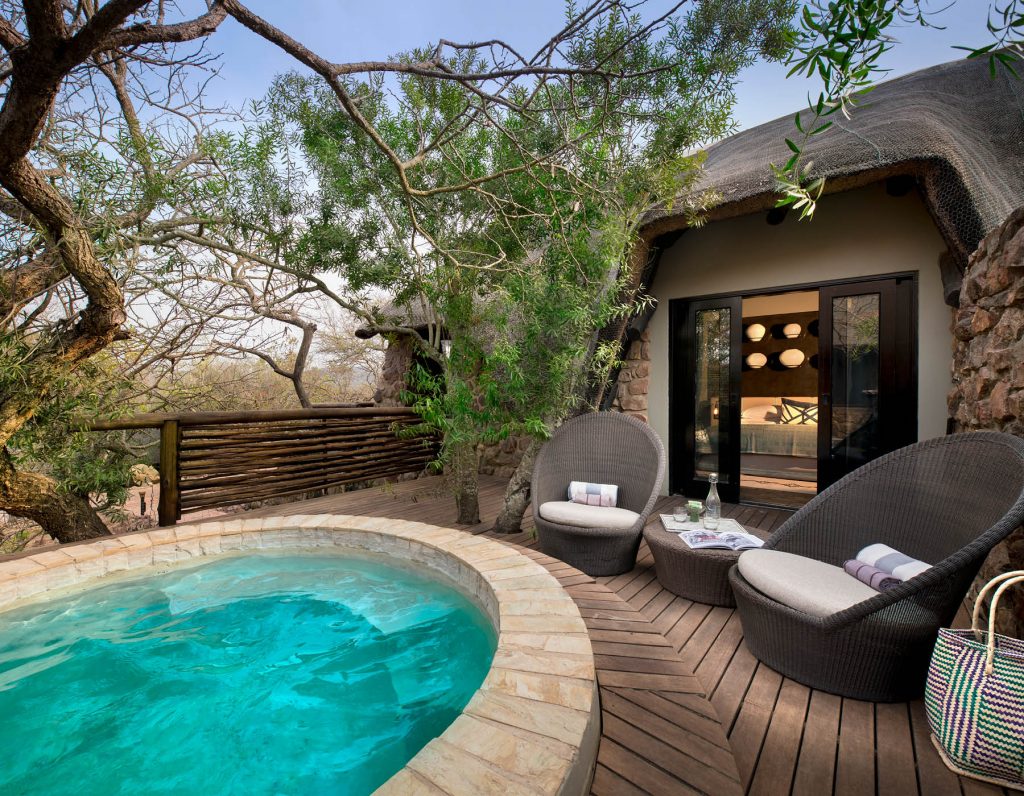 &Beyond Phinda Private Game Reserve
South Africa
&Beyond's story started in 1991 in the KwaZulu-Natal province in South Africa's south-east, on a beautiful tapestry of varied terrain measuring 12,000 hectares, stretching from grasslands to woodlands over mountain ranges and across rivers and marshes.
It was also here that &Beyond's lodges would grow to a total of six, and the group's Care of the Land, Wildlife and People impact vision would be tested and shaped to become the blueprint for ecotourism.
The Reserve's founding goal was to bring life back to a land devoid of wildlife, as it had been used for planting pineapples and as game farms. The rejuvenation was done via a three-pronged approach: taking care of the land, wildlife and people.
By providing employment and investing in welfare and education, &Beyond gained the trust of the local communities. When the people saw that conservation could be economically viable, they supported the Reserve's efforts to rehabilitate the land, allowing wildlife to return.
Thirty-two years on, the Reserve has grown to 30,000 hectares and is now home to a flourishing population of Africa's Big Five animals and more. Wildlife that is rarely seen elsewhere, including the endangered black rhino, thrives here. The Reserve also has one of South Africa's most genetically diverse lion populations.
While the Reserve now also focuses on energy-saving initiatives and eliminating the use of plastic on-site, conservation still remains a priority. In 2019, it joined the African Pangolin Working Group to reintroduce the Temminck's pangolin to an area where it had been absent for decades.
The Reserve also aids the establishment of other reserve populations in Africa, such as reversing a 15-year local extinction of lions in Akagera National Park in Rwanda.