Five minutes after stepping onto a paddle court for the first time in my life, I'm dripping with sweat and already contemplating how much of my water bottle I can pour over my head and still leave enough for essential hydration.
I've never played this now popular tennis-squash hybrid game before, but that's not my worry. The issue is that it's a steamy morning in paradise, and it's made even hotter as waves of heat rebound off the court's glass walls at the same speed as the ball.
Maybe I've accidentally signed up for some new-age twist on the racket sport, I wonder as I make yet another swing that misses. I make a mental note to Google if there's a paddle equivalent of Bikram Yoga – that's if I survive the match.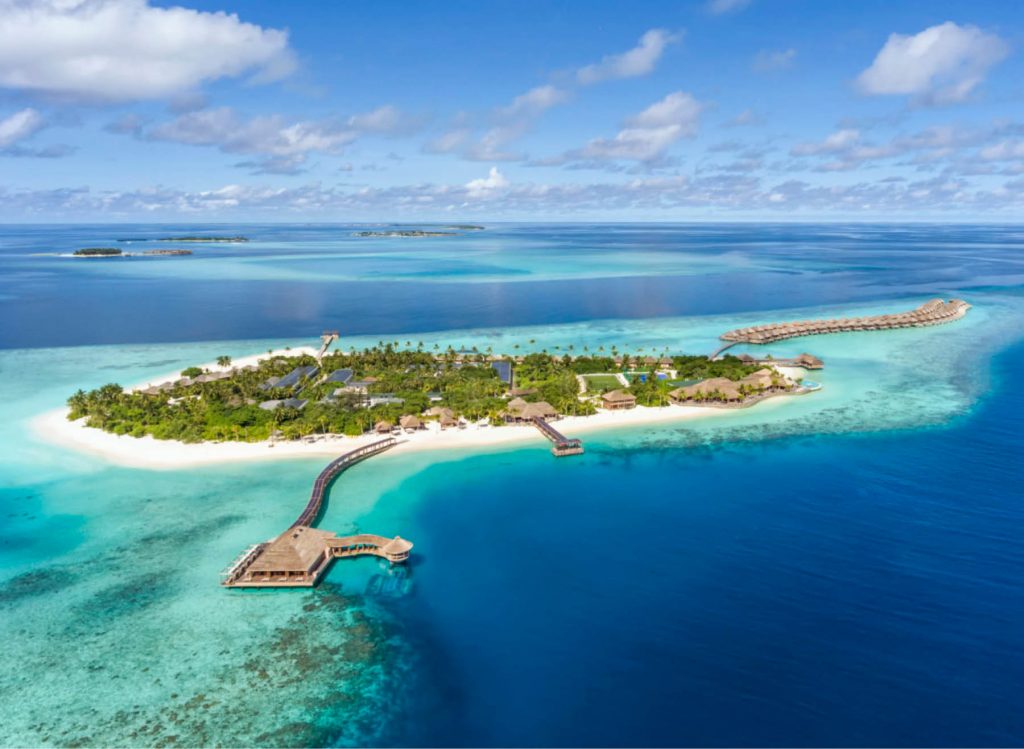 Paddle courts are popping up in all sorts of locations, from Tuscan castles to super yachts, but the court I'm making my debut on is framed by lush tropical leaves at Hurawalhi Island Resort in the Maldives.
I've only been here a couple of days, but the five-star resort has already earned the nickname 'action-packed island' considering the variety of sports and activities available, including jet-skiing, wakeboarding, sea bobbing and a superhero-style flyboarding experience.
As soon as the match finishes, I tear off my trainers and the soft sand against my bare feet suddenly feels more luxurious than any thousand-thread Egyptian cotton sheets.
I make my way to the poolside bar. Last night, I might have been in the mood to experiment with house-infused cocktails as our group tapped our toes to the traditional Maldivian dance show, but this morning a fresh mocktail proves to be essential post-sport recovery.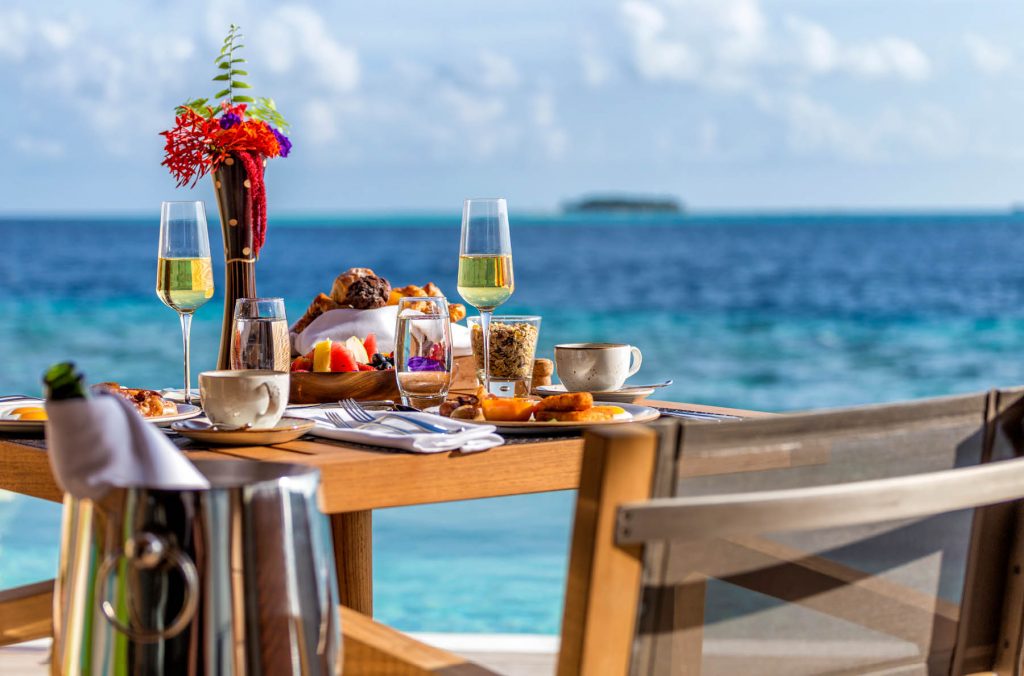 My heart rate returns to normal and my body temperature cools down as I sink into a deep sofa and take a large sip of my reviving ginger, lime and mint drink. As I do so, I survey the view across the lagoon toward Dream Island, the resort's private sandbank that has hosted more wedding proposals than it has square meters.
Since arriving on the island a few days earlier, I've developed what may become a rather expensive habit of ordering bespoke drinks depending on my mood, although here that's not an issue because everything is included in the price.
The New All-Inclusive
With its connotations of packaged vacations on charter planes to high-rise hotels on the Mediterranean coast, 'all-inclusive' and 'luxury resorts' haven't traditionally been terms found alongside each other in holiday brochures. Yet they are starting to find themselves joined together in the travel lexicon.
"You can now have a very high-end all-inclusive holiday," Hurawalhi's General Manager, Patrice Aira, tells me. Having spent his career in luxury properties around the world, Aira saw firsthand just how much the COVID-19 pandemic shook up travelers' expectations.
"People now just want to have a great time and get the most out of their money in a high-end setting without having to nickel and dime when they are on holiday," he says.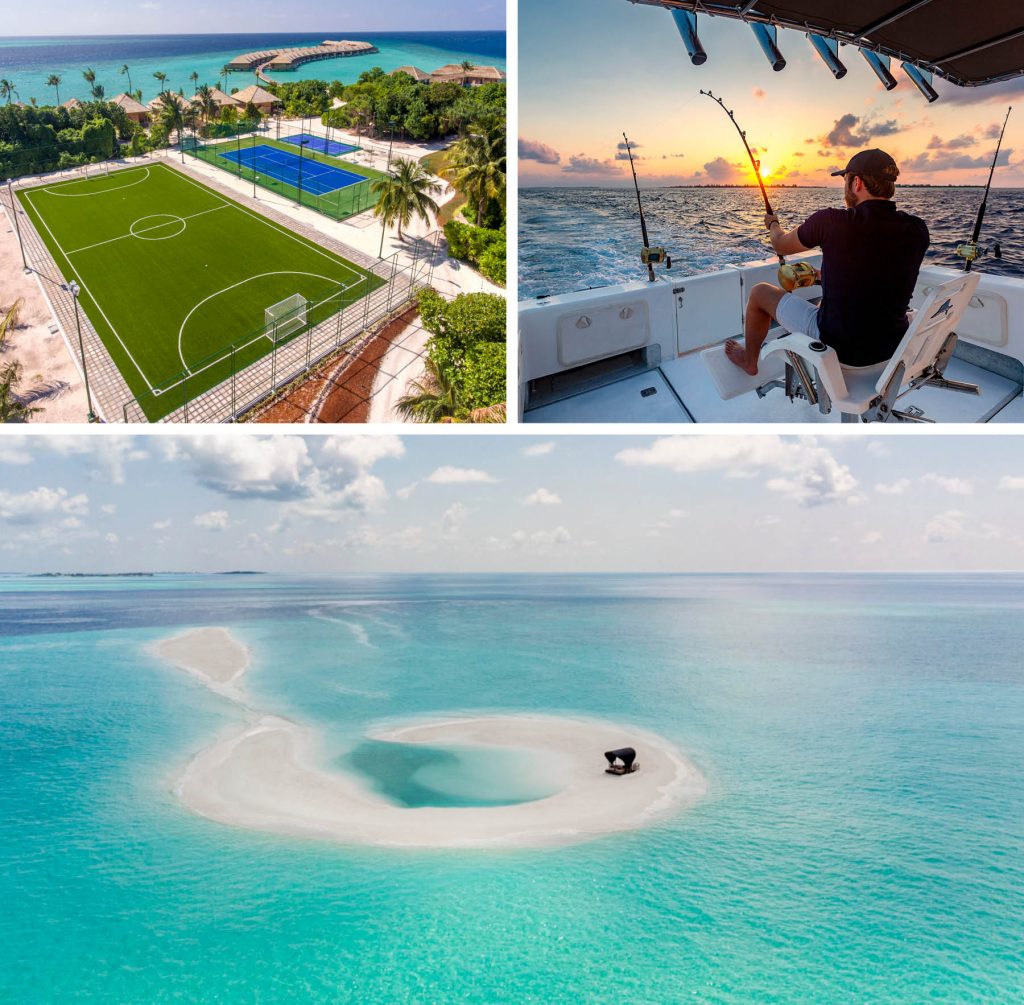 "People now just want to have a great time and get the most out of their money in a high-end setting without having to nickel and dime when they are on holiday."
– Patrice Aira
The beauty of all-inclusive at the Hurawalhi Island Resort is that it comes with a scope of choice that extends well beyond a menu of 50 cocktails.
I think back to the meals we've already enjoyed at the resort. The trio of taco sliders at JFK, which stands for Junk Food Kitchen, not the 35th American President. The melt-in-your-mouth sashimi at Kashibo, the resort's Asian fusion venue.
And, of course, the buffet of all buffets at Canneli Restaurant, not only because of the sheer range of dishes from around the world but also because I was assigned a personal sommelier, who was ready with a new wine pairing to pour depending on the food I brought back on my plate. If that's the future of buffets, then I'm all-in.
Try for Size
Perhaps the smorgasbord of dining options is exactly why there's so many chances to get sporty at Hurawalhi, I find myself contemplating, on a canoe, later that day.
When the crystalline waters are so shallow you can almost skim the sea floor with your fingertips, there's little risk of error, although somehow I manage to bungle a simple maneuver near the arrival and departure jetty just as a photographer is snapping a pair of loved-up honeymooners cozying up on a beachfront swing.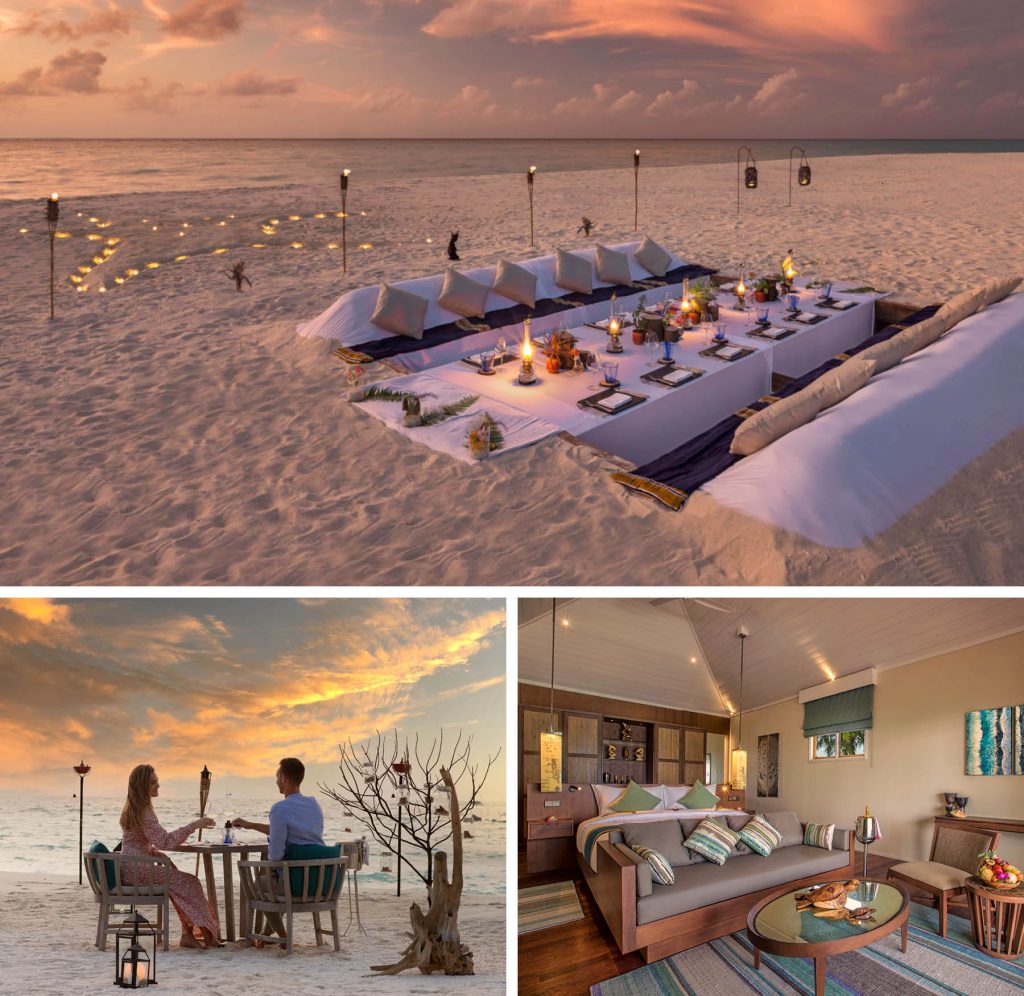 Perhaps the smorgasbord of dining options is exactly why there's so many chances to get sporty at Hurawalhi.
I right myself before skimming over the seagrass lagoon along the island's western edge, but I think my wayward canoe and I might have accidentally photobombed their wedding album.
Fortunately, the snorkeling excursion out to the house reef that I'd signed up for goes off without a hitch, but that's probably because I stick close to our guide, Frankie, a marine biologist with the Manta Trust based on-site.
It's impossible not to be swept up by her enthusiasm as she excitedly points out spindly lobsters hiding in the crevices, sea cucumbers spread out on the seafloor and a single, magnificent octopus hidden behind schools of electric blue fusiliers swimming in perfect synchrony. In the distance, we make out the silhouette of a reef shark.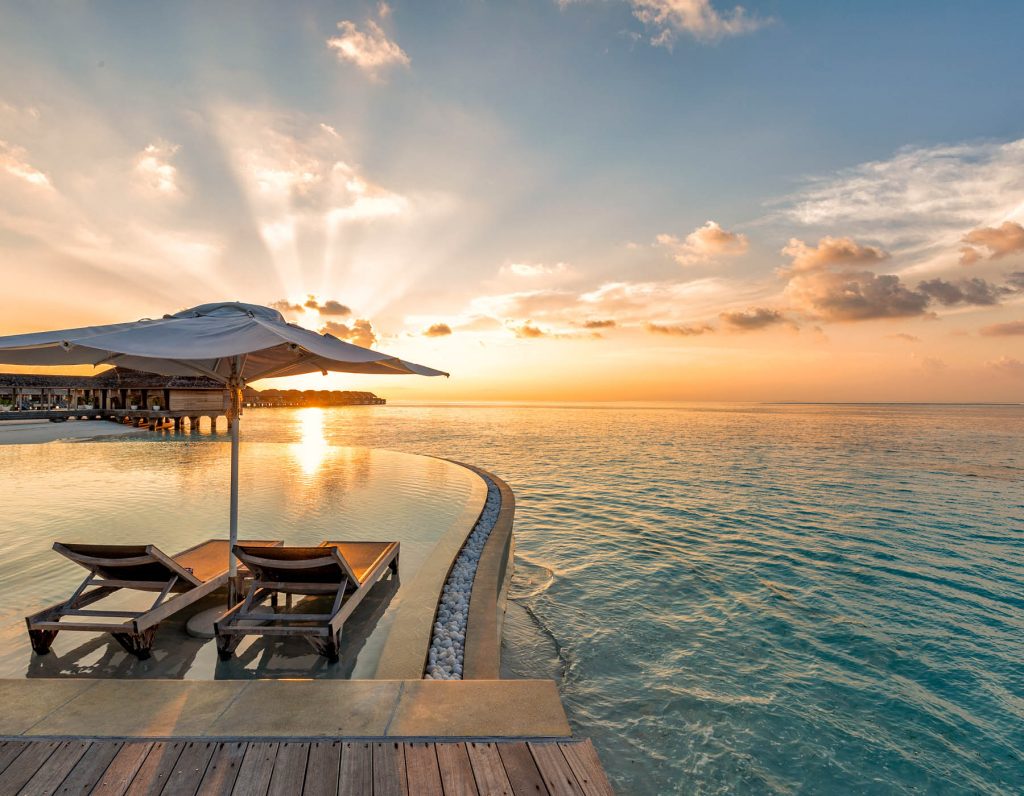 On the last morning, I finally give in to my preferred vacation pastime: lying flat on my back on a sunlounger with a good book. I've left it late to fully appreciate the simplest of all pleasures at Hurawalhi Island Resort: relaxing on the private terrace of my overwater bungalow, looking out toward a horizon shaded a palate of memorizing blues.
As I prop myself up on the edge of my infinity pool, watching schools of tropical fish dart about in the lagoon below me, I consider the true meaning of all-inclusive, Hurawalhi-style. It's not just about price. It's also a chance to get out of your comfort zone and try on new experiences to see how they fit.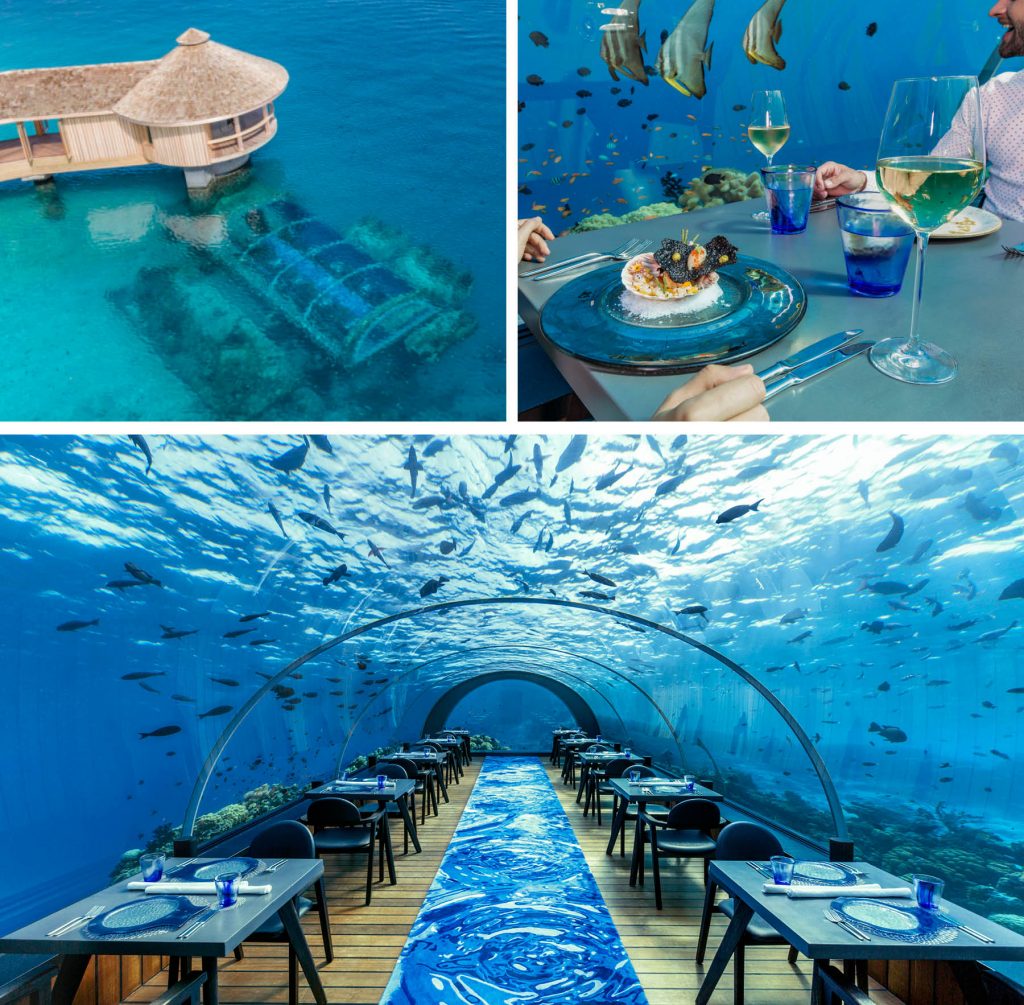 Underwater Degustation
Of the very few experiences at Hurawalhi Island Resort not included in its All Inclusive Plus package, the degustation menu at 5:8 Undersea Restaurant is well worth the splurge.
The largest all-glass underwater restaurant in the world rests 24 meters below the waterline on the sandy floor of the house reef and is reached via a spiral staircase from a thatched overwater bungalow.
Delicate plates that blur the line between art and food are served up under a transparent semi-circular dome that can only fit 20 covers per sitting. The explosion of marine life outside this out-of-this-world dining room is lit up by the sun frolicking on the water above.