Take a drive through Pine Bluff, Arkansas and you might spot an old burnt-orange building perched opposite the historic Jefferson County Courthouse. It now hosts a small variety shop.
If you wander inside to browse the assorted bric-a-brac, second-hand clothes and other curios, it's funny to think a local physician named Dr John Franklin Simmons chose the exact same spot to found his eponymous bank back in 1903. He had four employees, and deposits on the first day of trading totaled US$3,338.22; not an insubstantial amount for the time. Still, one wonders if the good doctor could have predicted what his humble enterprise would become under the stewardship of George Makris Jr, current CEO of Simmons Bank. 

Not that George, with his laconic smile and genteel Southern drawl, is ever one to brag. "Well, I always tell people I've never been a banker. I'm more of a beer man myself," he jokes. "My family's business is an Anheuser-Busch distributorship, and we've been doing that since the early 1960s.
"Taking on the role of CEO of a bank was a whole new experience for me. Fortunately, the banking side of the business was already taken care of. We had some very smart young bankers step up and assume all those responsibilities. My primary job was to help develop the brand and expand it."
COMPOUND INTEREST
Of course, those who know George are familiar with his trademark humility and how he downplays his own incredible achievements. In just seven years, his inspired leadership and aggressive acquisition strategies have seen Simmons Bank spread to more than 200 branches across six states, employ nearly 3,000 associates and grow its US$4.6 billion in assets to US$25 billion. Simultaneously, the bank has marshaled its philanthropic ventures, donating generously to a number of not-for-profit and charitable agencies, including elementary schools, fire departments, food banks and advocacy centers.
And yet, when asked about such successes, George deflects again, singing the praises of his predecessor instead. "I only took the job because Simmons' former CEO was diagnosed with ALS," he says. "But I'm happy to report, I saw him over the weekend and he looks better now than he did 10 years ago. So if we're talking statistics, you could say he's beaten the odds with regard to that disease. And if you ask me, that's more admirable."
"We are still very much a community bank. We still believe in deep relationships with our customers."
That's not to say George is shy about the bank's goals. "My background being in the beer business, I understand how important market share is," he grins. "Simmons' first objective is to increase our market share where we currently do business. And part of that has been organic growth – increased physical presence, more branches, and implementing new products and services.
"Secondly, we're building market share through acquisitions. Our acquisition of two banks headquartered in Memphis, Tennessee will take us from 35th position to number six in market share."
THE PERSONAL TOUCH
Like any financial institution, Simmons had to adapt to the post-COVID environment. George is proud of how his team handled the challenge adroitly, singling out the efforts of his Chief Digital Officer Alex Carriles to enable most of the bank's products and services to be accessible online.
Even so, he still believes banking remains very much a "people business". "We have a very robust wealth management arm that advises some very sophisticated businesspeople. That's hard to do properly online; it's more one on one. Real banking isn't going away anytime soon," he points out.
If anything, good manners, warmth and personal touch remains Simmons' point of difference to other banks, George explains. They foster a sense of familial spirit that defines its culture at every level. "We are still very much a community bank. We still believe in deep relationships with our customers," he stresses.
---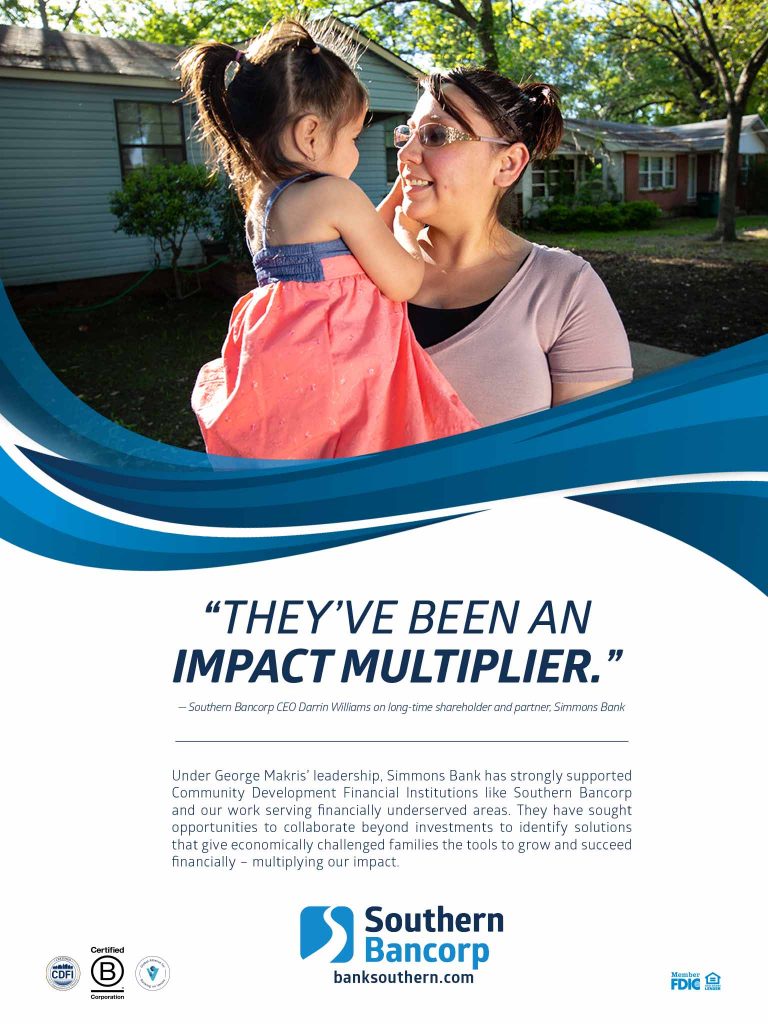 ---
Advertisement
CORNERSTONES OF CULTURE
Developing a positive workplace has been instrumental to Simmons' growth, George says, pointing out the work of his Chief People and Strategy Officer, Jena Compton. "Jena's team did a lot to define our culture here, and they came up with five cultural cornerstones we live by today," he explains. 
"The first is 'better together'. We all really believe that means something at Simmons. Another is 'high performance'. We reward it – not just on a comparative or competitive basis, but also on a relative basis. 
"'Pursue growth' is another big one. Not just growth in assets or income, but rather personal growth. We have associate development programs because at Simmons, we want this to be their career, not just a job. 
"Then, of course, 'integrity' is key. In the banking business, integrity is top of mind for our customers. They want to make sure their wealth is protected, and that as managers of their wealth, we're going to do what we say we're going to do.
"And then, I don't know if you can tell, but 'passion' is our last cornerstone. Absolutely huge, really. You have to believe in the value proposition of our company and be willing to talk about it in the marketplace so our customers understand the value of doing business with Simmons Bank."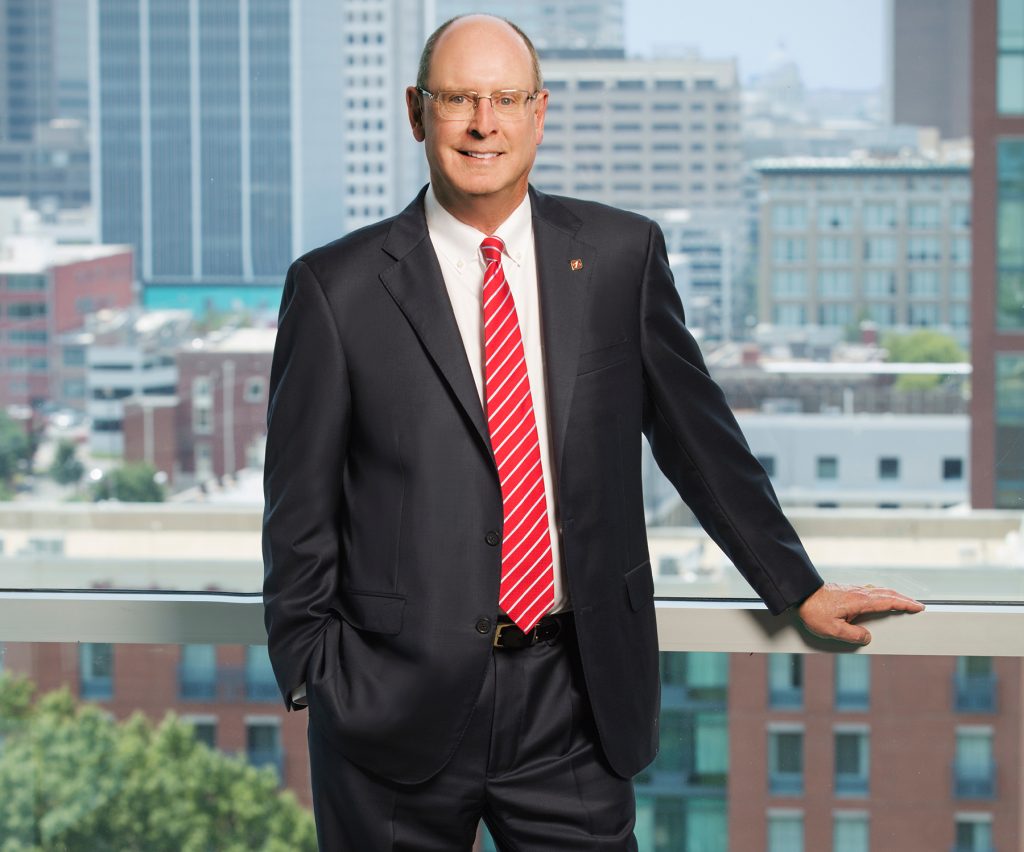 "The best advice that I can give someone in my position is listen to people who know what they're talking about."
He's certainly conveyed that. Nonetheless, as a leader who has overseen such massive growth, one wonders if he has a key insight he'd be willing to share. In typical self-deprecatory fashion, George jests about his own personal tussles with imposter syndrome.
"The best advice that I can give someone in my position is to listen to people who know what they're talking about," he shares. "I sometimes joke that I feel like Frank Abagnale Jr from Catch Me If You Can, so it's probably good for me to listen to the actual bankers to make sure I'm not making the wrong decision as an uninformed leader.
"After all, I'm just the beer guy impersonating a banker."