A harmoniously balanced masterpiece featuring mother-of-pearl flowers brought to life by a sea of colored gemstones is just the start of this dazzling collection by Bulgari.
The Italian maison is renowned for its vibrant color combinations and distinct motifs – most notably the legendary Serpenti, an expression of power and transformation that has slithered its way into this latest collection. 
Bulgari's Eden, The Garden of Wonders collection includes 140 extraordinarily unique jewelry pieces representing the wonders of the Garden of Eden. Of those, 30 pieces pay tribute to the emerald – an icon that has captured the imagination of the jeweler's artisans for more than 60 years. In this context, its striking hues take high-end jewelry to a whole new level and give birth to stunning new forms.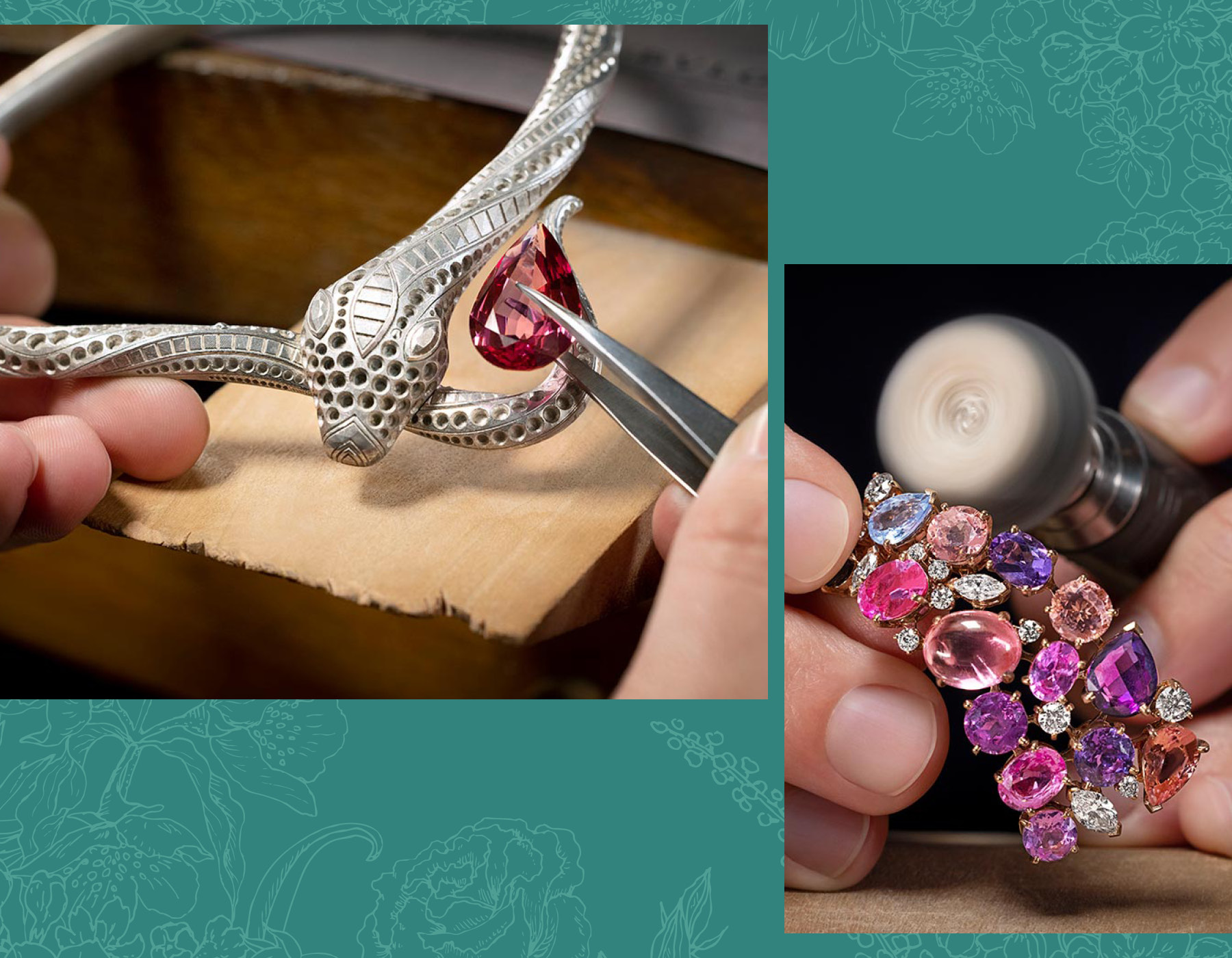 The Mediterranean Reverie necklace is the star of the show and is considered one of the most exquisite pieces ever to be conceived by the jeweler. This timeless piece features a rare 107.15-carat cushion-cut Sri Lankan sapphire that sparkles with an intense shade of blue and stands out against a sophisticated chain of baguette-cut sapphires and diamonds. The piece was worn by actress and Bulgari ambassador Anne Hathaway at the Cannes Film Festival this year. 
In the exclusive realm of high-end jewelry, cutting corners is never an option and this collection continues to uphold these high standards.
If the maison's ​​snakehead-shaped timepieces with their alluring scales have previously caught your attention, the Serpenti Spinel Embrace and Serpenti Ocean Treasure both feature a twisting movement that sensually adorns the neck and lends itself beautifully to the serpent. The Serpenti Spinel Embrace is crafted in pink gold and diamonds that draw the eye towards a 25.7-carat drop-shaped pink spinel sourced from Tajikistan. The Serpenti Ocean Treasure is defined by a 61.3-carat drop-shaped Sri Lankan sapphire that is held in place by two serpents merging into one. 
In the exclusive realm of high-end jewelry, cutting corners is never an option and this collection continues to uphold these high standards. The Flowers of Eden necklace offers a fine example of modern design grounded in tradition. Handcrafted using a centuries-old mold technique and wax tablets, this necklace took more than 1,500 hours to make.
The stunning Tribute to Paris necklace took more than 2,000 hours to create, which is hardly surprising given the level of detail and intricacy involved in repeatedly capturing the silhouette of the Eiffel Tour and sparkling emeralds that allude to a beautiful Parisian night.
At the center is a 35.53-carat oval-shaped Colombian emerald that delivers balance and sophistication to this lightweight masterpiece. While nature has always inspired the Roman jewelry house, Tribute to Paris celebrates the City of Light and all its architectural brilliance.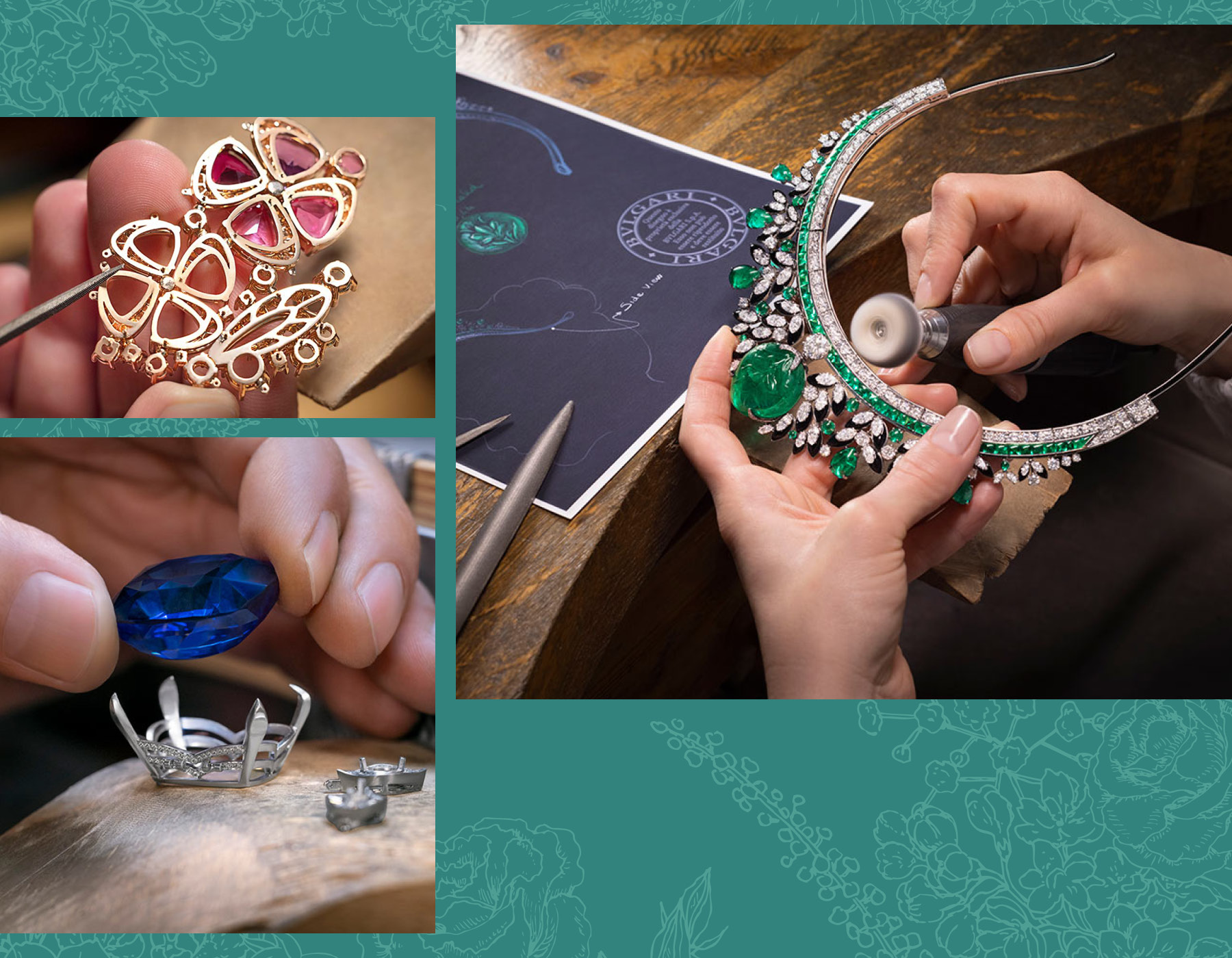 For a touch of extravagance, the collection includes a necklace that brings branches to mind that appear as if bearing fruits in the form of emerald beads. Designed to be paired with a matching high-end watch, the Emerald Venus necklace, as the name suggests, references Venus, the Greek goddess of beauty, as a modern-day interpretation of what it means to be feminine. A breathtaking 20-carat Colombian octagonal-cut emerald automatically offsets the movement created by the intricate network of branches while giving this piece a special touch.
The Bulgari Eden jewelry collection was unveiled on 6 June at the Italian Embassy in Paris in a two-day event hosted by Bulgari CEO Jean-Christophe Babin and the Italian Ambassador to France, Teresa Castaldo. The exclusive event was attended by an entourage of loyal devotees, including brand ambassadors Anne Hathaway, Lalisa aka LISA and Priyanka Chopra Jonas, who showcased the maison's latest creations.