The Light Rail Transit Line 1 (LRT1) Cavite Extension is one of the biggest infrastructure projects underway in the Philippines and will carry approximately 800,000 passengers per day between the southern suburbs of Manila and the Cavite peninsular when it's opened to the public in late 2024.
Following decades of delays to project initiation, progress has been impressive since its commencement in September 2019, with celebrations greeting the successful completion of the Cavite Extension Viaduct section of works in February 2022.
"Like many rail projects in the Philippines, there was difficulty securing all of the right-of-way."
Bouygues Travaux Publics were appointed over five years ago to construct the LRT1 Cavite Extension in the traffic congestion-plagued city.
"Like many rail projects in the Philippines, there was difficulty securing all of the right-of-way," the company's Country President and Project Director Drasko Strika tells The CEO Magazine. "We've started building the first 6.6 kilometers of what is a 12.8 kilometer scheme while the Grantors work on relocation of obstructions, utility networks and acquire the remaining land. We're optimistic that in the next 12 months or so there'll be some clarity on the remaining right-of-way acquisitions. It's a complex undertaking involving many stakeholders." 
Full Steam Ahead
Strika started on LRT1 in January 2020 and took over leadership of both Bouygues Philippines and the project consortium delivering the works in 2021, and had to contend with the disruption wrought by COVID-19 to keep the project on track. Anticipation of the eventual opening is heightened by the fact it will rejuvenate the entire area, slashing the commute time from Cavite to Manila from 70 minutes to 25, and doubling capacity.
Bouygues Travaux Publics is wasting no time keeping the project moving forward, working with long-term partners to design and build the civil infrastructure and stations whilst other partners deliver the systems.
---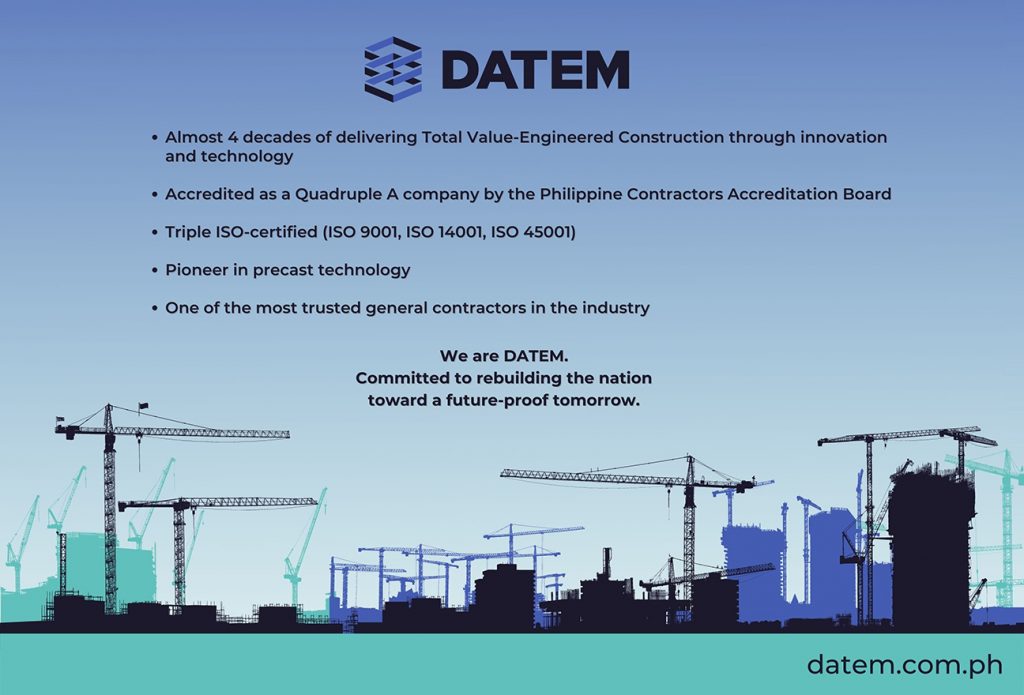 "Bouygues Travaux Publics Philippines brought international construction standards to the table, while DATEM introduced it to local best practices. This collaboration is key in delivering the project on time, executing the highest quality standards, and amplifying attention to safety." – Angelo Dio Agoncillo, Operations Center Manager, DATEM
---
Advertisement
"During the early stages of viaduct construction, we erected one span of 34 meters per day," Strika says, "following the initial learning curve, this increased to two spans per day. And when the team was challenged, they demonstrated that three spans per day was possible, something totally unheard of in our industry!"
Another aspect of the work that is quite unique is that Bouygues almost exclusively used local staff and labor to operate the sophisticated construction equipment instead of mobilising personnel from overseas.
"When stakeholders visited the project and asked, 'How many expatriates are involved in the viaduct erection and equipment operation?' They were surprised or even shocked that the answer was only one," he notes. "In fact, the entire organization is lean with expatriates."
Global Mobility
COVID-19 was partially responsible for this tactic initially, but Strika quickly saw that it had many benefits.
"Localization of the workforce and developing Filipino capability was essential due to prolonged international travel restrictions. We had initially planned to mobilize colleagues from our group headquarters in France, however when this was not possible, we simply committed to identification and development of local talent."
But the opening up of travel routes and the resulting labor mobility has created a new dilemma.
"One of my key objectives is to motivate our teams to focus on LRT1 and subsequently create opportunities for them, whether here or abroad."
"Going forward, a challenge will be retaining key staff, as construction markets, such as the Middle East, reopen and Filipinos return in search of higher salaries and tax-free earnings, for which they are required to make great personal sacrifices," he says. "One of my key objectives is to motivate our teams to focus on LRT1 and subsequently create opportunities for them, whether here or abroad.
"We've recently secured major projects in Saudi Arabia and have strong growth markets in Australia that offer attractive lifestyle benefits. So, when I speak with our local staff, the message is 'if you really want to go abroad, then we'll create the opportunity for you. You don't have to leave the company'."
Indeed, the motto of the HR department is 'global mobility'. Whether it's employees, or the new trains that will soon be whizzing commuters across the capital city, Bouygues has proved that it takes mobility to heart.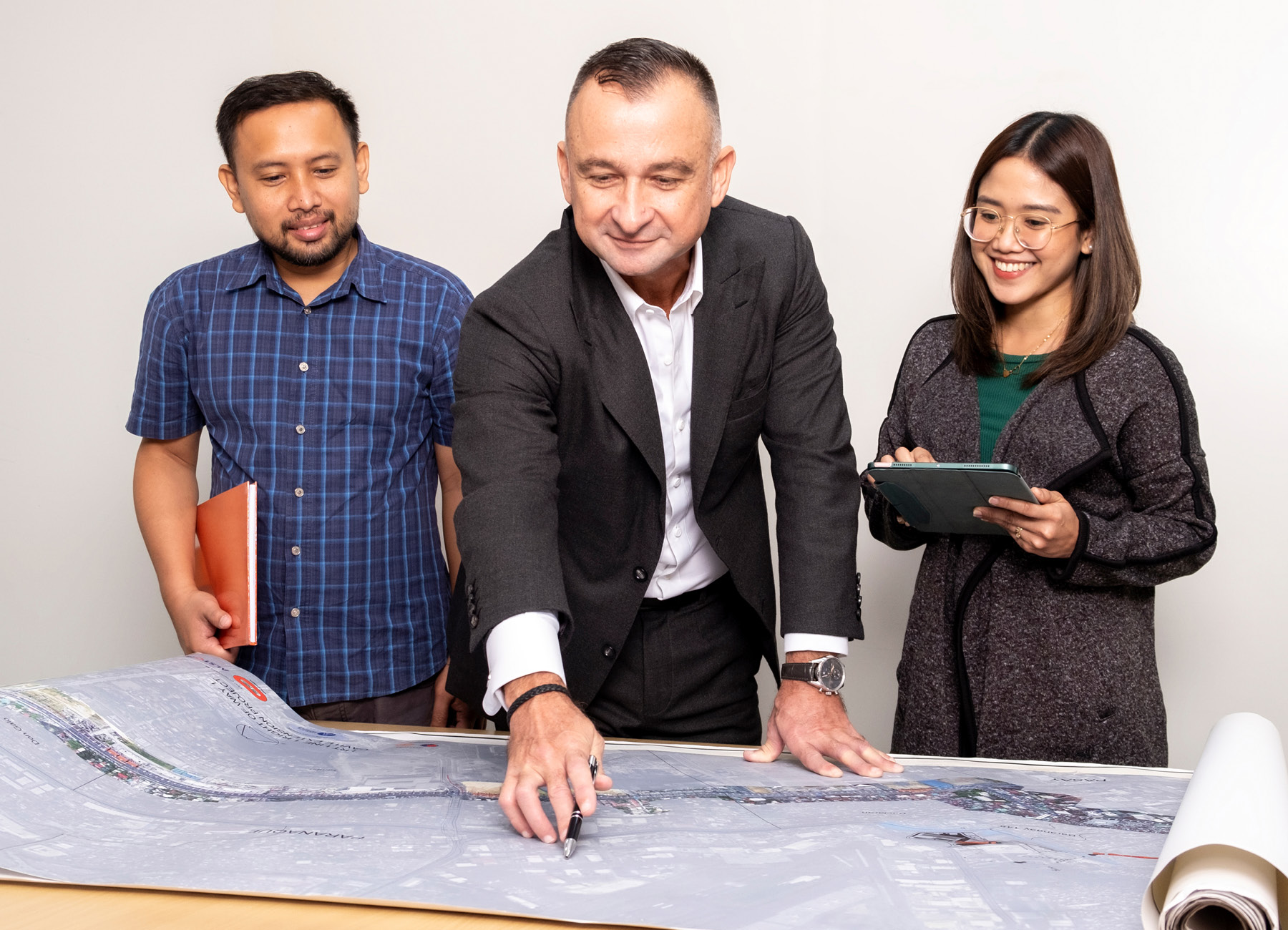 Creating Opportunities
"I'm also very proud of the opportunities we've created for local graduates, young engineers with no experience who we have been able to train and develop in the ways we work as a company," Strika says.
"The first few years of a young engineer's career are formative, and, good mentoring and structured guidance is essential in developing good habits. I'm also extremely proud that both of the fresh graduates in the first intake were female. They secured their positions on merit, outdoing their male counterparts during the recruitment process, and both have proven to be successful."