Online shopping has blossomed in the past few years, but it took a global pandemic to really kick the phenomenon along. People have come to appreciate the convenience and ease that online shopping provides, particularly when restrictions have meant they sit cooped up at home.
It has also spawned a new generation of mail and parcel delivery services that cater to ecommerce businesses keen to corner the online market. It's an opportunity for exponential growth – if tough criteria for service and delivery can be met.
Asendia was launched in 2012 by La Poste and Swiss Post to provide a broad range of international ecommerce and mail delivery services. It has since expanded to four continents, with 32 locations operating in North America, Europe, Asia and Oceania, and final-mile delivery partners are taking mail and parcels to customers' front doors. It now boasts more than 1,500 employees.
The company achieved all this in such a short time partly through organic growth, but it has also grasped opportunities for acquisitions and partnerships in numerous countries. In 2013, it took an initial investment in eShopWorld, a software company based in Dublin that specializes in ecommerce technology, before taking a majority controlling stake in 2017, and finally, full ownership of the company in early 2021. This technology provides relevant information to customers such as local prices and methods of payment, all customs, tax and duties calculations and customer service enquiries in several languages.
We're doing things right now that we were planning to do four or five years from now, showing how tight we've become as an organization globally.
Asendia signed a sales partnership with Israel Post in 2016 for ecommerce parcel solutions, and more recently acquired the UK's wnDirect and the US-based global ecommerce and logistics company Globegistics. According to Asendia's media statements, these companies were successful because of their dynamic leadership and trailblazing technology that built new solutions for international parcel delivery and customer service. In addition, it has partnered with Ireland's An Post for its Post Parcels services.
In 2020, Asendia also became shareholder of Anchanto, a global software as a service technology company headquartered in Singapore that helps brands streamline and manage highly successful end-to-end ecommerce operations with ecommerce logistics and multichannel selling.
Douglas Longobardi is Executive Vice President of Sales at Asendia USA, but was previously Head of Sales at Globegistics, from its foundation in 2011, until the company was acquired by Asendia USA in 2018. Before that, he was Sales Director at WorldNet Shipping for 11 years.
Asendia's approach to Globegistics was, according to Douglas, a natural fit for both companies and a great opportunity for Globegistics to become part of a global ecommerce and parcel delivery consortium. The decision to join them was, in retrospect, a bold and fortunate one.
"Becoming part of Asendia sets us apart in many ways," he tells The CEO Magazine. "One, we're owned by a postal service, so that is something very big against the private companies out there. We are always evolving and developing and, with our cross-border reach and our expertise, we have the top levels of reach and service in the industry.
"We're constantly creating new products, services and offerings. We are always thinking ahead – like skating to where the puck is going to be, seeing a change before it's happening. We have a great group that is constantly looking at that and a management team looking at what we should be doing next."
The onset of COVID-19 tested every company's operations and resilience, but for postal services it was both a nightmare and a boon for business. As countries locked down, travel became impossible and daily habits like shopping became difficult. Online shopping and commerce took on a new life, growing exponentially around the world. That requires reliable, effective shipping and delivery services to every point of the compass.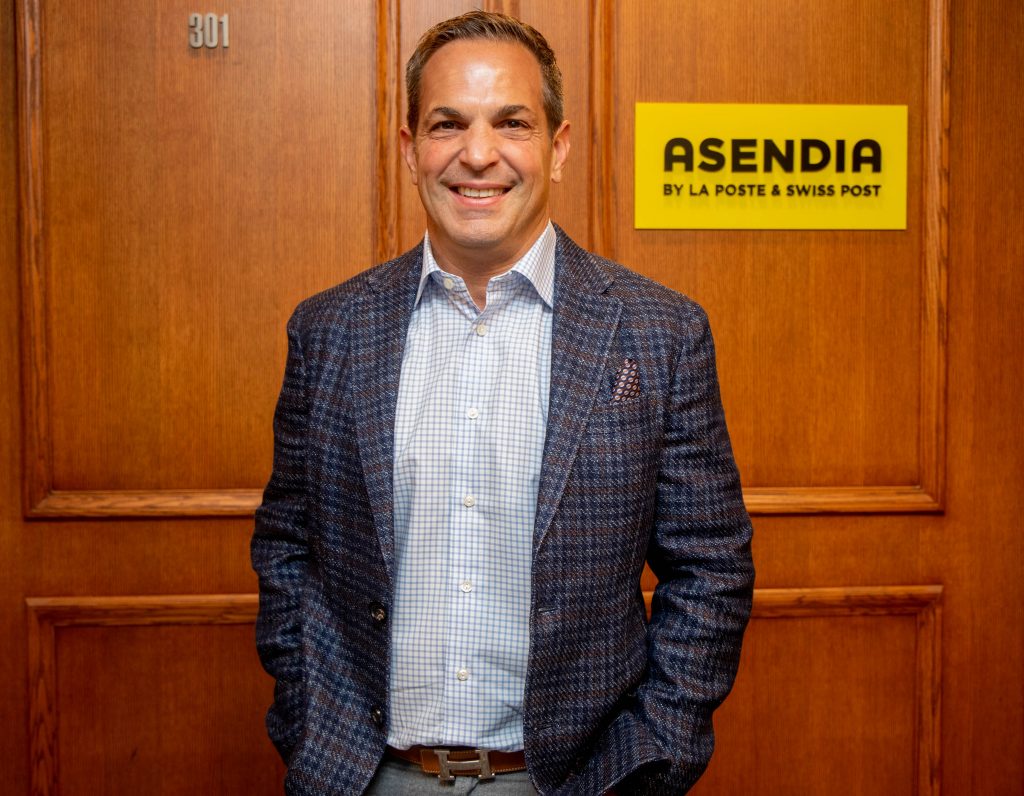 "The public misunderstands sometimes the challenges around COVID-19 and what's happening right now," Douglas explains. "They think that nothing should really change and delivery should still be the same. Last year in March, the pandemic took us by surprise, and we had to make some big adjustments and changes.
"The airlines almost stopped flying passenger aircraft and it became really difficult to get parcels on passenger airlines, so the whole industry consolidated. Every operator, from the biggest like FedEx and UPS down, had to make changes and we had to go out and get cargo space, which was the only available transport."
Asendia's response to the pandemic was instant. With its locations around the world operating in different jurisdictions and under different restrictions, the company still had to maintain efficient transport and meet delivery deadlines expected by its customers.
"I understand why Asendia is one of the world's leaders in international ecommerce," Douglas says. "In the USA, COVID-19 happened and a team of about 12 of us would start with a meeting at 8am and then a second meeting at 5pm. That lasted for about four months. We were doing that every day, making sure we were adapting and making plans.
"The parcel volumes did not stop – we were in peak season last April and May, doing volumes that we normally do in December. It was Christmas time in spring with the volumes we were doing. It's made us so much better in terms of our growth, the difference in the company's direction and the changes in our revenue targets today.
"I think it was going to happen anyway, but what was going to happen in five years happened in a year-and-a-half. We're doing things right now that we were planning to do four or five years from now, showing how tight we've become as an organization globally."
IN THE POST
Asendia launched a new suite of ecommerce shipping services in January called e-PAQ. The suite offers four tiers of delivery options, with the criteria based on speed, price, format and weight. Together these services offer its e-retail clients a competitive edge through their ability to provide the kind of service clients want based on their own customers' requirements and the postal rate they are willing to pay. Ultimately, it is all about better service, Douglas explains.
Asendia USA is also in the process of launching a new service, e-PAQ Elite Powered in Europe by DPDgroup. The parcel delivery network of GeoPost posted sales of €11 billion (US$12.8 billion) in 2020. GeoPost is a holding company owned by La Poste, the parent company of Asendia.
The new service provides value-for-money postal and parcel delivery solutions to Europe that take a little longer but are a cost-saving opportunity for regular e-retailers sending products to and from Europe. This will be a popular choice, Douglas says, because it meets a need of many customers that was previously unmet by any postal service.
"We've partnered with our sister company in Europe, DPDgroup, to create what's called a deferred express product," he reveals. "It's not going to be as quick as one to four business days into Europe, but it will be two to five days, and its pricing will be well below that of express carrier and package services. Many people will choose that as an option in their shopping cart with the difference in price. We're really thrilled about this product."
Asendia USA has hired John Walsh as Vice President of Sales for this product, who brings more than 30 years of experience to the role and will manage three new salespeople.
"They're going to be selling that product exclusively," Douglas shares. "I believe it's something that the market is yearning for. We had a soft launch in September, and will have a live launch in January 2022. We already have six customers in the queue who want to get set up with this product. These are large ecommerce companies – companies selling apparel, and health and beauty products.
"In the US, we have a revenue target for e-PAQ Elite Powered in Europe by DPDgroup of US$75 million by 2024. The gateways will be the UK, Germany, France and the Netherlands, and we'll open it to Spain in 2022. We're offering this service from our Los Angeles, Chicago, Philadelphia and New York facilities to start. We're going into four gateways in Europe, and then we're going to service a lot of EU countries through the Netherlands.
"Initially, 85–90 per cent of volume will go between the UK, Germany, France and then the Netherlands, followed by smaller countries and destinations. However, if we have somebody selling specifically into one of those smaller countries, we'll be able to service them."
The concept is that parcels would be picked up from customers on, say, a Monday, brought back to Asendia USA's facility on Monday evening, cleared by customs for flight and then sent out for delivery on Wednesday or Thursday – the latest would be Friday – so it's a delivery of three to five business days from pick-up.
"We saw a need to enhance our services with this new offering," Douglas says. "We already provide e-PAQ Standard, with no tracking, for small or less expensive goods. Our second service, e-PAQ Plus, is a popular service to about 55 countries around the world and provides tracking and delivery confirmation, and suits lightweight parcels. Our third option is e-PAQ Select to over 30 countries, which is excellent for heavier parcels, delivery signatures and so on. Our fastest and most comprehensive delivery service is e-PAQ Elite."
SUPPLY CHAIN IMPERATIVES
Through its corporate hierarchies, Asendia is fortunate to have impeccable supply chain connections with stable partnerships. Douglas looks back to the days of Globegistics, when he and his partner discussed the potential of the fledgling business and its imperatives. For success to be achieved, it would take two key factors, he recalls, and nothing has changed even after Globegistics became a part of Asendia.
"When Rob DiVincenzo and I first set up Globegistics, he said two things are going to make us successful and drive the company forward: it's going to be on the sales team to bring in that business, and it's going to be our suppliers and who we work with," Douglas recalls.
"That is still the case. It starts with our commercial team, and they do such a great job. That commercial team is constantly speaking and meeting with all of our suppliers. Collaboration was one of the best things we did from the early days. It's apparent that relationships with key partners are vital for success and growth. We've had amazing relationships with a lot of strategic partners.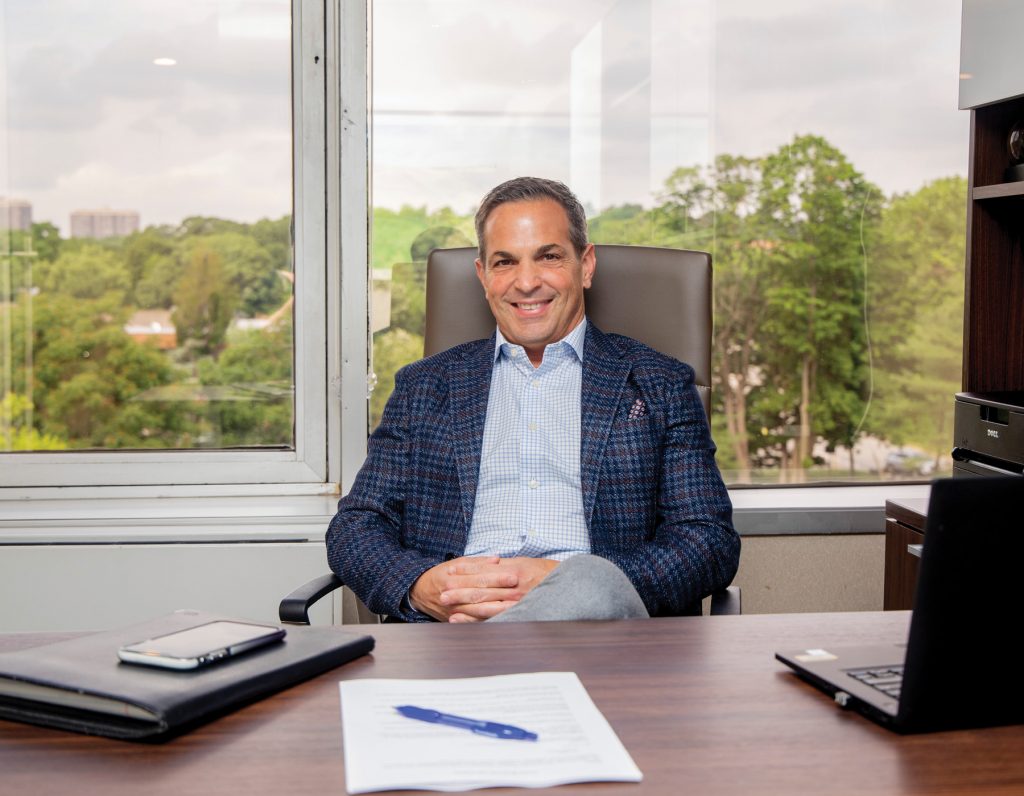 "A strategic partner in my mind is someone that we can refer business or customers to and want nothing in return and vice versa. When you have those types of relationships it becomes pretty amazing. Things like that come back to you, and they come back tenfold in a way that is unbelievable."
TRAIN FOR SUCCESS
In such a competitive environment, there's no room for complacency in performance and service, especially as ecommerce gains even greater traction due to the pandemic. While employees and customers seldom actually meet face to face in such transactions, it takes very few mistakes to lose customers to competitors, sometimes forever.
It's simply that the customer is the most important thing.
That requires highly competent staff to perform at peak levels every day, bringing innovative ideas with them. Douglas believes that good employees bring much more than competence to any company.
"The most important thing is that we have one of the best training programs," he says. "I'm always a big believer in quality training. You will have an employee who is successful if you set up the right training program for them. I look at companies that are losing good employees, and always that points to the same thing – a lack of training. It's always a common denominator in why you're going to lose good people or not get good people. You have to make the right decisions in all your training."
But it's the person at the end of the online transaction who dictates the success or otherwise of the ecommerce experience. The priority always lies with them, Douglas insists. "It's simply that the customer is the most important thing," he stresses. "We constantly need to look at changes and adapting to be in front of the change. Technology is our friend, and technology is going to bring us to the best places where ecommerce and logistics meet. It's an exciting world."