As doctor's offices became increasingly inaccessible during the pandemic due to precautions around COVID-19, pharmacies took on a new clinical role. They became a place where people could be tested for antibodies and issued with vaccines, and that's why gaining legislative recognition of this altered role is now top of mind for Independent Pharmacy Cooperative (IPC) President and CEO Donald Anderson.
"During this pandemic, it really became front and center – pharmacies became the place that people were, and still are, going to be tested and receive their vaccines," he tells The CEO Magazine. "Pharmacists are one of the topmost trusted healthcare providers in any community and people are looking to them for those services. So our focus is on that."
Helping independent pharmacies to be recognized as "clinical centers of excellence" is a major part of IPC's mission, revolving around obtaining provider status. "We have a very, very strong government relations team in-house that's constantly writing legislation and pushing for things like provider status so our pharmacists can bill for those clinical services that they're actually providing every day," Donald explains.
This approach includes creating new revenue streams for pharmacies around areas like hypertension, chronic obstructive pulmonary disease and continued COVID-19 testing. "This is not going to end, as we all know. This is here to stay," he says. "And so it's figuring out how to do things in a different way."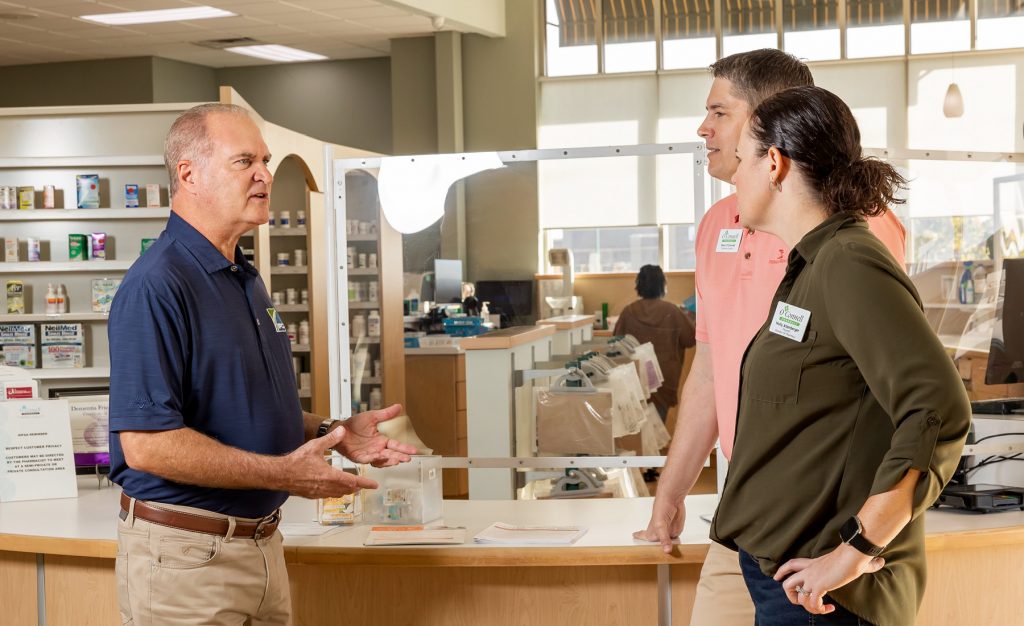 Donald is well placed to drive this change, having worked in health care for 45 years, the past 13 of those in his current position. Indeed, one of the main reasons he believes he was appointed was the breadth of his experience in a variety of areas, including hospital administration, chain pharmacies and as a pharmacy benefits manager.
Pharmacists are one of the topmost trusted healthcare providers in any community and people are looking to them for those services.
"The then-board president shared with our entire membership and the staff that I was hired for my varied background and my willingness to stand up for what was right," he shares. "I wasn't someone coming in who owned independent pharmacies and who just had tunnel vision based upon what this company did. I brought a varied background to this organization and to our member stores that served in looking for ways to actually help the stores grow their business and change what it was that we were doing."
In his time at IPC, Donald has indeed overseen significant change. "Coming to IPC, what I saw as a tremendous opportunity for this company was a reframing of our relationship, if you will, with the wholesaler we were doing business with, which is one of what's called the big three wholesalers," he recalls.
"IPC had been contracted with them for a number of years, but as I reviewed the contract prior to coming here, it was obvious that independent pharmacies, the members of IPC, were in a really bad position. Economically it was not a good deal for them and we needed to change that relationship."
Donald was also initially concerned by a "historical decline" in sales. "We're one of the few buying groups that also has our own distribution centers," he explains. "And so we have our own sales as well as those of our member stores that we contract on their behalf, and there was a record of declining sales. And so it was a matter of trying to find out why that was happening, what the real focus was and working to turn that around."
Since coming on board, he has managed to halt that worrying downward trend and turn things around. "Over these 13 years, we've actually had more than a 250 per cent increase in sales," he reveals, adding that this was achieved by putting in place a sales team and gradually growing it.
It's figuring out how to do things in a different way.
"We're going about things differently. As a cooperative, we return all of the dollars that flow to our bottom line back to our members. And so that's why it's important that we continue to increase our sales."
Working to bring digitization into independent pharmacies is another priority, with IPC's aim to enhance their digital marketing tools and education so they're better prepared for things like audits and requests for controlled substances, and can access an administrative back-end system.
By helping to empower each of IPC's pharmacies, Donald can default to his preferred "hands-off" management style. "But it's also a focus on giving back," he says. "IPC is a family environment – that's our culture, that's who we are."