When Dennis Oates joined the small Universal Stainless and Alloy Products in 2007 as a board member, he had big goals. Now President, Chair and CEO, those goals are finally coming to fruition. The company, founded in 1994, began with three facilities that specialized in making specialty steel. 
"These facilities were plants I would characterize as having character, which is code for they're a bit older," he laughs. "They've been around for a while, and they can be challenging to operate because of the maintenance involved in older facilities."
But in order to be competitive on a world-class level, things needed to change. In 2011, Universal made the decision to invest in new technology and purchased a greenfield site in North Jackson, Ohio. This was a major strategic transformation and a particularly significant investment "for a company our size", Dennis says. It provided the opportunity to upgrade the facilities available to the steel manufacturer.
We're little. We're a small competitor in this space. And as such, we have to be more agile and faster.
Now, Universal boasts some rare tech that not many other steel manufacturers have in the Western Hemisphere, allowing it to continue to grow. And despite a small bump in the road due to the pandemic, Dennis and his team plan to continue expanding into the aerospace industry, working with original equipment manufacturers like Boeing and Airbus.
That's not as easy as it sounds. "You've got to go through not only industry certifications for different processes, but you also need each OEM whose supply chain you want to sell into to give you approval," he explains.
Universal's products go into critically important areas of an airplane, which means the metal needs to be perfect. "We can't have any screw-ups," Dennis adds. However, there isn't an industry-wide standard to getting these approvals and each OEM has its own way of doing it, which can make it especially challenging.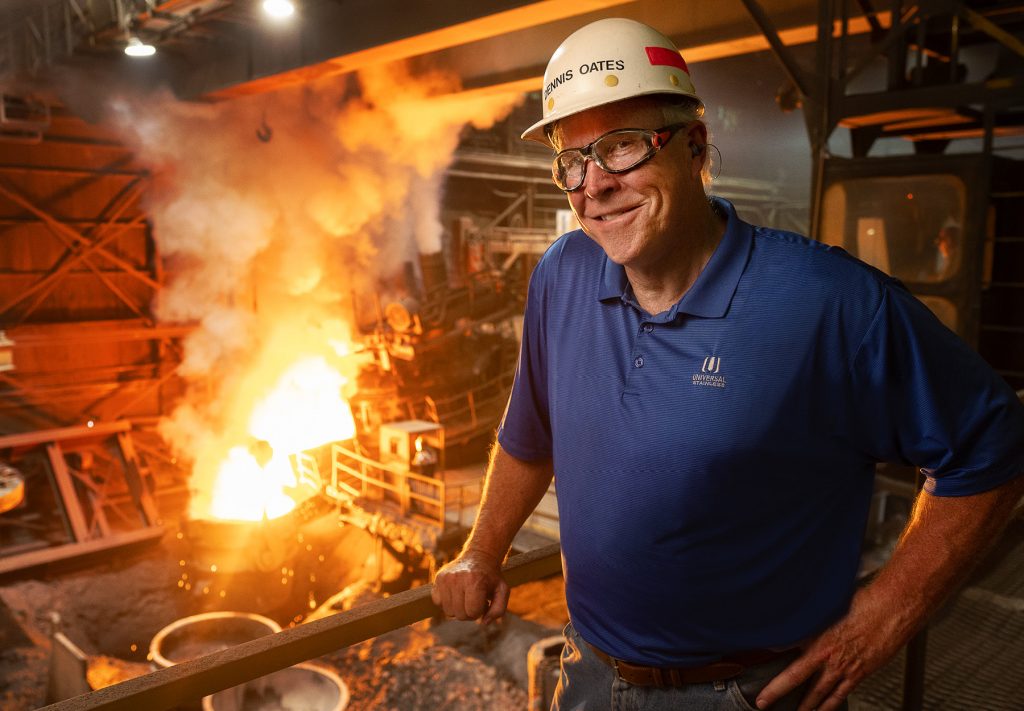 But Universal is rising to the challenge. Despite "being the little guy", Dennis and his team manage to "punch above their core weight" as he puts it. "We're little. We're a small competitor in this space. And as such, we have to be more agile and faster," he says. "We've signed contracts with virtually all the folks in the aerospace industry in one way, shape or form, or we're selling into their supply chain."
It is doing so by digitizing an industry that has traditionally been slow to change. "Our industry is famous for lagging in that area, so we're trying to push digitalization," Dennis explains. "That gives us the information upon which to make better decisions."
You're going to learn a lot more walking around and talking to folks and listening carefully to those discussions than you are reading reports.
Investing in digitalization has led to significant increases in quality and yields, as well as a reduction in labor and cycle times. It also means more effort can be spent on supporting its customers and reducing lead times. All of which gives Universal a competitive advantage over its bigger rivals.
So how has the company managed to stand out from the crowd despite its size? The first answer is unorthodox. "We want everyone in our facility challenging the way we do things. We want everyone out on the shop floor, including management," Dennis insists, explaining that this allows everyone to understand how the business runs from the ground up, and gives management a good understanding of issues as they occur.
"We're making the best decisions on a real-time basis," he shares. "We're not managing a company by numbers in an office with a computer; we're out there on the shop floor with everybody else, understanding what's really going on. You're going to learn a lot more walking around and talking to folks and listening carefully to those discussions than you are reading reports."
The second is the ability to move quickly, something that is more challenging to larger organizations. "The responsiveness and the speed with which we deal with our customers, I think, sets us apart," Dennis reflects. "You can call our customers, and I'm very confident they will tell you that if they have an issue or question, they know that they're going to get a quick response from Universal."
And the third is deceptively simple: a strong focus on building relationships with customers. "Our customers basically know everybody. They can call me; they can call anyone," he says. "We've gone out of our way to make sure that the entire organization, from bottom to top, is very closely aligned with our customers."
Dennis believes people want to work with those who make things easy for them, and being so small means the company can do just that. "The fact that we are small is an advantage. Sometimes the larger you are, the slower you are, the more bureaucratic you are, the more rules and regulations you put in effect, and the slower your decision-making is," he reveals.
With such a philosophy, the small Universal is shaping up to be a big competitor indeed.