Now officially the world's most populated nation with more than 1.43 billion inhabitants, India's infrastructure needs are escalating.
The country's vision for a US$40 trillion economy by 2047, transforming it from a developing economy to a developed economy, is heavily dependent on massive investments in roads, railways, aviation, shipping and waterways.
Significant progress has already been made, with Managing Director, Sany India and South Asia and Vice President, Sany Group Deepak Garg witness to the infrastructure growth that has taken place across India over the last decade.
Garg joined the equipment manufacturing firm in 2014 when it was still a relative newcomer to the local market. Founded in China in 1989 by Liang Wengen, Sany initially dipped a toe into the Indian market in 2002 with the import of four motor graders, its first foray outside its home market.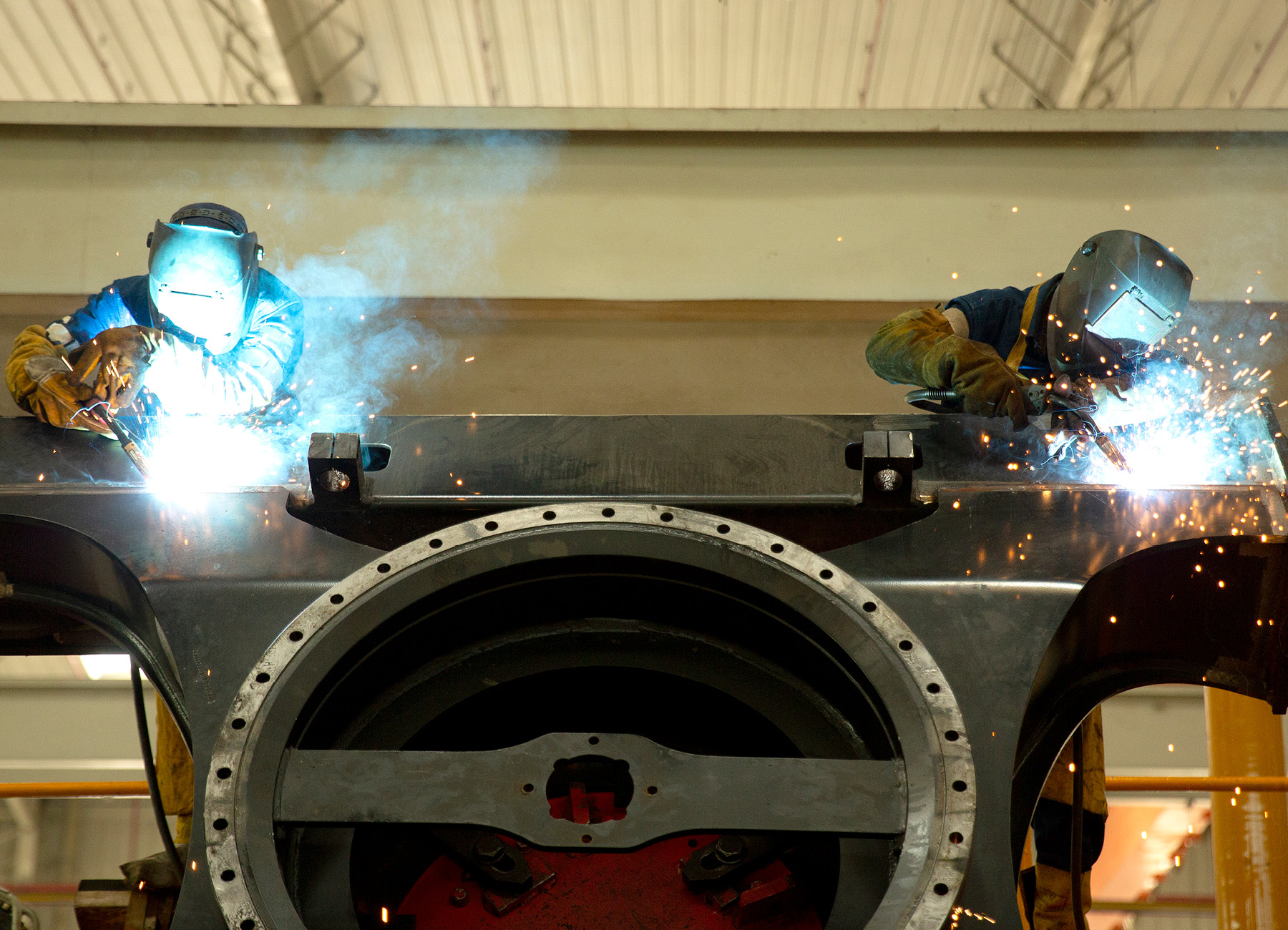 "The growth rates have been very high. We have grown alongside the infrastructure development of the country."
It quickly established offices in six key cities and then, in 2007, began construction of a production base for construction equipment machinery in Pune. It was the first time that a Chinese company in the construction machinery industry had established a manufacturing plant overseas.
"In the last nine years, we have expanded to more than 50 products with more than 250 or 300 variants which we have introduced in different infrastructure segments," Garg tells The CEO Magazine.
When he came on board, annual revenue was in the region of US$10 million, he recalls. Today, it's at almost US$1 billion.
"The growth rates have been very high," he says. "We have grown alongside the infrastructure development of the country. In areas where the infrastructure was growing, we kept on introducing newer products which were more economically friendly to our customers.
---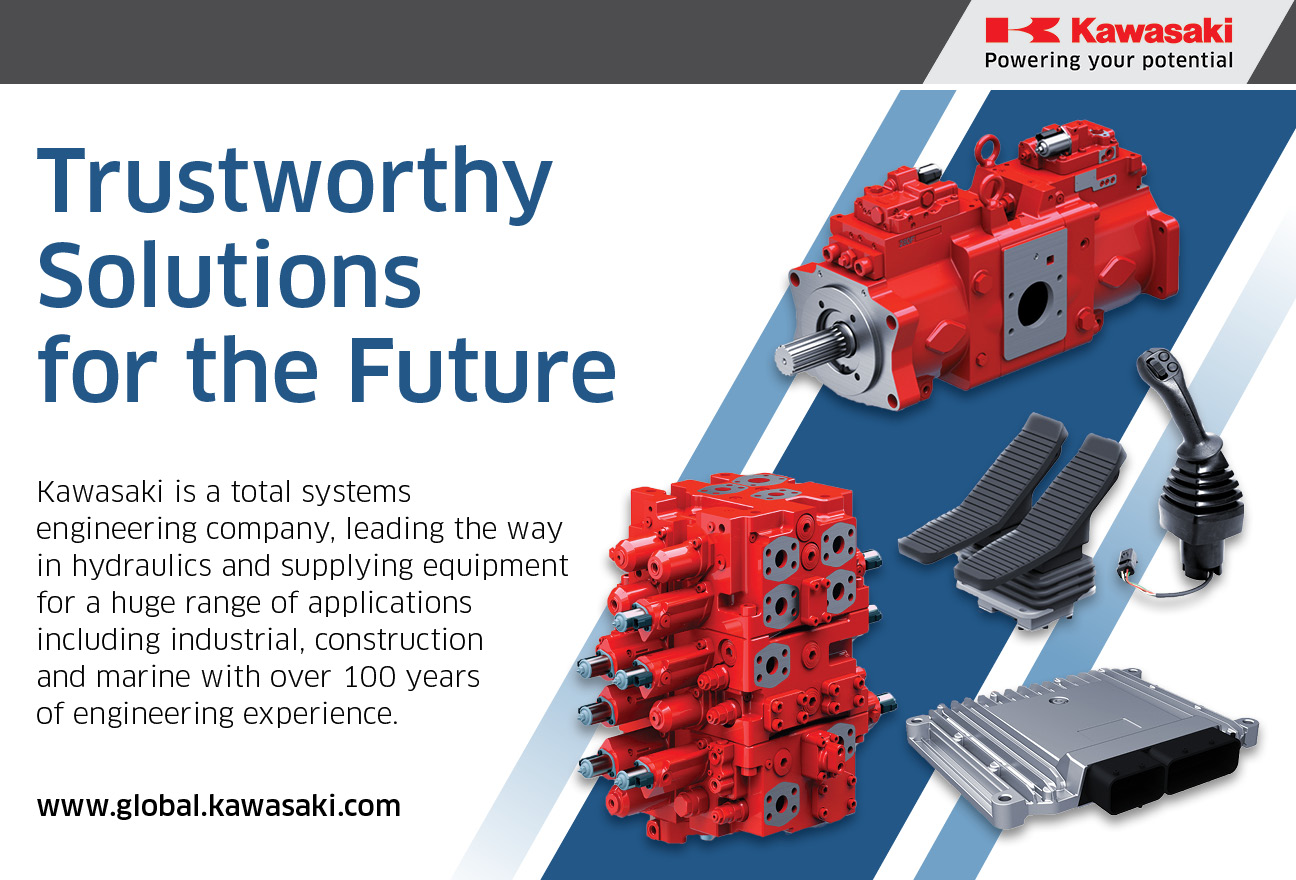 "It is our great honor to have made a contribution to the remarkable development of Sany India. Working with them brings very exciting challenges." – Hidehiko Shimamura, Senior Managing Executive Officer, and President, Precision Machinery and Robot Company, Kawasaki Heavy Industries
---
Advertisement
"We kept on introducing products over the last 10 years, and today we stand at a platform where we are among the top three construction and mining and infrastructure equipment players in the country."
Garg says a big paradigm shift has been gathering momentum since 2015.
"This has provided us with the right platform to build up Sany in India," he says.
With the Pune factory already in place, Sany was able to expand local manufacturing and localize newer product platforms for the Indian market, and eventually doing the same for the export market.
A Personal Journey
It has been a growth journey for Garg himself. At the time of his appointment, he already had substantial experience with stints at Tata Motors, Telcon and Tata Hitachi Construction Machinery Company under his belt. But his appointment marked the start of a new adventure.
"Sany has provided me with a platform to excel," he says. "It's been like a startup venture for me."
It was something of a leap of faith for Garg, who did not know much about Sany at the time, other than it was a very large group around the world with a very small presence in India. But he saw the opportunity to set up a fully-fledged business in India with scope to introduce new products.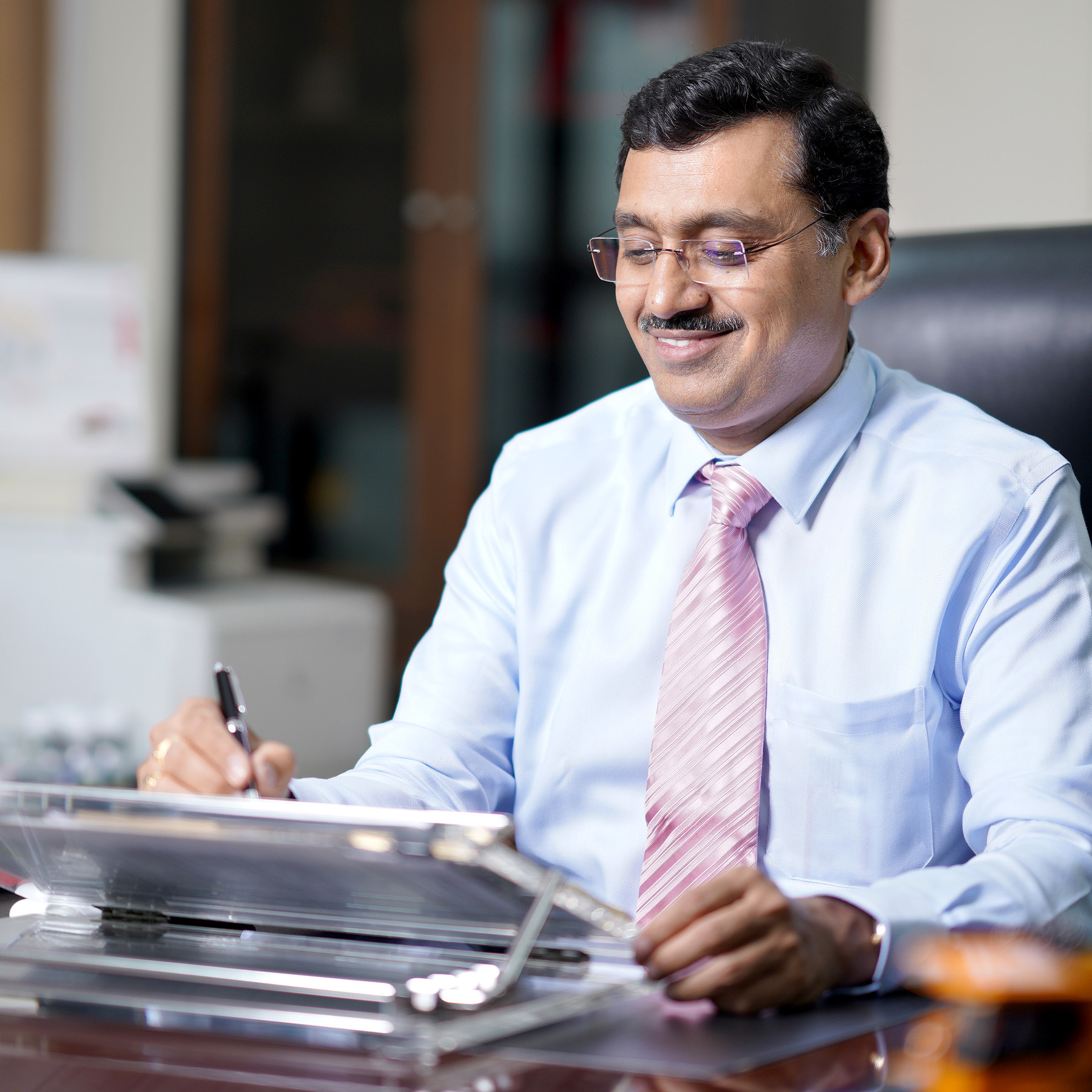 "Sany has provided me with a platform to excel. It's been like a startup venture for me."
"There was an opportunity to bring newer technologies to the country," he recalls. "The range that we had in Sany was fantastic. So, while the range which was available in India from Sany was just one or two products, today we talk of 50-odd products or more in our range catering to the India market."
He foresaw even back then that the expansion of this range could cater to and support the development of Indian infrastructure as a whole.
"It also gave us a platform to localize in India," he says. "As a country, we were importing too much. Sany brought those technologies to India, localized them in India and made the country self-dependent. These were some of the big opportunities which I saw toward the growth of infrastructure, toward the growth of the country, which actually pulled me to consider Sany as a long-term career."
Garg brought with him the expertise he had accumulated in his previous roles.
"I had a very wide exposure to sales, direct sales, then aftermarket service, aftermarket parts business, also in terms of channel management of certain regions, mergers, acquisitions and the overall management of a company," he says.
"One of the large areas was the handling of the supply chain function, which gives you an end-to-end exposure to R&D, to production, and to vendor development and outsourcing."
All of which set him up for the Sany role, which has required a comprehensive skill set as Garg has helped to establish the company as a major player.
At The Forefront
A major technological shift is on the horizon for India in the coming years, Garg predicts. First up, there will be a move toward more fuel-efficient technologies, along with a mass implementation of green technologies.
Sany plans to be at the forefront of both trends.
"We are looking at the EV [electric vehicle] technology for India. Maybe after five years, as the hydrogen infrastructure grows in the country, we will probably have hydrogen-fuel-operated equipment also introduced in India," he says. "So one thing that we are looking at in next three-to-five years is a big technological shift or a technological transformation as a pioneer in India."
Bringing more cost-efficient products to market will also be high on the national infrastructure agenda, according to Garg.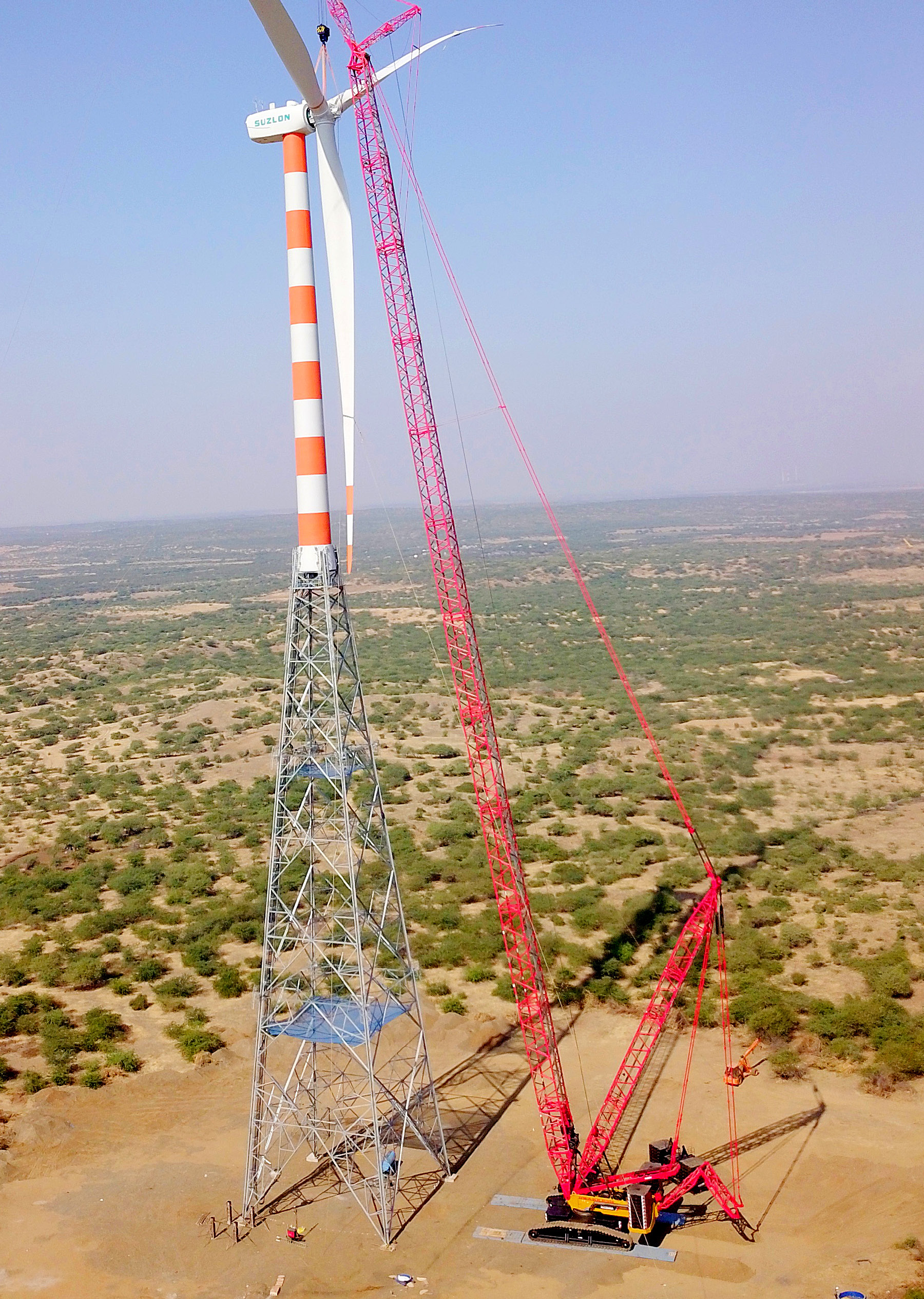 "Expectations are growing day by day. So the bar is rising every day and we are setting those benchmarks today."
"A country like India, while it needs expansion in infrastructure, it also needs cost-efficient infrastructure," he stresses.
To fulfill India's needs, this next-generation infrastructure must deliver quality, the right cost and a competitive timeline.
Sany will continue to push for increased levels of localization with the aim of growing locally produced products from 40–75 percent of the total.
"This cannot be done by Sany alone," he insists. "We also need the support of many of our supply chain partners. We need to work with them so they can see that we are able to localize more and more in India going forward."
Building talent will be another key focus, with the company working very aggressively to grow its talent pool, including the area of research and development.
---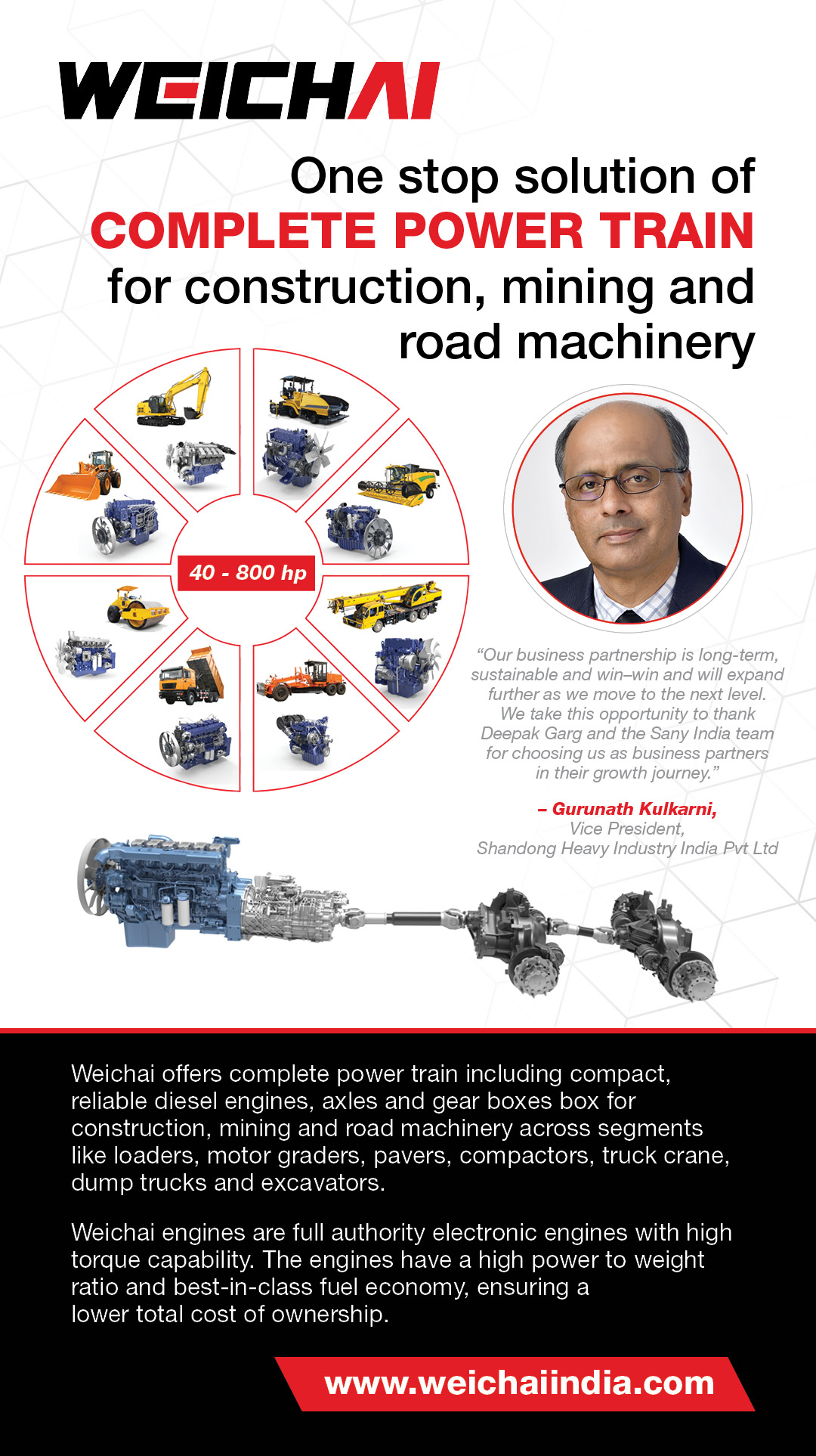 ---
Advertisement
"Because of the technological shift, the need will be to go for much higher quality talent, but this talent also will be not a traditional talent," he says. "The technological transformation will demand people with know-how of AI, know-how of electrification, know-how of hydrogen technology. So the quality of talent that we need to develop will also be one of our major priorities."
Already, the talent within the company is one of its greatest assets, according to Garg, attuned to the necessary timelines to react swiftly to market demands and innovate accordingly.
"Expectations are growing day by day," he reflects. "So the bar is rising every day and we are setting those benchmarks today."
Last, but not least, is Sany's ongoing pursuit of a "first-class" society, a mission which forms the company's backbone, according to Garg.
"Contribution to society in every way will also remain a priority for Sany," he says.
First Class Contributions
As part of the broader Sany Group, Sany India and South Asia is actively engaged in a number of charitable projects.
"SANY believes in serving the communities it works with, and offers assistance to help the less fortunate and victims of natural disasters," the company stated on its website.
Within India, it has offered its support to relief operations after the 2014 Malin landslide as well as the floods in Chennai and Kerala.
"We have also been proud to have helped in irrigation and cleanup efforts by the local governments."
Forging Ahead
In order to achieve these goals, Sany will first concentrate on expanding its manufacturing capacity in India as well as its distribution network by 30–40 percent over the next two years.
"From 2022 to 2027, we will probably invest close to US$100 million in manufacturing operations to expand our capacity," Garg notes. "This year alone, we'll be expanding by at least 25 percent in various areas."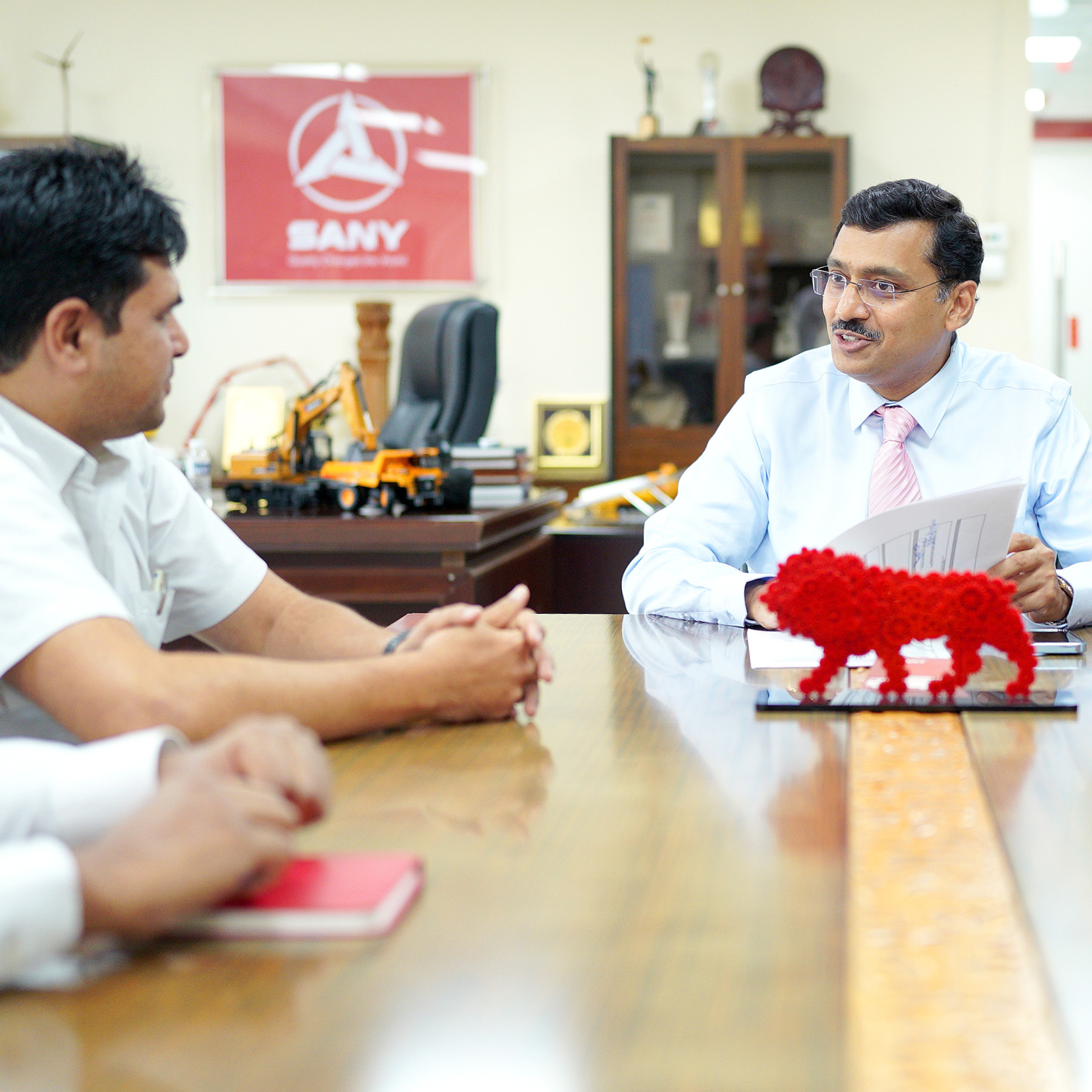 "Customer relationships are what drives the whole organization."
As the company turns its attention to exports, it will work closely with Sany offices in a number of overseas markets.
"We have already established some products which are now being exported from India to the United States and also to the African countries," he says. "This will also help us financially because, as we increase our exports, we also move toward Forex neutrality in terms of imports and exports."
Quality is also placed high on Sany's agenda, with a particular emphasis on the quality of sales, marketing and digital interventions. Ensuring it delivers superior products and service is, after all, one of the biggest contributors to Sany's success.
---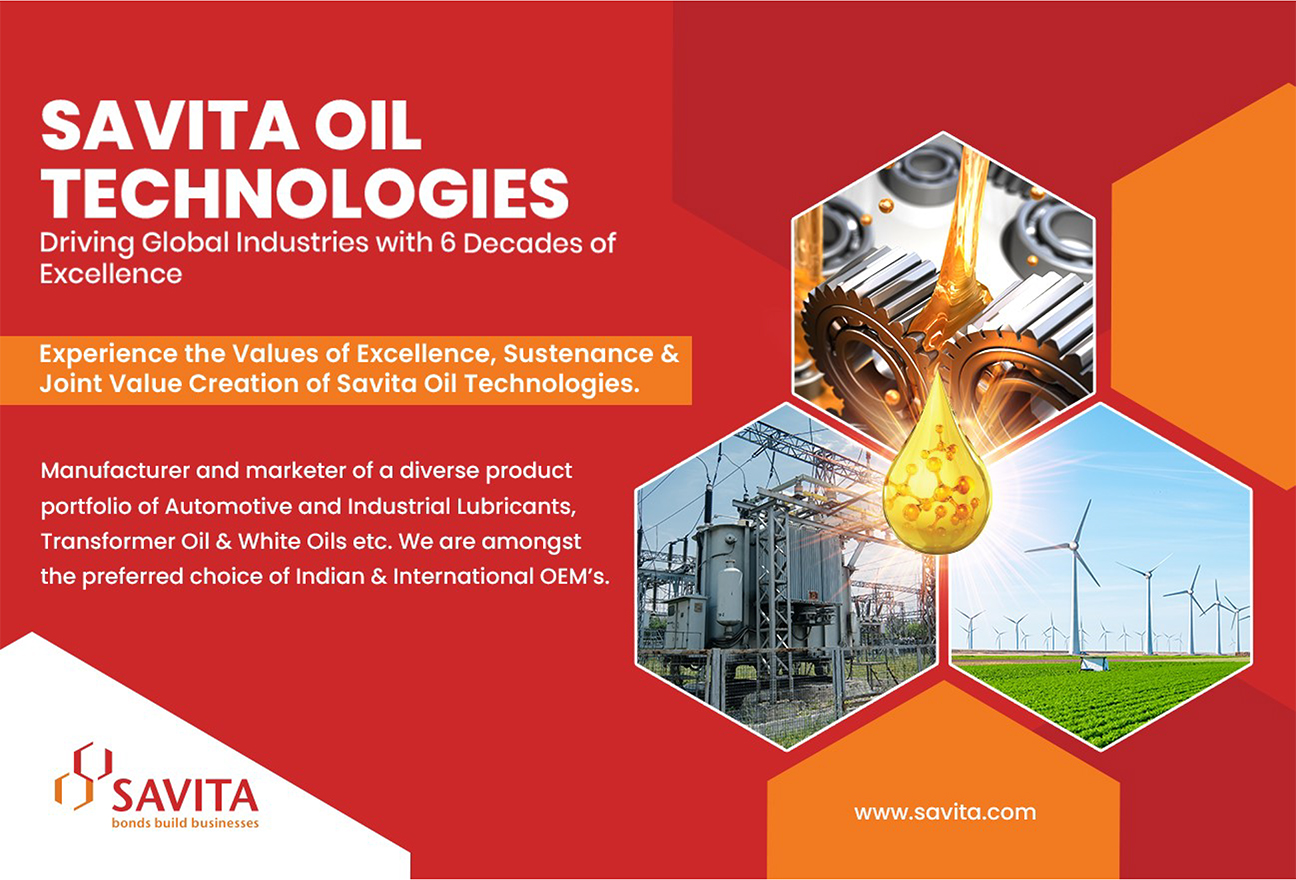 "Savita Oil Technologies, in collaboration with Sany India, offers cutting-edge, high-performance lubricant solutions that meet the demands of the most rigorous machine applications in the modern industrial world." – GN Mehra, CMD, Savita Oil Technologies
---
Advertisement
"Customer relationships are what drives the whole organization," Garg says. "Normally, any organization would have many internal, many external policies and constraints.
"But for us, everything is driven by customer engagement. Our focus is always on customers and the whole organization is tuned to that, from the group chairman to the last person in the organization."
He firmly believes that Sany's enterprise control on aftermarket support sets it apart from the competition, calling it one of the best in the industry.
"Aftermarket support is a must in this segment," he stresses. "You cannot operate without aftermarket support."
Raising the Bar
No matter the constraints in the market, this prioritizing of relationships has been a unwavering constant, with Garg highlighting it as a major differentiator.
Flexibility plays a crucial role in this, being fundamental to customer retention in today's market, he continues.
"As an organization, we are quite flexible to see that our customers remain with us," he says.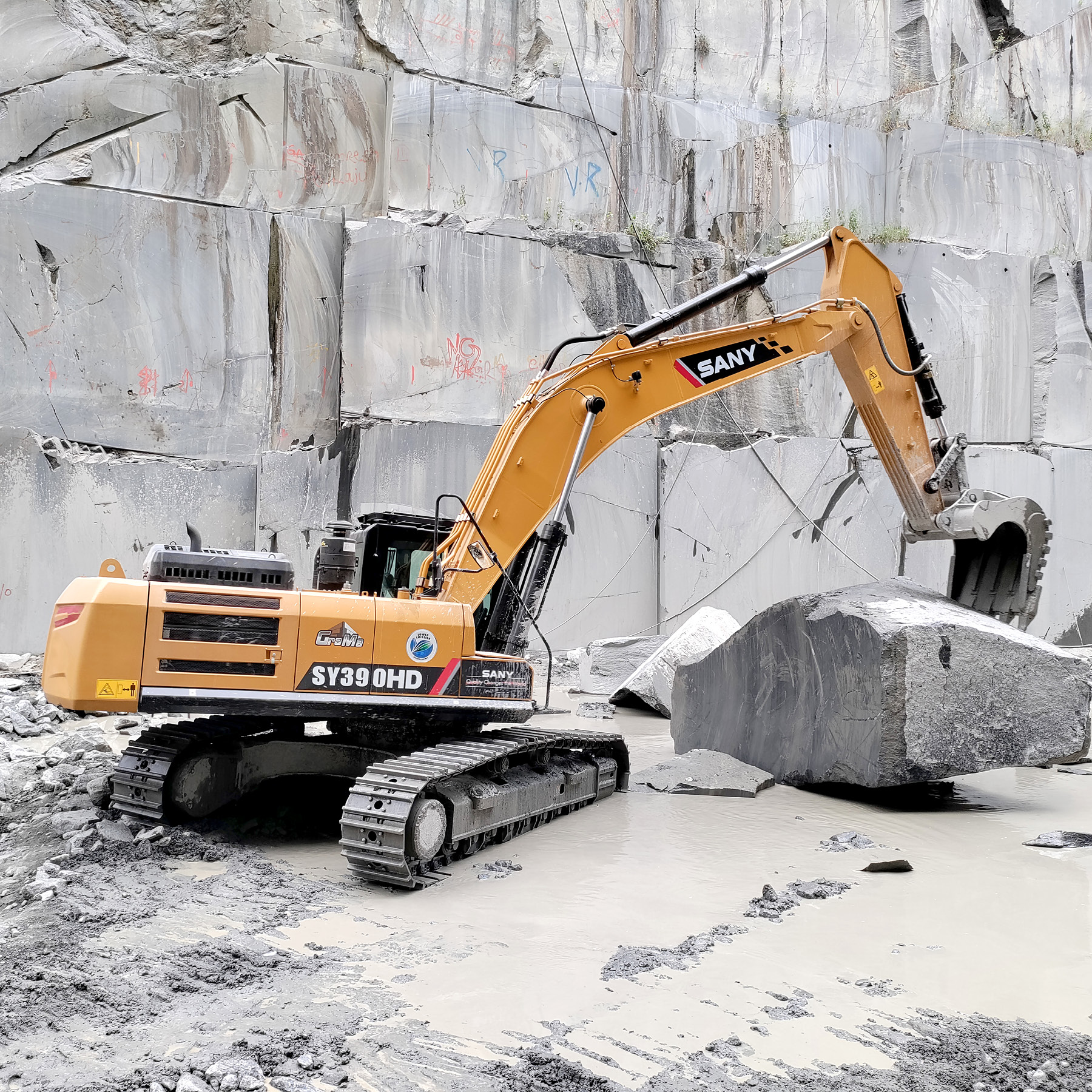 "Customers prefer to deal with a single organization when they have large projects."
The breadth of its range is another key selling point, with Sany now the largest player in the India's infrastructure, construction and mining space, Garg says.
"We have the largest range, and that gives us a play all across different segments of infrastructure and mining. Plus we are able to address the entire value chain of every project," he says.
"If you look at a road project, I can do everything right from the first operation to the last operation. I can provide the entire solution for that road."
While other companies tend to specialize in specific products, Sany offers the whole spectrum, giving customers the opportunity to interact with just one supplier and making their lives easier.
---

"Sany India is a dynamic and fast growing company with a strong orientation toward the future. This makes it the ideal partner for the development of increasingly integrated technologies to meet the demands of a rapidly expanding market like the Indian one." – Luigino Pozzo, President, PMP Drive Systems India
---
Advertisement
"Customers prefer to deal with a single organization when they have large projects," Garg explains.
Also setting Sany apart from its rivals is its speed to market for newer technologies. Garg explains that the traditional timeline for the launch of a new product within the industry is usually at 18 months.
"In the case of Sany, we are one-third of that, or even less than one-third," he says proudly. "So we are able to introduce newer technologies, newer products, faster to the market, and we are also able to localize them faster. A localization program for any organization would be one year, one-and-a-half years. Our localization program is one-fourth or one-third of that."
Shared Vision
Collaboration with outstanding partners forms another important pillar of Sany's strategy going forward.
"Sany, as a group and also here in India, has a very strong relationship with our vendor partners," he says. "There are a lot of technologies that are developed through the partners."
These include powertrain technologies, some hydraulic technologies as well as AI and IoT concepts.
"Recently, due to the development of electric platforms, there is further enhancement of our partnership network with some newer partners and vendors who are now starting to collaborate with us on the development of new platforms," Garg says.
"For Sany, this is one of the key areas, because while we manufacture the products, we also have a need to have latest and advanced global technologies to power our machines, to provide hydraulics to our machines. And these are normally partnered with specific companies across the world."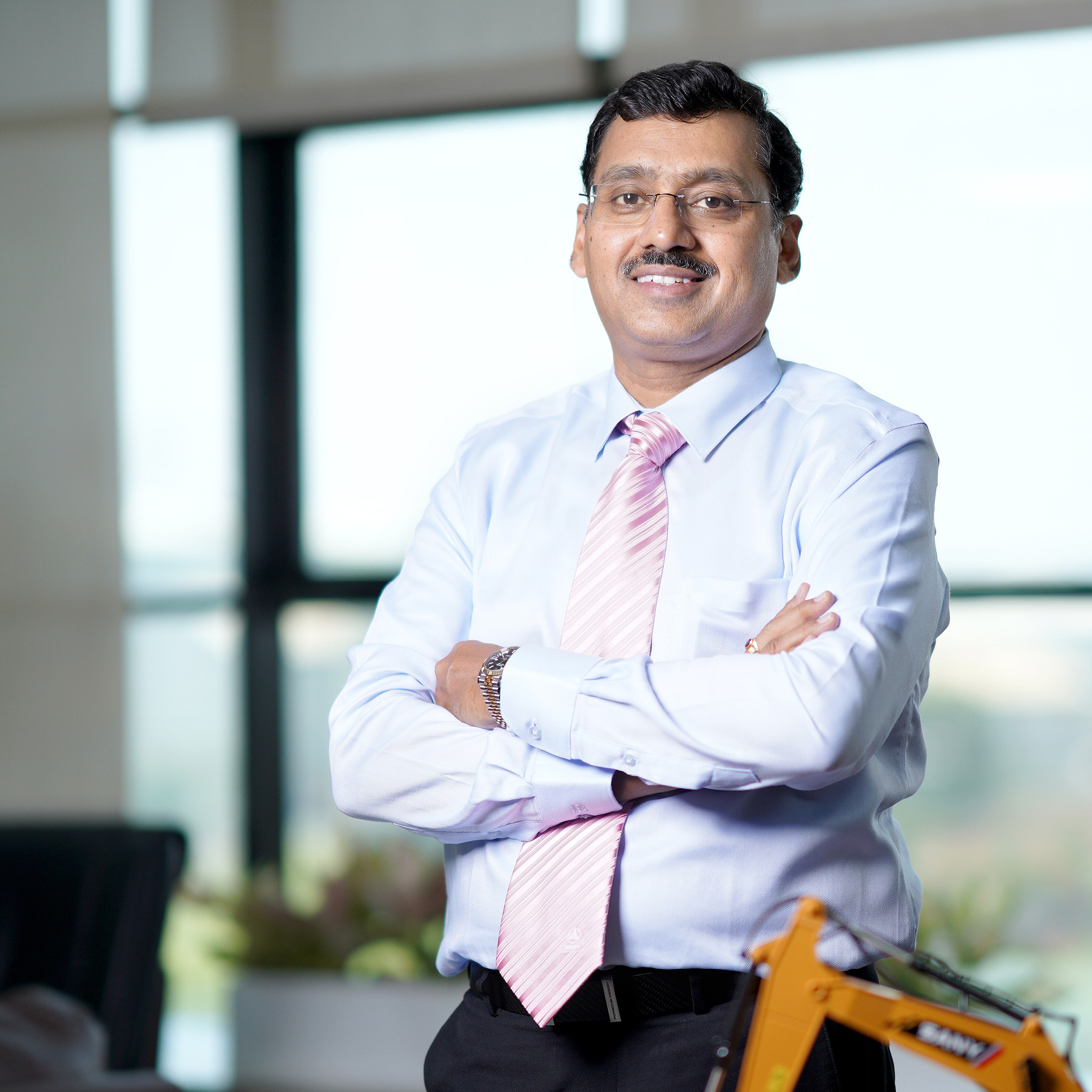 "The biggest benefit is the progress of the country. And when the country progresses, we all progress."
Its network of partners, both on the supply and development fronts, include global brands such as Cummins, Isuzu, Mitsubishi, Kawasaki, Nabtesco, Motrol, Nissan and PMP. On top of this, there are a number of vital local tie-ups that are critical to the company's ongoing success.
"We have a big ecosystem of manufacturing partners around our factory, within a radius of 10 or 15 kilometers, who supply a lot of design parts on a regular basis to our factory," he says.
"It is not possible for a company like us to grow at such a pace, to localize in India or manufacture in India at such a fast pace, if we did not have this relationship with our vendor partners."
The jointly developed technology is designed to make things more efficient for Sany's customers, from an operational as well as a cost perspective. But the benefits go far beyond that.
Sany is also working tirelessly to convince vendors to set up factories in India so it can further boost the local manufacturing industry to serve both India and export markets such as Europe and the United States.
---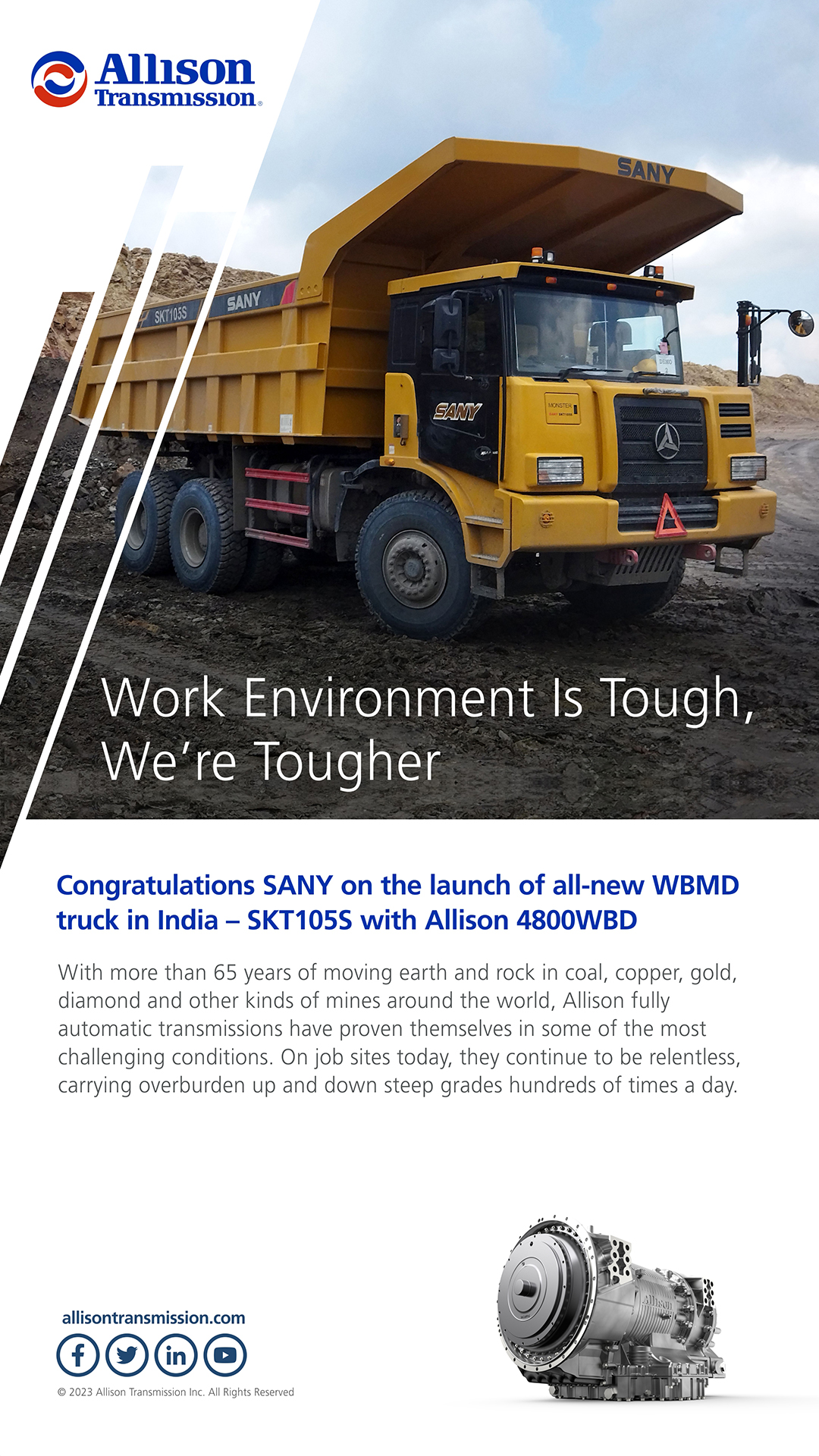 "Allison Transmission considers India one of our most important markets. Our strategic partnership with SANY India and recent India-based off-highway acquisitions demonstrate our commitment to bringing proven best-in-class solutions to our customers in the mining sector." – Kartik Ramanan, Executive Director, Allison Transmission
---
Advertisement
"That effort is being made by us to request our vendors, to work with them, to provide them scale, to provide them necessary support, to localize and set up expansions in India so that we can get better technologies in the local environment with a better cost structure," he says.
By localizing production, the cost implications are significant. For starters, it means the elimination of any import duty as well as a reduction in logistics costs.
"The overall talent and the ecosystem around us also develops so that we are able to take more challenging assignments in future and we can take up more challenging technology to localize in India," Garg reflects. "This gives us a cascading long-term impact on developing talent for the industry and also for Sany."
But in his view, the real winner is India.
"The biggest benefit is the progress of the country," Garg says. "And when the country progresses, we all progress."
Foot on the Pedal
According to S&P Global Ratings, India's GDP will grow at around 8 percent for the next three fiscal years, putting it among the fastest-growing of the large economies.
The Indian Government also has plans to boost the manufacturing sector to contribute an all-time high of about 25 percent of GDP by 2025. The figure currently sits below 16 percent currently.
"Its road to sustainably higher growth and a competitive manufacturing sector goes through robust and reliable national infrastructure, especially in power and transportation," the analysis firm said.
India also intends to invest over US$1.5 trillion in railways, roads, and other infrastructure over the next 5–10 years.