Deborah Flint believes that working at an airport might just be the best team sport there is. "There are a great number of jobs and types of people that are required for it to be successful, whether that's the person working on the front line to make sure the baggage is handled the way it needs to be, or the technical person behind the scenes who oversees the automation of the baggage system," she says.
In this 24/7, 365-day-a-year entity, everyone needs to play their part to keep the wheels moving. "It's an exciting, dynamic organization, but we all need to be aligned in our vision."
As President and CEO of the Greater Toronto Airports Authority, the operator of Toronto Pearson International Airport, Flint has been playing this "sport" for many years now – her career in aviation is approaching the 25-year mark. A graduate of the San Jose State University in California, in her role as Aviation Director of the Port of Oakland she oversaw the management, business development and operation of Oakland International Airport (eventually becoming the Executive Port Director) before moving to Los Angeles where, appointed CEO of Los Angeles World Airports by incumbent Mayor Eric Garcetti, she was responsible for LAX and Van Nuys Airport.
---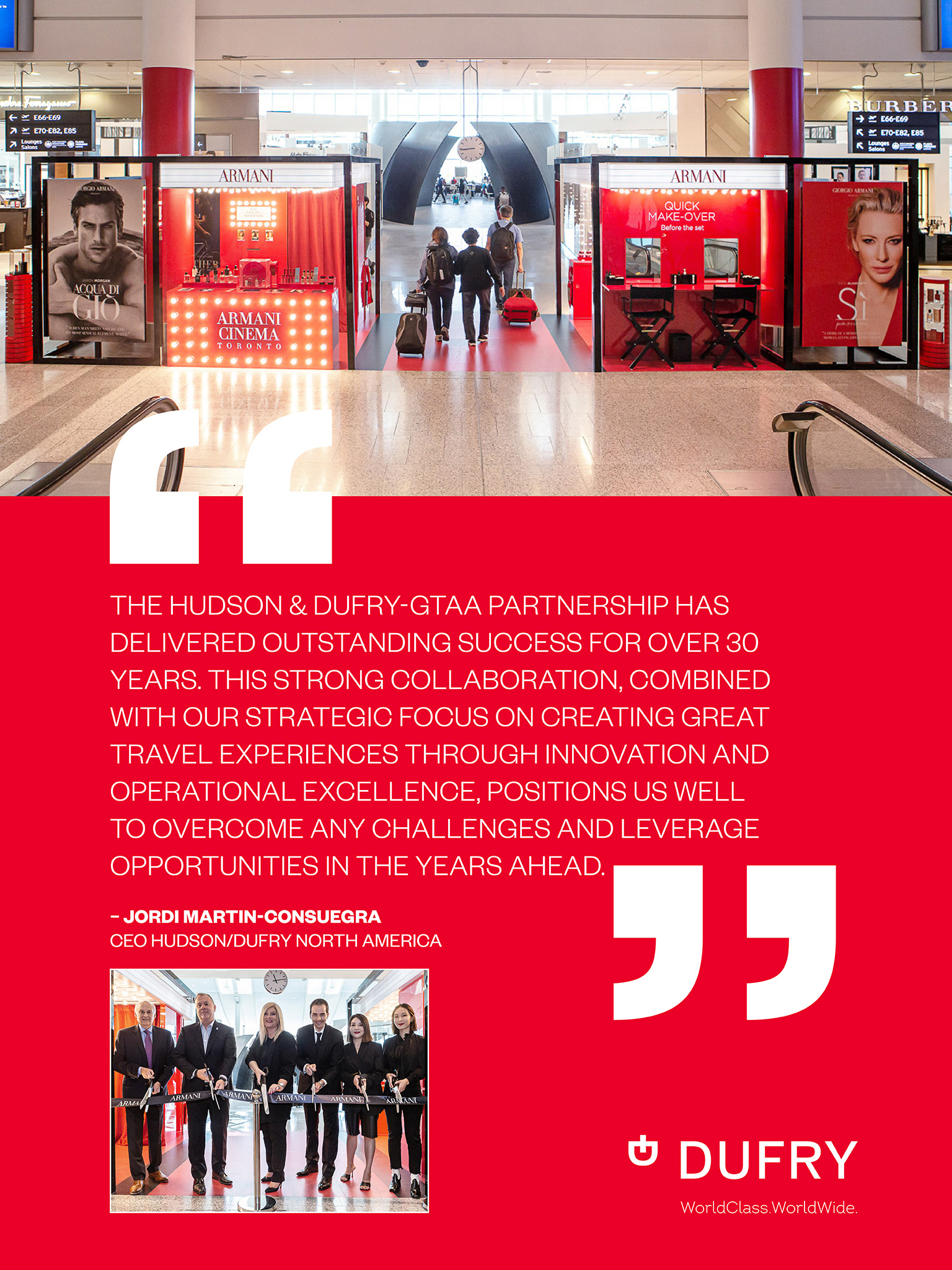 ---
Advertisement
It was after implementing a large-scale modernization program worth US$15 billion to deliver what she calls a "fresh vision of what LAX could be" that the opportunity in Toronto was presented to her. And it held an appeal for more than one reason. "I'm Canadian born, but I hadn't lived in Canada since I was very young," she shares.
Having had the chance to live and work in many places around the world honing her experience in the aviation sector, she says it was a unique opportunity to "come back to my birthplace and contribute the expertise that I had gathered along the way".
The offer was also one that would propel her career to higher levels. "There was already a lot of accomplishment and gravitas around the airport," she reveals. "And it's the right time for Toronto Pearson to be elevated even further on the map as a global aviation powerhouse."
Her first month in the role was February 2020. "I certainly didn't foresee for myself that I'd be leading an organization through a multi-year global pandemic," she admits. "But I did see for myself that coming to Toronto was about creating another chapter for me as a CEO leading big change."
A new start
Toronto Pearson is Canada's largest airport and the second largest in North America in terms of international traffic, welcoming more than 50 million passengers pre-pandemic and handling 40 per cent of Canada's air cargo. The airport is also the sixth most connected in the world, meaning passengers flying through Pearson have access to a world of possibilities when it comes to destinations. In financial terms, pre-pandemic, it also facilitated 6.3 per cent, or US$42 billion, of Ontario's gross domestic product.
Of course, like every airport around the globe, these figures took a dramatic hit in the past two years, but this leading position means Flint can afford a glass-half-full outlook as the world begins to work its way out of the COVID-19 crisis. "Even though the pandemic has brought change, the opportunity to bring Canada to the world and bring the world to Canada still rings very true for me," she says. "The future is so promising and bright."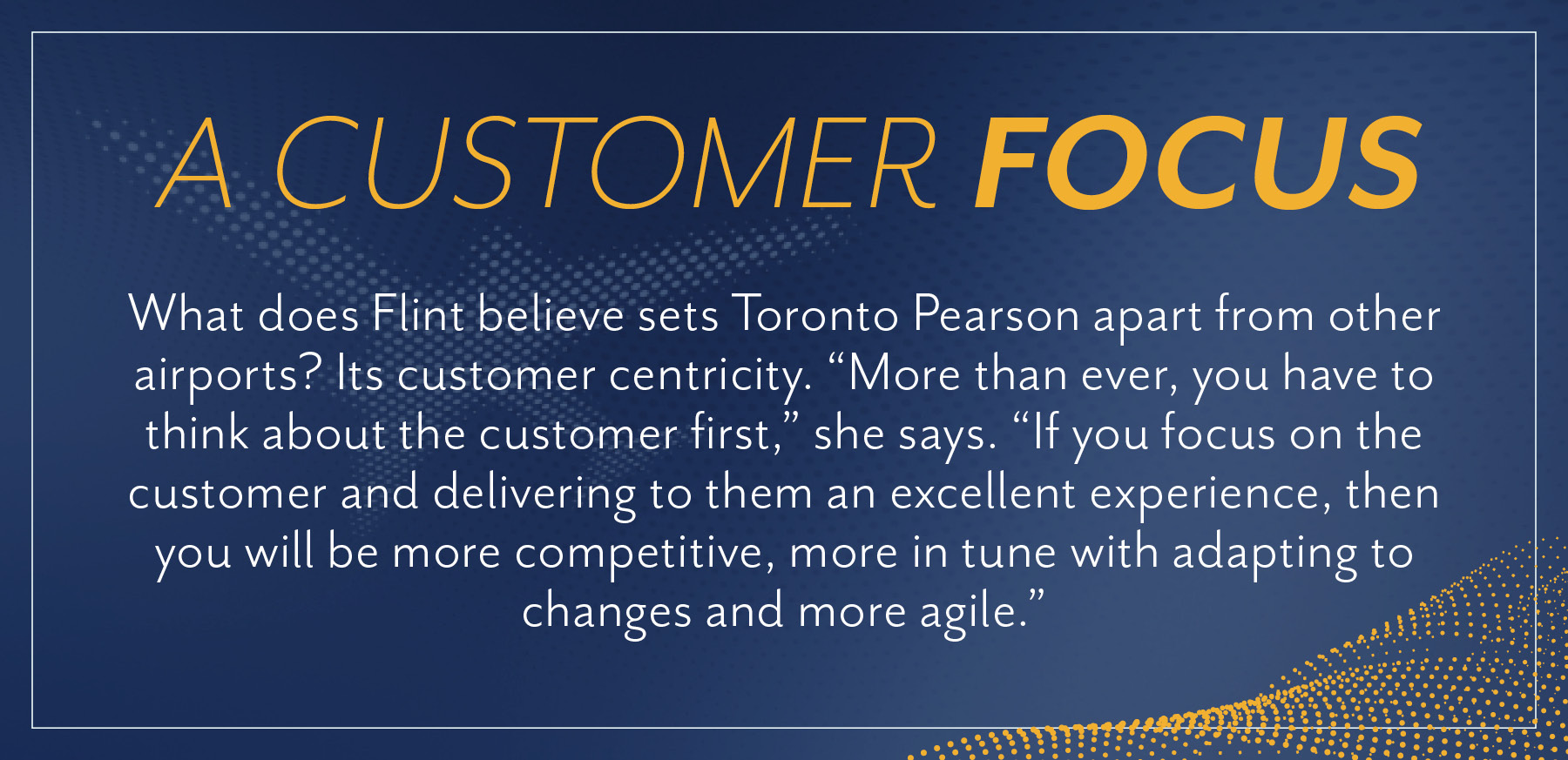 The forecasts back up her optimism. "In 2022, for the first time ever, Canada is predicted to have more population growth than the US," she says. In early 2022, the country was revealed as the fastest growing in the G7 – the 2021 census showed that, when compared to the previous census in 2016, the population had increased by 1.8 million. In this figure, four in five were found to have immigrated to Canada in the past five years.
Why is Canada witnessing such strong growth? "First, we are known as a country that really cares about its population," she insists. "We are also a country that is very welcoming to immigration and that's critical in this global economy to have people that are bringing in skills that are needed."
Situated in the country's second largest employment zone where 300,000 jobs existed pre-pandemic, Toronto Pearson enjoys a prominent place at the hub of the economic heart of Canada. "It's a robust, advanced area of the country," she says, pointing to the US$41.3 billion pharmaceuticals and life science industry based in the Greater Toronto Area.
"Some of the world's most innovative medicines can be traced back to the labs and manufacturing facilities of Dalton Pharma Services, a Toronto-based company that's been developing, analyzing and making drugs for more than three decades," she adds. "Location has been a critical factor in its growth and success."
---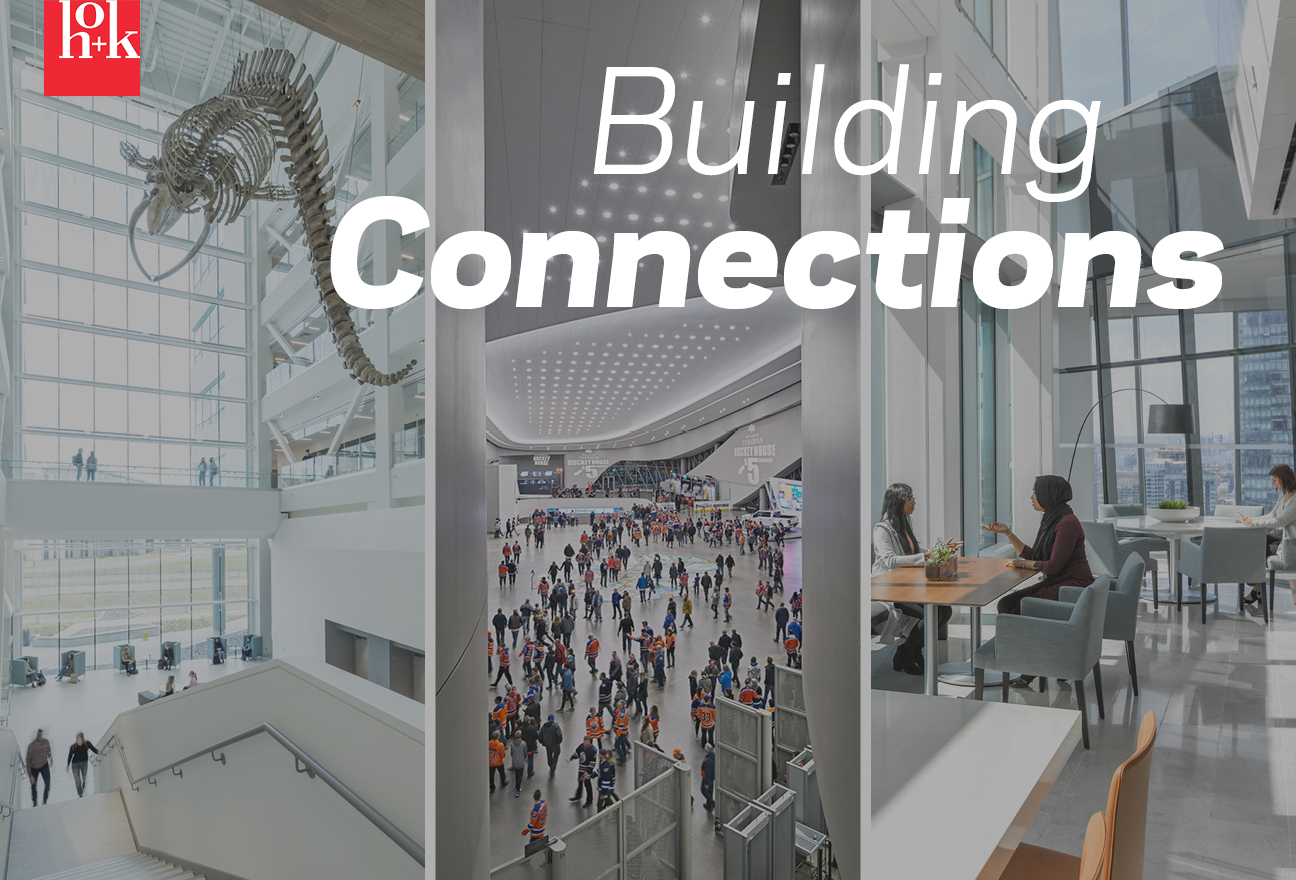 "Deborah Flint is both a visionary leader and a wonderfully collaborative partner. She brings out the best in her teams and is always open to innovative ideas that improve the airport experience." – Paul Gogan, Managing Principal, HOK
---
Advertisement
The increasing number of artificial intelligence (AI) startups is a second localized example. "Ontario is home to an advanced manufacturing supercluster anchored in the Toronto Waterloo innovation corridor, building up next-generation manufacturing capabilities, incorporating technologies like advanced robotics and 3D printing," she says. "The Toronto region is at the core of Canada's innovation and technological activity, and continues to attract the brightest minds and leading-edge companies such as Cognizant and HCL Technologies.
"The future of electric and intelligent transportation is also being built in Toronto. The province's automotive industry has seen a surge of investment this year in the production of electric vehicles (EVs) and large-scale EV battery manufacturing. What's more, with expertise in AI, connectivity, cybersecurity and quantum computing, more than 250 companies in Ontario are now actively involved in connected and autonomous vehicle development."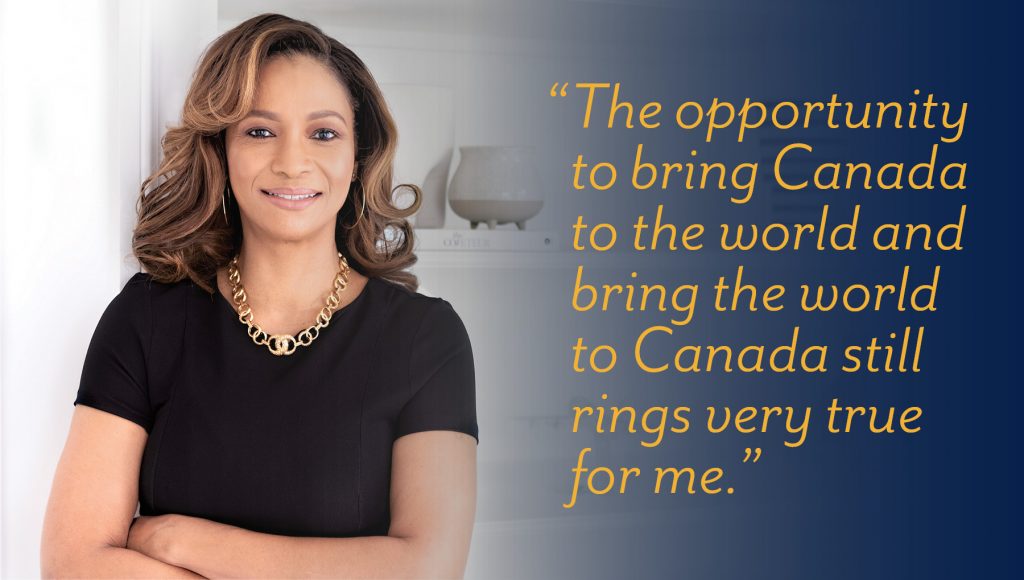 Another source of incoming talent is Canada's world-class universities and colleges. "The University of Toronto ranks among the top 20 global universities and University of Waterloo graduates are the second most frequently hired by Silicon Valley companies," she points out. "Our welcoming approach to immigration expands our talent pool further while producing different perspectives that enrich the culture of innovation."
There's also the foreign direct investment to consider, with investment attraction agency Toronto Global ending 2021 with more than 150 landed investment deals across the Toronto region. Since the agency was launched in 2017, Flint says it has created over 8,575 new jobs and US$1.2 billion in capital expenditures.
As Canada futureproofs itself with a growing population and proliferation of dynamic industries, so must Toronto Pearson, according to Flint. "This airport should be the most technologically advanced, most seamless and the most customer-centric airport in the world," she suggests. And that vision, she says, is what "we are working on collectively every single day".
---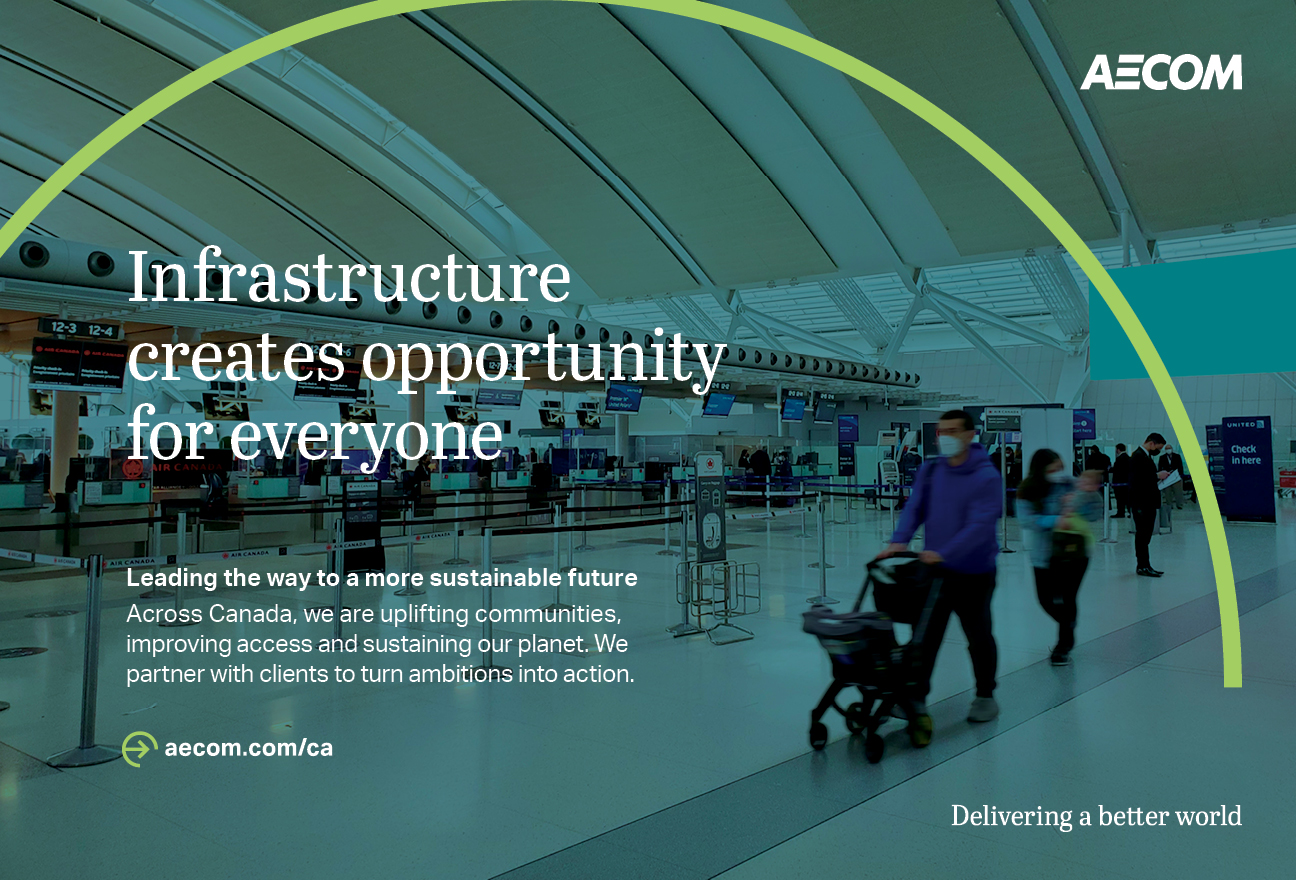 "AECOM is honored to support the Greater Toronto Airports Authority's innovative sustainability initiatives and industry leadership towards achieving ambitious carbon reduction goals. Congratulations to Deborah Flint and the GTAA team on their environmental stewardship and continued commitment to responsible growth and successful post-pandemic recovery." – Marc Devlin, Executive Vice President, Canada Region Chief Executive, AECOM
---
Advertisement
A healthy airport
Flint believes "passenger traffic is the heartbeat of any airport", so the mass cancellation of flights and a significant reduction in passenger traffic triggered by the COVID-19 pandemic has had a huge impact. "We have sustained significant financial losses, to the tune of CAD$1.1 billion [US$855 million] to the end of 2021," she explains. "Year over year, passenger traffic was down 74 per cent in 2020, and in 2021, traffic was down 4.6 per cent versus 2020, indicating that we clearly have a long way to go along the path of recovery."
As the country looks to recover, it will do so with the support of the airport and the employment zone it sits at the heart of. "Keeping travel healthy, safe, simple and as certain as we can in the midst of changing travel restrictions is our top priority," she stresses.
Flint knows it definitely hasn't been the easiest of starts in the role. "It's not ideal to get to know your new team and your new business in the throes of a crisis," she laughs.
However, she also knows that it's exactly the type of situation where you learn very quickly who you can rely on in your team. "One thing I found early on was a real synergy around the strength of Toronto Pearson and we started developing a rallying cry called Pearson Strong," she says.
"No matter how formidable the pandemic was, we would adapt and evolve and be nimble, agile and flexible with a focus on our people and their health, whether that was our employees, the crew that came to the airport, or the passengers."
It was a show of strength, resilience and determination. "We were committed to showing up and doing what was needed for our country and the world to be able to stay connected," she adds. The call has become her North Star statement. "Pearson Strong: creating the airport of the future by building our business in a smart, healthy and profitable way."
---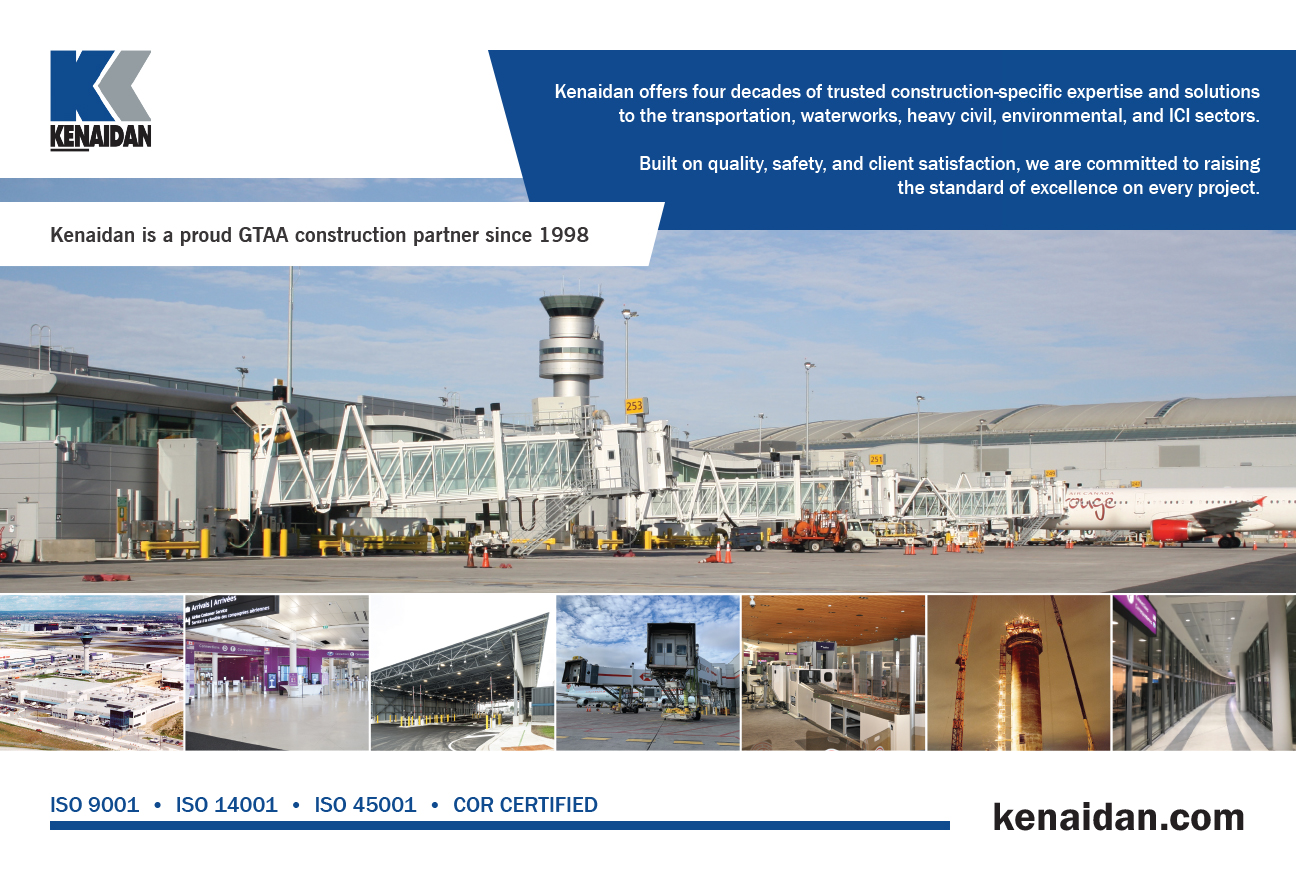 "Kenaidan has been a proud construction partner of Greater Toronto Airports Authority since 1998. GTAA is committed to environmental sustainability, social responsibility and economic growth. These principles align with our core values, allowing us to build a long-lasting, collaborative and supportive relationship." – John Goffredo, President, Kenaidan Contracting
---
Advertisement
A firm believer in the adage that you should never let a crisis go to waste ("I can't put 'good' in there because the pandemic has brought so much heartache and loss," she explains), Flint actually saw, amid the obstacles, an opportunity to create change.
"For CEOs, the challenge is to look around the corner and to have enough intel and analytics to predict, to anticipate and to position your company to be able to seize an opportunity," she says. In other words, a proactive rather than reactive strategy. And when she did look that little bit further ahead, she was able to see that "health would not be a fleeting matter". "As early as March, we got to work on how we would create what would become our Healthy Airport platform."
The first major breakthrough came with what was, at the time, the largest sample size of arrival passenger COVID-19 testing, carried out in partnership with Ontario's McMaster University and, ultimately, the government. "It became very important to understand what the profile of the virus in passenger traffic was," she recalls.
Then, only a few months into the crisis, Flint and her team were ready to launch the Healthy Airport commitment. "We worked closely with our government and public health partners to implement public health measures and best practices, and made strategic investments in leading-edge technologies," she says.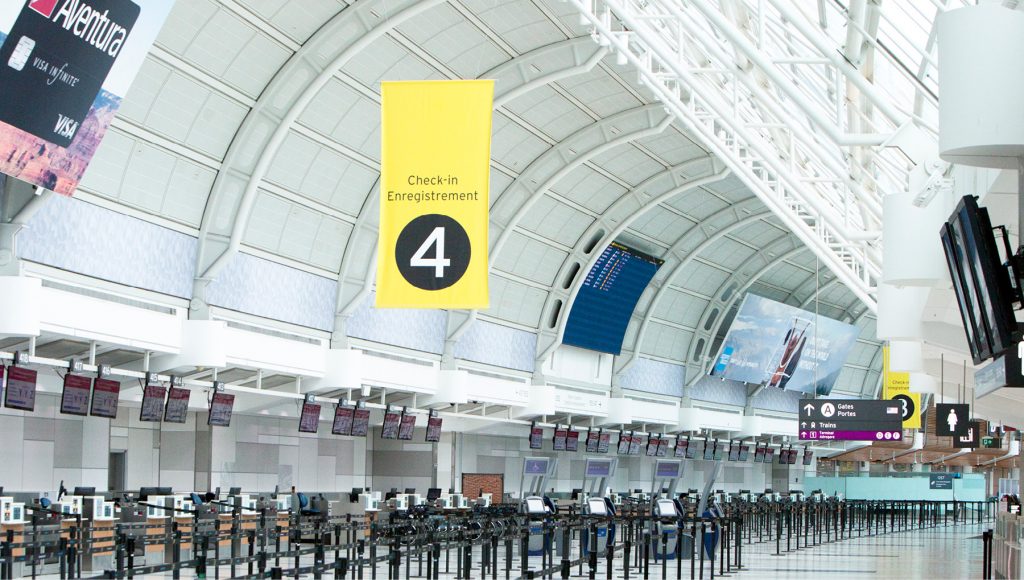 Breaking It Down
Toronto Pearson's Healthy Airport measures included:
Heating, ventilation and air-conditioning enhancements, including using UV light to clean the air, the installation of over 1,000 MERV-13 filters and 24/7 air-quality monitoring.

Mandatory mask wearing.

Terminal access limited to employees on duty and same-day travelers.

Partnership with BlueDot to use data analytics to predict and monitor infectious disease risks at the airport.

Autonomous robots to clean its floors.
Recognition for its forward-thinking and innovative strategies wasn't far behind: the airport was the first in Canada to receive Airports Council International's Airport Health Accreditation. Toronto Pearson has also been awarded Best Hygiene Measures in North America for two years in a row and Best Large Airport in North America for five years running from the same organization. Flint says these awards show that "our anticipation of health as a permanent condition was the right lens to take, and one that continues to position us".
Of course, alongside the human concerns, Flint also grappled with the commercial impact of the pandemic. "Most entities and CEOs would say that, in your career, you'll have one black swan event," she explains. "But this is beyond black swan."
Financially, she had to "pivot and be agile", deciding to focus on developing and diversifying revenue channels. "We knew that in the short-term we needed to create additional cash flow. But more than that, we realized that our world is more volatile and future shocks are something that we have to be prepared for," she predicts.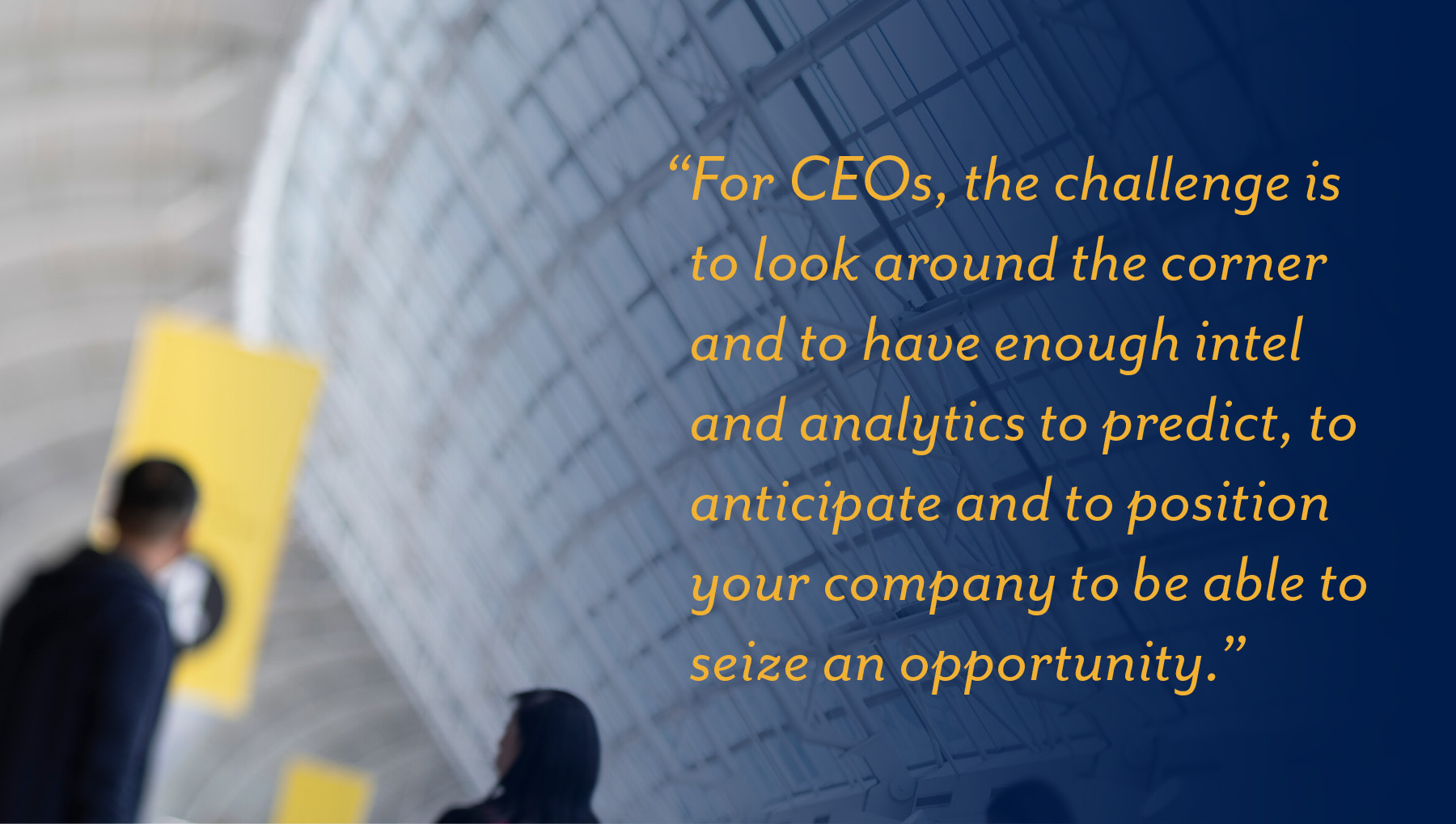 The diversification of revenue has become a core tenant of Flint's leadership strategy and the health space has been identified as an area of particular opportunity. "We looked outside into the market for good partners to bring health practices to the airport," she explains.
In 2021, the company partnered with Toronto-based healthcare company Switch Health to offer COVID-19 testing to departing passengers, employees and the community. "This provided the convenience of service right onsite at the airport," she says.
The clinic's operating times reflected the airport's 24/7 business. "Our business model enables customers to receive the service they need at competitive rates. It also creates a revenue opportunity for the airport, providing income to support our financial recovery from the pandemic."
---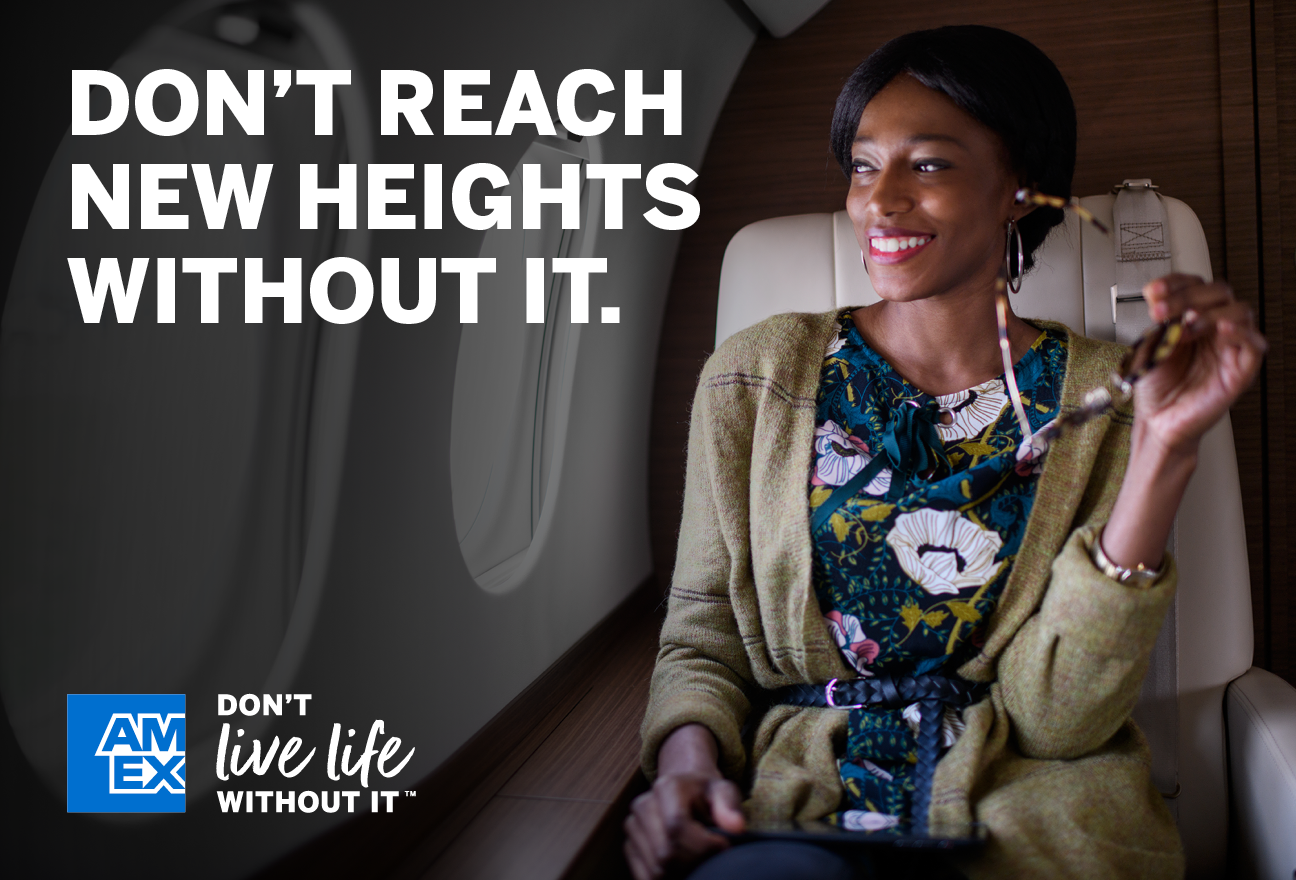 "American Express Canada and the Greater Toronto Airports Authority's decade-long partnership elevates the experience at Canada's biggest airport and offers special perks to Amex card members. Rooted in service and benefits, it stretches beyond traditional advertising, engaging travelers to the Amex brand in a meaningful way." – Vanessa Crooker, Vice President Enterprise, Loyalty and Partnerships, American Express Canada
---
Advertisement
So successful has the collaboration proved that Flint reveals she is now working with Switch Health to bring the business model to other airports. "We are a creative leader in the aviation testing space at a time when the industry needs to be nimble to adapt to the changing border requirements around the globe," she says.
The partnership is now firmly established as a very important commercial part of Toronto Pearson's business and Flint anticipates additional health services to emerge from the partnership. "We're just excited to be in this space because health and travel will be intertwined on a permanent basis," she predicts. "We've learned a lot from this pandemic and I believe that we have to be prepared for future infectious diseases."
She hopes that we don't see another pandemic, but if we were to, she believes that we need to use this experience to approach it differently. "We need to be able to navigate health conditions more seamlessly, using digital tools to keep borders open and continue to allow people to travel safely and healthily."
Covering all bases
Looking forward to her plans for Toronto Pearson's recovery and growth in the medium to long-term, Flint says the latter is something that is very difficult to predict during this time. However, she has found scenario planning and modeling to be invaluable tools.
"Instead of trying to throw a number at the wall and hope that it's the right one in an era of volatility, we have become a little more sophisticated in our view and in our planning for the future by using multiple scenarios," she explains.
Using data and analytics, Flint and her team are forecasting and planning for the future around two possible growth scenarios: a base case as well as a higher case. "We're prepared for that volatility because there are so many externalities that simply cannot be forecast from a geopolitical and health perspective," she says.
Strong in her belief in the long-term resilience of the aviation sector – which was planning on doubling its forecast growth in the 2030s, she explains – Flint says she prefers to focus on the more optimistic of the two scenarios. "We are seeing an incredible pent-up demand to travel," she reveals. "And after every kind of economic shock, there have been huge periods of growth, especially in terms of global connectivity."
---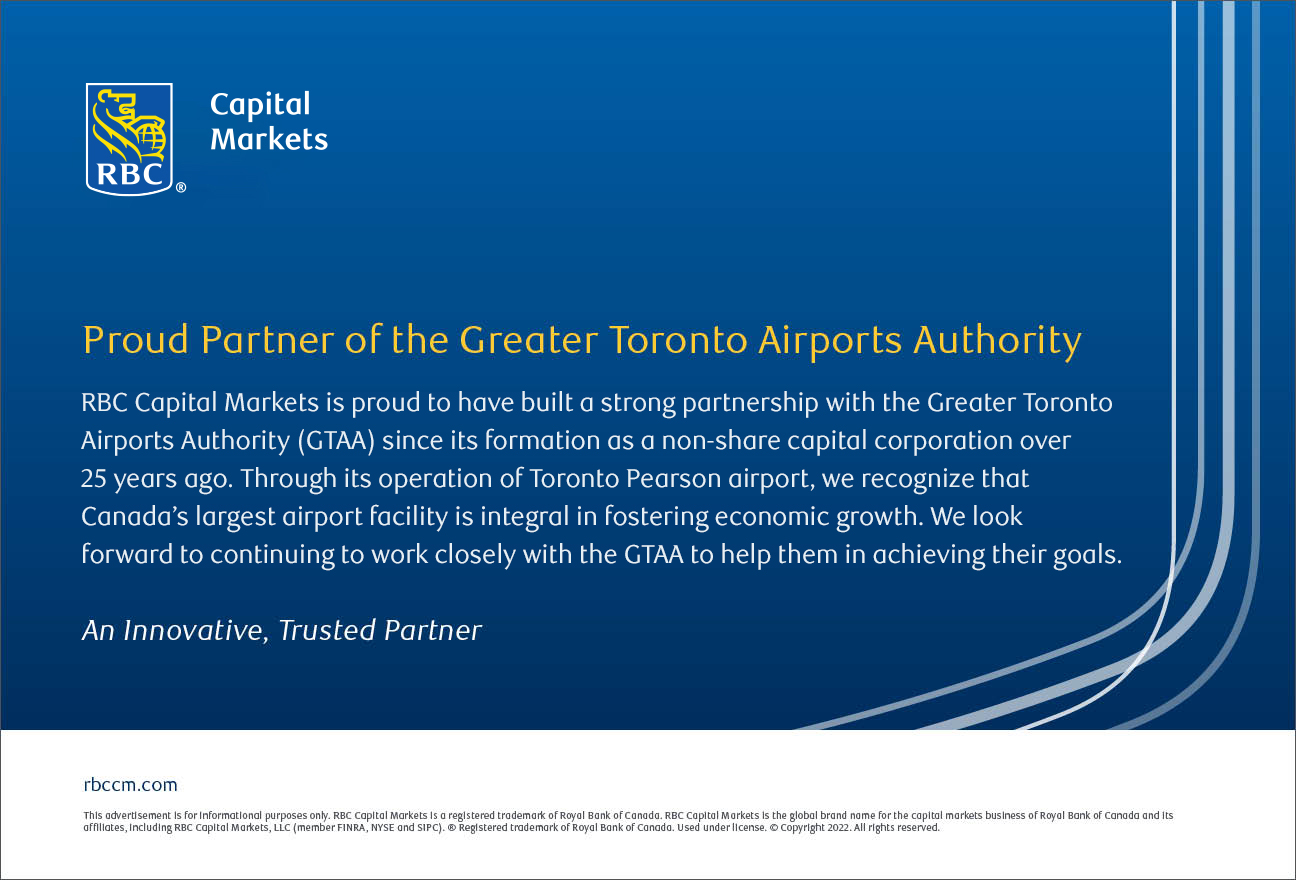 "The strong, longstanding relationship between RBC and Greater Toronto Airports Authority is underpinned by shared values. RBC applauds the resilience, ingenuity and leadership that GTAA has demonstrated through the pandemic and is pleased to support them as the aviation industry looks to the future." – Rob Brown, Managing Director and Co-Head Debt Capital Markets Canada, RBC Capital Markets
---
Advertisement
Combine this forecast with those surrounding Canada's population growth and all the signs indicate an incoming period of "hyper growth and hyper demand". "There's a quality of experience already here at Toronto Pearson, that's why we are the second largest international gateway into North America," she says. "And our focus is to continue to grow that even further, to be the most technologically advanced and highest customer experience airport in North America and even beyond. We want to be the airport of the future."
"To meet this pent-up demand, there are staffing and process changes that need to be made by the federal government," Flint says. Wait times for departing passengers at security screening points are being negatively impacted by staffing challenges at the Canadian Air Transport Security Authority. Moreover, international arriving passengers are facing bottlenecks and very lengthy delays in border processing due to Canada Border Services Agency staffing and legacy public health requirements in response to the COVID-19 pandemic.
"We're appreciative that the government has recently taken action on the staffing challenges, and we are committed to working collaboratively with government on concrete solutions, but to truly unlock the potential that this pent-up demand represents for our region's recovery, we must remove duplicative health checks for international arriving passengers and move mandatory random testing off of airport grounds," she adds.
---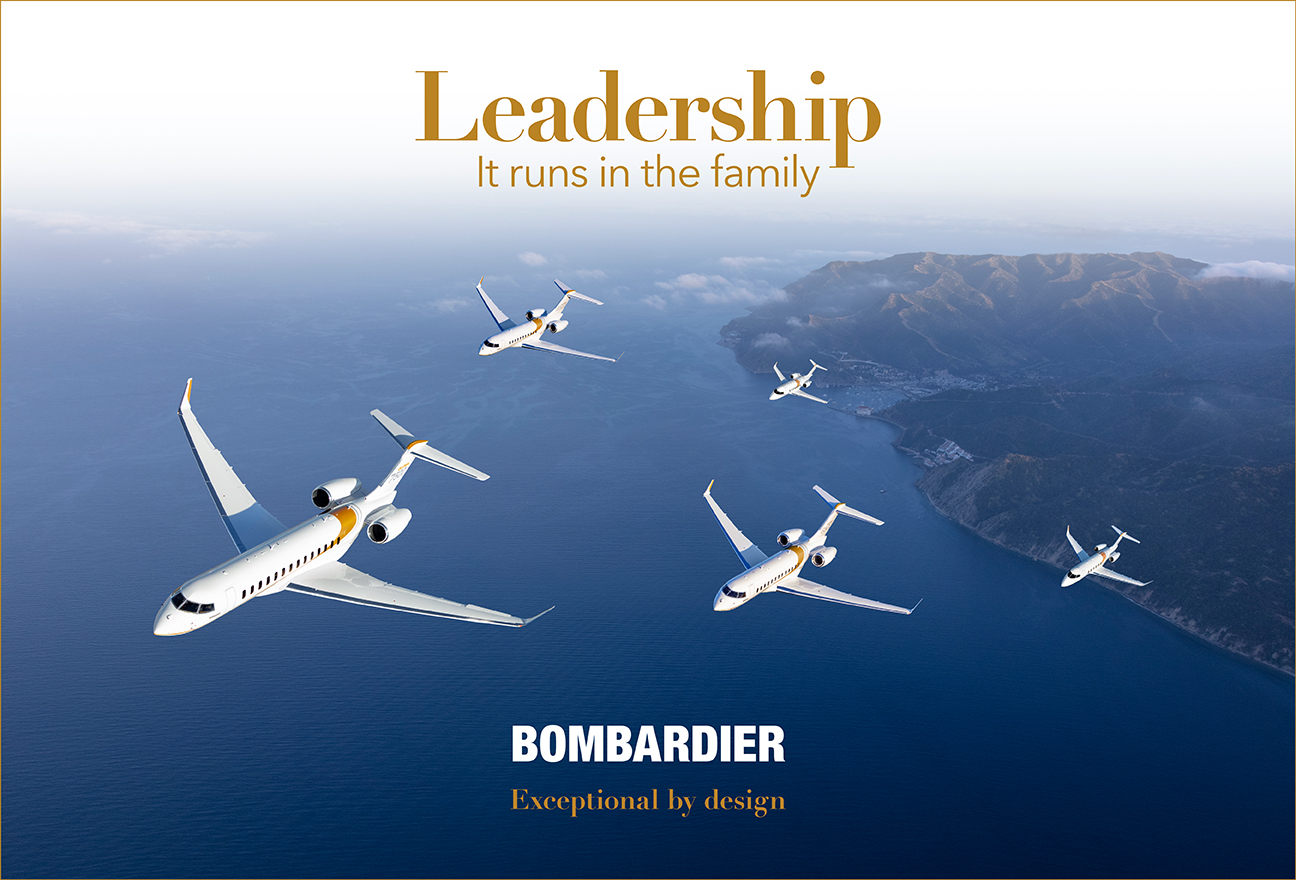 "Greater Toronto Airports Authority and Deborah Flint have been excellent partners, sharing Bombardier's vision for the aerospace sector leading economic recovery, in Canada and worldwide. Her help was invaluable towards progressing our next-generation facility that will offer long-term employment and a greener manufacturing footprint." – Éric Martel, President and CEO, Bombardier
---
Advertisement
And looking a little farther down the road, what will air travel look like, especially from the passenger's perspective? "A highly reliable, predictable and digitally enabled traveler experience," Flint says firmly. "Today, we order our food and groceries, are entertained and even achieve our fitness goals all via digital means in a way that is reliable, predictable and certain. When people travel, they aren't looking and longing for 1990s nostalgia. They want that same digital experience."
From the moment of booking to arriving at the airport on time, understanding where they need to go once there and what requirements are necessary, an airport needs to be "efficient, engaging and inspire confidence". She adds, "Our focus is to be the airport where that experience can be realized."
And Toronto Pearson is well on its way to achieving that ambition. "We have digital tools that allow you to plan your parking in advance. There's also a lot of self-service, whether that's checking your bags in automatically or going through various boarding portals using biometrics," Flint explains.
"We have also made significant investments in the airport, particularly around border modernization. We continue to look to the future and are working with our partners, like Canada Border Services Agency, at how the customs and immigration process can be modernized."
---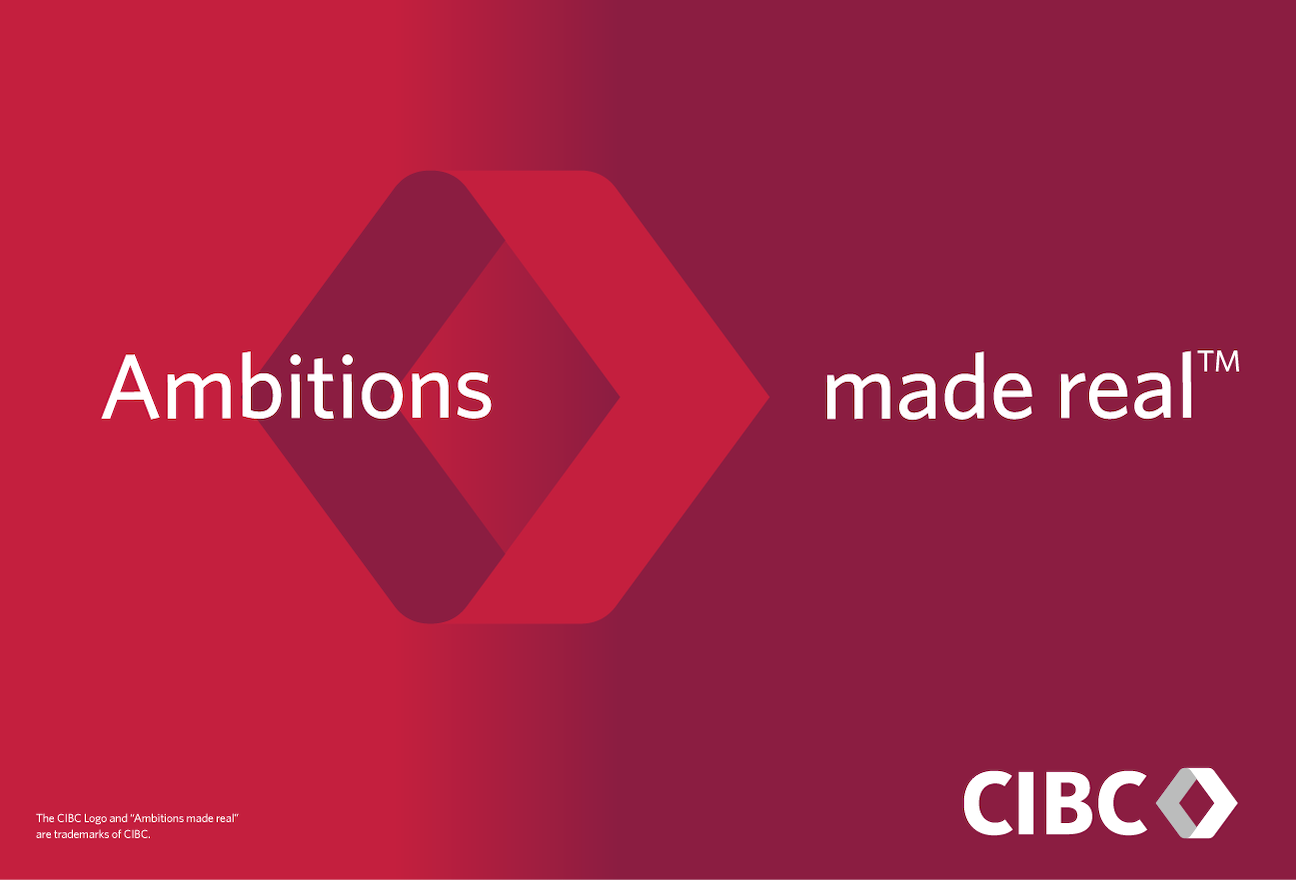 "Helping travelers navigate the uncertainty presented by the pandemic exemplifies the strength of our longstanding partnership with Greater Toronto Airports Authority. We are proud to continue working together to enhance the traveler experience at Toronto Pearson International Airport and make travel ambitions a reality." – Stephen Forbes, Executive Vice President, Purpose, Brand and Corporate Affairs, CIBC
---
Advertisement
One idea is to employ a red door, green door approach, like other countries, so returning Canadian citizens with nothing to declare can be quickly processed. The airport has also recently automated processing by allowing passengers to complete an online advanced declaration to expedite processing once they arrive in Canada, a feature implemented in late 2021. Flint predicts the initiative will "reduce dwell time at kiosks by about 50 per cent".
An airport of the future, by very definition, will also be a sustainable one. "I'm very proud to be a part of the aviation industry's commitment to carbon neutrality by 2050," she says. At Toronto Pearson, she's starting from solid foundations. "We have a strong track record. We've reduced our greenhouse gas emissions by 60 per cent since 2006."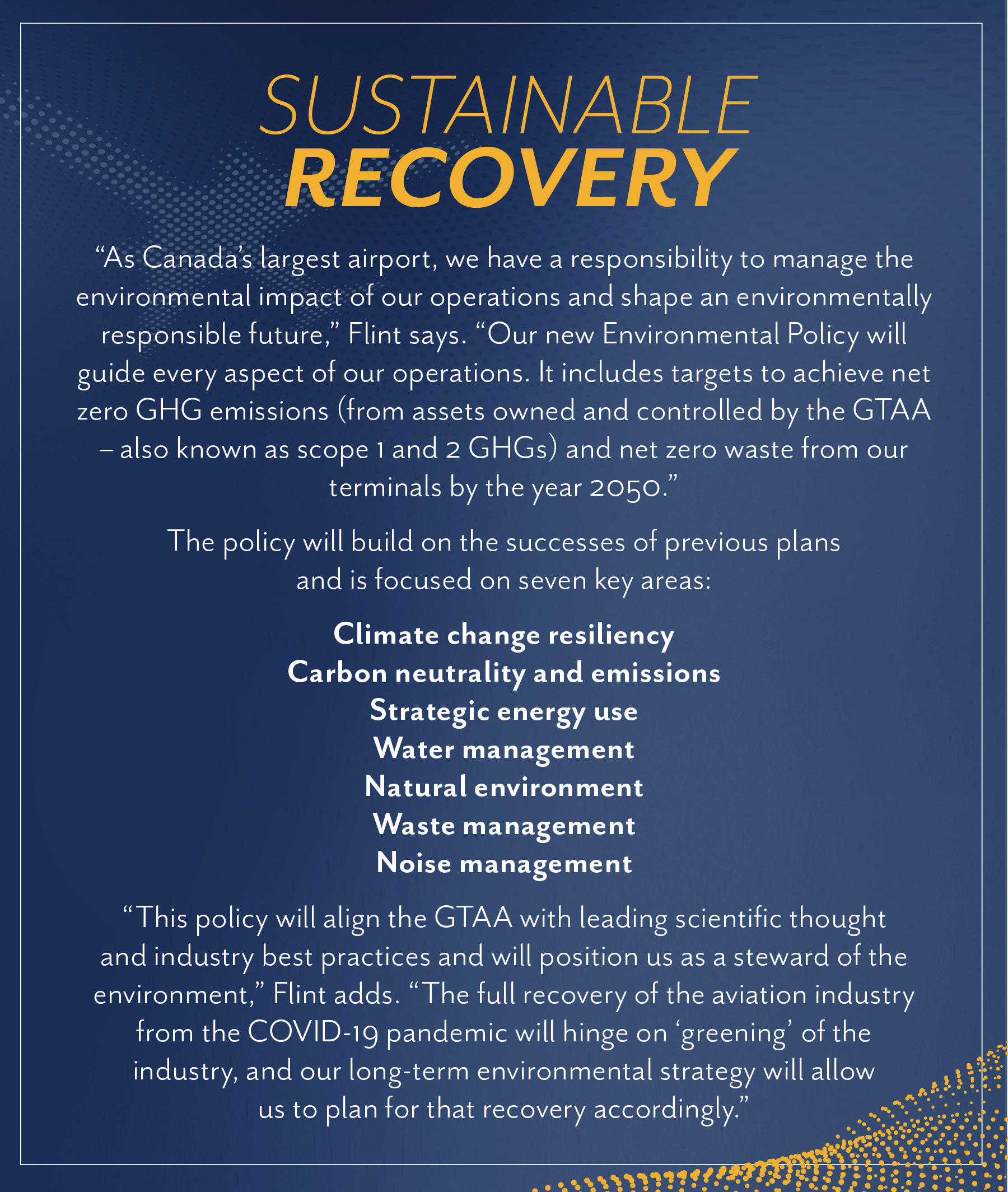 Flint knows that the carbon neutrality target is going to be a tough one for the industry, but she's also "bullish" about its ability to meet it. "We've got to work collectively and collaboratively," she stresses.
And it will be achieved with sustainable aviation fuels in one part and in changing aircraft technologies in another. "Then the airport and the airport facilities will need to ensure they can accommodate next-generation aircraft," she says.
There are other pieces of the puzzle as well, like the sky's highways. "Some of the airways haven't been modernized for over 50 years," she points out. Working with partner agencies such as not-for-profit NAV CANADA to fine-tune these flight paths has represented another career highlight. "Some of these changes will lead to the equivalent of more than 40,000 cars being permanently removed from ground traffic."
In the air, on the ground, in its facilities or with its partners, Flint says the technological advancements give her "a lot of optimism about the big challenge of greening the airport industry".
---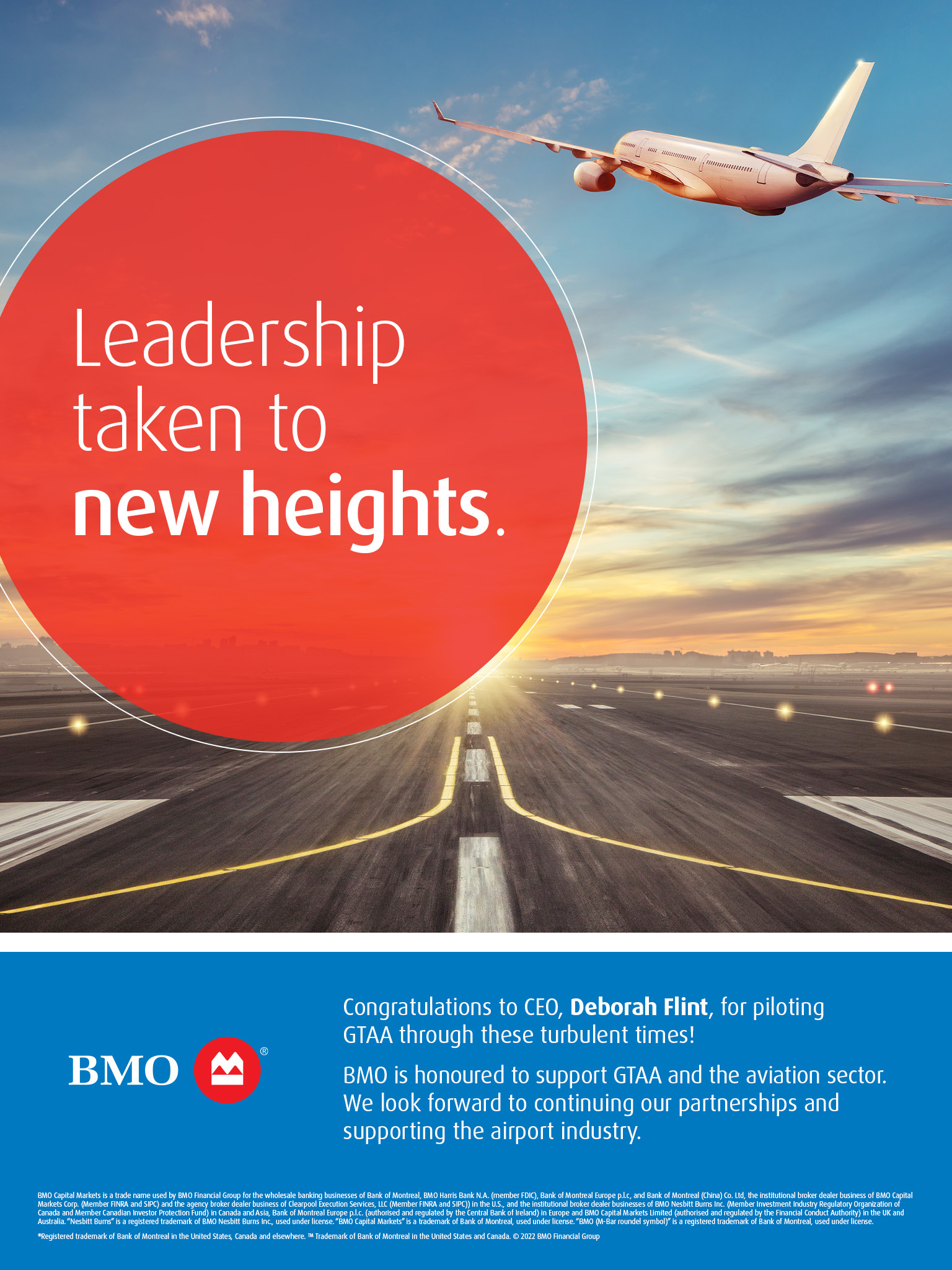 "BMO is pleased to have been partners with Greater Toronto Airports Authority since designing its capital markets platform in 1997. Management has always been proactive, working with us on 2020/21 covenant amendments, including us as a top-tier lender and book runner on bond offerings." – Susan Schauffert-Tam, Managing Director, BMO
---
Advertisement
She hasn't forgotten how important the experiential aspect of an airport is, however. "The best airports know how symbolic they are to what their country means," she claims. And she's excited about the opportunities she has at Toronto Pearson to "reflect all the great things Canada is known for".
"We're an epicenter of innovation and economic development, but there is also so much in terms of the arts and entertainment," she says, citing the Toronto International Film Festival as one example. "By bringing humanity and art into the airport, we reflect the culture and the values of Toronto and Canada overall."
The creation of a smart, healthy and profitable airport of the future has been Flint's North Star from very early on in her tenure, and it's what she has looked to as she's approached tough decisions during the past two years. "As a CEO, I believe it's critical to make sure your organization, especially one that has a web of complexities and specialties, is aligned on what success is anchored upon," she advises.
---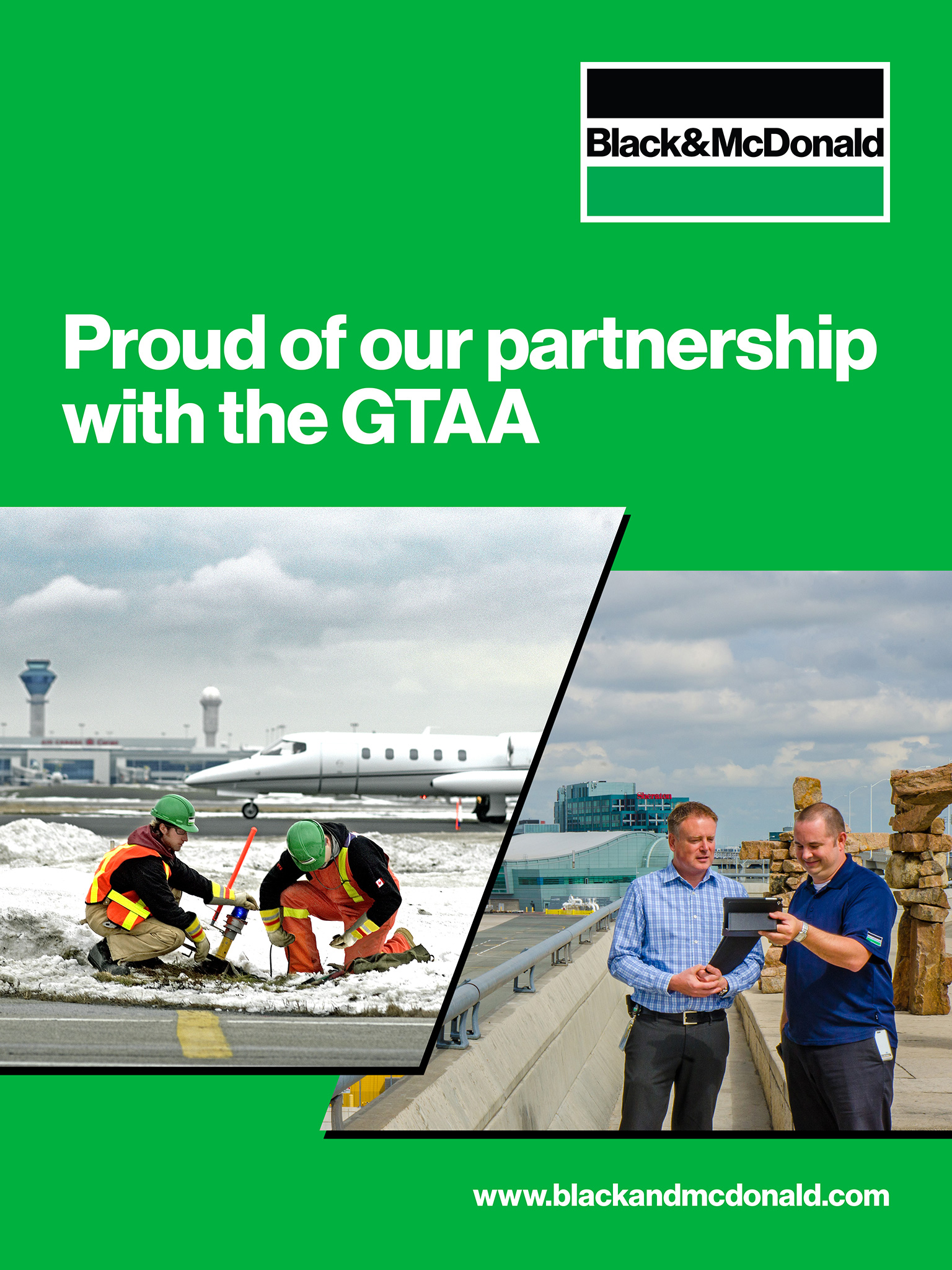 "For over 30 years, we've had the pleasure of working with the Greater Toronto Airports Authority at Pearson Airport – offering facilities maintenance, construction and utilities services to Canada's most vital transportation hub – operating within highly dynamic environments and generating rewarding long-term business relationships." – Black & McDonald
---
Advertisement
And this alignment extends outwards, towards the organization's partners. "We knew our success is intrinsically tied to our partners' success and vice versa, and that on the other side of the pandemic, we need them and we want them to need us," she explains.
Facing an airport that at times was "so empty it was daunting", Flint says she and her team worked with their partners to redo "1,000 different deals to adapt to the changing climate". "Crystalizing a goal and then partnering with the right people to achieve that goal is of paramount importance, especially when health and safety are at stake," she says. "We want to be a great place to do business because we want the best-in-class partners. We want those that are innovative, customer-focused and who know how to address and get to the other side of disruption."
Toronto Pearson's Healthy Airport program wouldn't be what it is without a strong focus on collaboration, she adds. "We partnered with BlueDot, a leader in advanced data analytics and technologies, to predict and monitor infectious disease risks at the height of the pandemic," she reveals. "We've also partnered with Cleanslate UV to install UV-C light sanitization devices throughout the airport. The devices are free to use and suitable for phones, tablets and other small electronics."
Then there's the partnership with Switch Health to deliver testing, which is going from strength to strength.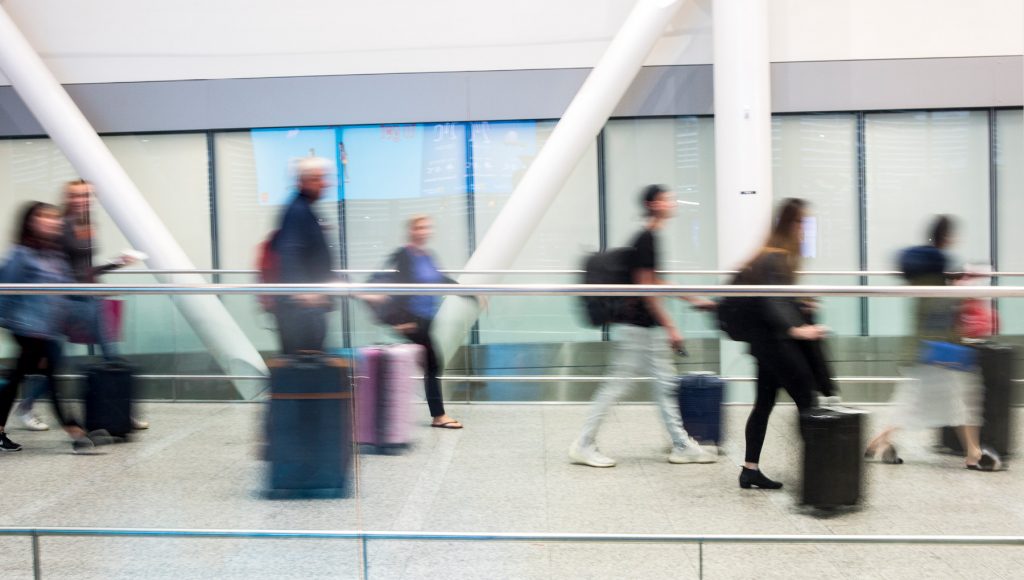 Stronger As One
"Aviation is a complex industry, that's no secret. Collaboration is absolutely essential if we're to exceed our passengers' expectations," Flint says. Collaboration at the airport takes on many forms on any normal day. Here, she gives an insight into what it can actually look like.
Aircraft Handling

The safe and efficient movement of hundreds of aircraft a day is a calculated dance that requires close collaboration among a number of players, including the airport; airlines; NAV CANADA, the country's air navigation service provider; third-party ground handling companies and many more.

People Management

The safe and efficient movement of thousands of passengers through Toronto Pearson's terminals every day requires collaboration among the airport and the government agencies operating there, including the Canadian Air Transport Security Authority, Canada Border Services Agency and US Customs and Border Protection, as well as a host of third-party companies.

Airport Experience

Ensuring a stellar passenger experience is also a team effort, with retail locations, food and beverage operators and service providers all playing an absolutely critical role.
"The Public Health Agency of Canada leads the country's COVID-19 public health response and we continue to work closely with all levels of government to ensure the health and safety of everyone at the airport is the top priority," Flint says. "We also partner with destination marketing organizations to help educate passengers on travel requirements before they reach the airport.
"From procuring 44,000 liters of hand sanitizer since the beginning of the pandemic to working with our cleaning partner, Dexterra, on our cleaning and hygiene approach, Toronto Pearson's Healthy Airport program and the accolades it has achieved are a direct result of the strong partnerships we have in place.
"One of the key lessons emerging from the pandemic is that it is not 'us and them', it is only 'us'. And we all must work together to see our way through the pandemic."
Now, Flint is taking the industry lead in urging the Canadian government to provide additional investment into the country's aviation sector – without it, a reliable, frequent connection with the world is at risk, as is economic growth. As examples, she looks to other G7 nations, which have provided funding to guarantee the future of air connectivity.
---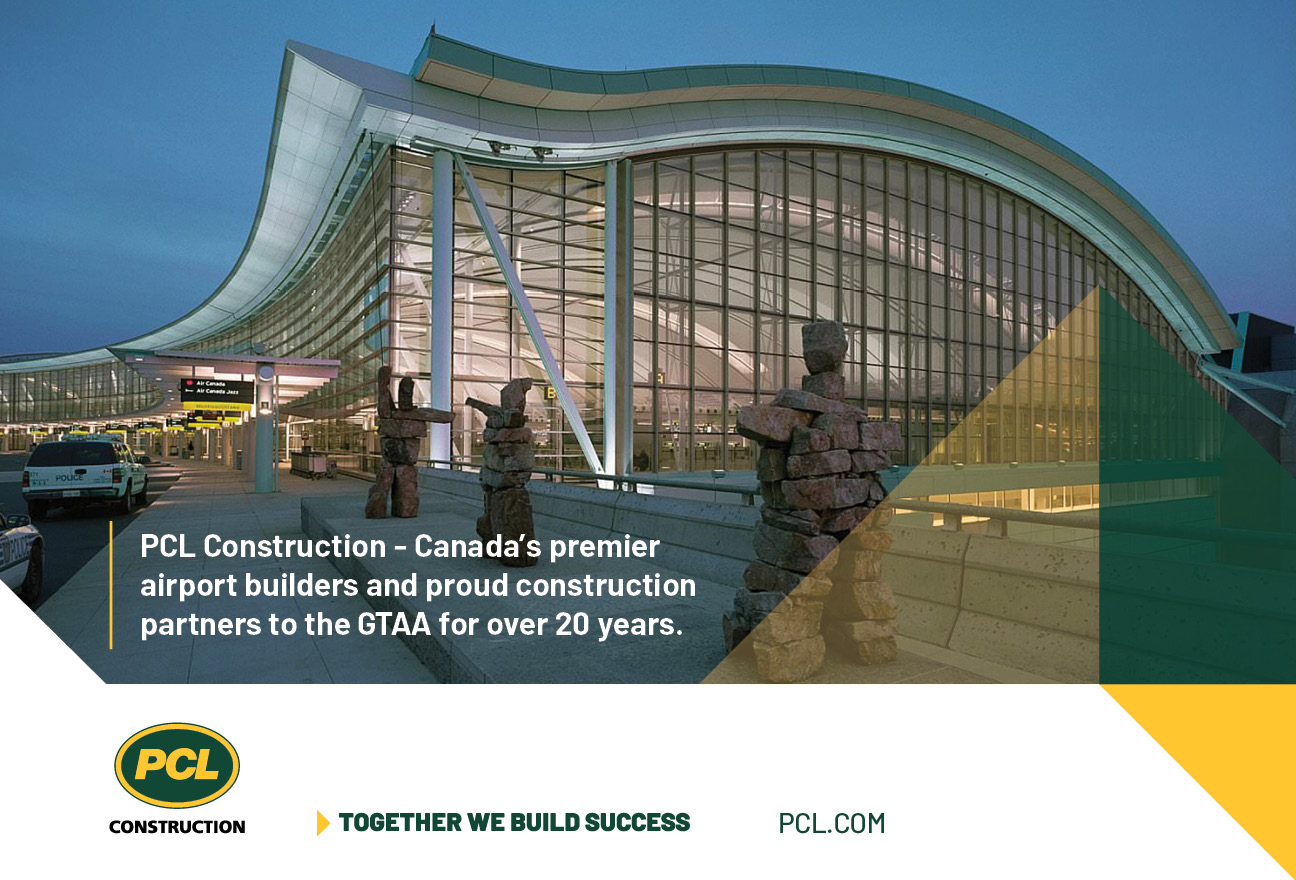 "I agree on the importance of partnership and collaboration, which are exemplified in PCL's more than 25-year construction history with Greater Toronto Airports Authority. We look forward to the journey ahead as we emerge from COVID-19 and retake to the skies." – Todd Craigen, President Eastern Canada, PCL Construction
---
Advertisement
"Over the past two years, air cargo has been, and continues to be, a lifeline for society, delivering essential goods to help fight the pandemic and meet the supply chain requirements of businesses and Canadian consumers," she said in an address on the topic of Canada's Future Infrastructure Needs at the Canadian Chamber of Commerce's annual Canada 360˚ Economic Summit in February 2022.
"Aviation is poised to play a larger role in addressing the challenges being felt by Canadian businesses and pocketbooks, but to do so, governments must be partners in rebuilding air capacity and modernizing the system, including with digital infrastructure and data."
As she reflects on her first two years in the role, Flint references a quote from one of the greatest ever team sportspeople. "Michael Jordan said, 'Talent wins games, but teamwork and intelligence win championships', and this is applicable to Toronto Pearson's journey, both before the pandemic and certainly during," she says.
Going forward, it will undoubtedly also be the case as she and her team step into their new smart, healthy and profitable future.
In the time since this interview took place, Canada's border restrictions have been significantly eased. Flint and the GTAA are focused on transforming the arrivals experience for passengers into one that is predictable, reliable, fast and enjoyable with a focus on people and technology. The Greater Toronto Airports Authority is also developing a 10-year strategic plan to fulfill its commitment of making Toronto Pearson the airport of the future.