Daryoush Larizadeh is a 20-year veteran of Leviton, serving as COO from 2006 and then both COO and President since 2015, when he became responsible for all facets of the company globally. Indeed, he is only the fourth person to hold the position in 115 years since the company's inception in 1906.
Under the leadership and approval of Leviton's CEO, Don Hendler, who was president at the time, Daryoush is credited with working with Don to implement the structural changes that have reshaped and transformed the company. "It was organized by functions, much in the same way that Alfred P Sloan organized General Motors with department heads reporting to the president," he recalls. "The structure was changed to four market- and customer-focused business units: residential, commercial and industrial, network solutions, and energy management controls and automation." 
As president, his vision was to build on Leviton's long and successful history of innovation. "Our focus has been to grow innovation organically with product development, design and our in-house manufacturing," Daryoush says. "We are also expanding into new areas where we see growth, such as data centers and enterprise networking. So in 2015, we acquired Brand-Rex, and in 2020, we acquired Berk-Tek, both of which supply copper and fiber cabling, as part of our network business."
As a result of the changes, the company has experienced tremendous growth. "We've seen growth across the board at Leviton. We have a solid annual growth rate, strong sales, and we have 6,800 employees worldwide," he shares.
Yet at its heart, Daryoush says it is still very much a manufacturing company. "About 95 per cent of everything we sell is engineered and manufactured by Leviton. While many companies outsource their manufacturing, we control the whole process, from product design to manufacturing and the supply chain," he explains.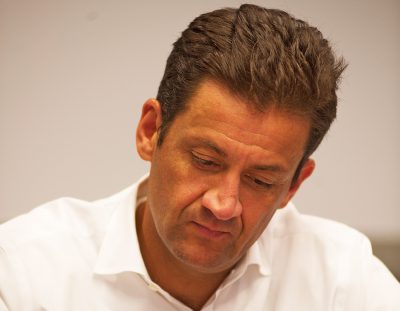 "Investing heavily in research and development, and engineering helped us become a real innovator."
That dynamic allows Leviton to be more nimble and highlight areas that require investment. "We're focused on making our products smarter," he reveals. "That could mean light fixtures with disinfectant UV light or antimicrobial material for wall plates and switches, both of which have become more relevant amid the COVID-19 pandemic. We're continuously adding more value to our products – using better materials, offering advanced functionality and usage, and making them easier to install."
Daryoush and his team are also directly collaborating with the world's technological behemoths. "We always listen to our customers' needs and now they want smarter homes so they can turn on light switches with voice activation, for example. We are using our ingenuity to solve these kinds of problems," he says.
"In terms of product road maps, we're working to create products that can be voice-activated with Amazon's Alexa. We're also working to make sure they're voice-activated with Apple's Siri as well as with Google Assistant."
Looking to the future, automation is very much on the agenda. 'I don't believe we need to add more factories. Instead, we're investing in more automation in our factories in Scotland, Mexico, China and the US to improve productivity," Daryoush shares.
However, automation is not just about productivity improvement; it's also about excellence. "Automation brings better-quality products. We're very much focused on high-quality products because they are electrified; therefore, quality and safety are important. One of the key advantages of having in-house manufacturing is there is one quality standard across the board."
Being a heritage company has given Leviton leverage when it comes to crucial vendor relationships and strategic partnerships. According to Daryoush, this has been borne out over the pandemic and the subsequent supply issues that manufacturing companies face.
"We have longstanding relationships with our supply partners. During the pandemic, they've really stepped up to help us out," he confirms. "We've been doing business with some of these suppliers for 50 or 60 years. We all find ways to help each other."
"A strong company culture based on teamwork and collaboration, and the processes we've established, are part of our success story."
As well as strategic partnerships, Leviton's people create the bedrock for its success. "A strong company culture based on teamwork and collaboration, and the processes we've established, are part of our success story," Daryoush reflects. "Investing heavily in research and development, and engineering helped us become a real innovator. We take our brand promise of 'We Make It Happen' very seriously. We want our employees to live that."
The company also recognizes and rewards the success of its staff. "We've had a reward system in place for more than a century," he points out. "We always seek out new perspectives in anticipation of what is coming next.  All of our employees have management objectives that are measured, and reward systems for the recognition of patents and innovation."
Each year, Leviton honors its second president with the Harold Leviton Innovation Award. "He believed in innovation and innovative thinking," Daryoush says. "So we have a culture of innovation and want to take measured risks. It's been a part of our success and how we've been around since 1906."
Fast Fact
Leviton's Decora® designer devices have become a household name for rocker-style switches and outlets, establishing a new industry benchmark for design and performance.