In an increasingly digital world, it can be all too easy for the almost old-fashioned concept of human connection to fall by the wayside. But while those digital interactions have many benefits, particularly highlighted during the pandemic, they can also lead to isolation, anxiety and depression. It's a worrying phenomenon that Christophe Mistou, Group General Director of do-it-yourself retail franchise chain Mr.Bricolage, is attempting to address.
Founded in the 1960s, the company underwent an extensive restructure in 2016 when Christophe took the helm, moving across from DIY giant Kingfisher shortly after a buy-out by the same company fell apart. He describes that restructuring process as "long and tough" but ultimately a success.
Mr.Bricolage is now present in 11 countries, with 824 shops in France, 72 internationally and nearly 10,000 employees. Central to its business model are the ideas that "shops are more than a place to buy products" and that its relationships with both its customers and clients are more important than anything else.
"If the recent crisis has told us anything, it is that we are all in need of human interaction."
"The core of Mr.Bricolage's business model is the will to promote customer relations beyond a simple commercial transaction. It is about more than offering a service, it is about human connections and relationships," Christophe tells The CEO Magazine. "If the recent crisis has told us anything, it is that we are all in need of human interaction.
"I like to talk about digital frugality. In a world where artificial and virtual connections are becoming the norm, in which transactions are more often than not dematerialised, we want to offer something different."
It's a business model the company has recently invested much time and energy into perfecting, and it appears to be working well, according to Christophe. "Now that we have stabilised our group and our new and improved business model has proven its sustainability and resilience, even in the face of a global pandemic, we are looking at expanding our network, all while maintaining the same level of service and support."
Trust is a big part of the equation when it comes to managing his team. "Being a manager is about knowing and recognising each and everyone's talent and abilities and nurturing them," he shares. "It is about allowing each person and each team to do their best possible work in the best possible conditions. My role is to make sure they have all the possible tools and the working conditions to do what they are good at, what they like to do, what makes them want to work."
He likens his role to that of an orchestra conductor who brings together the various talents of his musicians to create a harmonious melody. "Not only must I recognise everyone's talent and push them to develop their expertise to their best, I must also make sure that everyone works in sync," he says. "It is about constructing a group dynamic that allows every team to work in symbiosis, each one supporting the other without overstepping."
And just as a conductor must listen carefully to the notes swirling around them, so too must Christophe take great heed. "My role is to listen to and understand my employees and guide them in order to organise the business around everyone's talents, skills and interests," he says.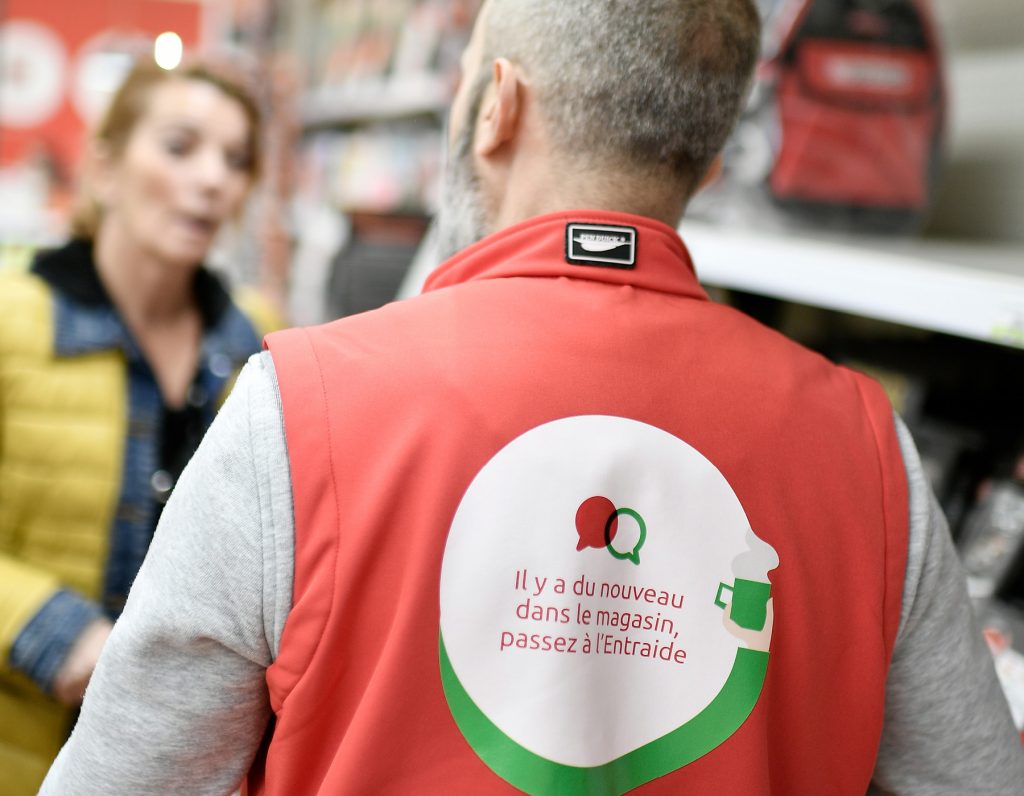 "Being a leader within a changing environment is about facing changes head on and being able to put practices and standardised norms into question."
It's an ever-changing role that requires him to adjust to the changing dynamics of both the retail landscape and, on a broader scale, society as a whole, with environmental responsibilities a big part of that. "It is no longer only about economic and financial efficiency," Christophe stresses. "We intend to lead by example, which means making sure that every action we take, every strategy we implement, is in accordance with our environmental and societal values.
"Being a leader within a changing environment is about facing changes head on and being able to put practices and standardised norms into question. It is about perpetually questioning what we do and how we do it."
Christophe's determination to never rest on his laurels is helping to drive Mr.Bricolage forward, but he makes sure to take the time to celebrate the team's achievements so far. "We have many ongoing and future projects, but while a lot still needs to be done, I am very proud of the group's achievements," he says. "Every single employee's individual and collective work is what allows me and the group to look to the future with serenity and enthusiasm."