PFNonwovens (PFN), a leading manufacturer of nonwoven fabrics used in consumer products around the world, counts leading brand owners and FMCGs among its key partners. Making a mark with the world's largest producers and sellers of consumer goods is no easy feat, but PFN has now been recognized by multinational customers numerous times for supplier excellence.
For PFN's newly appointed CEO, Cedric Ballay, the reasons the company stands out are clear. "The team at PFN is incredible," he says. "They're a very passionate, engaged and experienced team with a lot of know-how.
"One of our customers does a supplier award every two years, and our company has got it for nine consecutive awards. I think it's important for PFN because it really shows how successful our company is in this industry. Some of our customers are the biggest users of nonwovens, and they're the most demanding, and the fact that we're recognized by them is really important for us. It shows our track record in the industry and our success."
With more than 1,000 staff, and operations in the US, the Czech Republic, Egypt and South Africa, PFN has a global footprint and has earned itself a reputation as one of the most respected manufacturers of nonwoven fabrics in the business. Its fabrics are widely used in disposable personal hygiene and health products like diapers, sanitary towels, tampons, medical gowns, surgical masks and wipes.
It supplies the agriculture industry with nonwoven blanket fabric that is permeable to water and air and light, and can be used to grow plants while protecting them from adverse weather. Its products are also used inside mattresses and furniture, as well as in the construction industry, where it supplies under-roofing cover and heat and sound insulation.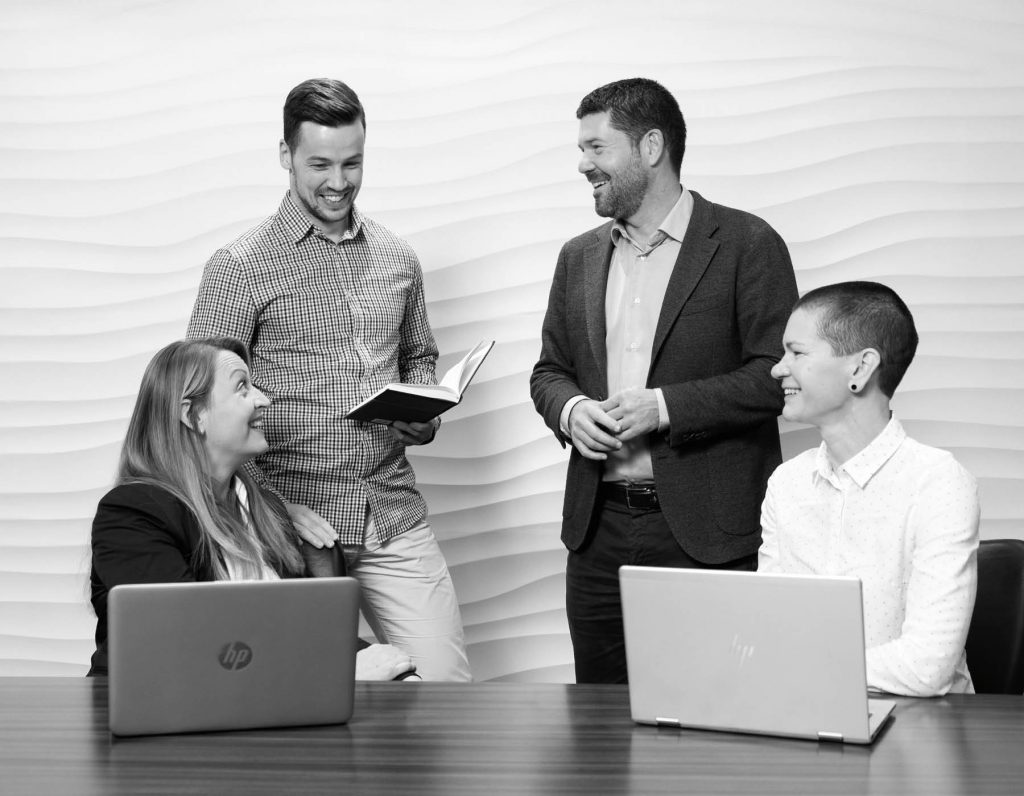 State-of-the-art production
Working across such diverse industries and being part of so many different products means PFN is driven to constantly develop new products and innovate. In the diapers market, for example, there is a never-ending search for softer fabrics. Because millions of men, women and children come into contact with PFN's fabrics every day, there are always opportunities to innovate in ways that provide greater comfort and protection to end users. The construction and furniture industries, meanwhile, are always on the lookout for lighter, stronger materials.
PFN's vision is to be the partner of choice for innovative, high-quality and cost-competitive nonwovens – a goal it is pursuing with state-of-the-art machinery and systems in its factories and a hyper-sharp focus on excellent customer service.
To stand out and achieve that vision, Cedric says, "It's about making sure we keep our leadership on innovation and state-of-the-art production, and keep this R&D pipeline strong. We have a lot of ideas in the sustainability field – that's one big priority. And we base our sales on strong partnerships with a select number of large customers. So it's about ensuring we keep working on these partnerships. It's also about people; in our industry, you need strong know-how. We're lucky at PFN to have a very experienced team. We need to continue building that team, adding resources and keeping a focus on talent management so we can continue to grow the right way."
The nature of PFN's business – selling high volumes of cost-competitive materials for fast-paced consumer markets – means operational excellence is even more important than in other industries.
"In our industry, in terms of operational excellence, continuous improvement is crucial," Cedric says. "Operations is a big component of our business; we operate big lines 24/7. Making sure that they run better, faster and for longer is a big part of what we're doing."
The company keeps a close eye on developments in manufacturing innovation and is always ready to invest in new systems and machines that can keep product lines running smoothly.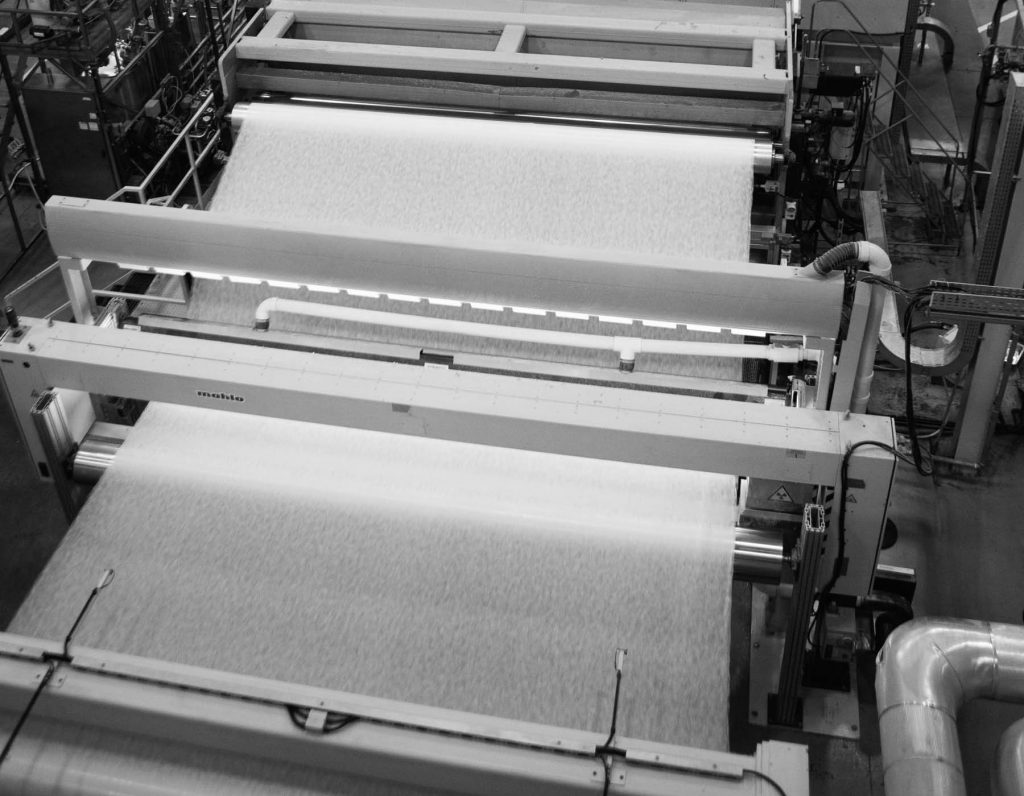 "There are a lot of aspects relating to Industry 4.0, things that we think are really exciting," Cedric says. "We work with an attitude of continuous improvement; we use Lean Six Sigma tools a lot. We make sure we have real-time process monitoring that gives us more data that we can process and understand to continue and improve our operations, and we do preventative maintenance with technology that can help us reduce downtime of our machines through predictive analytics.
Partnership is a word you hear a lot; it's a word that's used by everyone all the time. I think I've almost discovered what it really means since I started working at PFN. It's a word that we use with a lot of meaning.
"There are things I'm looking into right now. Some of them we've started, some of them we're just piloting, but we have a few ideas in this area. It means things are always exciting, and also exciting for the people who work on our lines, giving them a lot of cutting-edge technology to work with and jobs that can be really invigorating."
Innovation on production lines is also one of the ways PFN strengthens its relationships with partners. "We have a clear identity and DNA," Cedric says. "In a company, I've rarely seen such a clear identity around innovation, our people and the partnerships we create with our customers. Partnership is a word you hear a lot; it's a word that's used by everyone all the time. I think I've almost discovered what it really means since I started working at PFN. It's a word that we use with a lot of meaning."
The company is constantly in conversation with its partners to innovate to improve its manufacturing processes and product development. "With supplier relationships, it's really about making sure we have access to the best technology and the best know-how to operate it, to manufacture the most advanced nonwovens in the industry," Cedric says.
"In our industry, there's a lot of emphasis on creating more softness with our products. When you look at baby-care diapers, you ask how these products can be the softest possible, and there's continuous improvement, year after year. Or, when you look at face masks, you ask how can you have the material with the best filtration possible."
Attention to Service
Of course, because the company's customers are demanding multinational companies creating high volumes of consumer items, it is vital that PFN's suppliers and partners adhere to the same level of attention and service that PFN does.
"Service is a given," Cedric says. "Our machines operate 24/7. It's an industry with large investments, and if your lines are not running almost all the time, it's hard to get a return on your investment. So it's critical to have this attention to service.
"Our partnerships with our suppliers enable us to work on what it is specifically we're trying to achieve, and how we create lines that can help us achieve this. There is a large amount of joint work and joint development to innovate, and it enables them and us to innovate in the right direction and at the right pace as well. That's how you get better and more focused with stronger innovation."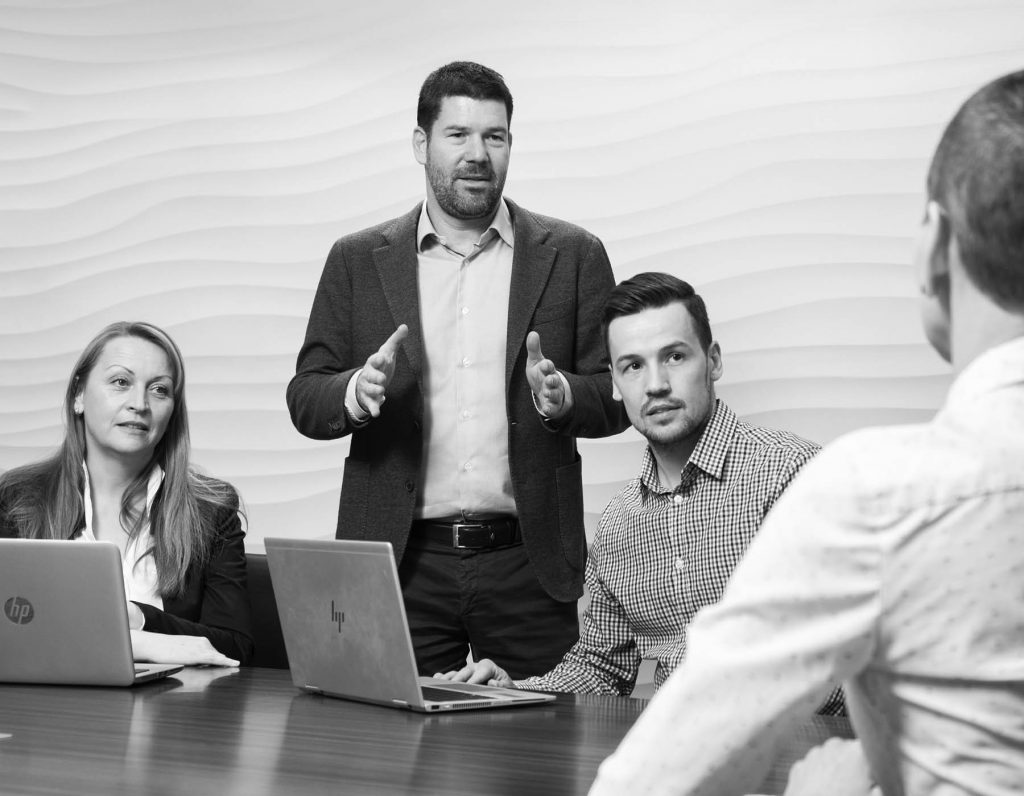 One of PFN's major suppliers is a German leader in machine building, which is also a chief producer of factory machinery for nonwoven fabrics. "Being a leader in innovation in our market also comes from having a strong partnership with leading machine builders," Cedric says. "We have a deep relationship with them. We're doing a lot of work together on our current machines, but we're also looking into the future, planning what it will look like. It's something that is critical to our success.
We think we can be one of the companies, given our DNA and innovation, that can bring breakthrough sustainable solutions to the market and break barriers.
"In our industry, what we do is enabled by our suppliers and the type of technologies they can bring to us. Then it's about what we can do with this technology. Sometimes we modify it and add our own proprietary technologies. It's critical, and it's the same kind of thing we enable for our customers with materials we supply for them to build their end products. So it's really a chain."
PFN not only offers nonwovens that are tailored to the specific needs of its customers but also makes its technologies adaptable. Certain fabrics, for example, can be treated to be either more water-resistant or better at absorbing moisture. "What makes us different in the industry is our innovation," Cedric says. "It's how we manage to create strong partnerships with both our customers and our suppliers."
Those partnerships are all the more important given that PFN has only a small number of them. There are two or three machine suppliers. "Then let's say in terms of raw materials, it's four or five major suppliers globally," Cedric says. "These are the two big categories of supply that are critical to us at the end. It's our production or manufacturing line partners, and then it's our raw material suppliers."
Cedric believes there is room for improvement in strengthening relationships with certain suppliers. "We need to spend time forming partnerships with our raw material suppliers, which is a bit more difficult because they're often large multinationals for whom our industry is not always the priority," he says.
"For line manufacturers, nonwoven is very important, but for some of these polymer suppliers, it's not. They serve a lot of different industries and ours is just one of them, and not always the biggest. But we're starting to make progress. The good news is that we know how to form partnerships."
Working on Sustainability
As the company turns its focus more and more towards sustainability, having good relationships with raw materials suppliers will become more important. "There's work to be done for us there, especially as it becomes more important with the sustainability challenge," Cedric says. "It maybe wasn't as important in the past, but now we need to do work on it."
Cedric considers sustainability to be one of the biggest challenges facing the company. It works in an industry that produces large amounts of disposable, non-biodegradable items, and consumers are starting to demand more environmentally friendly alternatives.
"There's a big contradiction with plastic, where it's a critical product in many applications like health care and hygiene in terms of wellbeing and keeping people healthy," he says.
"Yet, on the flipside, it creates this massive waste issue. So how do we keep the benefits and solve the waste issue? That's really what we're trying to do, and there are a lot of different avenues. One is looking at using better raw materials, where it makes sense, and more natural, plant-based raw materials.
"Another is how can we make sure products can be recycled more? Plastic is one of the easiest materials to recycle if you do it right. We have products that are 100 per cent recycled today, but how do we also make products that are more easily recyclable? And how do you reduce plastic usage in general?"
Cedric says that answering those challenges involves working on finding ways to use less material for the same application so less waste is created from the start, or on finding similar materials that are greener but do the job just as well. Solving the technical side of that problem is the easy part.
"You need to have the right assets and production lines to be able to manufacture the right products, and there's a lot of work that is being done around this," he explains. "But I'd say that these are all technical issues we can solve. It needs time, know-how and people, and we can do it."
The company is on a solid foundation. We can build on that legacy and unleash more growth.
It is the bigger picture that presents the real challenge: formulating the correct overall strategy. "The most difficult challenge of all is working out what we need or what we want to do exactly to solve this issue," Cedric says.
"If you zoom out, there are two big problems for us: one being plastic pollution and the other climate change. They can be related but are not the same. It's really about deciding what type of solution is the best one and what will be accepted by the end users. Given where we are in our industry, for us, it's more about marine litter and plastic debris – these are the things we need to go after. So that narrows it down a bit. What do you use as raw materials? And what can we do so it doesn't end up in our rivers and in our oceans?"
Changes to the law aimed at tackling climate change and sustainability issues also play a key role. "In our industry, we can make a lot of progress," Cedric says. "We have the capability to do so, and legislation can help us accelerate if it really gives us some clear goals and guidelines, and forces everybody to move and consumers to buy."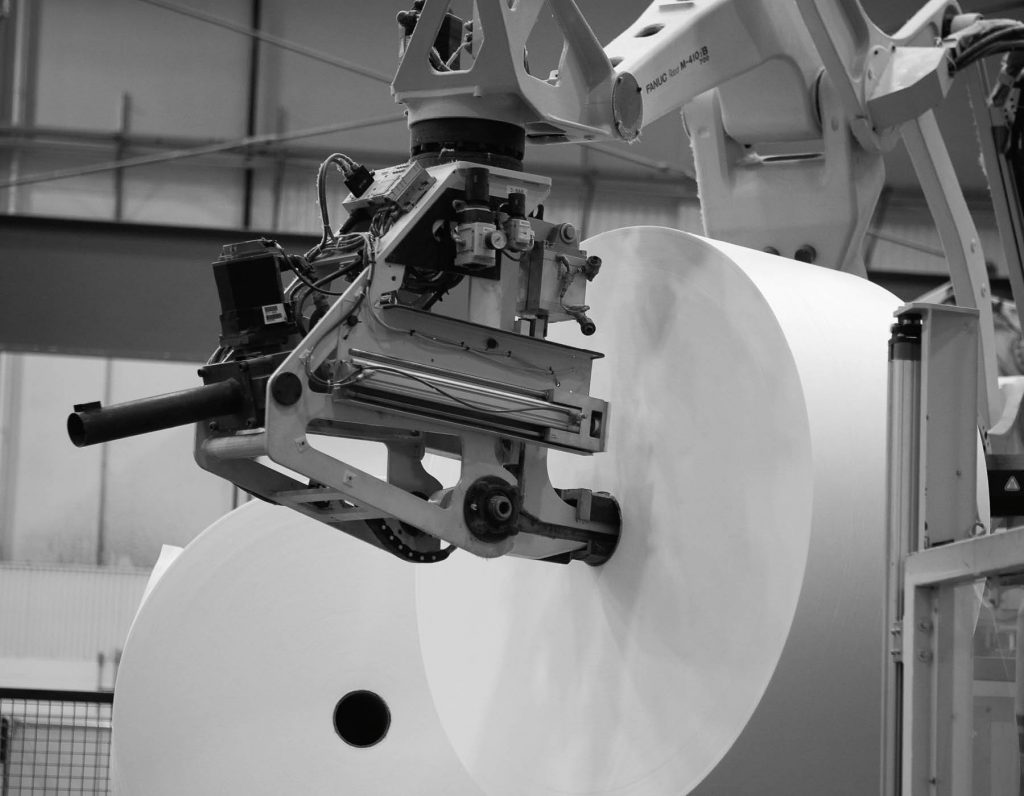 Unleashing Potential
PFN is working with both raw materials suppliers and brand owners to address these issues. "We've been talking about it for many years, and I would say recently we've really seen an acceleration and things are being done. I'm optimistic," Cedric says. "We think we can be one of the companies, given our DNA and innovation, that can bring breakthrough sustainable solutions to the market and break barriers."
The COVID-19 crisis has brought opportunity for PFN, which has seen a large increase in demand for nonwoven fabrics used in personal protective gear. "Whether it's face masks or protective gowns in the medical industry, there are a lot of critical ways our products are saving lives or making sure people stay healthy," Cedric says. "We're in a critical industry, and I think the industry is very exciting right now. There's a lot happening. It's changing at an accelerated pace after being much more stable during the past few years."
The company in its current form is the result of a 2018 merger between the Czech company Pegas Nonwovens and the US-based First Quality Nonwovens. For Cedric, who took up the role of CEO last year, that means helping to finalize the integration of the two former companies at a time when he sees exciting possibilities.
"It's a company that has much more potential to be unleashed," he says. "There's very good growth potential. There's a very strong base of innovation enabled by using the latest technology in production. We can continue building on this and diversifying, and probably accelerating in the healthcare space. We're mostly in the personal care area there, and we think we can diversify more."
In our industry, in terms of operational excellence, continuous improvement is crucial.
To tap that potential, PFN is opening two new production lines this year. One in the US and one in the Czech Republic. The latter was due to be installed in the first quarter of 2021, while the line in North America has been ordered and will be up and running at the end of the year. "These are big investments," Cedric says. "We're already discussing with our suppliers and customers to commercialize the products that will come out of these lines."
The North American line will be equipped with the latest technology in nonwoven production. "We'll add some proprietary technology to put our own spin on the products that come out of the line. So it will be premium quality nonwoven with the highest levels of softness," Cedric says. "There will be more options for plant-based raw materials and such. We're going to be at the top end with a state-of-the-art line for North America."
There are also opportunities for inorganic growth. "There's been a lot of consolidation in our industry. There's less opportunity today, but there's still some, and we're out there looking to see if something could be interesting for us," Cedric says.
Before joining the nonwovens industry more than seven years ago, Cedric spent 16 years progressing through leadership roles at General Electric. When he got the call offering him the job as CEO of PFN, he was working for a competitor in the nonwovens space, which is among the largest nonwoven producers in the world.
"Things were going well," he says. "But when I got the call, it was obvious that it was a good fit. PFN has a great reputation in the market – maybe top three in the world in volume – but for sure the most innovative in the industry. I saw an opportunity for myself to grow, and an opportunity to help take PFN to the next level. The company is on a solid foundation. We can build on that legacy and unleash more growth. The more I get to know the company, the more excited I am about the potential."
Market Trends in Nonwovens
Several market trends are working in PFN's favor. As both populations and average life expectancies grow, the company is poised to capitalize on an increasing number of consumers seeking disposable hygiene products. There will be a need for these to be not just functional, but also comfortable and aesthetically pleasing, the company said in its most recent Sustainable Development Report. 
Another positive trend is the growing accessibility to health care, particularly in Asia and Africa. This is resulting in an increased demand for products from nonwoven textiles utilized in medical applications, the report said. Alongside that, there is a growing demand for products that offer personal protection from infection and promote hygiene outside of medical facilities.
Customers are also increasingly demanding products that they can guarantee are safe and non-toxic. "Customers demand guarantees over and above the legal framework that confirms the safety of the processed raw materials," the report said. "The same is also true for the production process, on which increasingly higher demands are being placed and which the nonwoven textile manufacturer must meet in order to meet the standard required by the customer." This is an opportunity for PFN, a company with widely recognized high standards, to offer products that give peace of mind to end users.