Ashwin Narayanan has nearly 20 years of experience within the energy industry, mainly in the power generation segment. He is an avid supporter of sustainable energy, circular economy and emerging technology. 
"The thought of drilling the last barrel of crude oil will soon become a reality. The transition from a fossil-based mix to a renewable alternative is imminent," he says. But energy generated from alternative sources must be both clean and sustainable. "While our reserves are decreasing, our landfills are increasing."
Waste recycling benefits an array of local industries. However, the recycling of waste only accounts for five per cent of the total waste generated; the rest, primarily municipal solid waste, ends up in landfill.
"We have only seen a small fraction of the potential benefits from waste," Ashwin says. "Others had entered into a circular economy, producing an array of by-products including biofuel, which is ideal for decarbonising the transport sector. The rewards of the waste management business can be much greater when technology is added to the mix."
Energy from waste (WTE) has gained only minor traction in Malaysia for various reasons. Tariffs, comparatively lower than neighbouring countries, are chief among these; available technology is another. Nonetheless, it's seen as a sustainable source of renewable energy in many parts of the world.
Malakoff joined the growing waste management market when it acquired a 97.37 per cent equity interest in specialist firm Alam Flora in 2019. "The waste management business complemented our operations and became a catalyst for us to enter the WTE arena. Our approach is holistic, thus ensuring sustainability," Ashwin adds.
Turning point
The humble beginnings of Malakoff date back to 1975, when it was a plantation-based company; it ventured into the power generation sector in 1993. 2007 saw Malakoff acquired by MMC Corporation, where it became the parent company's integrated utility arm.
Today, Malakoff is a prominent name within Asia and the MENA region. It generates 5,836 megawatts for the local grid through various coal, gas and solar operations. Beyond its power generation operations, through Alam Flora, Malakoff provides waste management services of more than 4,200 tonnes per day. At an international level, Malakoff produces 588 megawatts of power and more than 470,000 cubic metres of desalinated water across four countries.
When it comes to renewable energy assets, Malakoff owns a large-scale, 29 megawatt solar plant in Kulai, a town in the Malaysian state of Johor. "That became operational in 2019," Ashwin says. "Previously, we owned a 50 per cent equity in MacArthur, a 420 megawatt wind farm in Victoria, Australia."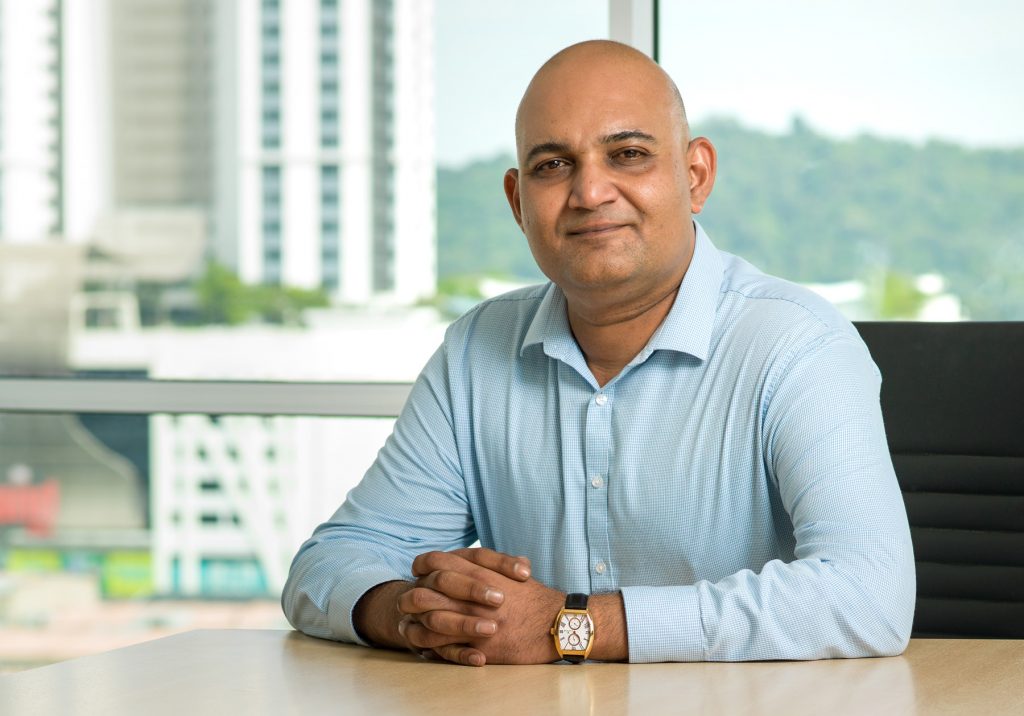 "The waste management business is rewarding, but the rewards can be much greater when technology is added to the mix."
Renewables will play a significant role in Malakoff's expansion plans throughout the coming decade. Besides the regular feed-in-tariff (FiT), Malakoff has secured 25 megawatts of rooftop PV projects in Malaysia through corporate PP, totalling 12 sites belonging to four different corporate customers.
"Meanwhile, Malakoff will continue to support more clients from industrial, commercial and government sectors with our 'Zero-Capex' rooftop solar PV solution," Ashwin says. "The initiative not only helps reduce the cost of energy in the long run but also contributes towards reducing our carbon footprint."
Customer centric
Throughout his 20-year career, Ashwin has gained experience in businesses of all sizes, from small and medium-size enterprises to large conglomerates around the world. A commonality between all these companies was "being customer-centric" and adding value to the products on offer.
"Think of a simple three-legged stool," Ashwin says. "One leg is the business, one is our stakeholders, and the third is our customers and vendors. Therefore, if we desire a sustainable business, we should show our commitment to our customers and gratitude to our vendors."
Ashwin believes that the voice of the customer is of the highest value. "Vendors have such an important role to play in the operation of a sustainable business," he says. "A healthy synergy is essential for growth."
The renewable energy market in Malaysia is still in its infancy compared to its ASEAN neighbours. However, the market is profitable and highly competitive despite the regulatory boundaries.
"It may seem necessary for policymakers, regulators and utility companies to give their all in supporting the transition towards cleaner energy for the nation; it is equally essential for us to conserve and reduce energy consumption," Ashwin says. "As always, it starts with us."
"While businesses move towards increasing their climate contributions, Plus Xnergy is excited to join efforts with Malakoff Corporation to support clean energy journeys for businesses that are looking to manage cash flow through $0 capex solar solutions." – Ko Chuan Zhen, Group CEO & Co-Founder, Plus Xnergy Holding