Legend tells of 12 knights of the court of Charlemagne, King of the Franks. Led by Roland, these paladins were charged with protecting France from outside invaders during the eighth century. Tales of their valiant efforts to secure king and country echoed through the ages; indeed, paladin has become shorthand for a stalwart protector wherever they're found.
In modern-day Vancouver, Ashley Cooper has a legend of his own. "In 1978, my older brother incorporated Paladin Security," he recalls. "It was just a little security guard company in North Vancouver with one contract and four employees, and he ran the company from the corner of his desk. He was a stockbroker, so he ran this thing part time."
At just 19 years of age, Ashley began working for his brother as a security guard while he completed his business degree. "After I graduated, I didn't know what I wanted to do," he says. "I came to see the security company as an opportunity."
He bought the company from his brother and immediately began to build the business beyond its humble beginnings. Today, Paladin Security is a force of 20,000 employees across North America, and Ashley is its CEO – its Roland. "The bottom line is, I've been in this since forever."
Paladin's astronomical growth didn't happen overnight, however. "I don't think there's any silver bullet when it comes to growing a business," Ashley shares. "Yes, we've had longevity, but I think businesses grow to be the size they are based on their ability to retain clients and employees, and to provide a superior service quality that the competition doesn't have. You have to be good over time."
"Our company was built by 20,000 people. It's a team effort all the way."
Part of that consistency is recognizing when you're on to a good thing, and then sticking to it. "Our values haven't changed over the years," he adds. "Really, it's about being the trusted partner of the clients we seek to earn, and that's what we've done, one customer at a time, one employee at a time."
Where change does fit into the Paladin equation, however, begins with the recognition that not all companies are created equal. "Nor do all companies have the same security challenges on their horizon," he points out. "Our job is to get in there with those customers and determine what their challenges are, to forecast and understand their issues using our knowledge of the industry. And once we do that, then we can recommend a series of steps and options for those customers to pursue their security improvements."
It sounds simple, but Ashley explains that's deceptively so. "You can't just recommend to a customer, 'Listen, you need to have a security guard or an alarm system at your place because, well, that's all we sell,'" he says. "Our goal is to be a full-service company that provides a whole host of solutions that will meet all of our customers' challenges."
But Paladin's strategy involves another front: how the company is seen as an employer. "These days, employees are voting with their feet in ways they never did before, so it's important to us to make sure we're the employer of choice."
This is done through Paladin's award-winning company culture, which has been repeatedly recognized as one of Canada's 'Most Admired Corporate Cultures'. "We focus on education and learning experiences for our people, on opportunities for growth from within," Ashley points out.
"The battle for people that's unfolding right now across the world is intense, and if you're not seen as an employer of choice, you're not getting the good people. And if you're not getting the good people, you're not growing your company."
Growing a security company isn't what it used to be – and Ashley would know. "Our industry is one of consolidation right now," he says. "There's a handful of players backed by private equity; their strategy is to go out and buy anybody and everybody and throw them into this pot that they call a company, then turn around and sell and get out. They're short-term strategies that I don't think are conducive to good customer care, or to quality."
Conversely, Paladin is playing a long game. "We're not for sale," he insists. "We're trying to build a sustainable, long-term business that serves clients and our people. We're privately owned and here for the long haul."
Running a security company also isn't what it used to be. "In the olden days, security guards were seen as the sleepy old guy that sits on a chair and falls asleep and doesn't do very much," Ashley says. "In today's world, security has become a profession. The things security folks face every day have changed."
To confront this new reality, Paladin pioneered the full-service security model. "Certainly in Canada, anyway," he adds. "We looked at the situation and realized that the best solution for our clients is a combination of all areas of security, so we created our own operation centers to monitor our security systems, to dispatch our people."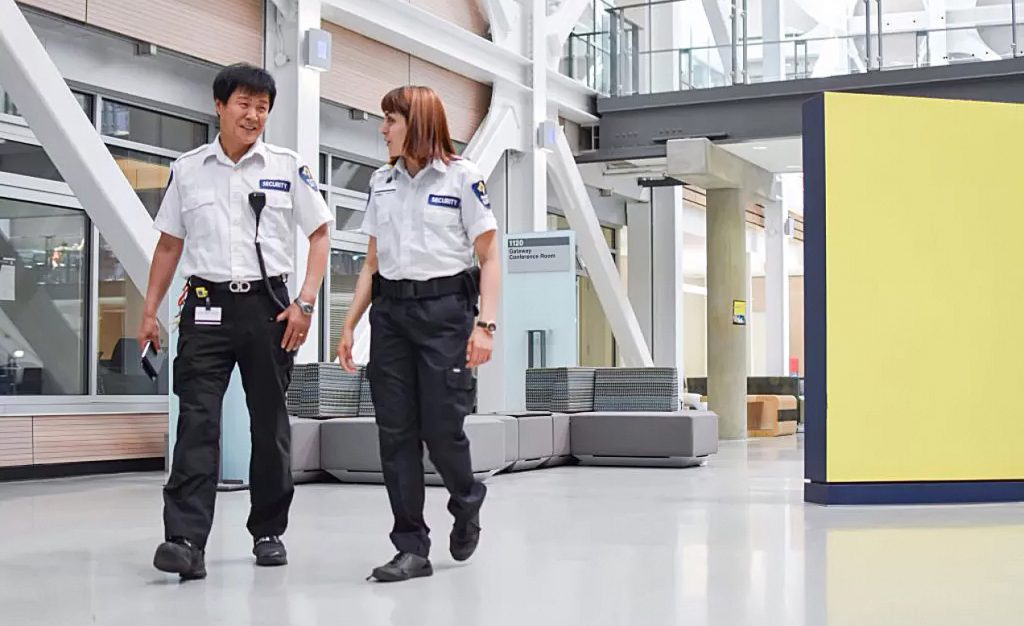 "If you're not seen as an employer of choice, you're not getting the good people. And if you're not getting the good people, you're not growing your company."
Paladin's ULC-listed operations centers are comprised of the most cutting-edge technology in the industry, provided in part by the company's impressive network of suppliers and partners. "The centers are quite bulletproof with respect to power, phone systems and internet, so we always have uptime," Ashley confirms. "That's a real big thing for our industry, having resiliency when our clients don't have that resiliency. And to do that, we create long-term partnerships and use innovation to make our company better."
There's also the challenge of personal resiliency, which Paladin addresses through innovative and ongoing training to address new threats as they emerge. "Instead of giving our people a job, we want to give them a career," he shares. "Our company was built by 20,000 people. It's a team effort all the way."
Ashley says security has come a long way from being seen as a dead-end job. "This is an industry that's growing. In some areas, it's growing 15 per-cent-plus per year. And our company is growing faster than that as well. It's our job to grow people, to train them, to educate them in our culture and let them grow a career," he says. 
"Security is all about empathy, about service. We're a company of service providers, and we care."
"At TrackTik, we take a proactive approach to onboarding a client, and communicate with them regularly. We love to collaborate with clients like Paladin to make both its experience using our security workforce management software and our product the best." – Simon Ferragne, CEO and Founder, TrackTik Software