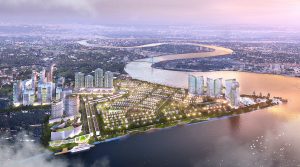 As the CEO of recently launched leasing real estate company Viva Land Investment & Development, Eddie Lim is in the enviable position of starting a new venture with a team of trusted former colleagues – in a time where real estate is soaring.
Having spent 25 years at CapitaLand before taking up the role of CEO at startup Viva Land, Eddie Lim's career has seen him work across the globe, including extended stints in Vietnam, Singapore, China, Japan, Thailand and Malaysia. He credits his continental work history with developing a deep understanding of different cultures and providing priceless experience across a broad range of challenges and opportunities.
Eddie's previous employer, CapitaLand, was also the stomping ground of many of his current team, including a key motivator for making the move – Viva Land's Chair, Lian Pang Chen, a well-known developer who was CapitaLand's CEO of Vietnam.
"He has won many awards, and he has strong skill sets in development and project management," Eddie tells The CEO Magazine. "I'm working in the business and investment units of the service department and the retail segment. My focus is on operations and people, which fits with my hospitality background."
Eddie explains that with many of Viva Land's core team members being previously from CapitaLand, they have the advantage of having already built chemistry together. "We know exactly what we want when we talk about something, and we know each other's expectations. I would say the continued consolidating of the bond within the team members, including those who were not previously from CapitaLand, is a real achievement for the company to date."
Eddie says his leadership style has changed and adapted from country to country to best work with the different cultures of colleagues, all of which has made him "a better person and more respectful of different cultures". He adds that his core principles include leading by example and mutual respect for the team.
People-powered success
Eddie believes people are the cornerstone of Viva Land's success so far, explaining that in real estate, when you have the land you can get loans and then financing, so money is a relatively easy component of the job compared to getting the right people.
"We are paying a lot of attention to getting the right team on board and building a passionate team," he shares. "This is really what differentiates us from our competitors. To us, it's the people that make the difference in everything we do. They ensure we get the right projects and bring creative ideas and interesting projects to our customers."
With the right people, we are confident that there's nothing we can't do together.
Eddie says his operations background has made him very particular about each customer touchpoint, from the customers' interactions with the company to the end products they receive. "Hopefully, as a result, they can also continue to spread the good word for us about our projects and our company in the longer-term," he adds. "We're not going for one-time project success."
Viva Land's strong, established team has seen it hit the ground running with a number of collaborations with stakeholders, and the company is being entrusted to undertake more and more projects; for example, the Grade A building in Capital Place Hanoi.
"There has been a lot of growth and development in our first year," Eddie reveals. "It's definitely a challenging and important year for us to showcase to the industry and the market in general what we can do. With the right people, we are confident that there's nothing we can't do together."
Soaring property sector
Eddie says that while COVID-19 saw the price of real estate continue to climb, it's not enough for him to simply grow the company – he cautions that this growth needs to be based on sustainably.
"We are not just going for real estate in terms of returns. We pay attention to ensuring our projects are best in class, delivering green and sustainable spaces for generations to come," he enthuses. "We like to use the term sustainable luxury. Sustainable luxury to us means high-quality offerings with sustainable features. That means we are going for high-quality products, but taking great care not to be wasteful."
According to Eddie, Viva Land is mindful its production is genuinely sustainable and that it always put people and the environment at the centre of its projects. "We are focusing on human- and nature-centred projects. Not so much on building the tools to excessive luxury that may not be sustainable," he adds.
As well as corporate social responsibility, the move is also led by changing consumer tastes and demands from their built environments. He reveals that today's developments need more living space for residents, while office spaces are all about amenities.
"And of course, with the introduction of technology, everybody is talking about the smart future: smart homes, smart offices and smart cities," he points out. "And then every one or two years, you have to change and upgrade again. And as always, safety and security are vital."
Eddie says having a great team has made this all easier. "To us, integrity is key and core. By focusing on the people, everything is easier – our processes, the consistency of our delivery, meeting timelines and providing our customers the best service," he stresses.
In addition to selecting the right people, he believes it's vital to provide staff opportunities to improve and grow. "We pay a lot of attention to our people's wellbeing as well as their competent skill sets and their development succession planning and talent management," he shares.
We don't run away from issues. I think it's about your approach and attitude, and how you address and pay attention to the details.
This is a philosophy Viva Land extends to its suppliers – Eddie sees them as partners who equally put in effort and work in terms of the overall delivery of the company's projects. "My formula is respecting the fact that we need each other," he insists.
"I think we need to have an equal understanding of the expectations, timeline and budgets of our contractors as they do of ours. We make sure that all payments are sent promptly. This is all part of building a good reputation and trust with these partners."
He says the benefits are much as you'd expect – these valued partners understand the company's expectations and whenever Eddie's team needs help, the support is there. This is further aided by the history the team already has with many vendors through their time at CapitaLand, meaning they've already built trust which is vital in a consumables-heavy industry like real estate.
It's not just how you handle the good times that matter in building trust, Eddie explains, adding that Viva Land has an open-door policy for any issues that arise, which in turn shows respect. "We don't run away from issues. I think it's about your approach and attitude, and how you address and pay attention to the details. It's important to hear their voices, and respect their voices, and then you can figure out how to exceed expectations for all projects."
---
Related Articles