There's one word you won't hear uttered at Kudadoo Maldives Private Island: No.
"It's not in my dictionary," Resort Manager Ali Shameem says.
The sentiment is echoed by Executive Chef Harshal Antil. "We never say no," he agrees.
"If there's a particular item we don't have, we try to accommodate requests in an alternative way."
When you're running an ultra-luxe property on a dot of an island in the middle of the ocean, you can't just put in a quick call to your local provider for Beluga caviar and a particular marque of vintage Champagne. Which makes Kudadoo's Philosophy of "Anything, Anytime, Anywhere" (or Triple A) all the more extraordinary.
"The idea is that whenever you want a bottle of wine, or a spa therapy or to go diving, there's no additional charge," Shameem explains. "Everything's built into the cost of the room."
Name Your Preference
In the sea of luxury offerings in the Maldives, Kudadoo stands tall above the crowd. A 40-minute seaplane journey from Malé's Velana International Airport deposits you at the jetty to your own castaway island at the tip of the Lhaviyani Atoll.
Here, just 15 private one- and two-bedroom villas with infinity pools are set over the water in a horseshoe ring, with a twin set of separate accommodations for any domestic help guests bring. If you want the island entirely for yourself, Kudadoo can be bought out, too.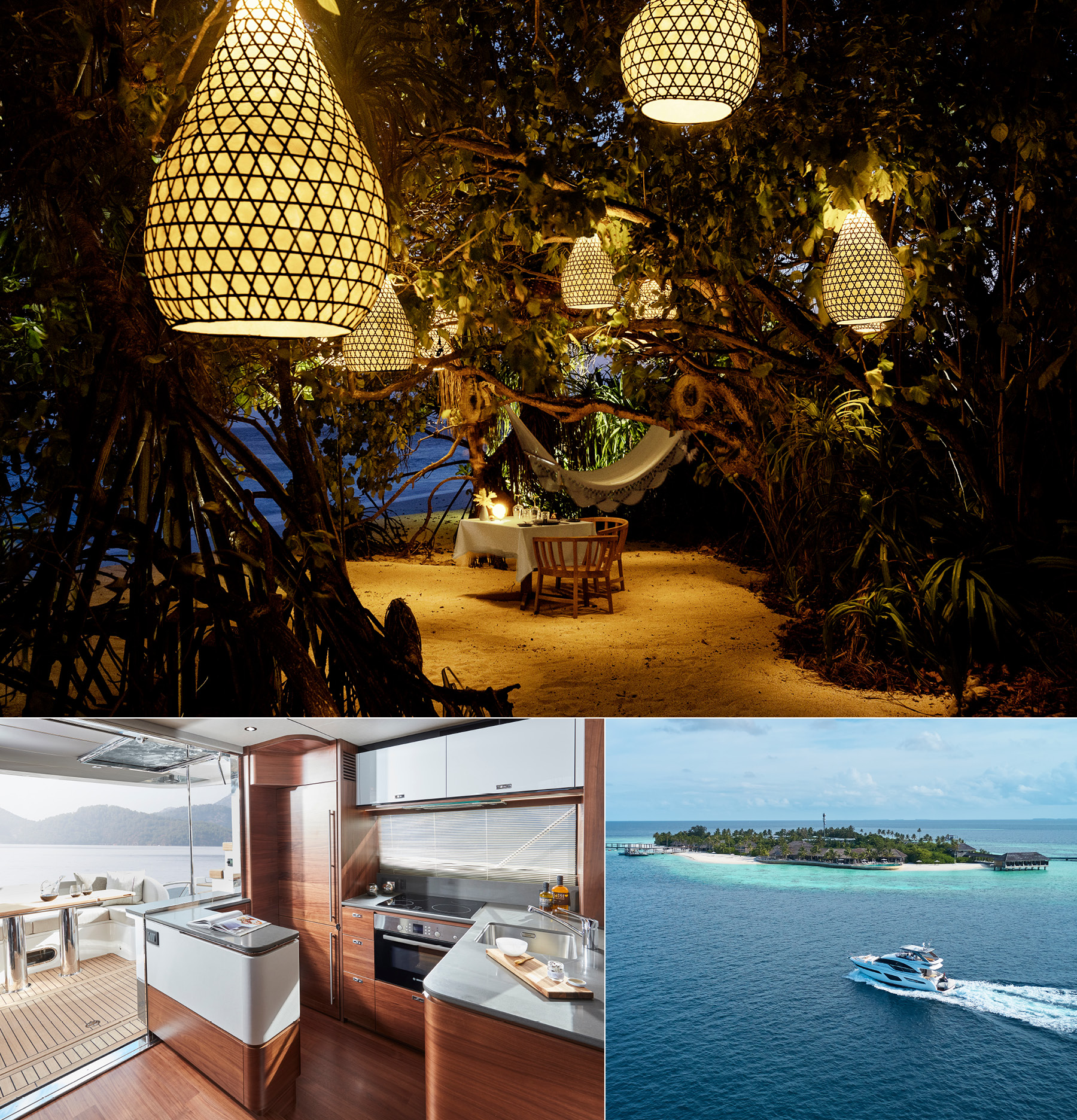 A path through coconut trees (and a paddle court) leads to the other side of the island and a stylish, breezy indoor-outdoor communal area called The Retreat, where the restaurant, bar, swimming pool, gym and the country's first Himalayan salt cave are gathered under one entirely solar-panel cloaked roof.
Each villa has a designated private butler to cater to all your needs, from unpacking your suitcases to conjuring up a secluded, lantern-lit jungle dining scene for dinner.
More than all-inclusive, the concept here is fully inclusive luxury. It's all designed to ease you into vacation mode, right from the moment you set foot on the island; there's no need to worry about how much anything is going to cost or if someone is trying to sell you something. Essentially, this is a superyacht experience on land.
Personal butlers are on call 24/7 and the kitchen team works around the clock.
Like a charter yacht, where the fridges are fully stocked with your preferred wines and spirits and ingredients in anticipation of your arrival, Kudadoo's Triple A service is hinged on communicating with guests in advance.
In the weeks leading up to your stay, your private butler will reach out to introduce themselves and send across a preference sheet, to fill out with details such as your favorite pillow fragrances (lavender, bergamot, frankincense – to name a few), minibar essentials and shoe size for swim fins.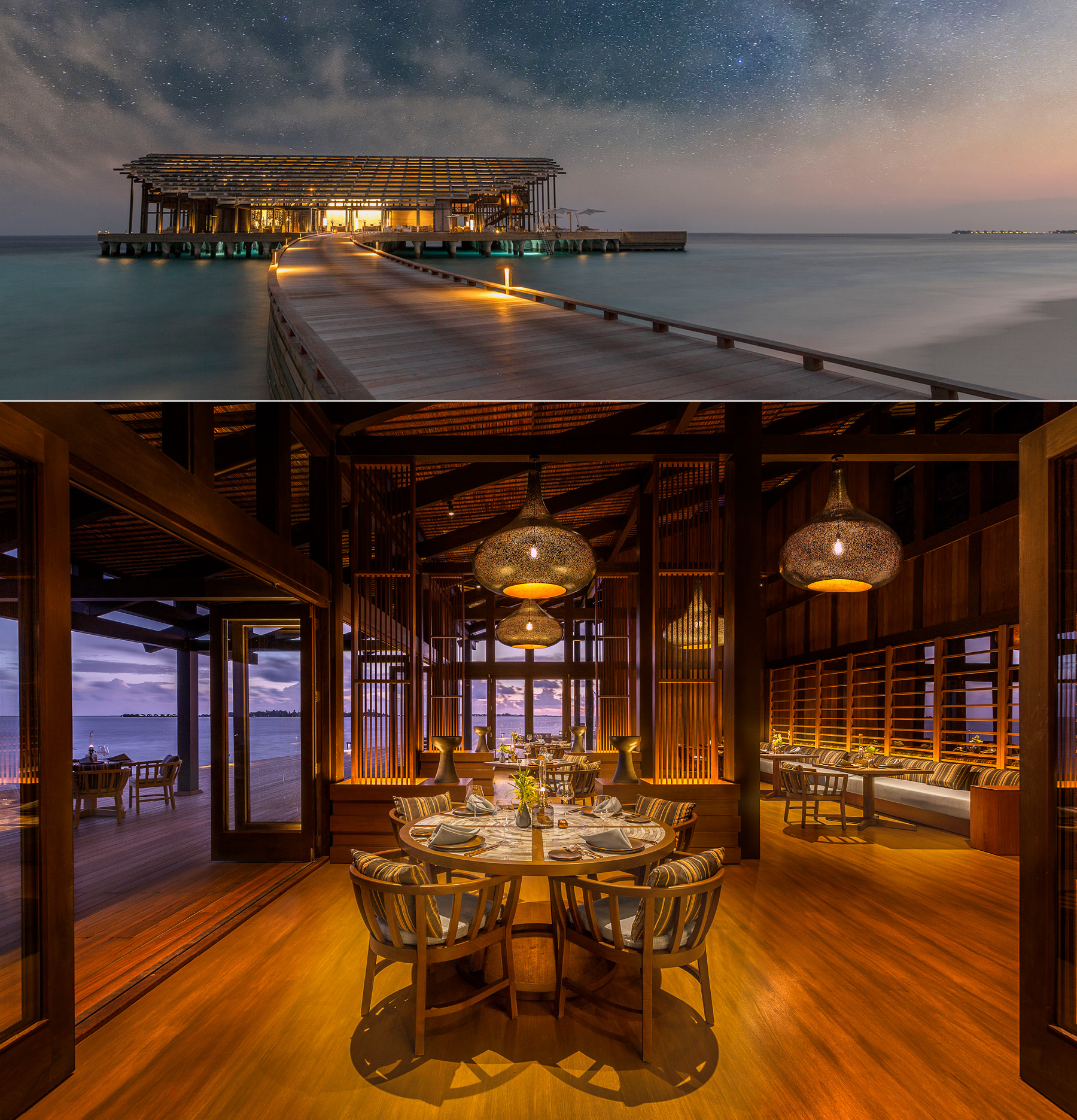 Personal butlers are on call 24/7 and the kitchen team works around the clock; it's not uncommon for the phone to buzz at 3am with a request for an omelette or a plate of fresh pasta.
From a pantry with more than 150 ingredients at any one time, Antil has imagined a 90-page menu that covers every style of cuisine and every craving imaginable. Yet there are always the times when the Triple A promise is put to the test; like the guests who, having recently watched an episode of MasterChef Canada, asked Antil to fully re-create the on-screen spread.
St Barths, St Tropez and Kudadoo
As we tour one of the lofty, 300-square-meter design villas, Shameem pops the cork on a bottle of Louis Roederer Collection 241 Champagne. Glass in hand, I take a peek inside the minibar and find Cloudy Bay Sauvignon Blanc, Whispering Angel Provence Rosé and even a couple of bottles of Barolo Prunotto: must-have wines onboard every superyacht from St Barths to St Tropez.
That's just a taster for what's to come, however. Across in The Retreat, the walk-in wine cellar is a treasure chest for oenophiles. A list of more than 80 wines and Champagnes has been carefully curated by Ilyas Isa, Kudadoo's resident sommelier and the first Maldivian-born wine professional to earn the qualification. Any of these can be cracked open anytime, anywhere – of course – on the island.
Not to be outshone by the culinary offerings, Kudadoo's water toy box overflows with the latest and the greatest equipment.
Isa is equally proud of his temperature-controlled cheese and charcuterie room, arguably the best in the Maldives. Whole wheels of Parmesan and rounds of tête de moine rest on pretty presentation shelves, crying out to be paired with one of the bottles from Bordeaux next door.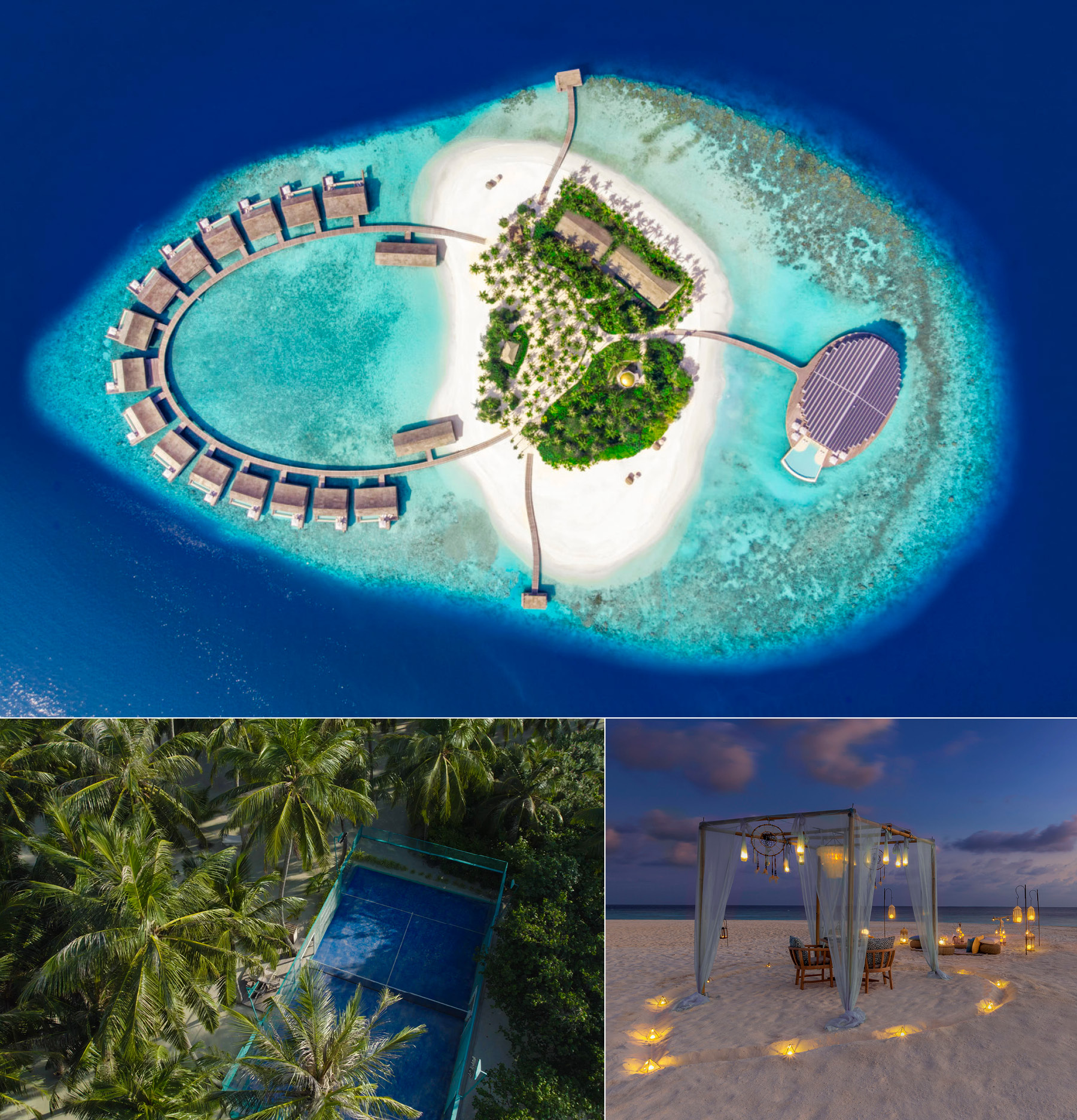 Not to be outshone by the culinary offerings, Kudadoo's water toy box overflows with the latest and the greatest equipment and use of Jet Skis, windsurfing and kitesurfing boards, SeaBobs and superhero-style flyboards is all included in the Triple A experience, as are diving and snorkeling excursions with the island's dive butler, who guides you in search of manta rays, green sea turtles and a kaleidoscope of tropical fish life.
The resort even has a superyacht of its own for day trips that go deeper into the Lhaviyani Atoll: Bella, a 17.8-meter flybridge Princess yacht so recently delivered that the cabins smell of new leather (one of the few experiences that incur an additional fee).
Of course, this tailored luxury comes at a cost (villas start at US$3,196 per night, low season), but I prefer to look at it another way: that weekly rate works out a lot better value than seven nights on a superyacht.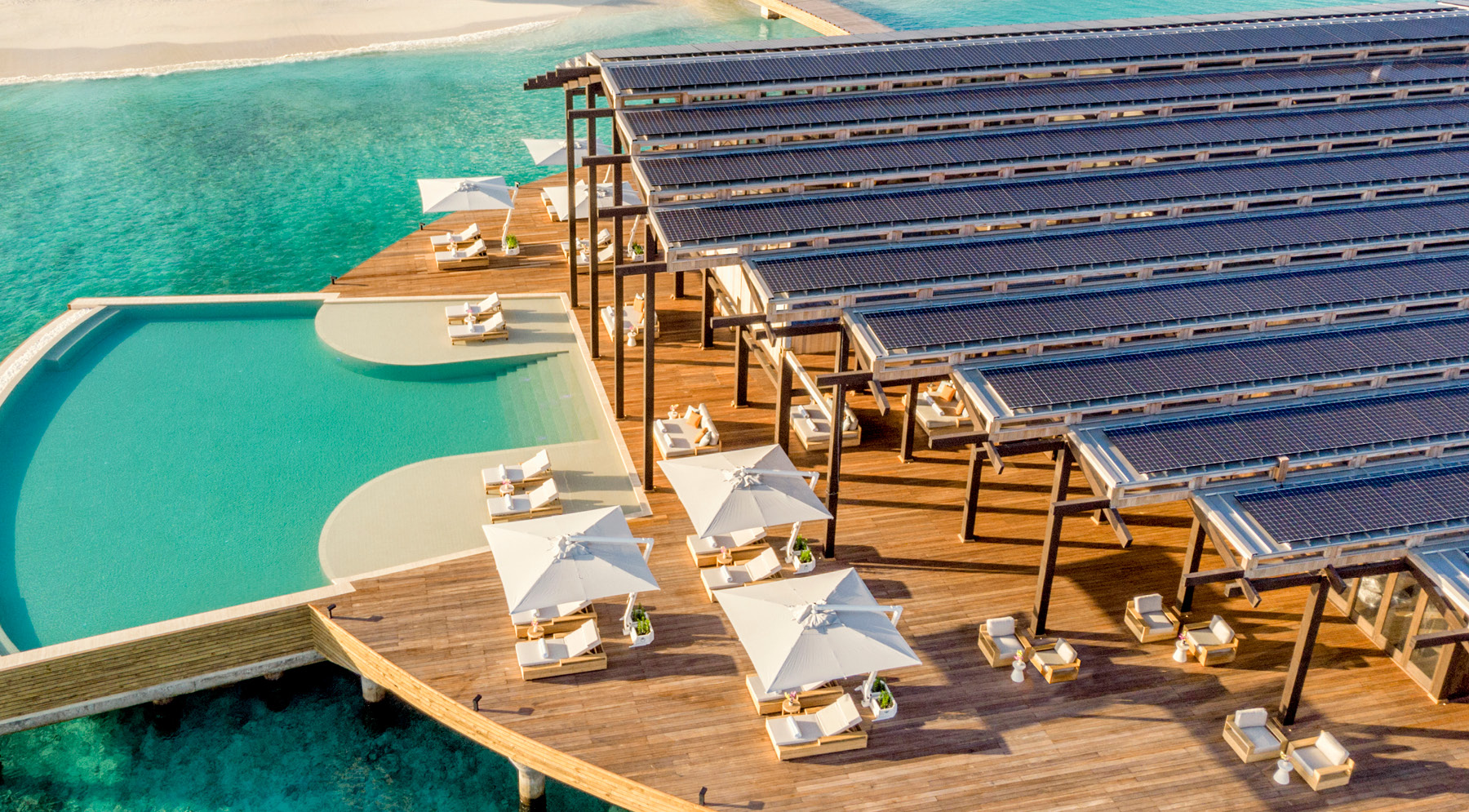 Sustainable Focus
Kudadoo also has serious sustainability cred. The 984 solar panels that cover every inch of the Retreat's roof generate enough energy to power a group of 50 guests and 100 staff on the island. A screen in reception is updated with real-time data; at the time of visiting (May 2023), the solar installation had saved more than 363,000 kilograms of CO2 emissions, the equivalent of planting nearly 11,000 trees.