During Taiwan's many festivals, one particular food is often front of mind: pizza.
More specifically, Pizza Hut. The restaurant chain has become the go-to place to enjoy everything from Chinese New Year, Christmas, the Lantern Festival, Chinese Valentine's Day and more. During such times, the 285-plus Pizza Huts in Taiwan are often packed. People also flock to them for family celebrations, graduations and to toast work promotions.
The association with joyous occasions is certainly a big revenue driver, but it also has a downside. "We pretty much own what we call the 'festival occasion', which is great," reflects Pizza Hut Taiwan's General Manager Antony Leung.
"But the flip side is that customers think of us a lot less when it comes to non-festival occasions, and that's the majority of the time."
Cultural Agility
Leung joined Jardine Restaurant Group in 2019 after nearly 20 years with major fast-moving consumer goods firms in roles that saw him based in cities such as Shanghai, Paris, Amsterdam, Hong Kong and Taipei. His biggest priority when he started was to remind the Taiwanese that Pizza Hut restaurants weren't just open on special days.
"I had to figure out how to trigger them into remembering that we're here every day," he says.
Luckily, his jet-setting career had instilled within him a commercial mindset and an uncanny ability to be agile and think differently, something that was about to come in very handy.
Another aspect of Pizza Hut's values intrigued him deeply and offered another potential way to grow revenue. "Working in so many different places and markets showed me that globalization has led a lot of major brands to be deployed around the world with very little thought about how local consumers differ between territories,' he says.
"Whereas Pizza Hut was the first global brand I'd ever seen that had a huge focus on local culture. That's important here because food is very culturally relevant. I could straight away see an opportunity for us."
An early insight he had was that pizza in Asian countries wasn't ever going to be a food that's eaten frequently, but pasta was. "We used to sell it as a side dish, but we have really revamped our offering, renamed it Pasta Hut and it's now our fastest growing category. We've expanded into rice and more than tripled business."
"Pizza Hut was the first global brand I'd ever seen that had a huge focus on local culture."
Leung was also impressed by the digital focus of Jardine Restaurant Group and knew he could further use it to their advantage. "We have hundreds of outlets, but 60 percent of sales were online. And that was before the COVID-19 pandemic," he says.
"I could see that, if most of our customers were ordering from their phones or computers, we had to create online talkability to boost traffic. We call it a 'TTT model' – from talkability to traffic to transactions. And that's exactly what happened when we launched products that got people talking – it led to many more orders."
Pizza Talkability
The first step was to revamp the product innovation strategy by paying attention to what customers were saying across social media.
"We found that consumers, especially gen Z, wanted the sort of locally produced ingredients that you'd buy from a night market. Some of the toppings that were being suggested were very bizarre so we did some tests on a small scale and I can tell you, there were some huge internal debates," Leung says.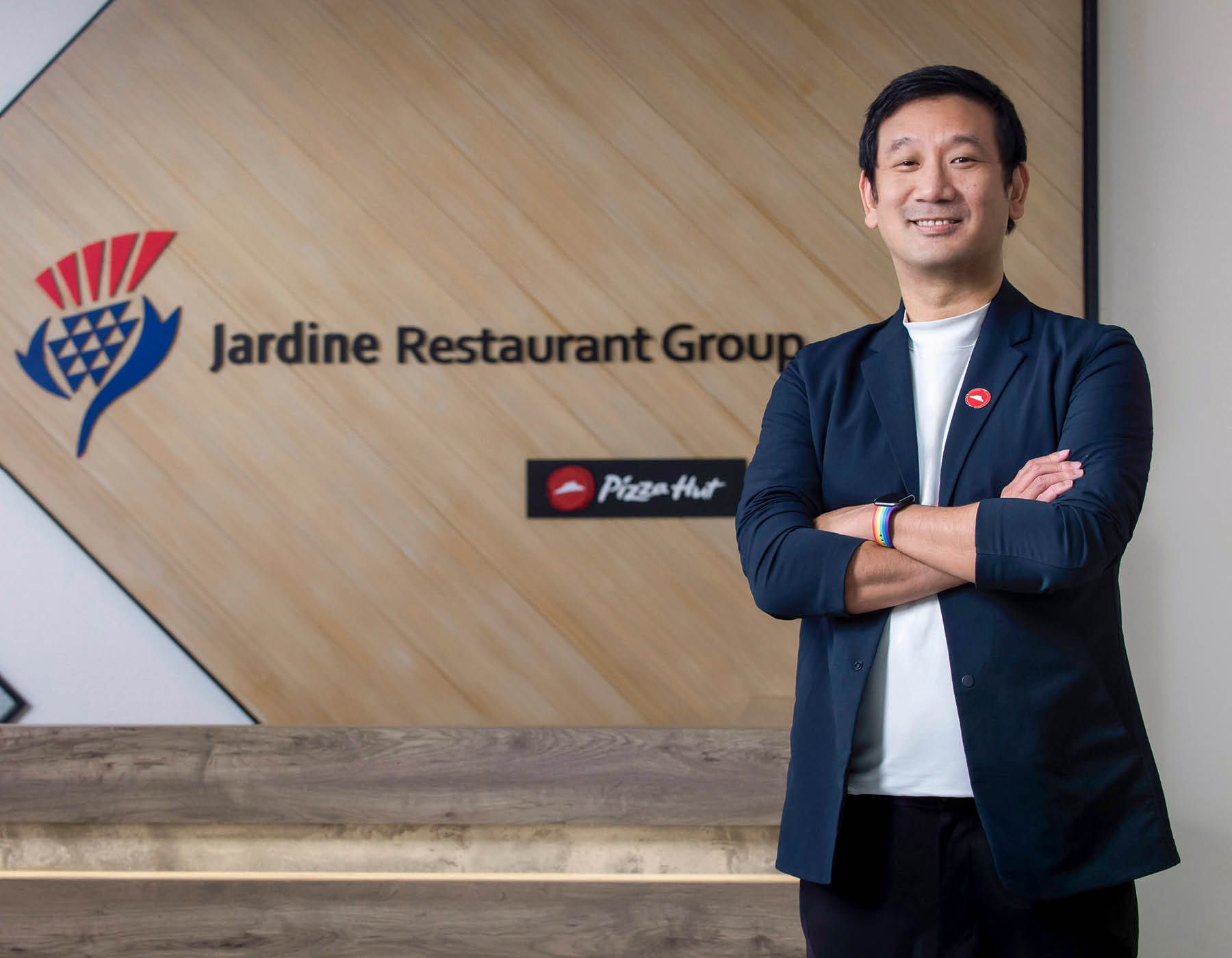 But the exercise proved fruitful and spawned some unexpected results. "For the first trial, we selected three unusual ingredients – durian, stinky tofu and bubble tea. We called them our 'WOW Products'. They certainly smelled unique – not everyone loved them," he says with a laugh.
Leung deliberately chose a non-festival week to launch each of them, starting with durian. "It was at a time that is usually low season for us, but as soon as they went on sale, everyone was discussing them. It was huge on social media – our talkability skyrocketed to the highest level in our history – higher even than New Year," he explains.
"I could see that, if most of our customers were ordering from their phones or computers, we had to create online talkability to boost traffic."
"It generated so much online traffic that our site jammed. We actually sold our entire month's supply within three days."
The WOW Products in general were also highly successful and fundamentally changed the way people thought about Pizza Hut. "We've became known as an innovator – nothing will stop us trying new things," Leung says. "Everyone expects us to keep coming up with WOW Products and they no longer only dine with us when there's a festival or family event."
Durian pizzas are a cause for celebration every day of the week.