When Andreas Widl started at Samson AG as the member of the Executive Board responsible for Sales, Marketing and Strategy in 2013, he sat down with all his direct reports and asked them why they believe the company's customers buy their products and from their responses he discovered he'd joined a company with high levels of customer intimacy.
"We are privately owned and net working capital isn't our most important measurement," he explains to The CEO Magazine. "We have products in stock and if the customer has a problem, we go there and solve it."
It's a classic manufacturing business model and, for this 100-plus-year-old control valve company, it works well. "But what we weren't doing was looking deep into the application to see how to best solve those customer problems," he says. Perhaps, he speculates, the company should've been selling a different valve to avoid the problem from happening at all. "We'd also lost a bit of our commercial edge and while we were harvesting our existing customers, we weren't hunting for new customers enough."
In 2015, Andreas became CEO and started to tackle this problem head on. "We've been very good at selling Samson valves that we were familiar with, but we have many more products and flow solutions to sell," he says. That is, not just selling, in his words, "the Mercedes of control valves", but also the services and supports that surround it.

"Physics teaches you how to sort out problems in a simple – not trivial – way, which helps when you restructure companies."
The transformation is a work in progress but, Andreas says, the business model has shifted "from just selling a valve into also operating a valve". By introducing improved common processes and standardisations that he'd previously found lacking across its 60 legal entities and 18 manufacturing sites across the globe – such as a group ERP, and sensor-driven, connected production units that provide real-time operational intel – Samson has been able to shift its position in the market from a pure hardware manufacturer to a hardware, software solutions and process intelligence provider.
"We're still a traditional German champion value manufacturer," he continues. "But now we have common, digitised processes that generate data in not only our production but also that of our customers. This provides value in terms of asset utilisation, process efficiency, anticipating problems and more."
As a strategy, it's called the Four Quadrants. "The world of our customers can be split into a CAPEX world and an OPEX world," he explains. The former are the customers who buy Samson's products, the latter are the customers that operate them. And when you introduce digitalisation, he says four business models emerge.
---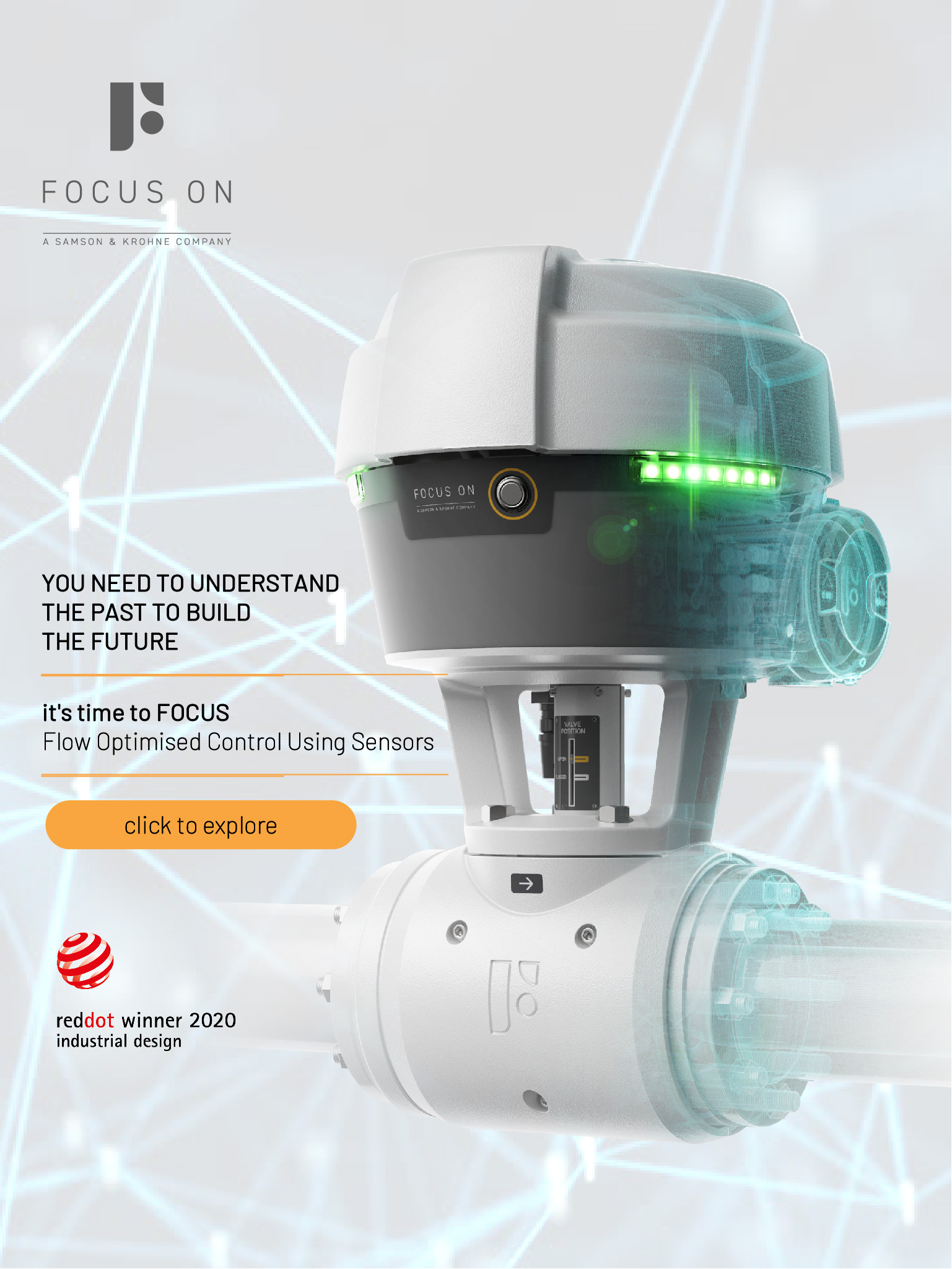 "Samson is a progressive company undergoing a transformation to build on its key historical competencies through digitisation, and lead the pack on the way to Industry 4.0." – Kavreet Bhangu, Managing Director, FOCUS-ON
---
Advertisement
Samson's strategy is basically based on Four Quadrants. "The world of our customers can be split into a CAPEX and OPEX world. A procurement department apparently has different key success factors than the team which is in charge of a seamless production," he explains.
The world of Samson on the other side can be split into offering products, components and selling entire system solutions. This leads to a simple 2×2 matrix with different business models. "It is remarkable that digitalisation and connectivity in the field today brings CAPEX and OPEX closer together. Instead of selling a product, we are now able to offer flow control and real-time data on a monthly basis to improve our customers' performance," he says.
Andreas admits that he joined Samson as an outsider. "I didn't even know what the company was," he says. After graduating from the Technical University of Munich with a degree in physics – a subject he says is happy he studied because "it teaches you how to sort out complex problems in a simple – not trivial – way, which helps when you restructure companies". He's held senior management and C-suite roles at think tank Mannesmann Group, GE Capital and Oerlikon Group. Technology and sophisticated products and services have been the common denominator across his career, he says.
He's wasted no time in shaking the Frankfurt-headquartered business up, and while he's able to reflect with pride on all that he and his team have achieved to date, he's also now able to see that in some areas perhaps they went in too fast. "We budgeted for the transition, we had a five-year plan," he says. "But you also need customers who are ready for that kind of digitalisation and ready to accept that Samson is today more than just a valve company."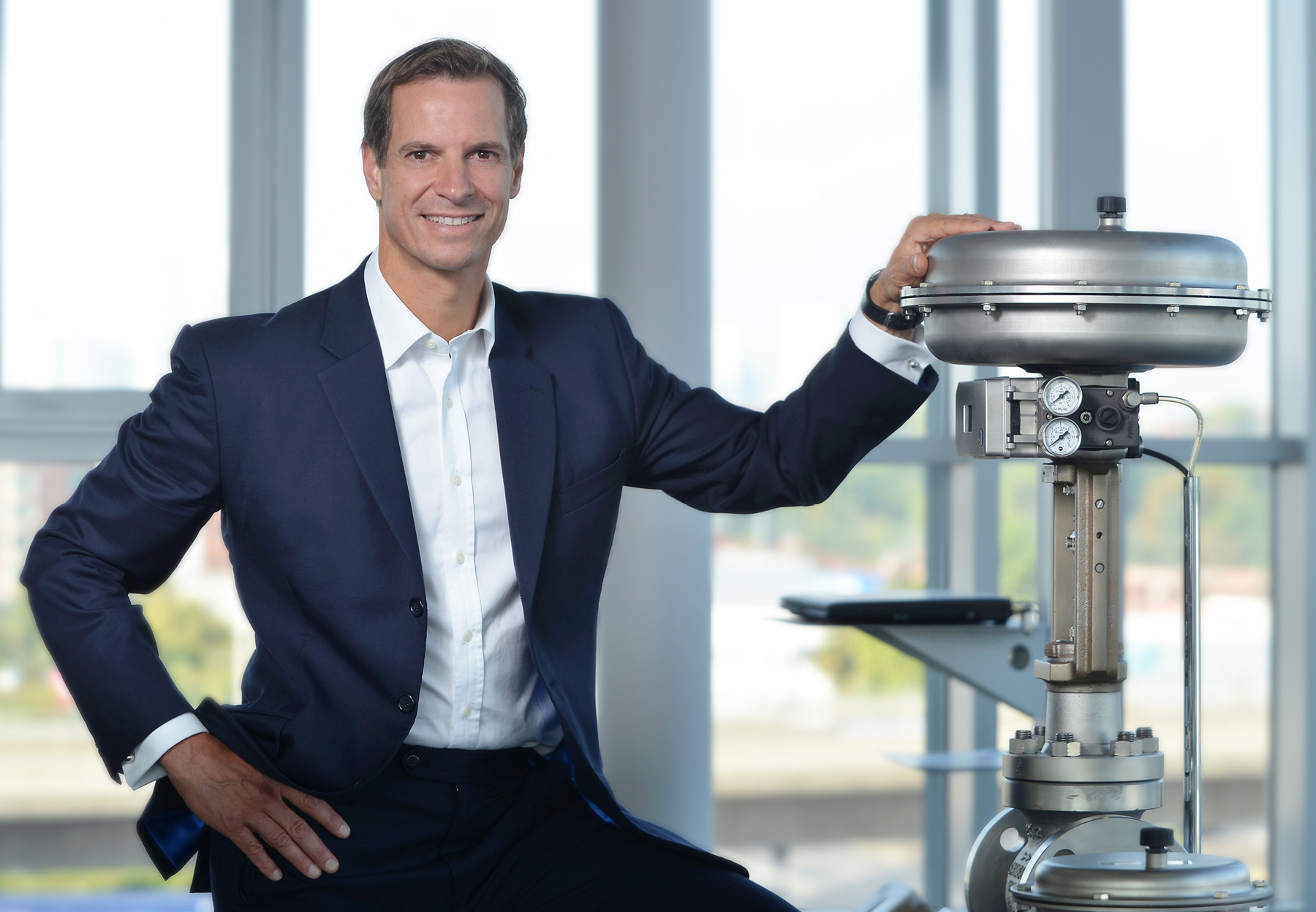 "I had one of our oil and gas customers tell me that they'd rather touch a rattlesnake before they changed a valve."
Despite the communication efforts, including podcasts to explain the new strategy, he's seen that each of Samson's focus industries had a different appetite for innovation. "In petrochemicals, it's all about safety and security," he says. "I had one of our oil and gas customers tell me that they'd rather touch a rattlesnake before they changed a valve." Other key industries, such as the pharmaceutical and food and beverage industries have been faster to embrace change. "They see the benefits of digitalisation," he says. This is where the importance of physical meetings cannot be downplayed. "It makes a huge difference if you can sit down with a customer and ask them what their biggest pain point is," he says.
There are still plenty of projects in the pipeline, including MainChange – the development of a 143,000 square-metre greenfield in Offenbach near Frankfurt – to replace its existing facility, but Andreas knows that success is hinged on people and culture. "The people who have developed our valves are geniuses and it's so important to listen to them," he says.
And the advice for anyone at the start of a similar journey? "Make sure you know your assets in terms of the best people and energise them, motivate them to be part of it," he says. "Give them more responsibility. To make a company successful, you need a strong team."