When Amit Bhosale joined the family business as Managing Director in 2005, Avinash Bhosale Infrastructure Limited (ABIL Group) was a very different company than it is today. Then headed by his father Avinash Bhosale, the company was heavily focused on infrastructure projects. But Amit knew it had the potential to be so much more.
"Now, we're a fully-fledged developer," he beams. "The ABIL Group is divided into three major verticals: real estate, infrastructure and hospitality. And the turnover for all three is roughly 1,700 crores [US$230 million]. It's been an interesting and satisfying journey to get here."
Since 2005, ABIL's focus has been on growing its real estate and hospitality verticals, something Amit started from the ground up. "We literally had to start from scratch," he shares. "This presented quite a mixed bag. On one hand, the opportunity was to build everything the way we wanted it. On the other hand, there were also many challenges."
"We help people get what they expect from their day to day in the places they spend the most time: their offices and homes."
Amit likened the initial days to that of a startup. Sure, there were the challenges of getting the right resources and talent, but there was also that energy and exhilaration of creating something new. "It was a typical journey of going through the initial struggles, but at the same time, there was also the excitement of building various different departments, building our ethos, our vision, mission and policies," says Amit, who now heads up the company's real estate and hospitality businesses.
"Of course, all of these elements had to link in with the business environment, hitting certain targets and whatnot. But since then, our efforts have paid off. There's no looking back in that sense. We have undertaken several projects in real estate, ranging from hotels and residential to commercial and townships, and we have had the privilege of completing a few landmark ones as well. But even more, we have lots of happy clients and that's something to be proud of."
THE HISTORY
While ABIL Group was founded in 1979 and is responsible for shaping the direction of the construction industry in India, Amit's career didn't begin by following in his father's footsteps. Instead, it started with Amit searching for his own taste of success. He dabbled in the restaurant business and managed to establish some popular eateries in Pune. But, while it was a fun run, destiny had other plans in store.
In November 2002, ABIL Group purchased the Holiday Inn, Pune – one of the few five-star hotels in the area – as an investment. Unbeknownst to Amit at the time, this purchase would change the course of his career. It was the first hotel ABIL Group had ever taken on. After taking hold of the reins, Amit took on the task of building The Westin Hotel right from scratch, which has now become a landmark in Pune.
It's a project that Amit admits taught him a lot. He was involved in every detail from procuring the land to conducting the market study, meeting with architects and consultants, appointing the proper professionals to do the work, figuring out what brand to link up with, securing all the sanctions and commission and more. Credited as his first "baby", Amit expresses a lot of gratitude to his father for giving him free rein with that project, which opened in December 2009.
"All of those experiences, spending so much time at the site, really helped me understand the issues that our project managers might face today. They helped me understand things better from our clients' perspectives. And, personally, I just really enjoyed it," he says.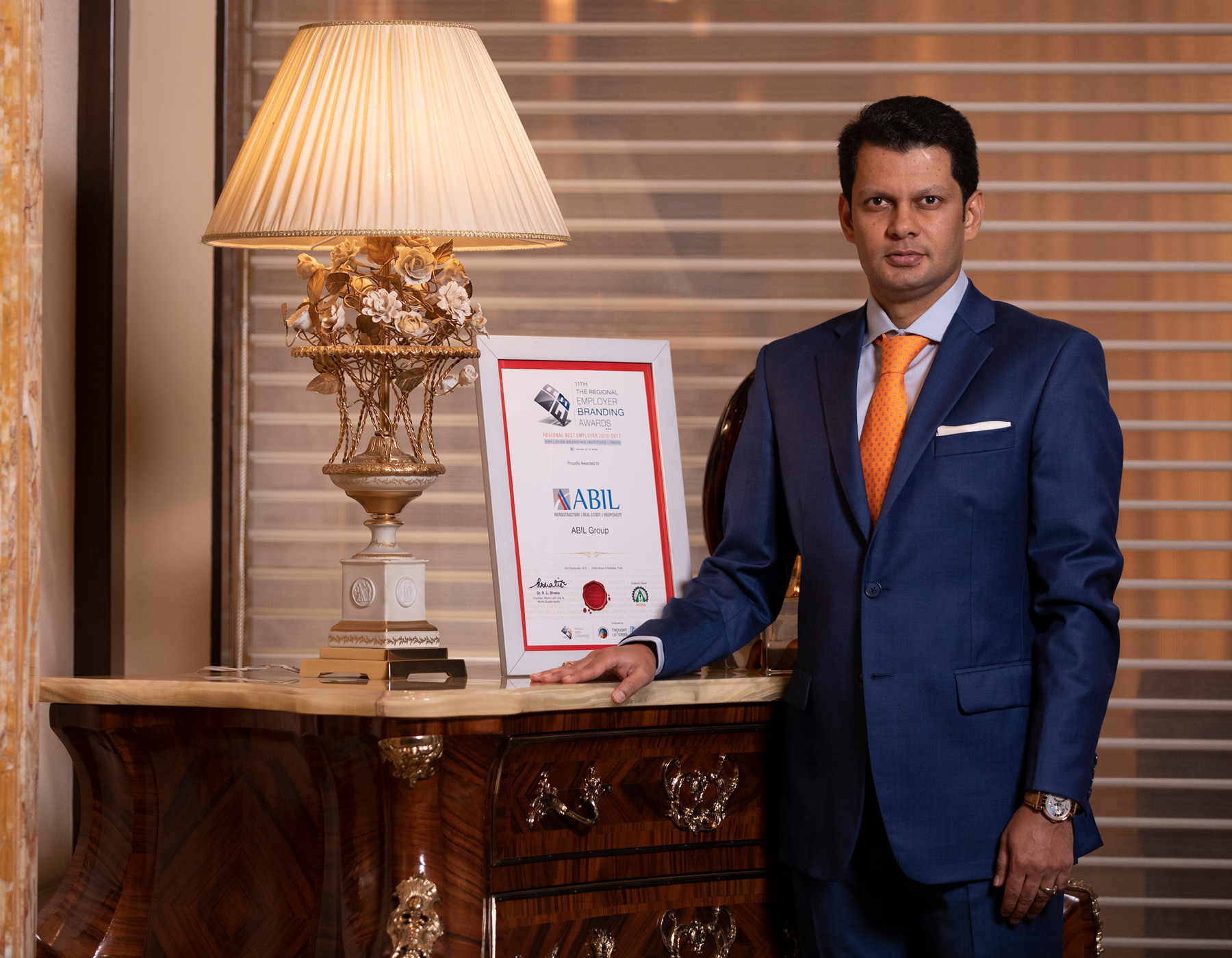 "ABIL is known as a company that is passionate and loves designing landmark projects."
From there, ABIL Group has gone on to successfully develop some of Pune's landmark residential and commercial properties and turnkey housing projects. Some of its most recent notable accomplishments include Pune's premium apartment and commercial space Avaanti, the sleek and contemporary Castel Royale Towers, and the ultra-luxurious Verde residences.
It's also made its mark with luxury hotels: the captivating W Goa at Vagator Beach; Nagpur's world-class Le Méridien; the elegant St Regis in Mumbai; and, in partnership with Versace, the iconic IBIL Mansion in Mumbai, which features interiors by the design powerhouse.
"ABIL is known as a company that is passionate and loves designing landmark projects," Amit says. "From a hotel standpoint, one of our biggest achievements has been our ability to introduce a lot of firsts into the country. We built the first uber-luxe living hotel in Mumbai. We've introduced high luxury brands to the country. And when you're among the first ones to do something, it's just a very, very proud feeling. You feel successful because you took that risk."
Those risks have established ABIL Group as a leader in the space. It's carved out its own luxury niche, where its success is near inimitable. "ABIL signifies quality. It resonates with delivery and is synonymous with crafting spaces that evolve with time," Amit shares.
"Our attention to detail, our love for design, our quality and delivery are the things that set us apart from competitors. Even more, the amount of time we spend on design detail is incomparable. Most of our projects have amenities that some of our competitors haven't even thought of providing."
SETTING THE STANDARD
While architects can be enlisted to draft very similar projects, Amit says that when it's ABIL-designed, the customer can feel the difference. "They've experienced the quality," he says. "In the apartments and the homes that we've created, it's all about the amenities and the facilities that you're providing as the developer. And in those areas, we don't cut costs; we actually end up spending a bit more, going that extra mile to give clients something truly special in a premium location."
This is something Amit holds close as he truly believes that home is where the heart is. It's the one place a person should be able to find respite from the demands of the modern hustle-and-bustle lifestyle. "These days, life is too busy and stressful," he says. "Home really needs to be a place where people can come back to and relax. It should be a place where people always want to return and a place where they feel at ease.
"Our developments provide this. And, in respect to commercial spaces, it's all about the right sizes, the right locations and a quality product. This is what people look for, and we deliver this. We help people get what they expect from their day to day in the places they spend the most time: their offices and homes."
That's why for ABIL Group, key business partnerships are absolutely essential. "For us, suppliers, vendors and contractors are the most important links for helping deliver the quality that we're known for. We have zero tolerance for shoddy work," Amit says. "Initially, we had a lot of challenges when we set these expectations and tried to align our contractors and suppliers with our expectations and our vision."
To remedy this, ABIL Group began investing in the training and levelling up of its vendors. And it's made a world of difference. "They appreciated the amount of time and effort we invested, so they've stayed with us," Amit says. "They've also got repeat business from us. But, more importantly, because of their work with us, they've got more opportunities from other developers. It's worked out to be a win–win. It's been a journey, but now, I think everyone is finally reaping the benefits."
THE FUTURE
ABIL Group's expertise and experience have paved the way for the successful delivery of many luxury residential, commercial, hospitality and infrastructure projects. And it's a journey that's helped position the company well during COVID-19. "There have been quite a few learnings," Amit says.
"Based on those learnings, we're trying to incorporate new things into the design of our commercial and residential projects. People are clearly giving a lot more importance to their homes and apartments compared to pre-pandemic times. And they're making the decision to buy, with an increased demand for residential apartments."
Currently, ABIL's overall strategy is focused on commercial. Where the Group typically has a portfolio balanced with 75 per cent residential development and 25 per cent commercial, Amit says the plan for the next four years would likely see those figures swap. "Our pipeline for the next few years is pretty well placed. We have a lot of projects planned with 75 per cent being commercial," he shares.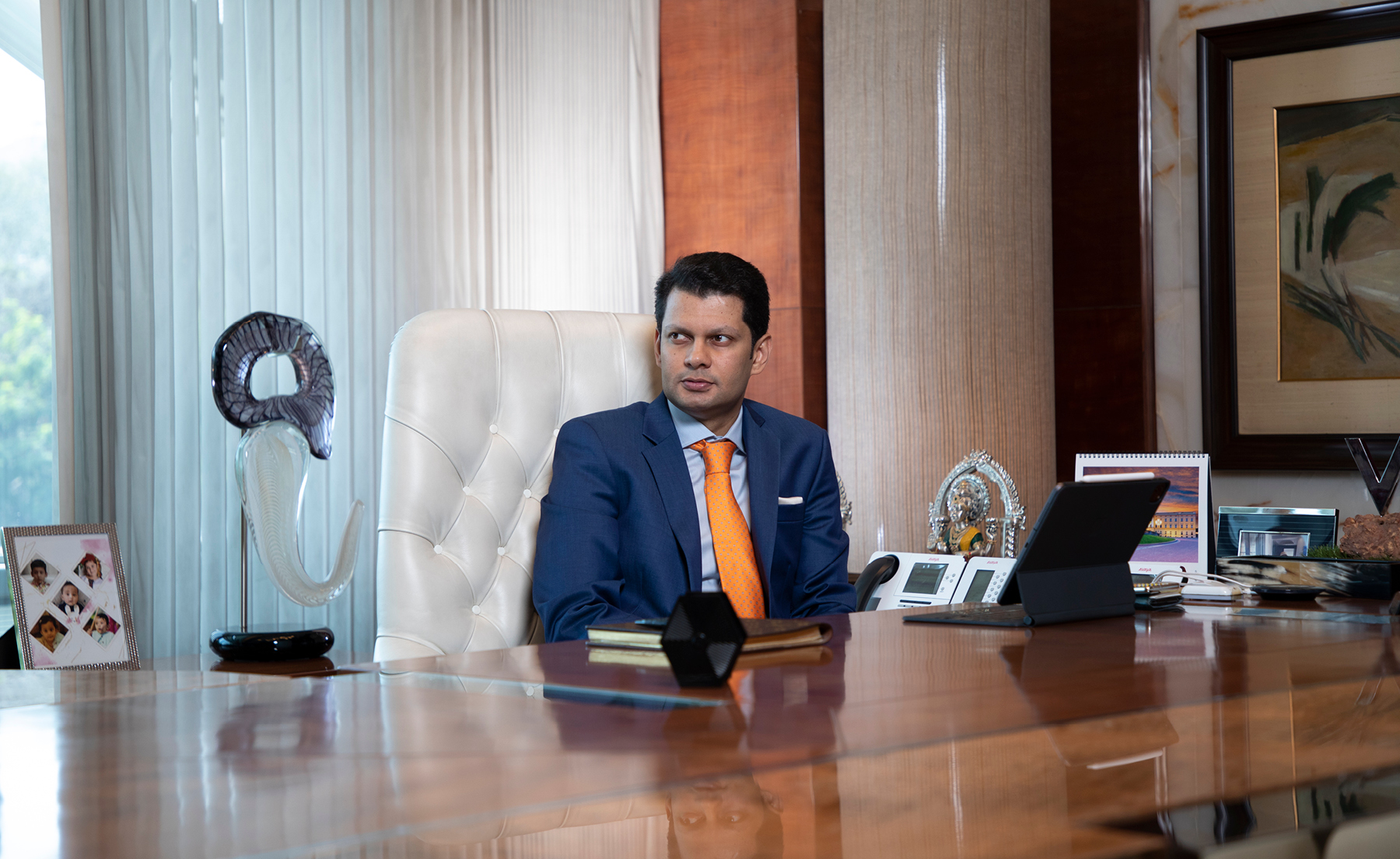 "There have been quite a few learnings. Based on those learnings, we're trying to incorporate new things into the design of our commercial and residential projects."
Remaining agile is key to making it through challenges, including those associated with growing the business. In 2019, ABIL made a big move in its international expansion endeavour, securing an eight-storey commercial building at Trafalgar Square in London. In a statement after the sale, Amit said, "We have always developed hotels at landmark locations. London ranks in the top three choices when one is considering global expansion. This is an exciting opportunity for us as Trafalgar Square is a globally recognised location."
The property will be transformed into a five-star hotel with a 220-key inventory and an investment of more than US$113 million. And it will bring ABIL Group's luxury hotel portfolio to five.
LESSONS LEARNED
Revered for his tenacity and making things happen against all odds, Amit remains focused on Tier-1 cities or travel destinations, steering clear of B-class towns. A move unlike other hoteliers, Amit knows that even though the price of land may be cheaper in those regions, it's just not worth the risk. Unfortunately, it was a hard lesson that came from the opening of Le Méridien Nagpur.
With development costs high and the spending power low, not to mention the city lacked good air connectivity, Amit says that even though it seemed as if Tier-2 cities were expanding, there just wasn't as much business potential in those B-class towns as expected. It's something ABIL Group has since seen time and time again, especially with capital-intensive projects like hotels.
So when it comes to opening new locations, Amit says the Group goes with its gut, choosing places and opportunities it finds promising. Doing this has led ABIL Group to the resort market. In India, connectivity has improved by leaps and bounds, making travelling within the country much easier than in times past.
At the same time, there's also a trend where Indians are taking more holidays and breaks. Even more, Amit says, young couples are confidently and comfortably walking into and dining at five-star hotels and staying there. Unlike years ago, these fresher faces are now the Group's target audience.
But that's how it goes. The business world is dynamic, life is dynamic, and it's up to ABIL Group to continually reinvent itself as time goes on to stay relevant and in tune with the needs and demands of its customers.
"As one of the leading builders in Pune, we believe it's imperative to continually reinvent the luxury real estate sector to overcome the challenges of a changing business environment and ensure sustainable expansion, excellence, inclusion, equality and efficiency are its core values," Amit says. And with his strong and well-defined, long-term vision, the future of ABIL Group is promising to be just as fruitful as its past.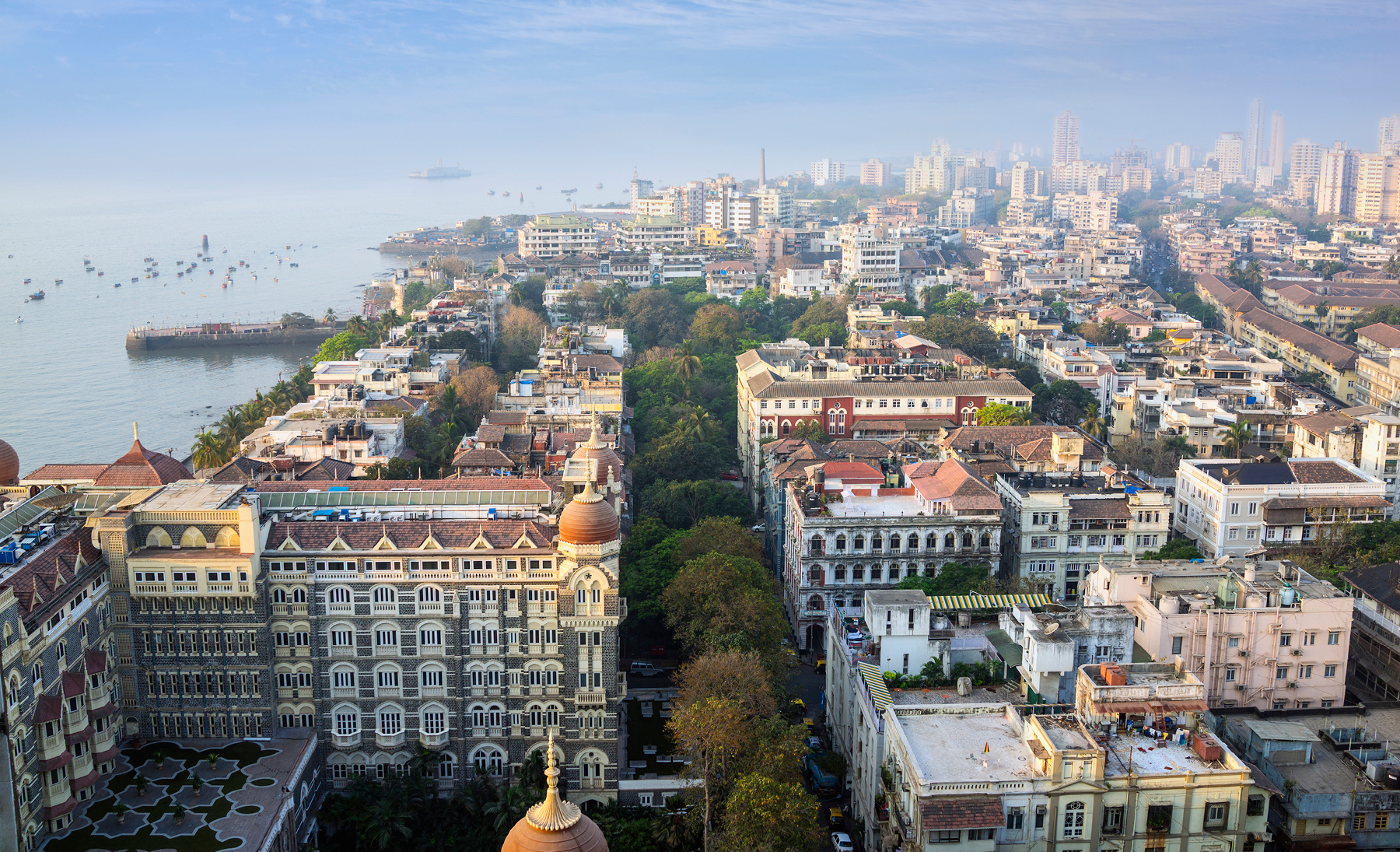 COVID: Investing in Real Estate
ABIL Group believes that investing in real estate is a smart decision, even during COVID-19. Here's why:
1. High Returns

Technically, the more time you hold onto your property, the less the risk of loss. The value of your property improves in accordance with the market. As real estate is a tangible asset, it gives you more control of your investment. Unlike the stock market, there is very little possibility of fluctuations in the value of your asset.

2. Easy to Grasp

Investing in real estate is generally easier to understand than many other types of investments, such as stocks. The basics of the home buying process are really quite simple: purchase a property, manage it for years and attempt to resell it for a higher and more profitable value. You can also rent your property and have a stable, recurring income each month.

3. Buyers' Market

There is always a market for property buying. It's very apparent that people are going to need houses no matter what. This makes real estate a safer investment compared to others. This is true not just during the COVID-19 pandemic, as real estate is seen as a stable asset and a favoured investment option, notably in a changing market scenario like now. New projects have especially been in high demand due to the modern facilities they bring to their residents, which is why Amit has been a driving force in making ABIL's homes stay on top of the game with innovative technology.
4. Stability in a Volatile Climate

During unpredictable and turbulent times, your home should offer warmth and security. Due to job losses and financial concerns, paying rent has suddenly become an economic burden. Whereas home loan borrowers right now have the option to access equated monthly instalment suspensions, making it more helpful over rental payouts. This can easily work as a fallback investment should the need ever arise, and it can also be an added psychological support.

5. High Tangible Asset Value

Your land or home will always hold value. Some other investments like stocks or cars can leave you with very little or close to no tangible asset value. For example, the stocks you buy can take a tumble, or the new car you buy will eventually lose value over time. Home insurance will ensure your investment in real estate is protected. So it's better to choose a policy when you are buying a home, so that your asset is safe in the worst-case scenario.

6. Value Increases Over Time

As mentioned before, the housing market has always seen a rise in value over the years and will possibly be the most stable investment option in the coming years. Real estate investors are in the top performing markets and are enjoying some of the highest revenues.