North Highland started the year with a new CEO – but not a new face. After seven years with the Atlanta-based management consulting firm, Alex Bombeck stepped up in January from his role as Managing Director and Group President. He took over from longstanding leader Dan Reardon who, after two decades as CEO, transitioned to chairing the firm's board.
No doubt a tough act to follow, Dan took North Highland from 25 employees to more than 1,500 under his tenure, founded international consulting group Cordence Worldwide (which is involved in just about any industry you care to name and has North Highland as a principal member), and grew it to include some 50 offices and 2,600 consultants across the globe.
North Highland is now in its 30th year. Since 1992, the group has evolved with the times to have enterprise transformation strategy as its core focus, and Alex played a large part in that transition.
Having been with the group for a quarter of its lifespan, leading the organization in both North America and the UK – with more than 20 years' additional experience in strategic roles – Alex is more than well-equipped to maintain North Highland's impressive growth. But it's an excellent piece of career advice he once received that continues to propel him on this journey.
"There's only one person who knows how much you can handle and at the quality expected – and that's you," he tells The CEO Magazine. "You need to manage your workload and commitments so that you can always meet the expectations you've set with your team.
"When people consistently meet the expectations that they set themselves, trust and empowerment follow – and these are two of the most important traits found in high-performing teams." 
Alex spent more than 20 years leading digital consulting practices within marketing and communications agencies before joining North Highland in 2014 as President of its digital and experience design business unit. At the time, this was housed under the Sparks Grove brand. He progressed into roles that saw him lead several different practices and geographical regions throughout the company. Most recently, that included leading its revenue-generation strategy and its go-to-market approach.
The arrival of the internet
While Alex's first job was in media planning and buying, he soon specialized in the brand strategy side of things. Then the internet arrived. He was quick to spot its potential – and though it may be hard to believe these days, there weren't that many who did in its first wave.
"When the internet surfaced as a possible new channel for brand engagement in the mid-90s, I saw an opportunity to be part of a small group of first movers," he recalls. "I made what some believed to be a risky career move, and we set out to see how we could drive customer engagement and deliver brand value via this new platform.
"Keep in mind that many people at the time were still debating whether the World Wide Web was going to be a thing or not."
As it turns out, this internet "thing" became pretty big, and Alex never looked back.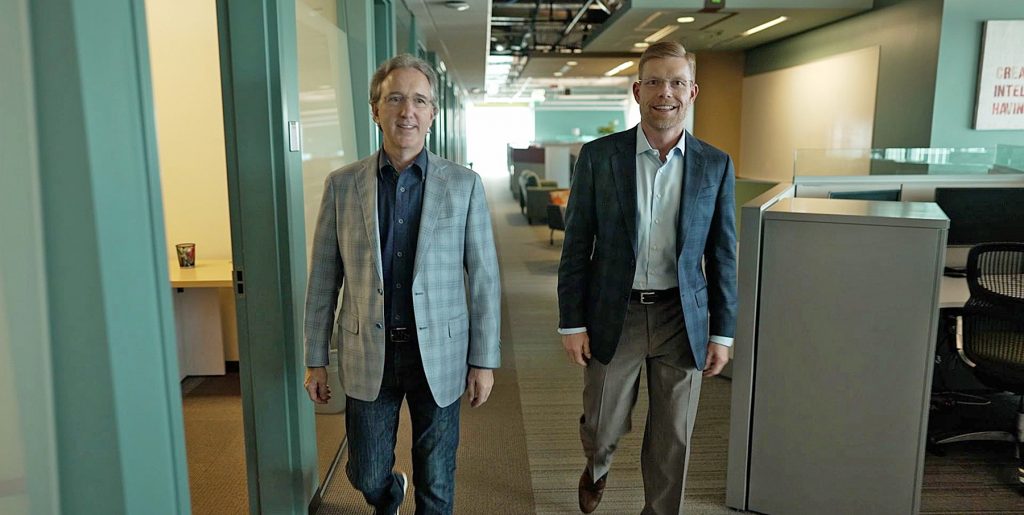 "The work itself is always going to have its ups and downs, so it's important to have good people around you when you face defeat and experience the inevitable lows of business."
When Alex became President of Sparks Grove in 2014, already something of a visionary, the first thing he focused on was bringing its divisions together for the good of the overall organization.
"My initial observation was that the business was siloed from other services of the firm, which were integral to our ability to deliver maximum client value – things like data and analytics," he explains. "I saw an opportunity to combine the capabilities of the business with strengths from the rest of North Highland, so we could come to our clients with integrated solutions rather than standalone elements."
More broadly, on Alex's list of opportunities was the very nature of what North Highland stood for and should be known for. "As a marketing-minded individual, I sought a clear value proposition when I joined North Highland. This formed the basis for our transformation over the past five years," he explains.
"This idea was put in motion when we established the fact that we really excel in change management and helping our clients through organizational and operational change, as well as in program and project management. We really are great at assimilating complex pieces and delivering the results.
"Through embracing this strategy of defining our value proposition, we were able to approach our clients with confidence and execute transformation at a world-class level.
"Once the marketplace started to recognize us as a leader in enterprise transformation, we then quickly looked at how we could maintain that leadership. That led to our latest initiative: embedding enterprise business agility in our culture and ways of working."
The importance of culture
North Highland's culture clearly thrives – the business is no stranger to receiving external recognition and awards as a great place to work. And that doesn't happen by accident. "Culture sits at the core of any business – it's not a 'nice-to-have'," states Alex. "Our vision for the organization is to have the most enviable culture on the planet. We know this will help us attract the best talent and deliver the best work for our clients."
It's an ambitious goal, but then Alex has never been afraid of a challenge. His career has thrived on achieving things that many others would have shied away from. "Definitely the biggest challenge is when you make a commitment to something, when it seems like everything around you isn't going well and at each step you're swimming against the tide," he says.
"But it's in these moments that you must have the conviction to keep at the work, understanding that it's about progress and not perfection. Finding the right people and keeping them aligned – while staying focused on progress – will ultimately get you the desired outcomes."
In light of that, while echoing his comments on culture, it's hardly surprising that Alex believes his greatest achievement relates to the people at North Highland, rather than revenue or growth. "To me, it's all about people," he reveals. "Over the past few years, the senior leadership team has become incredibly aligned with one another while remaining individuals who all have something different to give.
"We now have a team that's happy to disagree with each other, and comfortable enough to then commit to a single path forward. This enables us to continuously improve. Our board of directors said they haven't seen a leadership team so in lockstep with each other as North Highland, and they see it throughout the company."
Having played a vital role in what the company does at its core, as well as how it is perceived in the market and how its management team works effectively together, it's no wonder that Alex was the obvious choice for CEO. Clearly, he's all about championing collaboration.
"I operate from the position that I'm a cultivator and enabler of 'programs of attraction, rather than promotion'," Alex explains. "It's important to create a place of work where people want to join in, rather than having to convince them why they should.
"I place a high value on recognizing the differences in people and leveraging those differences to build a team – a team that works well as an integrated unit and puts real currency on those differences. The value of diversity is real, in so many ways."
Building the brand
Many see an organization's brand as the thousand small things it does – and doesn't do – in the name of that company. In North Highland's case, the brand has been unmistakably forged through combined efforts. "Building a brand is the ultimate 'we' effort that any organization can undertake, because your brand is the sum of everything you do," Alex says.
"We built our brand through real focus. What makes us different from other consulting firms is the intersection of our operating model with the expertise of our people and our culture. We also needed to be clear about how that difference gives us the ability to partner with organizations to deliver value in a way that's unique to us.
"This absolute focus, and the clarity of why North Highland is the partner of choice, sets the tone for the business as a whole. And it ultimately builds trust and empowerment throughout the company."
It has paid dividends too, as Alex goes on to explain. "We function at the level of world-class, household name consultancy brands," he says. "What we do better than anyone in the industry is help organizations achieve the value that their corporate strategy promises.
"Whether developed by internal teams or other corporate strategy firms, we design transformation strategies and implementation models that recognize why so many organizations struggle to effectively achieve the expected outcomes of enterprise-wide strategic initiatives."
People will continue to be front and center for North Highland over the next 18 months, with an emphasis on making sure they're positioned to succeed in their current role – or indeed wherever their career might take them, according to Alex. But there's also an emphasis on ensuring they feel supported and have the right skills to fulfill the diverse demands of North Highland's many clients.
"When people consistently meet the expectations that they set themselves, trust and empowerment follow – and these are two of the most important traits found throughout high-performing teams."
Overcoming COVID-19's Challenges
As seen in businesses across the globe, North Highland's forward-thinking development mentality could only be maintained thanks to its ability to safely navigate the COVID-19 pandemic. "The first thing we had to do was breathe deeply and understand the impact before making a lot of decisions," Alex recalls. "So, we sat tight and observed intently to start with.
"What we recognized was that the work we were doing for our clients was more necessary than ever. Essentially, COVID-19 hit fast-forward on our business plans. In July 2020, we delivered on the organization and operating model changes we had originally planned on rolling out over the course of the next two years.
"We continued down the path of consolidating our capabilities, and we took our Managed Services offering and made it an actual business unit."
As someone who rode the first wave of the internet and is clearly a forward thinker, Alex obviously embraces innovation. In fact, he believes it's essential for the business. "We're not relevant if we don't stay on top of industry developments – it's a table stake," he insists.
"What's important for us is knowing which developments lend themselves to our strengths, versus knowing when to stand back. Innovation is trying new things, testing, failing and iterating – it's a way of working and it's really the responsibility of everyone." 
As always with Alex, the conversation ultimately comes back to people. "It's the people I work with that I love most," he says. "I was at my last job for 15 years and I've been at North Highland for eight. I've made it a point to find places where the people I work with make coming to work enjoyable – places where I want to stay. The work itself is always going to have its ups and downs, so it's important to have good people around you when you face defeat and experience the inevitable lows of business.
"The other part I love about my role is the opportunity to engage with the people and organizations from the diverse set of industries we work with, all of them operating at different states of maturity. In a way, my job is constantly a new job – whether it's because I'm working a different client or project, or even under a changed economy. Month to month, quarter to quarter, it's the same business, but a new job."
And month to month, quarter to quarter, Alex does a great job at shaping an exciting, innovative and rewarding future for the people he works alongside.