In Europe, there is an old but beautiful wedding rhyme called the 'The Four Somethings'. If followed, it is said to bring the bride good luck and happiness ever after. The Four Somethings are: Something Old, Something New, Something Borrowed, Something Blue. In keeping with the tradition, the bride should wear one of each of these items on her wedding day, and it will ensure a happy and prosperous marriage that lasts a lifetime.
Something Blue is our wedding ring brand that takes the inspiration from this beautiful tradition. All the rings feature a blue sapphire that is set on the inside of the ring, representing the 'Something Blue' of the rhyme.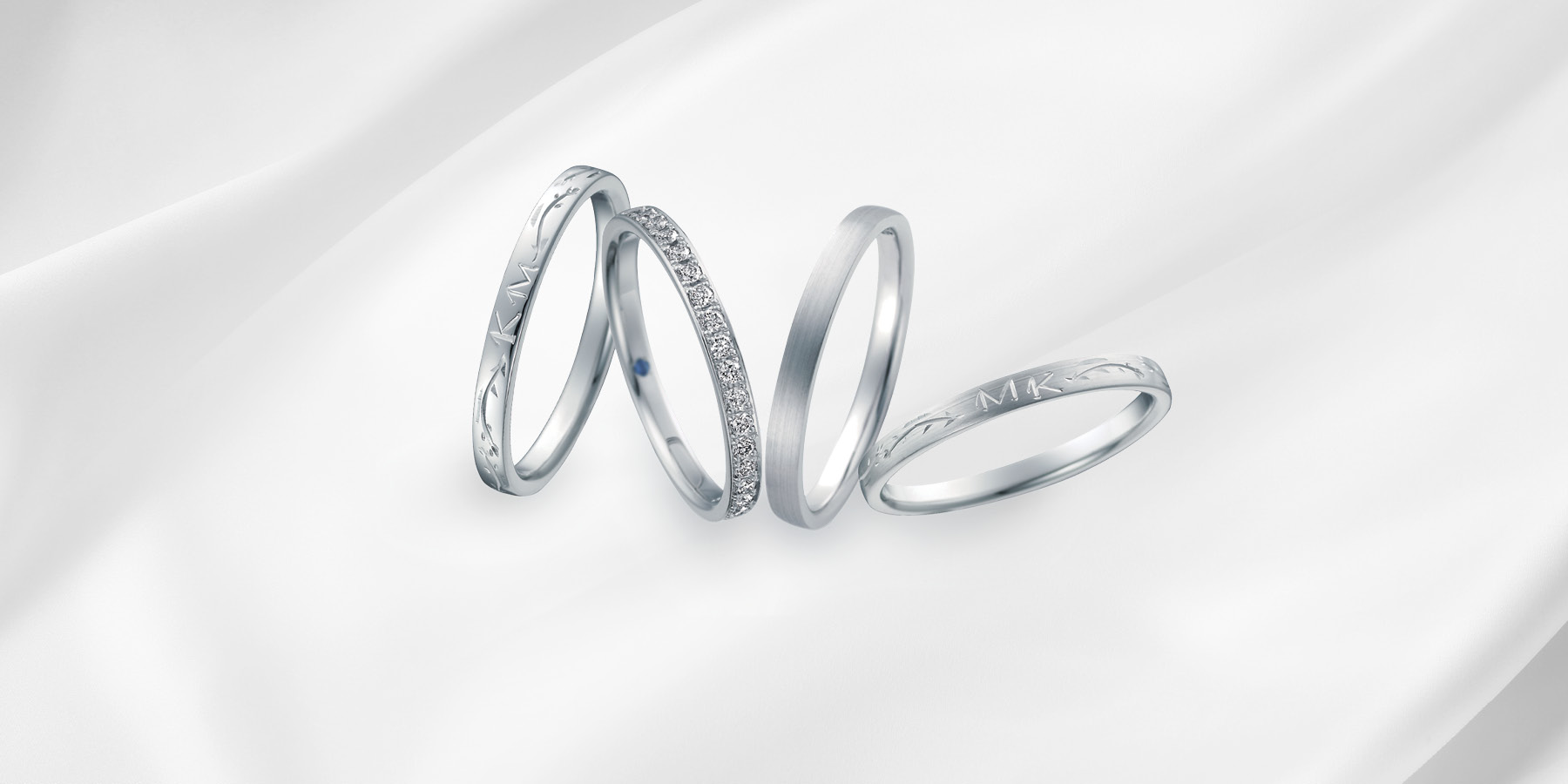 Initials
This reversible half eternity ring can be worn in two different ways, depending on your mood.
The initials of the couple are carved by hand by our expert craftsperson, with the carving on each ring a symbol of the beginning of their life together.
Blue sapphire is a gemstone with a variety of meanings, including love, success and integrity. It is often given as a symbol of everlasting happiness and is said to bring the wearer good luck and happiness. This ring, with its blue sapphire inside, is a reminder of the love and commitment between two people, something that will stay with them through thick and thin.
A Lifetime of Love
Something Blue wedding rings are all made in Japan. We conduct vigorous strength and hardness tests, in order to ensure the durability of the ring is absolutely suitable for everyday use for years and years, and we only deliver rings that have passed our strict inspection standards. We also offer a comprehensive maintenance service, making our rings a perfect choice for a lifetime of love.
The greatest of care is taken in the fit of the rings because they are worn every day. All of our rings feature a 'comfort fit' interior, which has a rounded inside edge. This eliminates any sharp edges that could irritate your finger, resulting in a soft and comfortable fit. The width of the comfort fit is also customized to match the width of each model, resulting in a perfect fit. The snug fit of our rings will make you feel like you are wearing your destiny.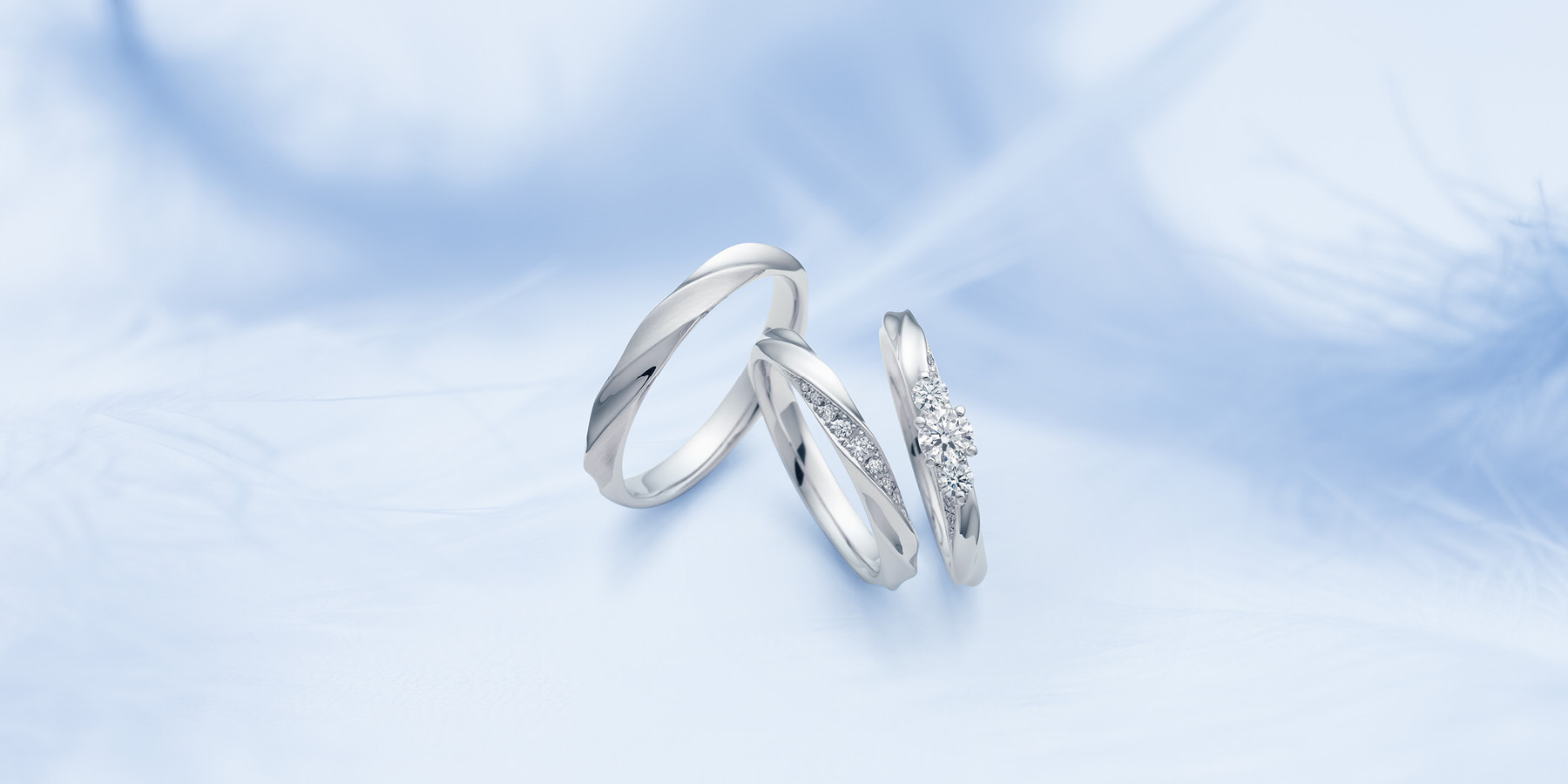 Feather
When two marriage rings are held together, a light and delicate feather will appear.
This is to evoke an image of the blessing of an angel.
The contrast created by the twist of the entire ring is refined, which creates a sophisticated yet elegant individual design.
In addition to comfort, we also focus on timeless design and volume. Our in-house designers create rings that are not only beautiful, but also stylish and durable for all time. With a wide variety of designs to choose from, there is a perfect ring for everyone.
---
Something Blue offers a variety of models, and according to each specific design, the best manufacturing methods are used, in order to ensure the quality of each ring. The most advanced techniques are used to ensure that the rings are made to last a lifetime. These are the main manufacturing methods:
Forging which involves heating and hammering metal to shape it. Forging can improve the strength and durability of metal.

The washer method is a manufacturing process that involves rolling a metal sheet into a washer shape.

Pressing involves pressing a metal sheet into a mold to shape it.

Cutting involves cutting a metal block into shape using a cutting machine.

Special casting involves melting and pouring molten metal into a mold to shape it. In this case, a hardened cast method has been used, involving melting and pouring the molten metal into a mold, and then heating the metal to harden it.