MIYAKI CO LTD was established in 1976 as the Anodize Division of MIYAKI Ironworks in Hamamatsu City, Shizuoka Prefecture in Japan, where Yamaha, Suzuki and Honda were founded, and became an independent company specializing in anodizing in 1981.
MIYAKI offers various types of anodizing such as KASHIMA COAT®, color anodizing and other functional anodizing, mainly standard and hard anodized aluminum.
In 1981, MIYAKI developed the world-class and unique highly lubricant hard anodizing process called KASHIMA COAT. This technology is highly praised in the world's industrial and academic fields. In 1988, a fully automated anodizing line was designed and introduced by MIYAKI to achieve stable quality and mass production.
Today, MIYAKI is supported by absolute credibility based on 40 years of achievements and accumulated expertise. There are three factories in Japan and one factory in Thailand, and it is steadily expanding its field of activity in the world and realizing customers' ideals with cutting-edge technology and optimum construction methods.
KASHIMA COAT, developed by MIYAKI, is a composite anodized coating produced by applying a hard anodizing coat to aluminum and depositing the lubricating material molybdenum disulfide in the porous film, which is unique to anodizing films, using an electrochemical method.
By combining the strength of both hard anodized aluminum and molybdenum disulfide, it is possible to dramatically improve lubrication properties and wear resistance compared to normal anodized aluminum. Reducing friction using these excellent lubrication properties achieves exceptional product performance and durability.
The KASHIMA COAT is used in aluminum sliding parts in a wide range of fields from FOX suspension, automotive, motorcycle, bicycle, watercraft, precision machines, medical machine components and food manufacturing machinery.
There are many advantages, such as cost reduction by eliminating shaft-bearing parts, increased productivity by reducing sub-assembly, weight reduction by reducing the number of parts and quality improvement by improving product accuracy.
Furthermore, it has been confirmed that the KASHIMA COAT has the same antibacterial properties against Escherichia coli and staphylococcus aureus bacteria as silver and copper, and is very much expected to be applied in environmental clean-up and other processes.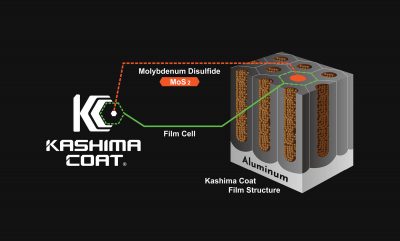 Nowadays, products have become more sophisticated and diversified. Aluminum is now being used for industrial products and their components due to several requirements such as energy, resource and environmental conservation for sliding and rotating parts.
Aluminum is lightweight, easy to machine, non-magnetic, highly reflective towards light and heat, and is resistant to gas emissions from the surface of the material under vacuum. In addition, its electrical conductivity is superior to that of copper, and its thermal conductivity is three times that of iron, after silver and copper.
Since its mechanical properties are stable, even at a low temperature of –200°C, aluminum has many advantages such as being most suitable for structural materials at low temperatures.
Treating aluminum with hard anodizing provides surface hardness, corrosion resistance and electric insulation, and the KASHIMA COAT treatment adds lubrication properties and wear resistance, thereby increasing its durability and life span.
Lightweight, aesthetically appealing and easy to recycle, aluminum is approaching a new age of advancement coupled with the successful development of pollution-free surface treatment technology.
In the 21st century, the fusion of nature and science is considered to be one of the most important and crucial key phases in the field of science and technology.
MIYAKI will continually contribute towards the realization of a sustainable society and be an enterprise that reaffirms its position as a specialized manufacturer of aluminum surface treatment, and expands its future possibilities by actively working on new technological developments with creative originality.