The strong competitive push from the market requires a much faster response from companies in their management of internal processes. Having solutions that speed up and automate flows has become a must to gain a preferential place against competitors. Using technologies in synergy with each other makes it possible to improve performance – from flexibility to efficiency and plant safety – and reduce errors and management costs.
Providing customers with integrated and sustainable industrial automation solutions is the job of EMS Group, founded in 2018 from the merger of five leading companies in the handling, palletizing and storage sectors – Emmeti, Mectra, Sipac, Logik and Zecchetti.
On the strength of its origins, the Group has immediately distinguished itself worldwide due to its recognized engineering expertise in various industries and the relative technological fusion, which are true accelerators of innovation.
Values that Stay Abreast With Market Evolution
EMS Group always keeps up with market progress because its fundamental values meet the need for change underway in the industry.
Customer first: The Group provides constant consulting and support so customers become true long-term partners.
Diversity: There is always high regard for experience and competence, because the variety of points-of-view and capabilities provide the final result with wealth and exponential growth.
Integration: The synergy between the elements of a system is the key to success, both within the Group and in the solutions it creates.
Agility: At a time of constant change, flexibility and quickly responding to the needs of the market are essential to staying competitive for both the Group and its customers.
Innovation: This is a mindset that guides EMS in every project and inspires it to always look for new solutions.
The One-Stop Shop Approach
The one-stop shop approach is crucial nowadays to make the best of resources and to stay competitive. This means being able to count on one partner capable of providing multiple systems and services, and to manage production and intralogistic processes. This is one of the main advantages that EMS Group offers its customers, and solutions range from handling lines to palletizing systems, intralogistics management and automated storage, precisely in the perspective of a single partner.
The result of the one-stop shop approach is Next Generation Factory, a fully integrated organizational and production model, digitized and aimed at value creation. This is the goal EMS Group proposes to customers through proper product management, from the initial processing phases to the product leaving the factory.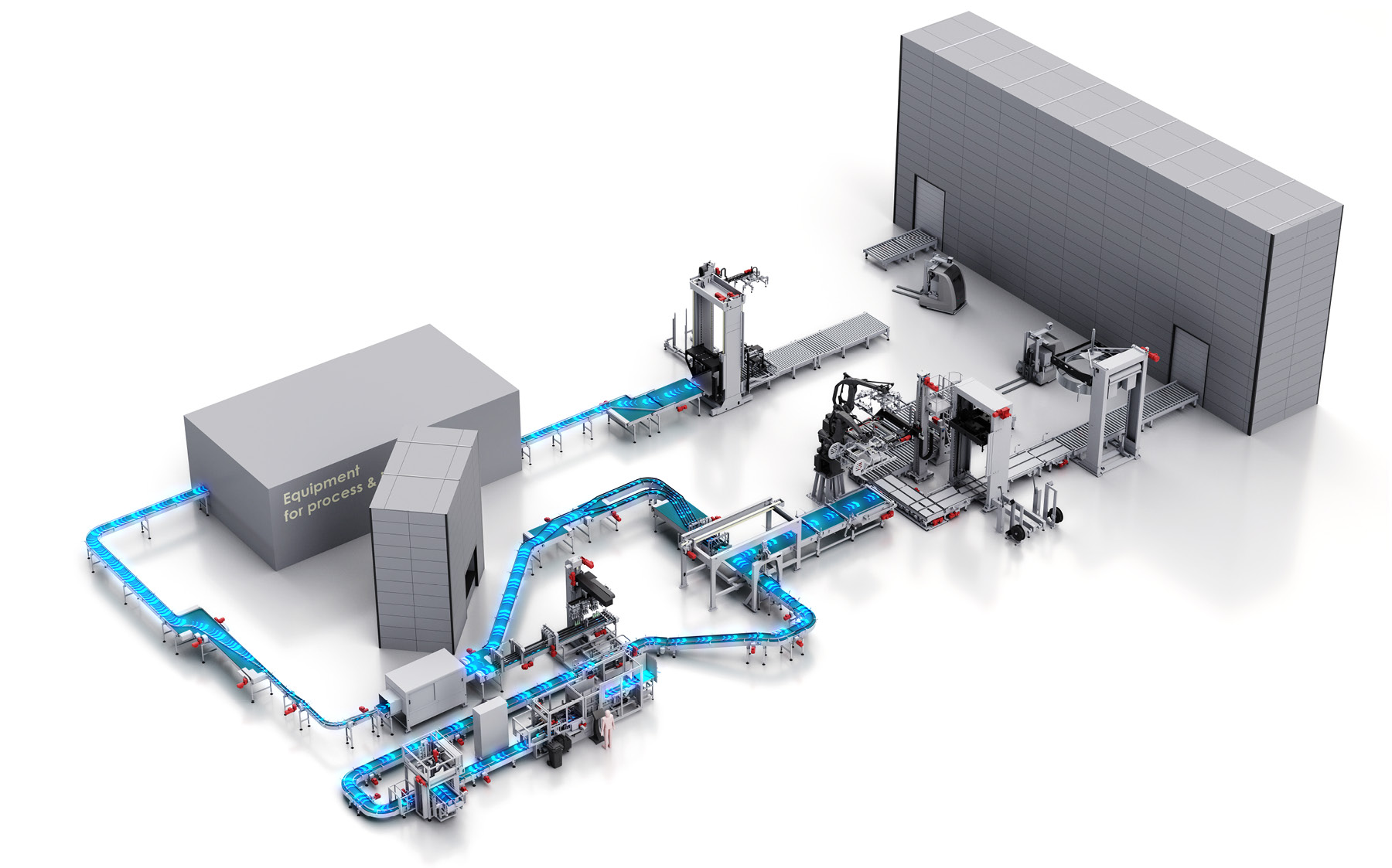 Upstream and downstream of the process, EMS Group's solutions interface with production and inspection machinery, without any interference, while enabling maximum reduction in cross-over time. The systems and the digital infrastructure that govern the production plant are fully integrated with customers' management software. The customer can enjoy peace of mind, with a turnkey plant that is designed and manufactured to transform ideas into reliable and winning solutions.
AfterMarket Parts & Services
Providing excellent customer service is essential to ensuring the efficiency and performance of the systems supplied over time. For this reason, AfterMarket Parts & Services (AMPS) was created in 2021 and is an EMS Group's service company fully dedicated to providing cutting-edge after-sales services.
It offers 24/7 year-round support on a global level, ensuring spare parts supply, formulation of maintenance plans, training, modifications, upgrades and relocation of existing systems. AMPS meets any needs that may arise during the system's life cycle, strengthening the relationship with the customer.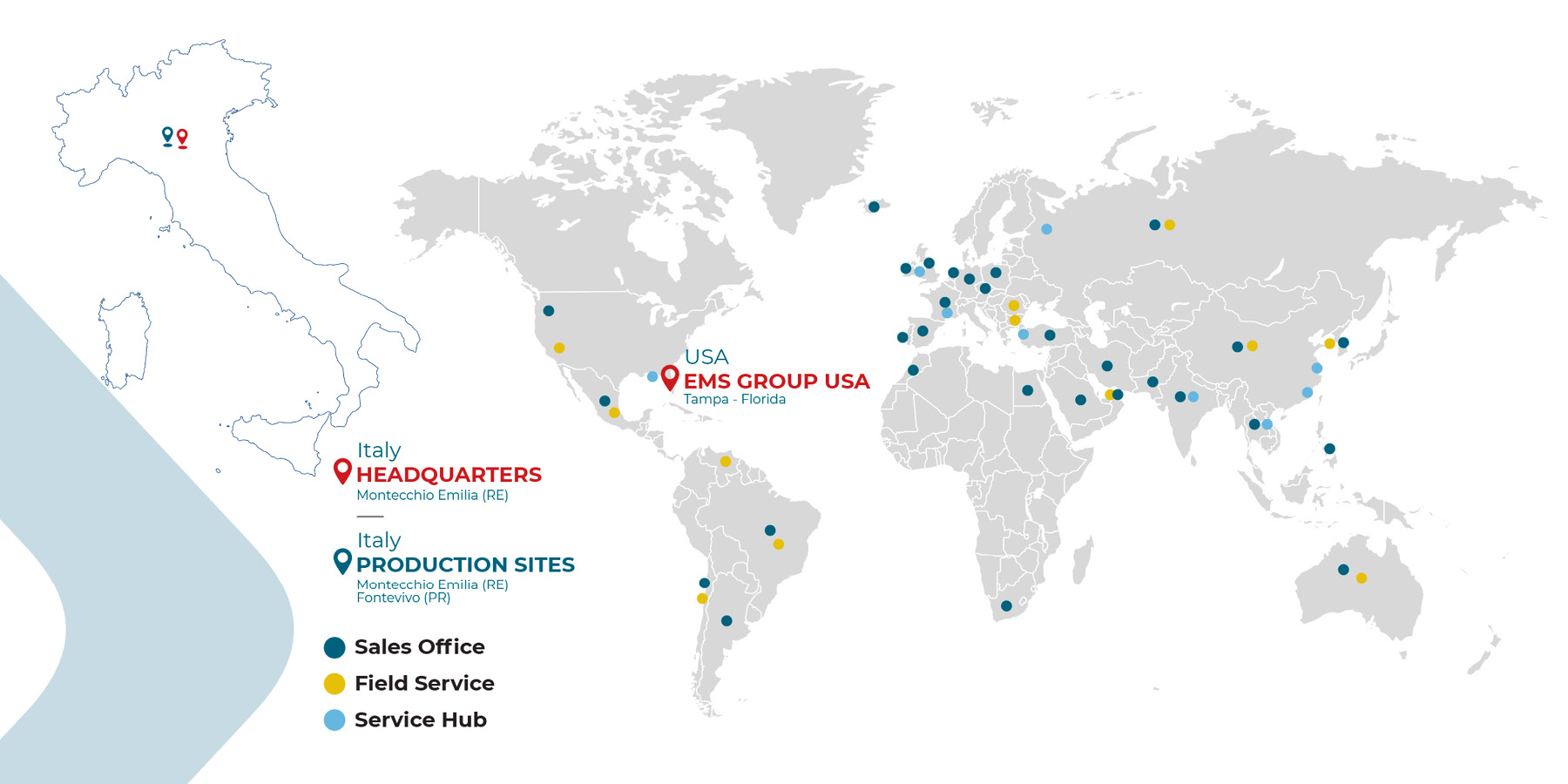 Solid Foundation and Future-oriented Vision
To date, EMS Group has more than 400 employees, eight production facilities in Italy and a branch in the United States, in addition to sales offices, field services and service hubs all over the world.
With over 5,000 systems installed in 110 countries, and with €200 million value of production consolidated in 2022, the Group looks to the future with new motivation that distinguishes it to provide its customers with ever more efficient and sustainable solutions.